Cheesy veg sandwich is my all time favorite recipe. This recipe apart from being delicious is super healthy. Stuffed with veggies and cheese , this sandwich is loved by all whether kids or oldies. I remember how my mom used to make this sandwich for my tiffin just to make me eat those veggies. But truly speaking it tastes so cheesy amd yummy that those veggies adds bliss to it. This sandwich is toasted in a toaster until crisp. You can even toast it on the tava.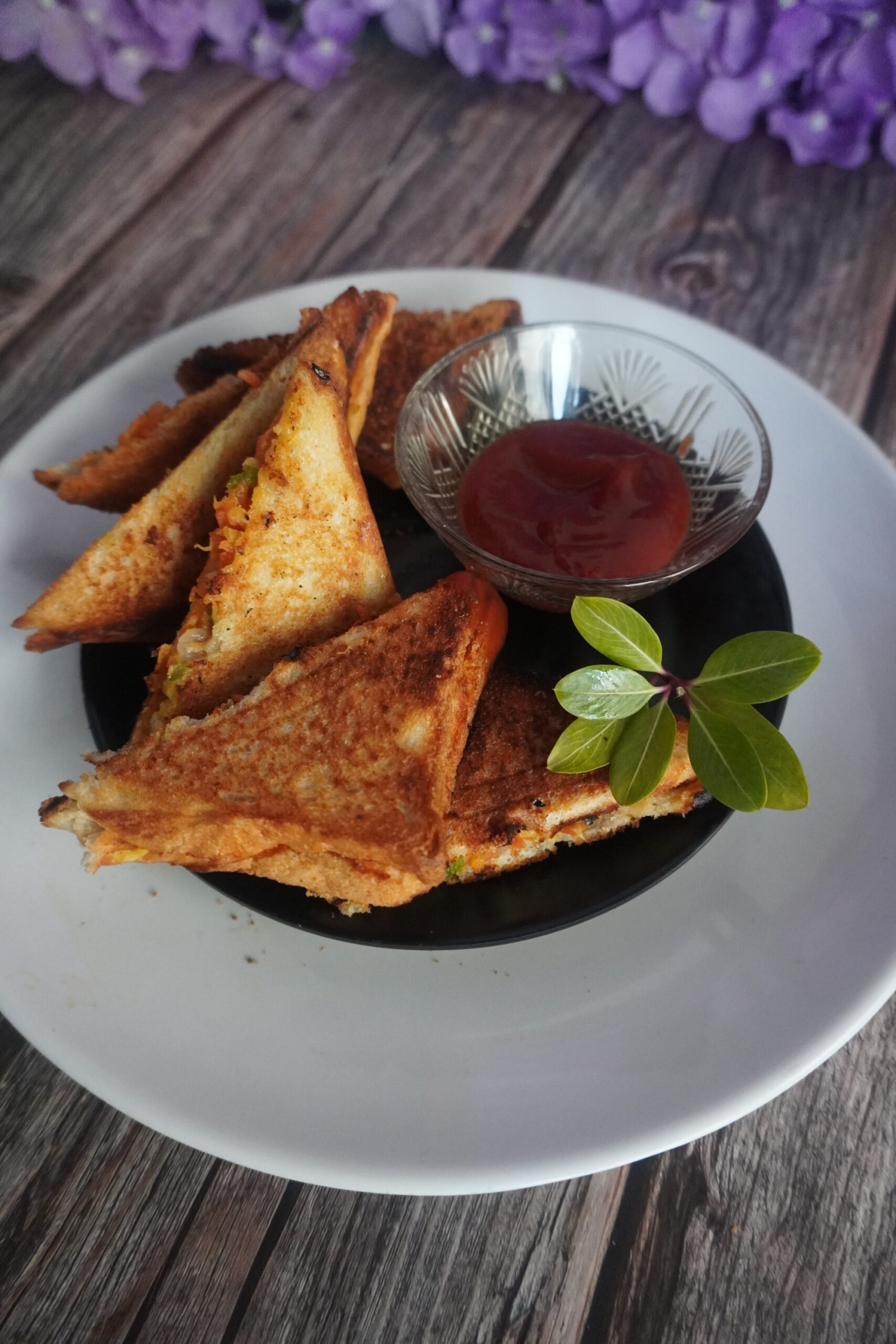 Introduction
This sandwich is made by firstly making a chessy and healthy stuffing using veggies and cheese which are seasoned with Italian herbs and salt and then it is stuffed in bread slices and toasted well on low flame until golden brown and crisp. It tastes best when served hot. This yummy breakfast recipe will surely leave everyone in your family crave for more. So go ahead and give this recipe a try and please don't forget to share your reviews in the comments section below⬇
Ingredients

Carrot- 1 cup (grated)
Onion- 1/2 cup (finely chopped)
Capsicum- 1/2 cup (Finely chopped)
Cheese – 1/2 cup (grated)
Oregano- 1 teaspoon
Chilli flakes- 1 teaspoon
Salt- 1 teaspoon
Bread- 12 slices
Cheese spread- 6 tablespoon
Tomato ketchup- 6 tablespoon
Oil- for toasting
Step by step recipe with images
Step by step recipe: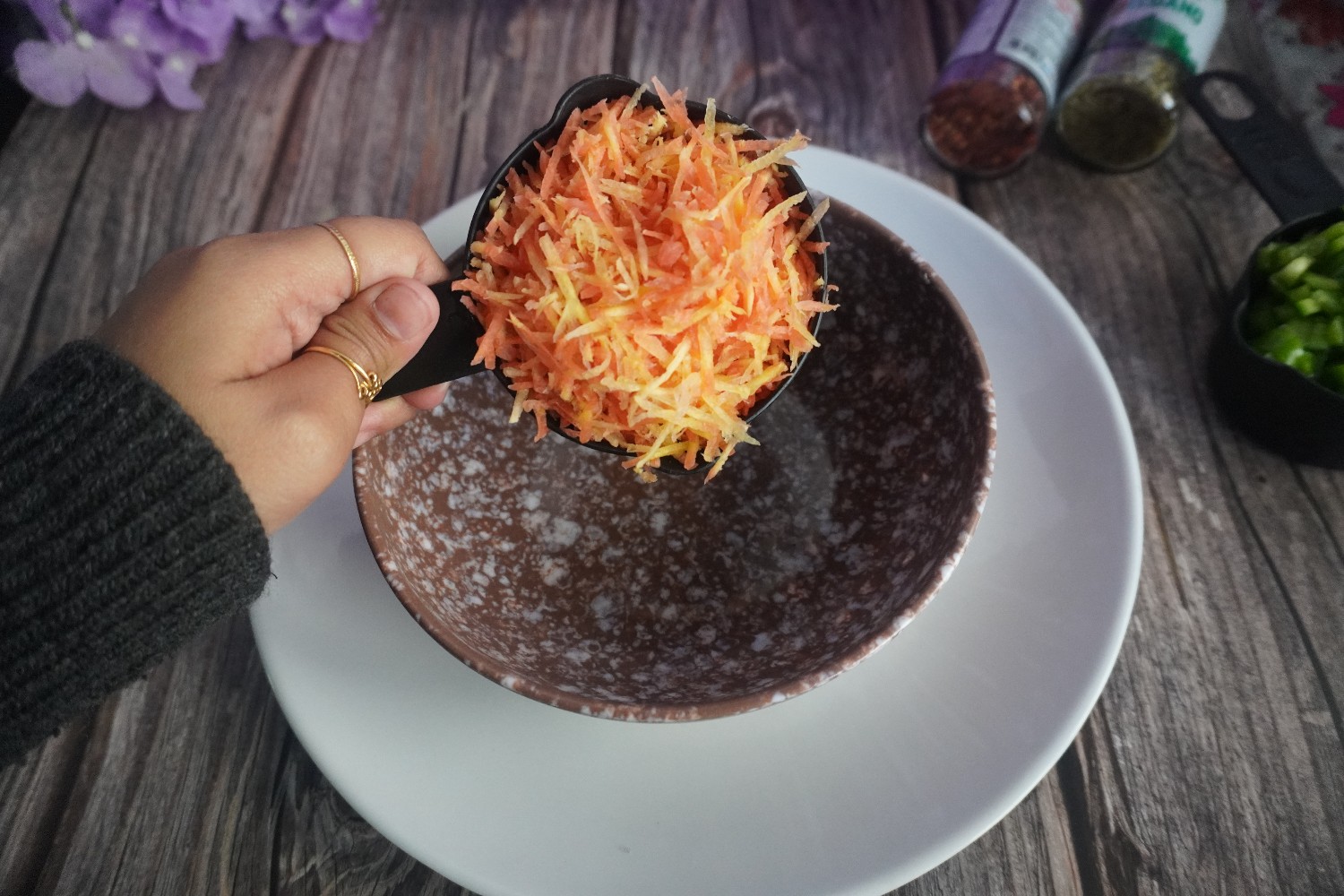 1) Firstly take a mixing bowl and add 1 cup grated carrot in it.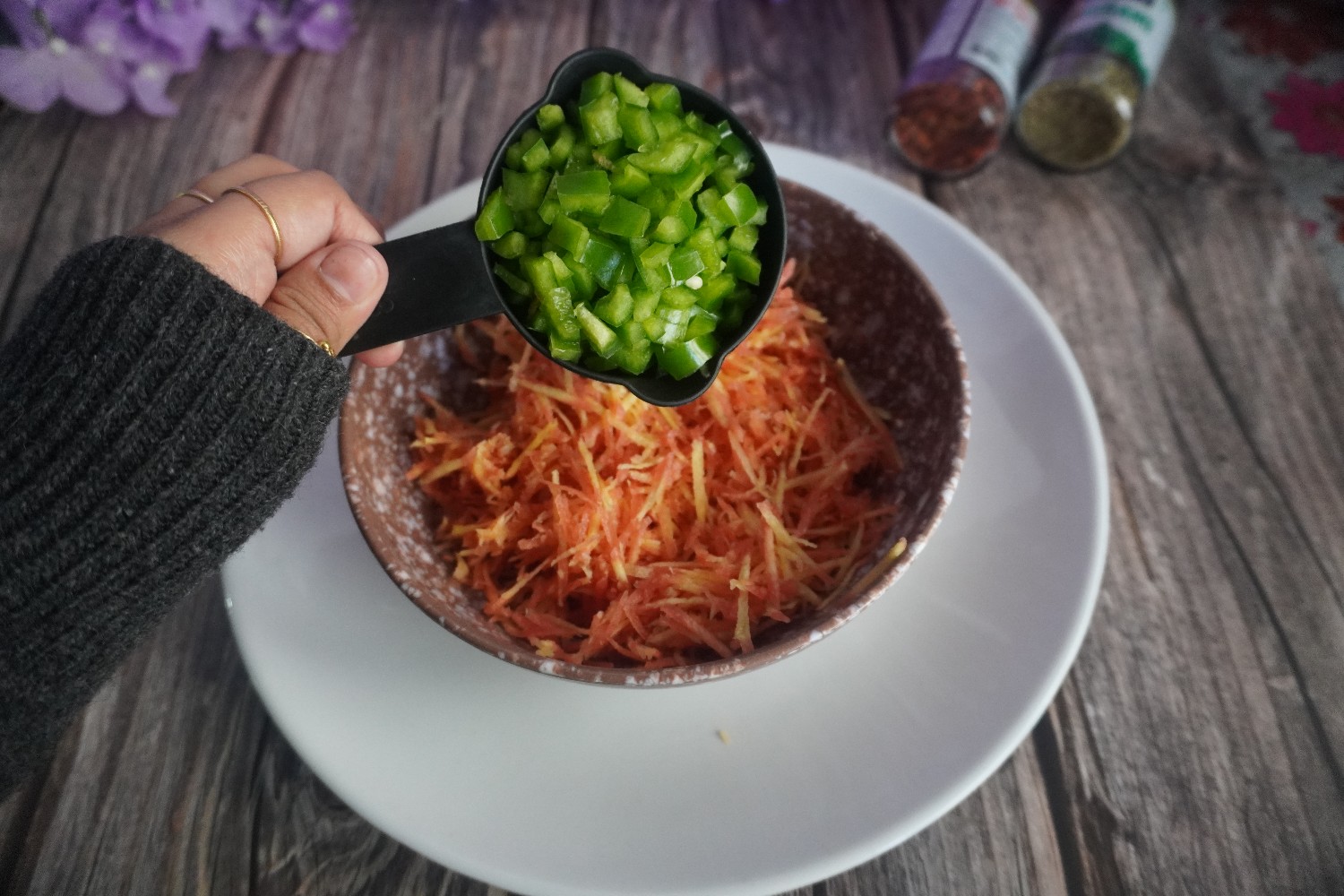 2) Now add 1/2 cup of chopped capsicum in it.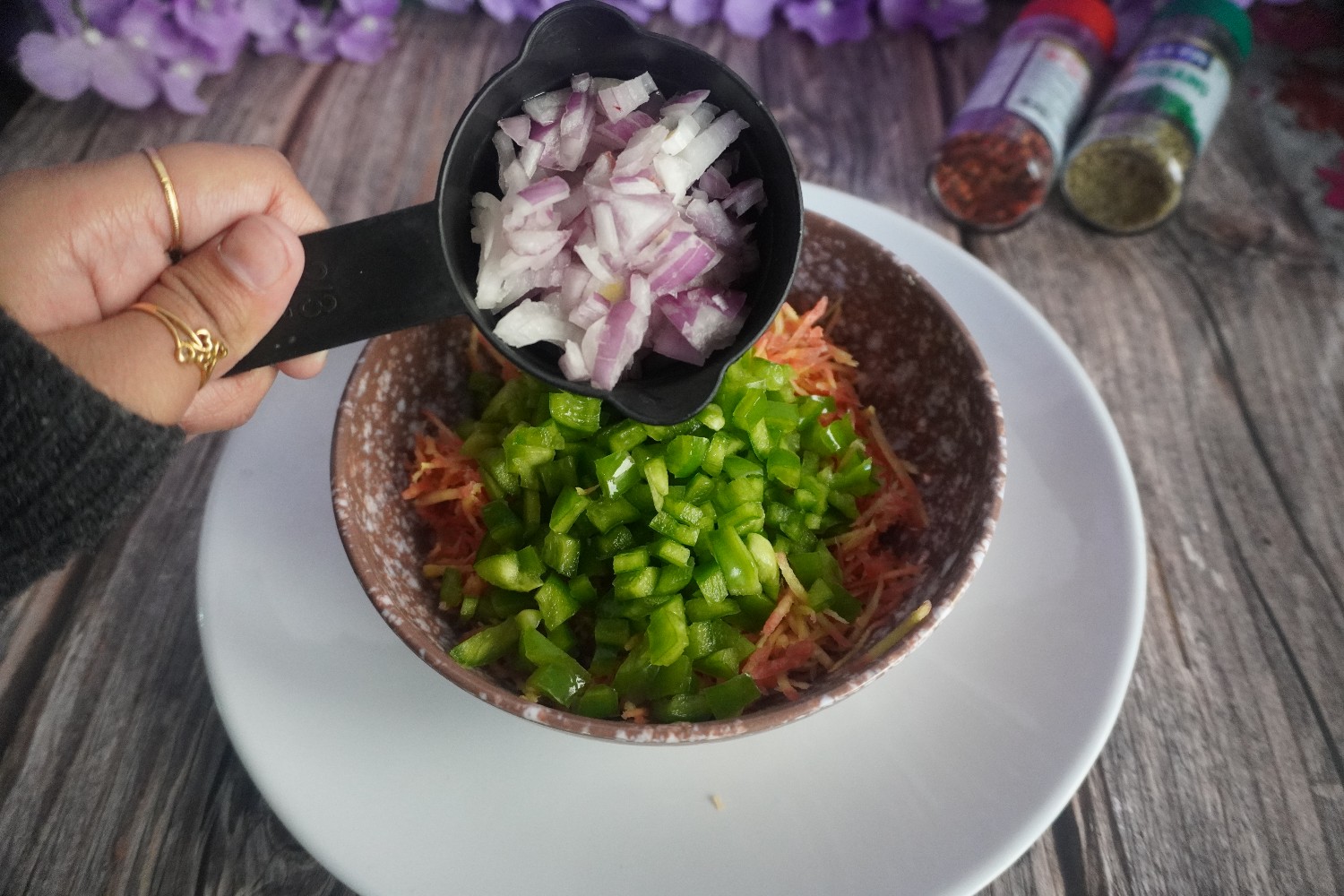 3) Add 1/2 cup of chopped onions in it.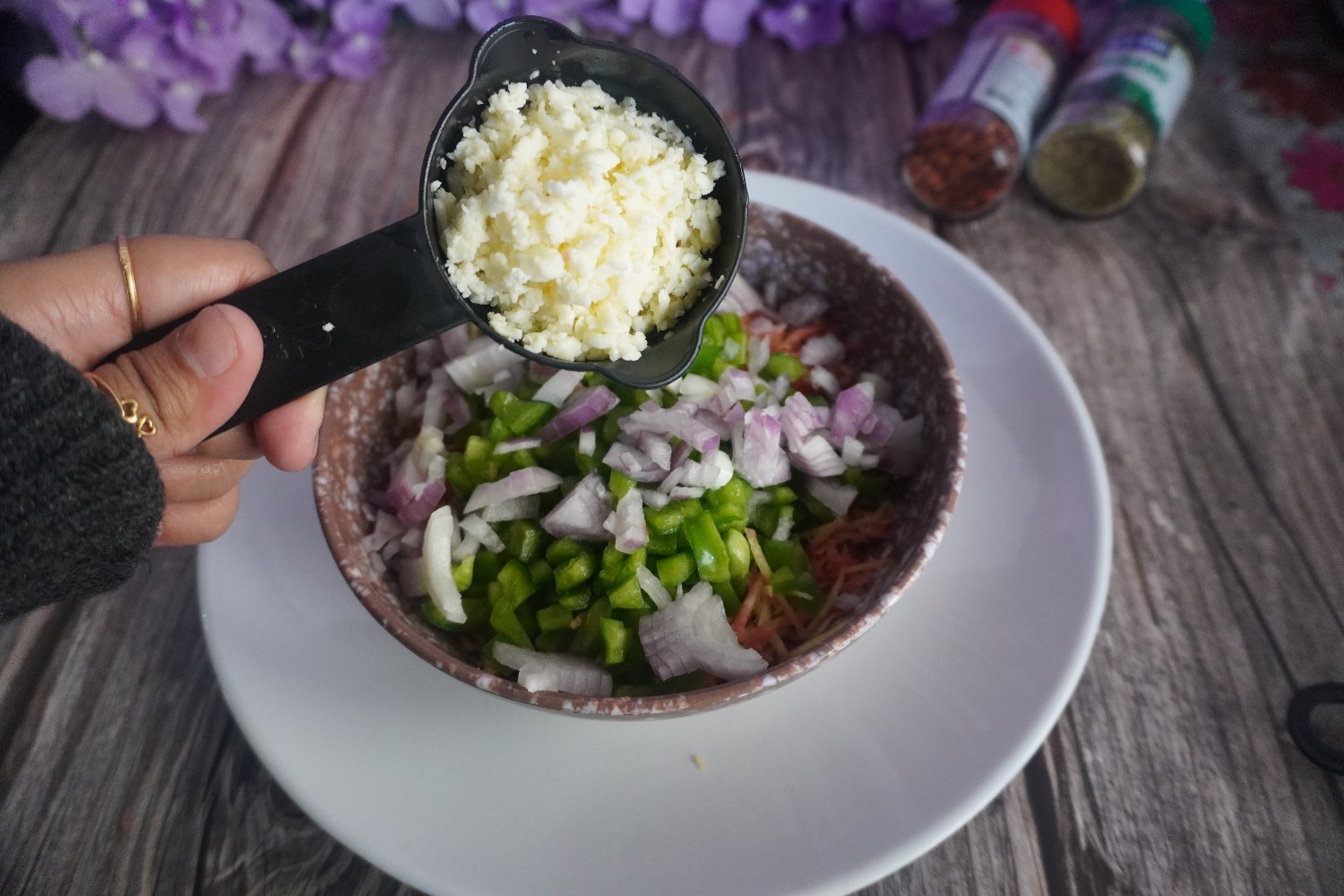 4) Add 1/2 cup grated cheese in it.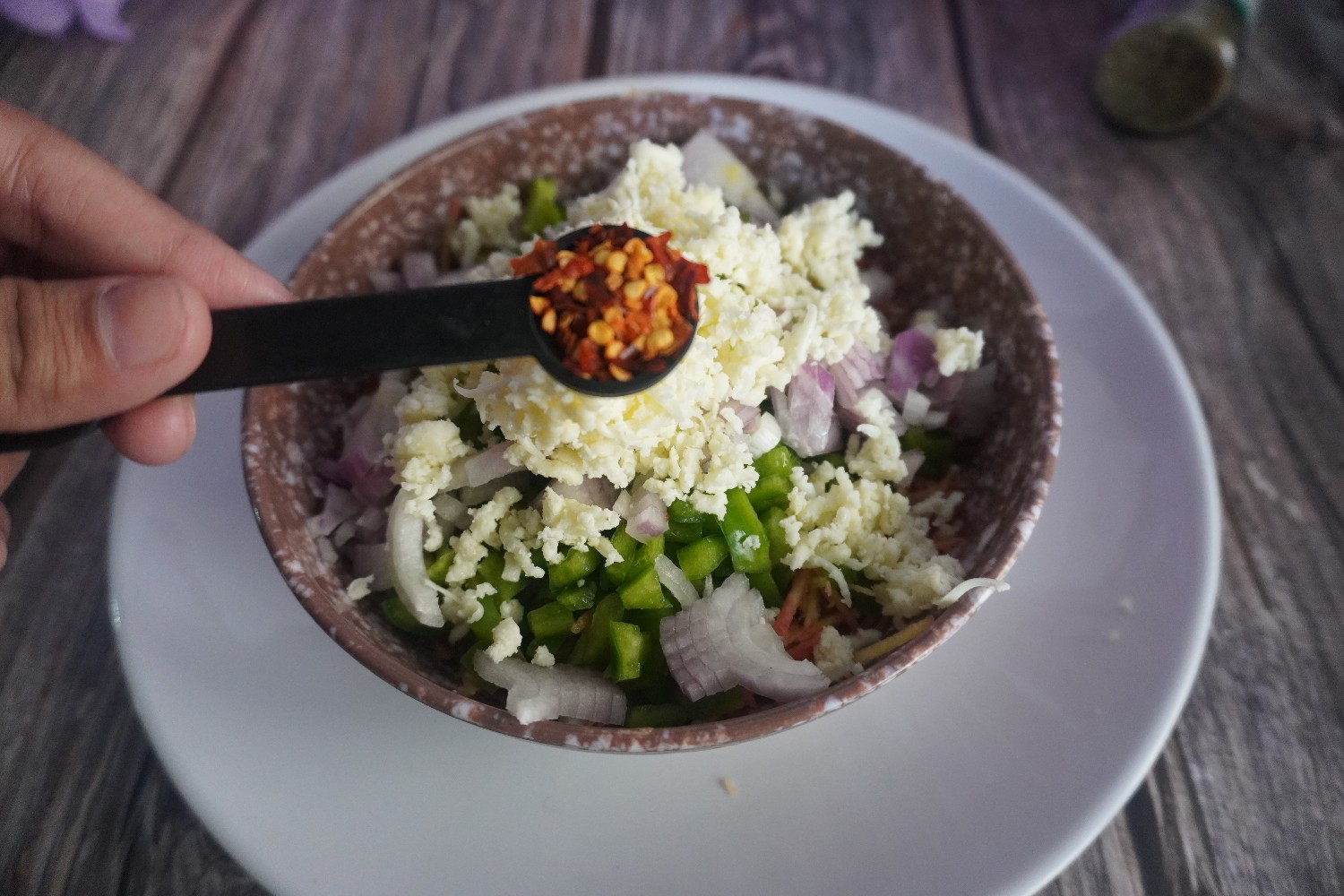 5) Add 1 teaspoon chilli flakes in it.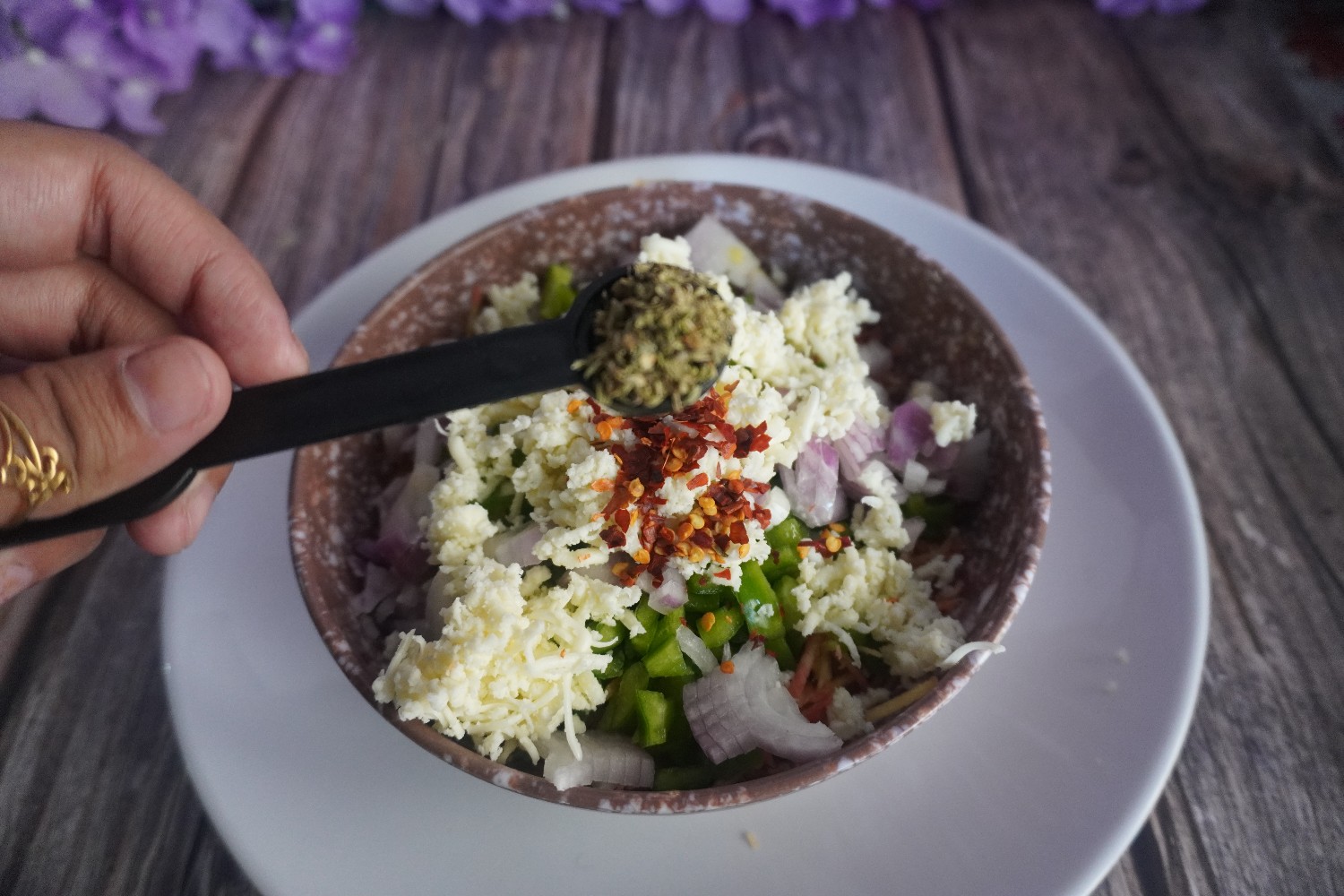 6) Add 1 teaspoon of oregano in it.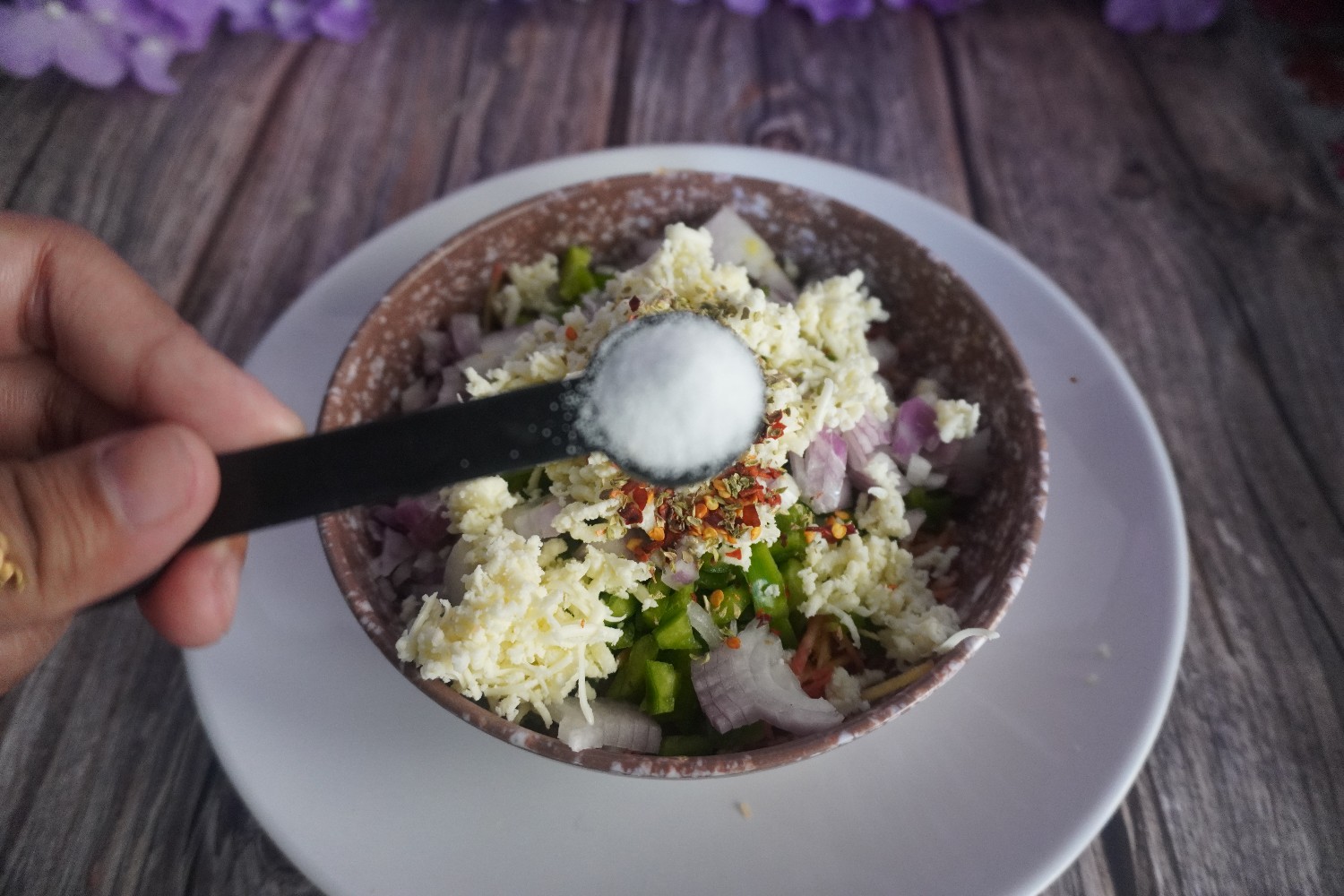 7) Add a teaspoon of salt in it.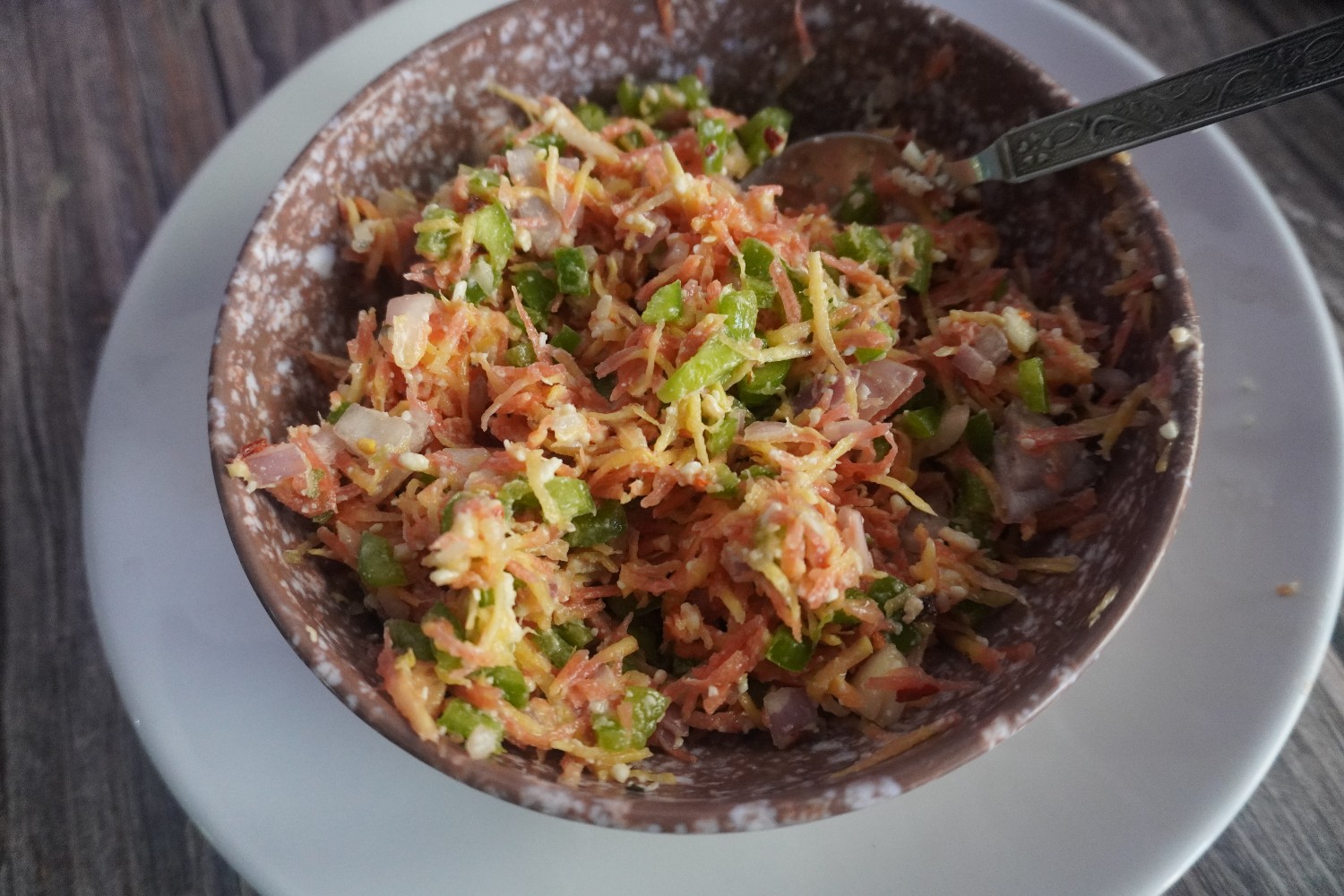 8) Mix them well.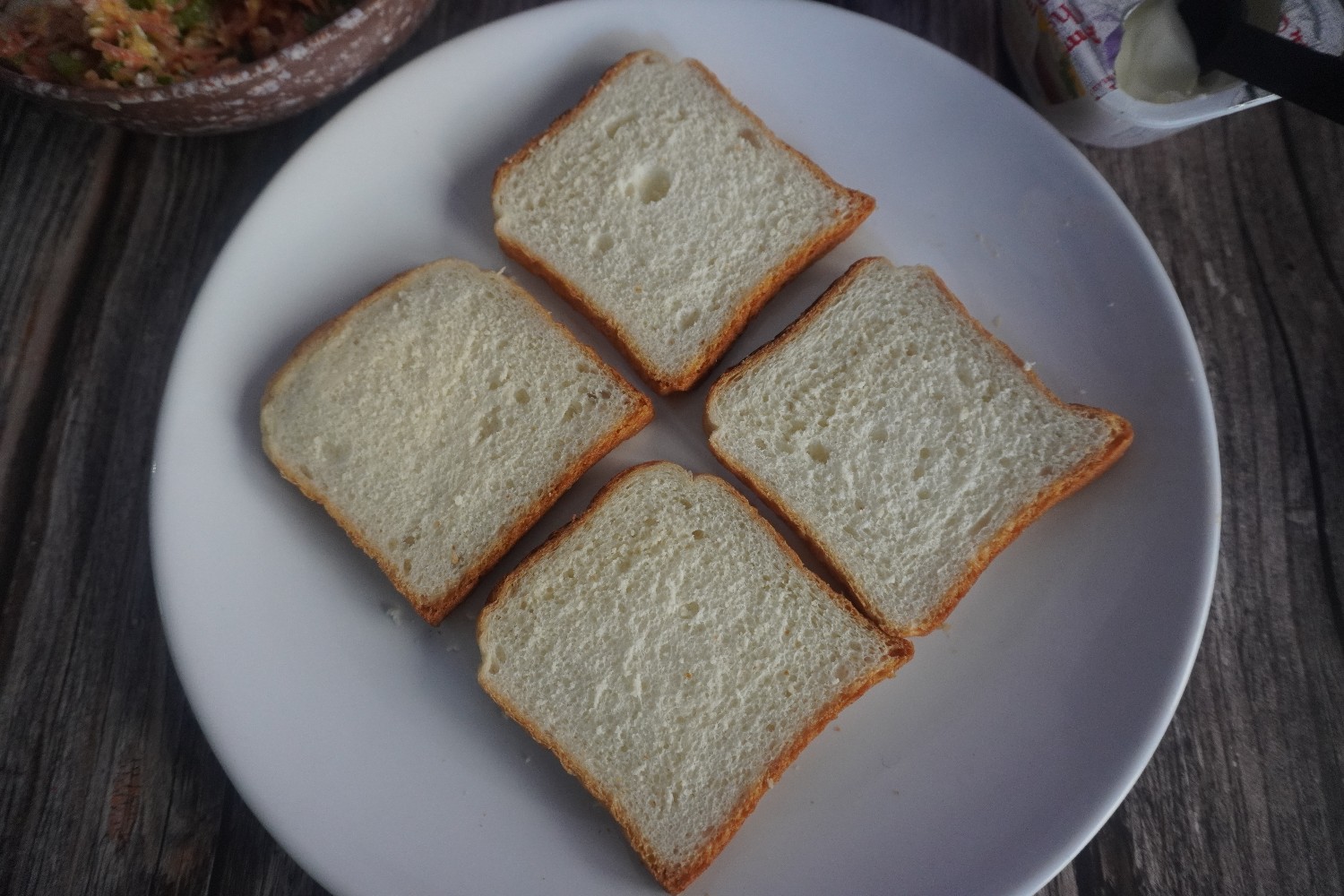 9) Now place bread slices on a plate.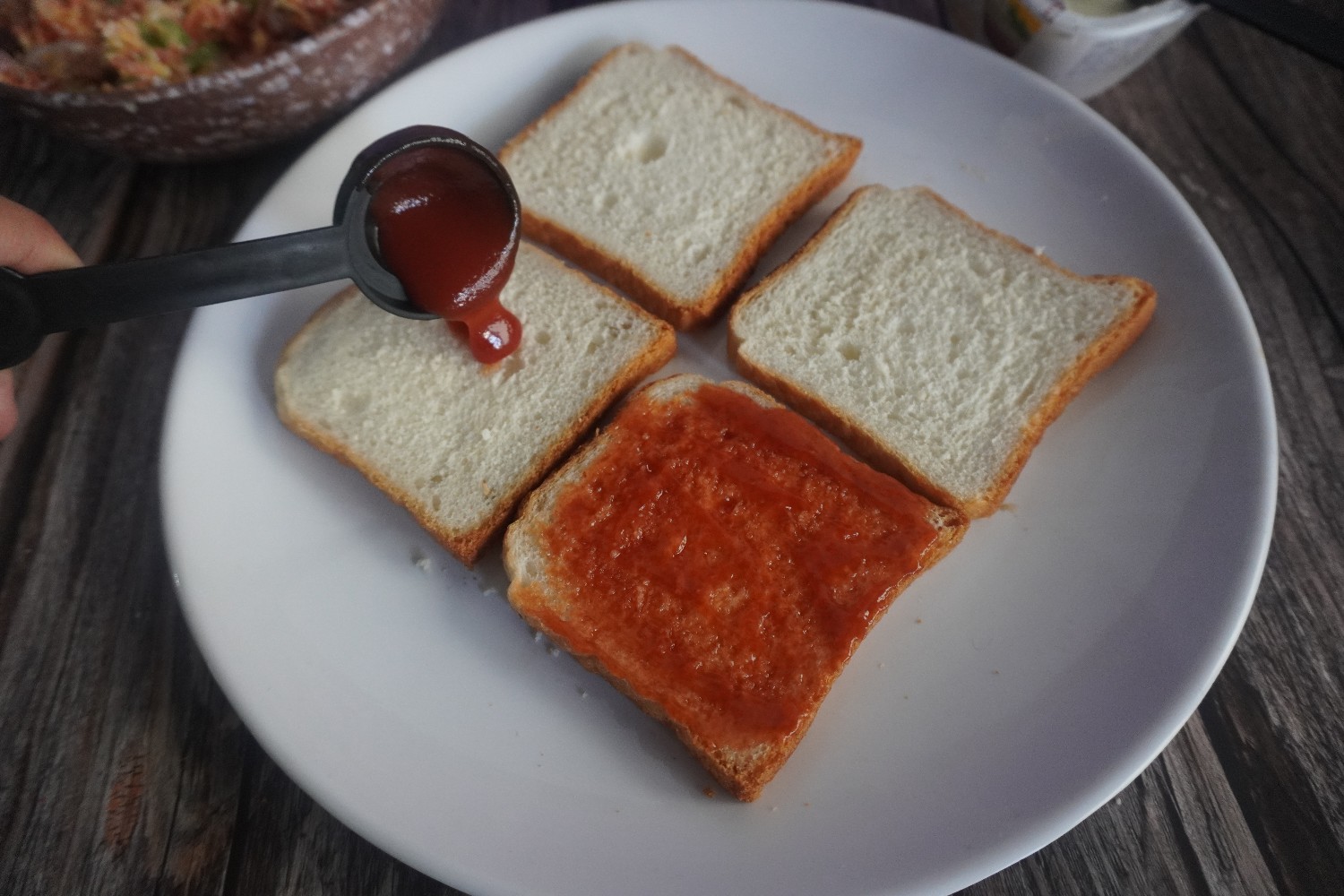 10) Apply tomato ketchup on one slice.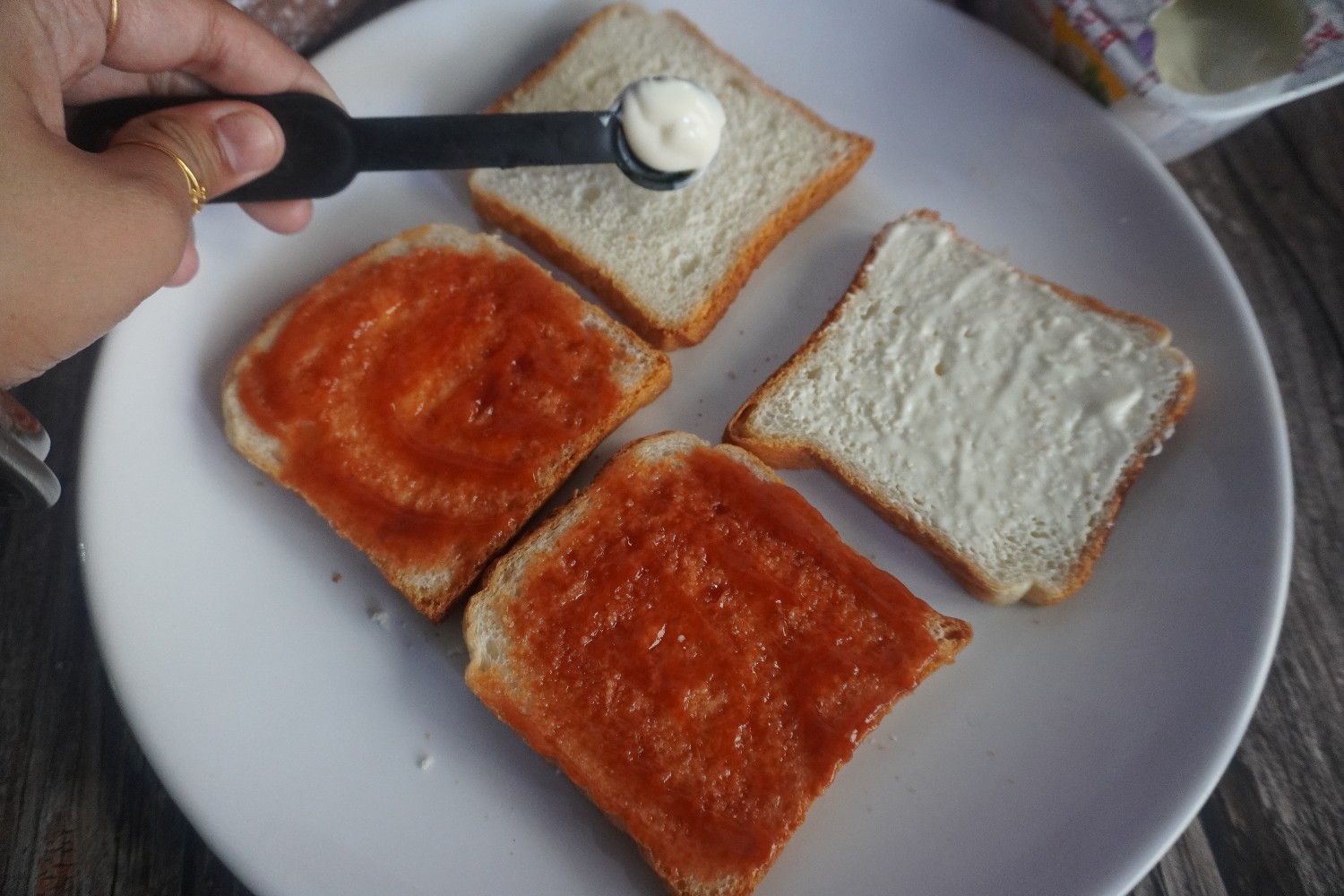 11) Apply cheese spread on another slice.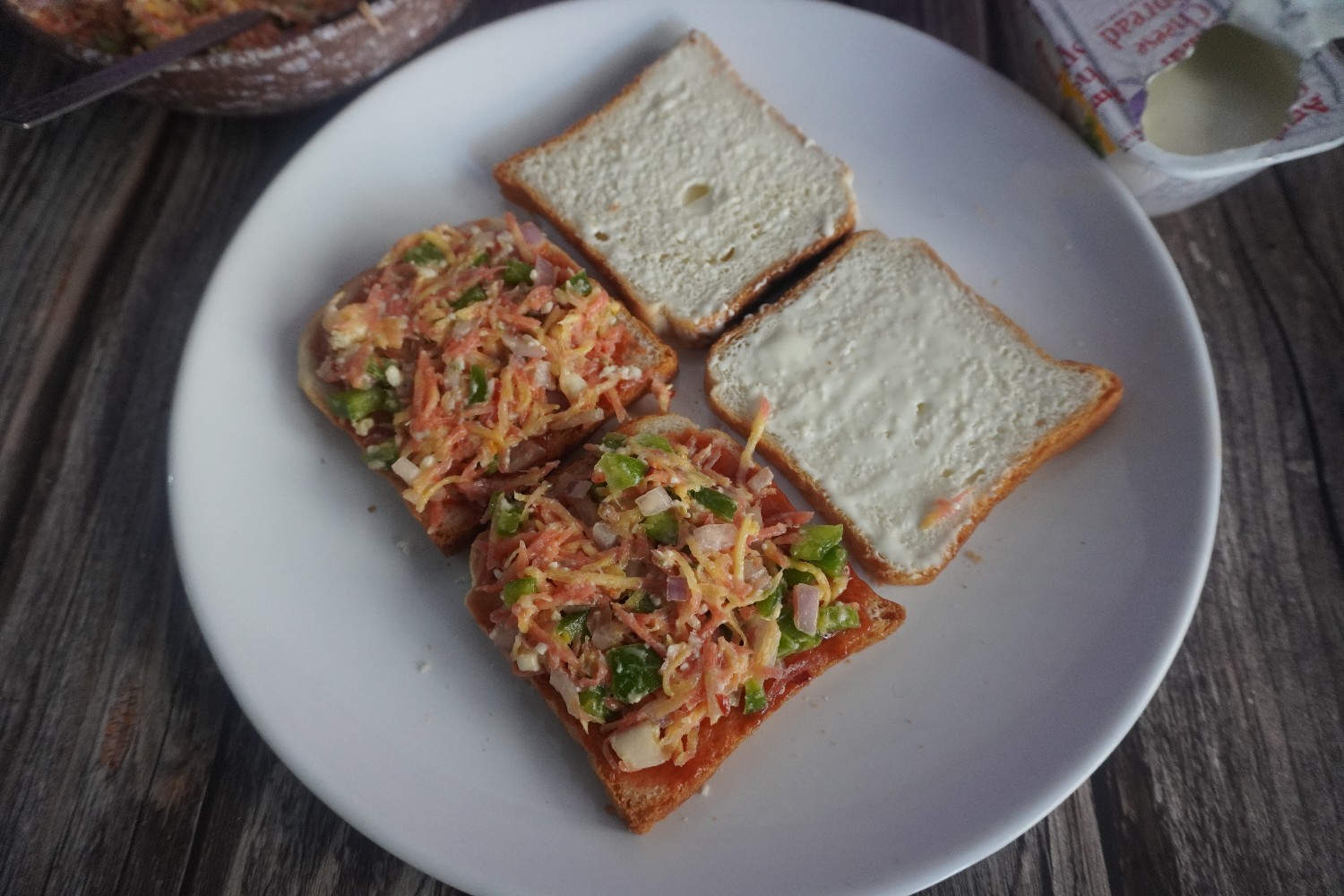 12) Now add 1 to 2 tablespoon of stuffing on one slice. Repeat the same with the remaining batches.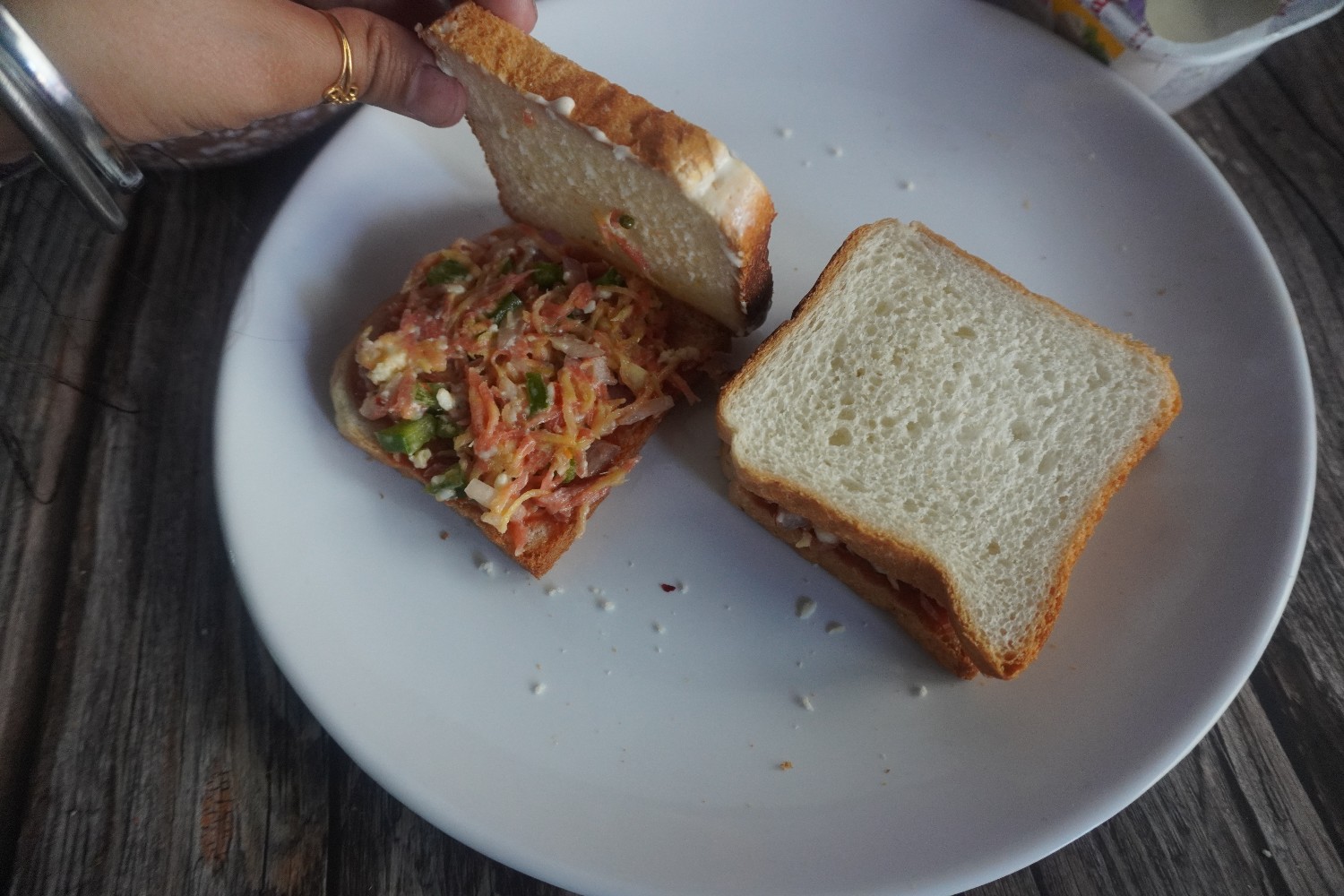 13) Cover it with another slice.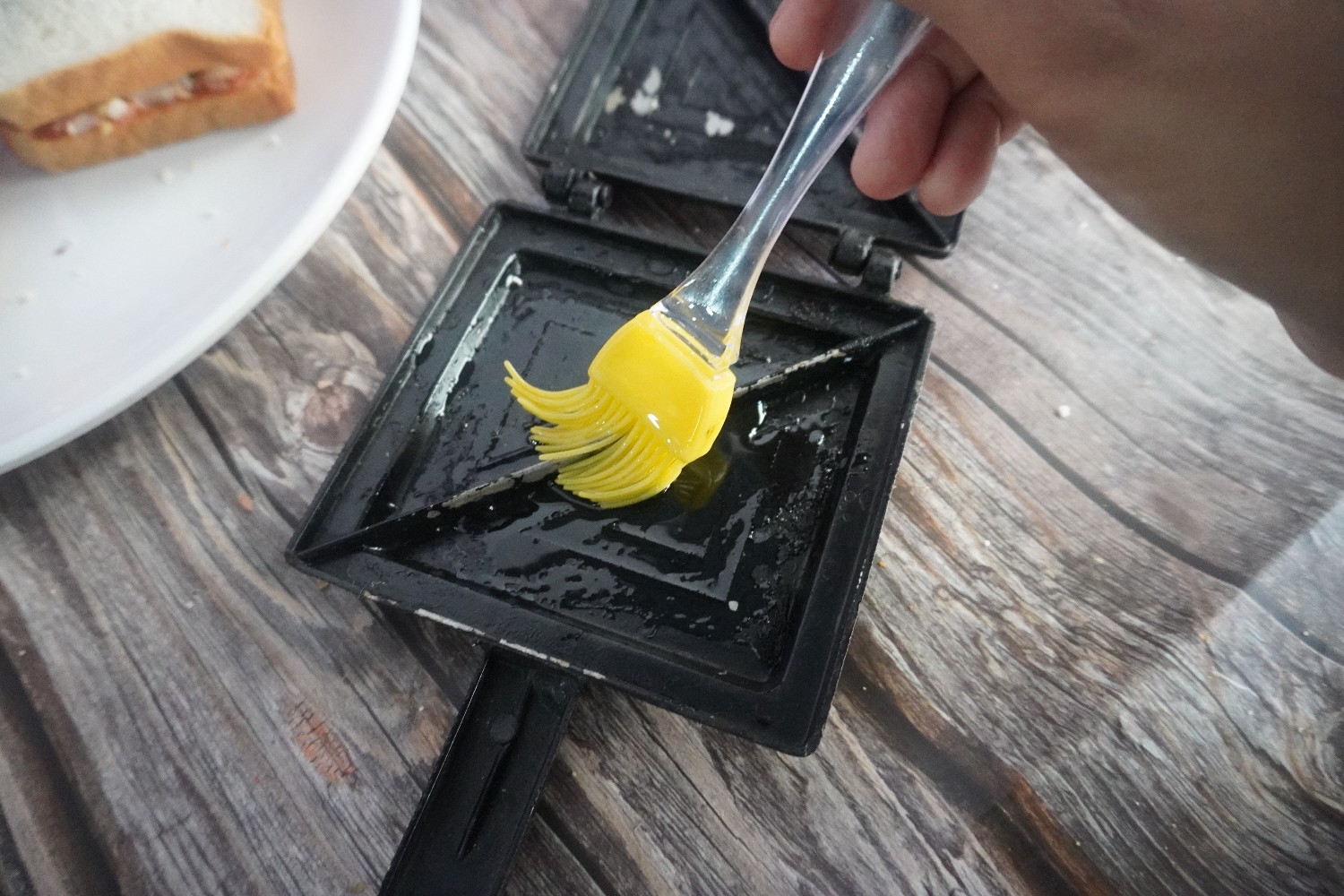 14) Now take a toaster and brush some oil in it.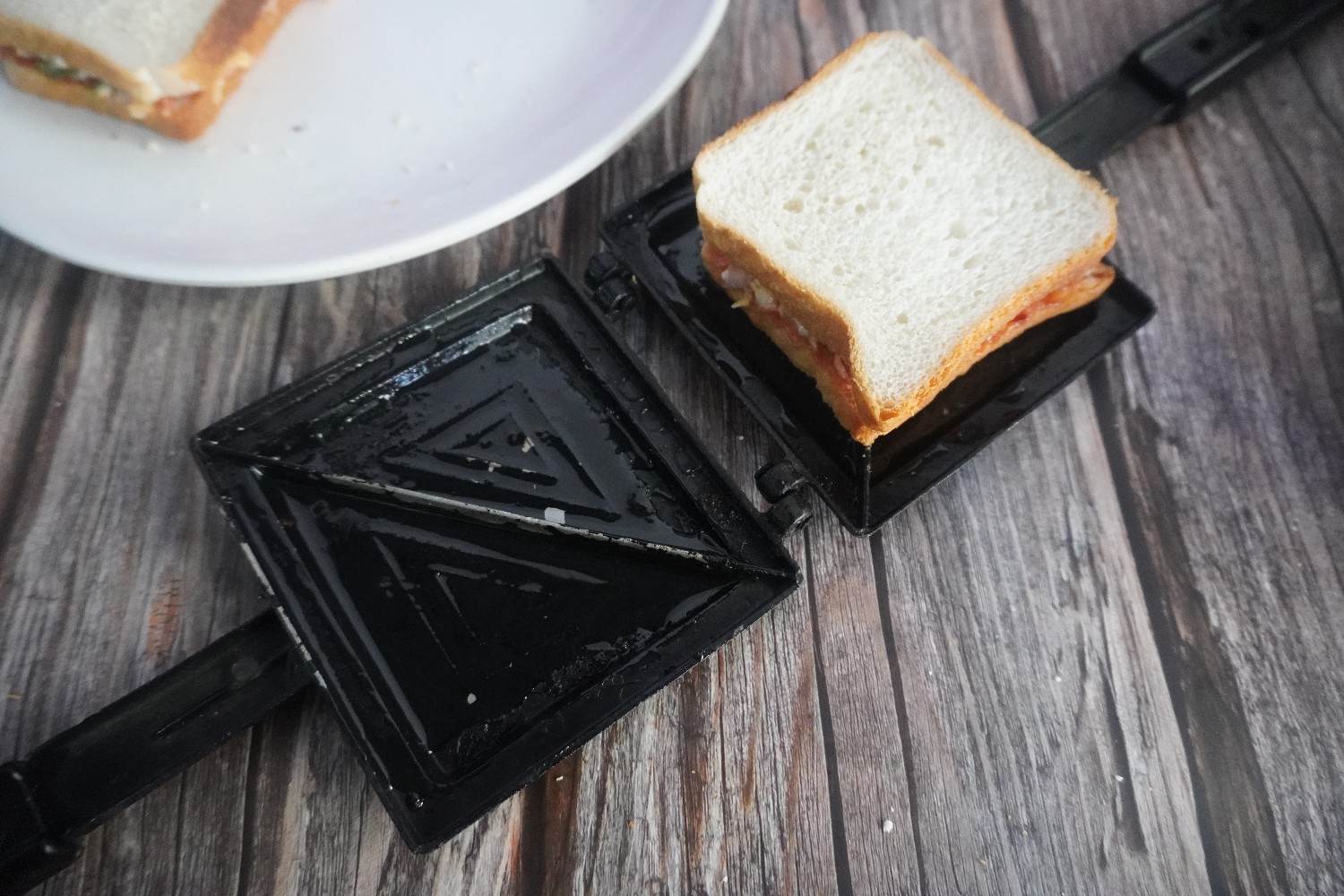 15) Place the stuffed bread slice on it.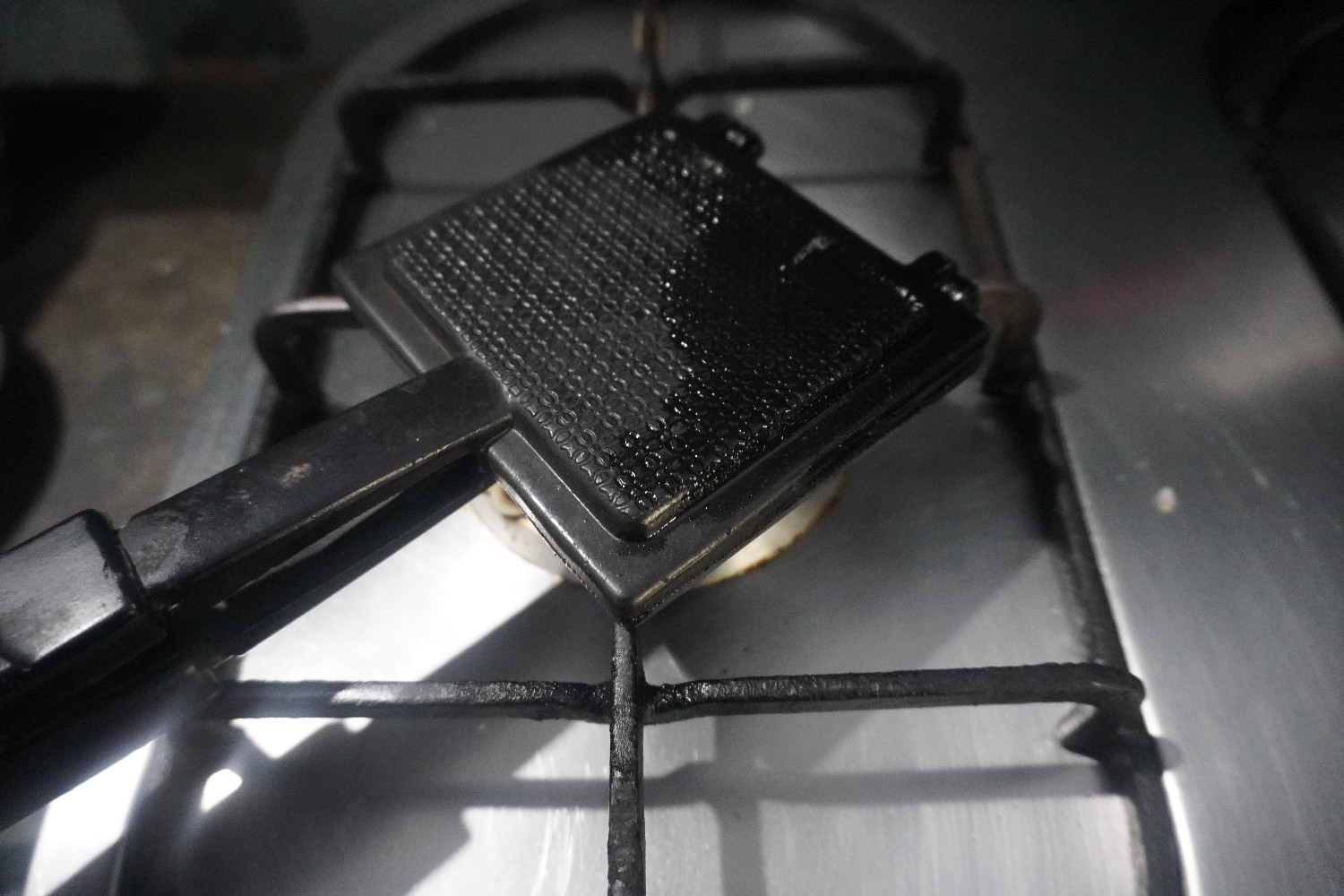 16) Place them on direct flame. Turn the flame to low.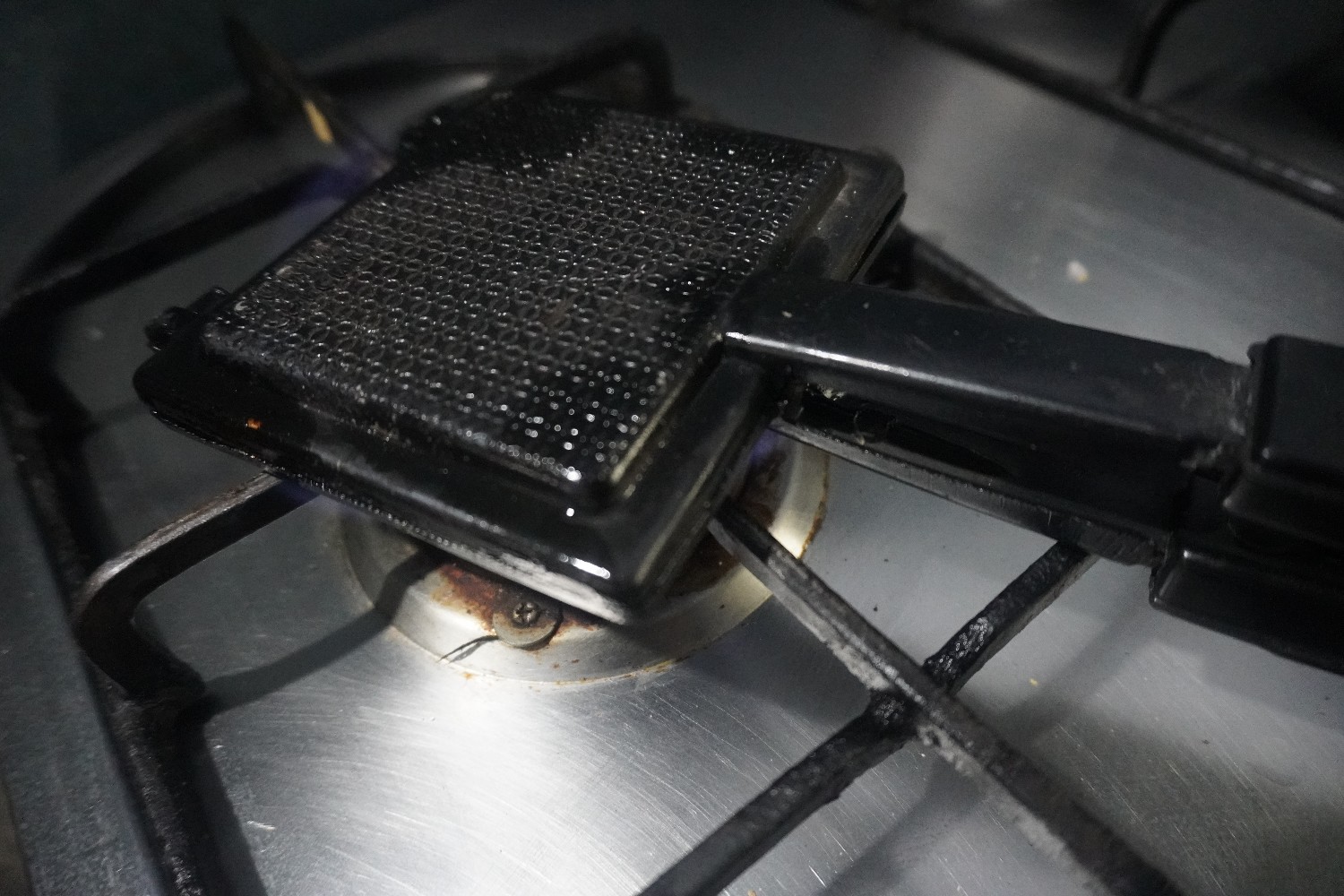 17) Now toast it from one side for 2 minutes and then flip it on the other side.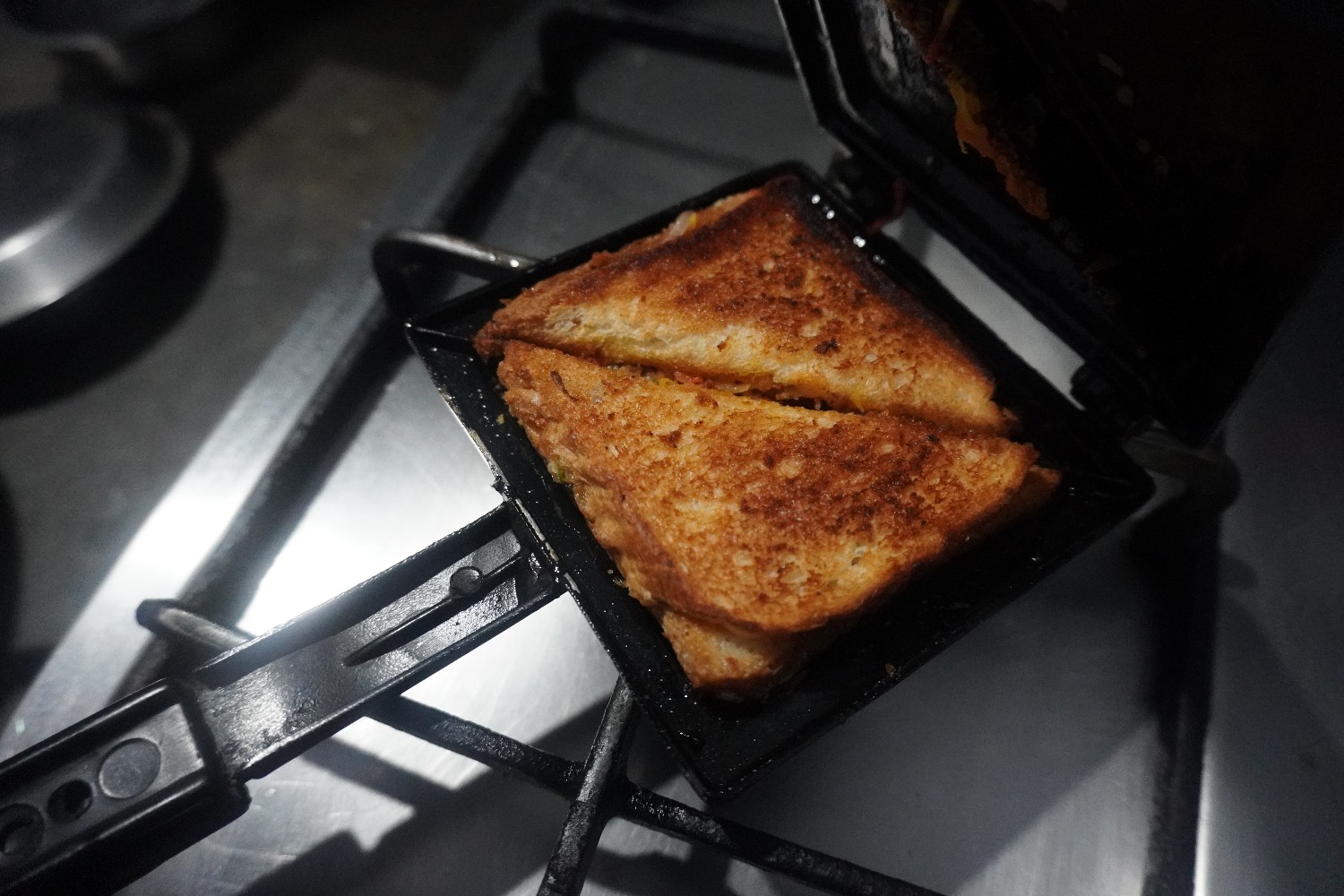 18) Toast it for 2 minutes from the other side as well and check to see if done or not.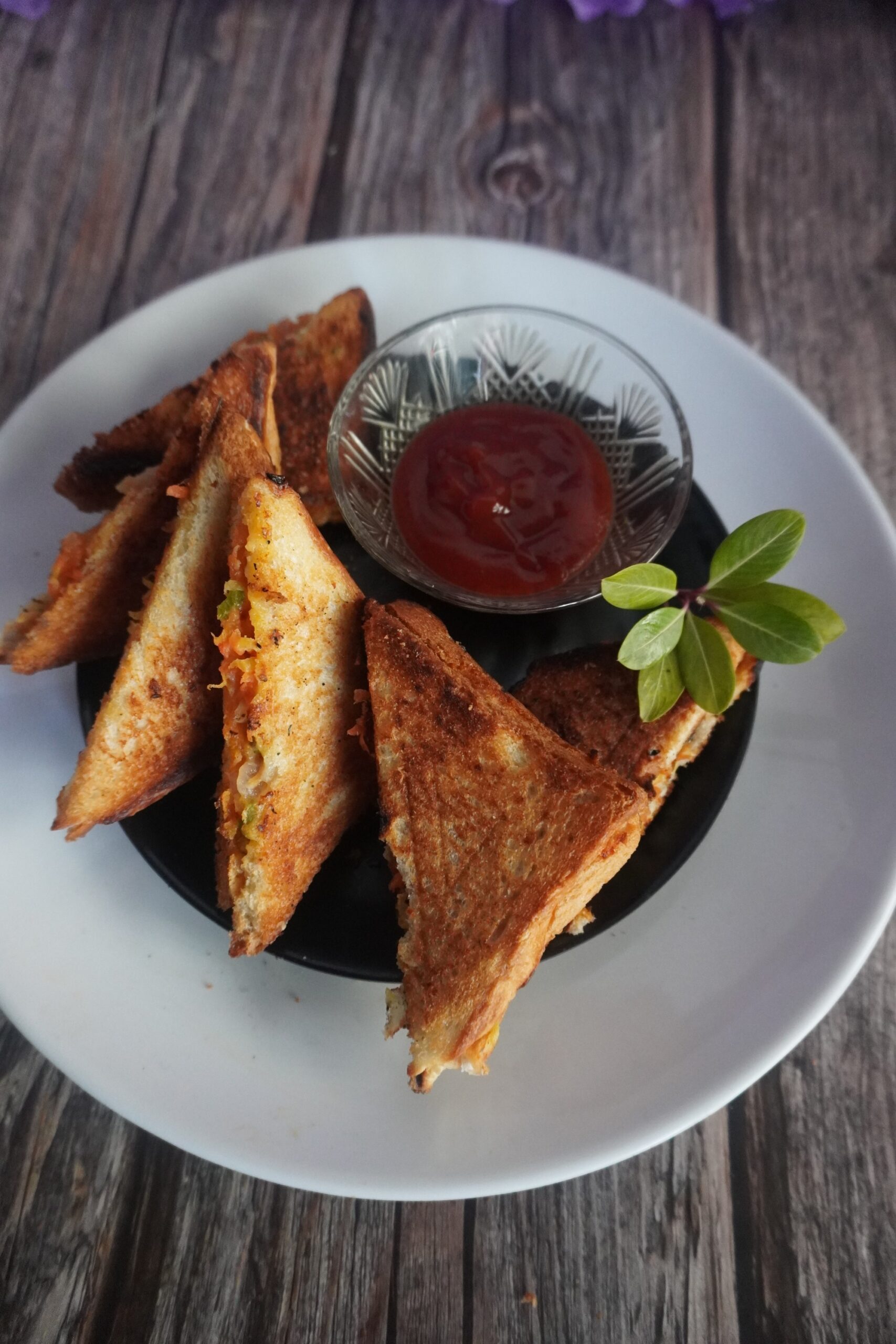 19) When it turns golden brown and crisp from both sides, your sandwich is ready. Remove it from the toaster and repeat the same with the remaining batches.Your yummy and cheesy veg sandwich is ready to be served. Enjoy with coke and ketchup and serve hot.
Tips and Tricks

1) Chop the vegetables finely. Grating the carrot makes the sandwich more tastier.
2) Make sure you brush some oil on the toaster before adding the stuffed sandwich .
3) Keep the flame at low for better results.
4) Keep on checking in between to see if done or not.
5) Remove the bread slice slowly if it gets stick to the toaster.
6) Slice and serve hot.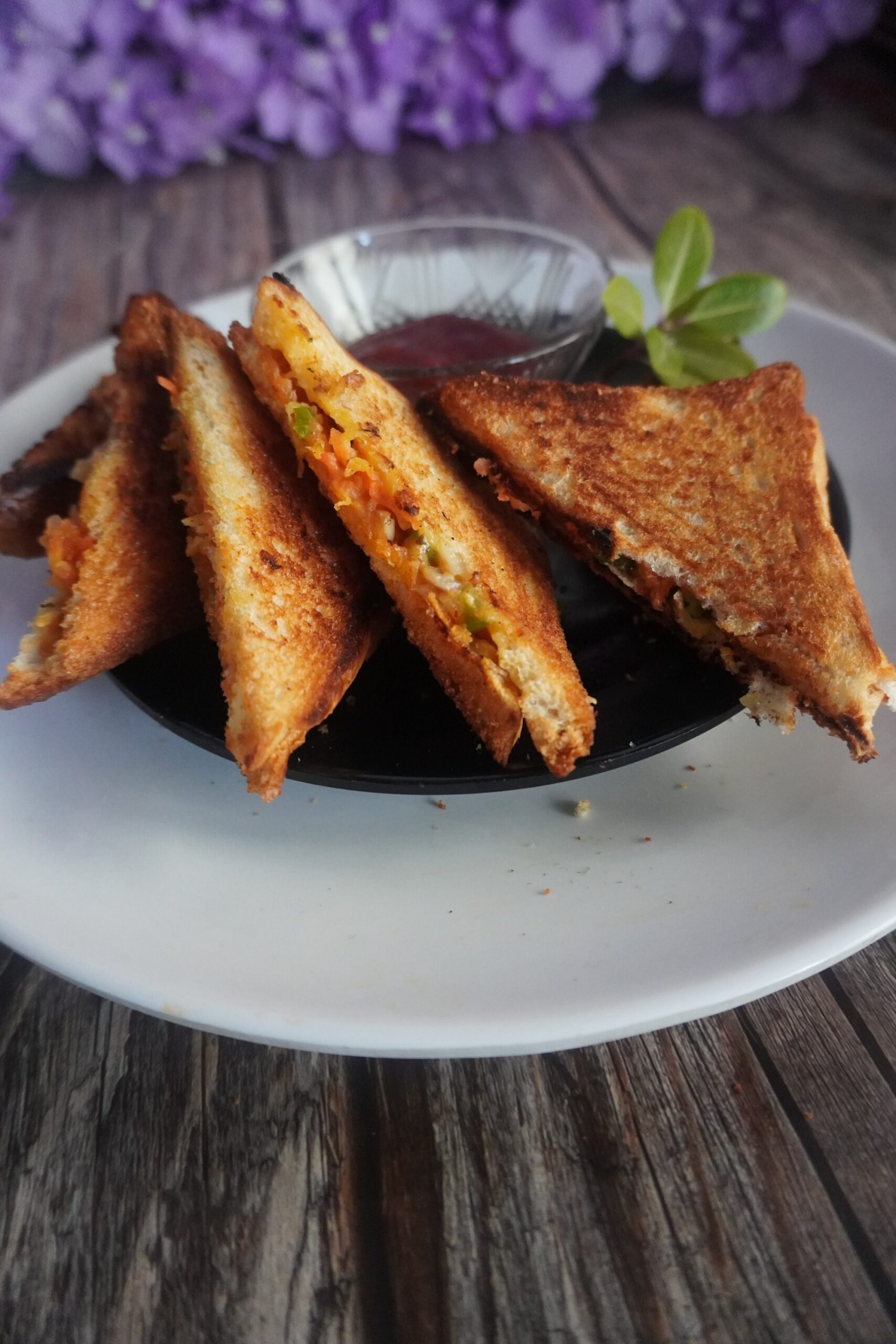 Healthier version

1) Use brown bread instead of white bread.
2) You can use more veggies and less cheese.