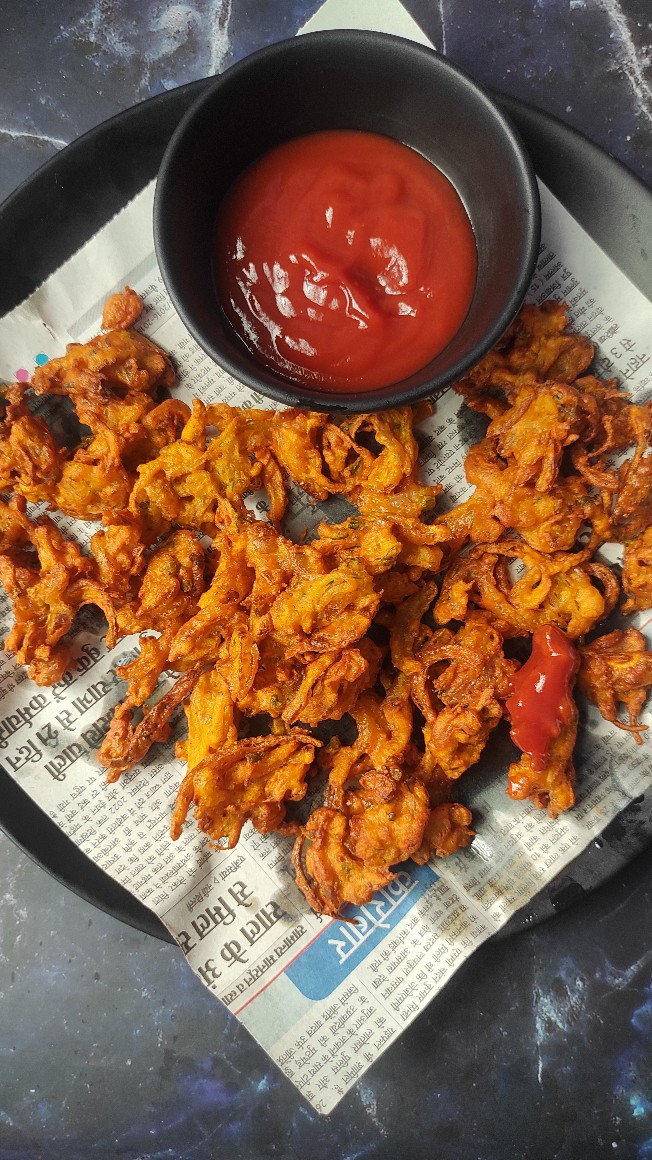 Ingredients

Onion- 4 (finely chopped)
Ginger/garlic paste: 1/2 tablespoon
Turmeric powder- 1/2 teaspoon
Red chilli powder- 1/2 teaspoon
Coriander powder- 1/2 teaspoon
Salt- as per taste
Aamchur (dry mango) powder- 1/2 teaspoon
Carrom seeds- 1/2 teaspoon
Garam masala- 1/2 teaspoon
Green chillies- 2 (finely chopped)
Lemon juice- 1 teaspoon
Coriander leaves- 1 tablespoon (finely chopped)
Besan- 1/2 cup
Water- as per requirements.
Oil -for trying
Step by step recipe with images
Step by step recipe: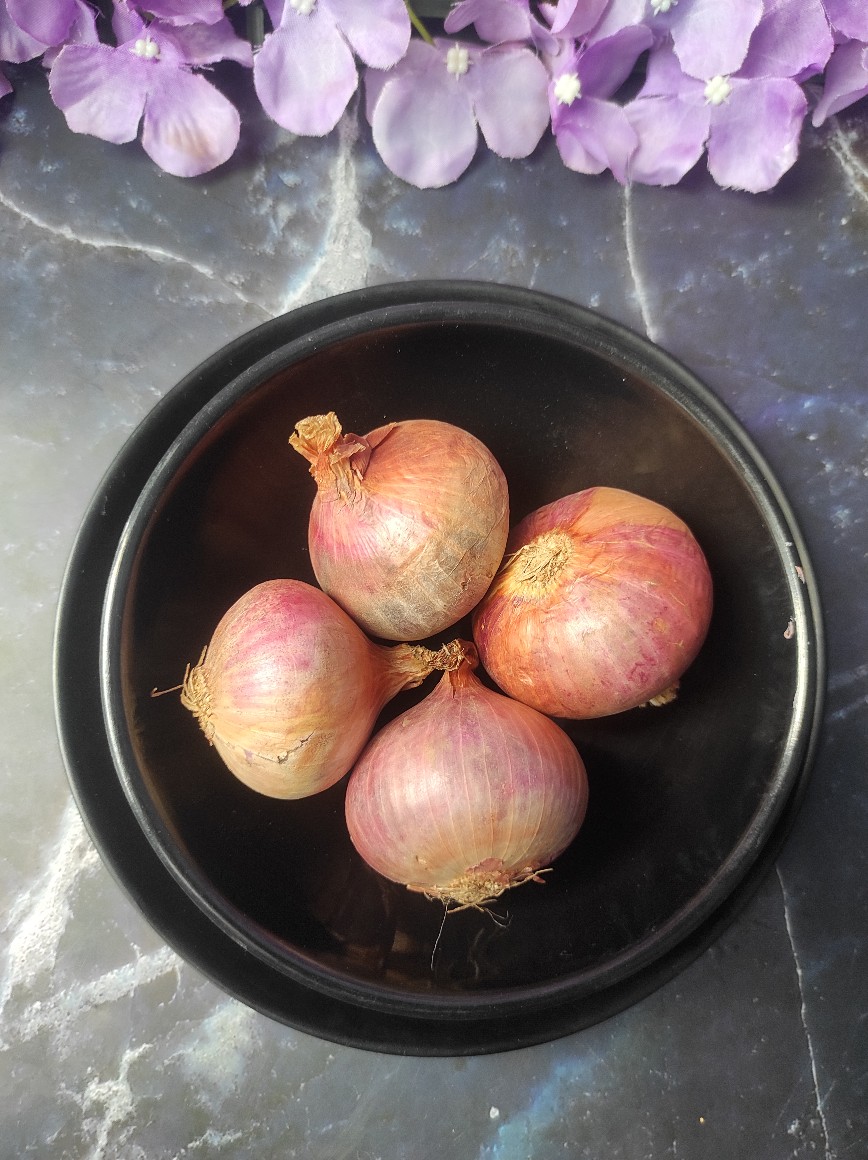 1) Firstly take 4 medium sized onions.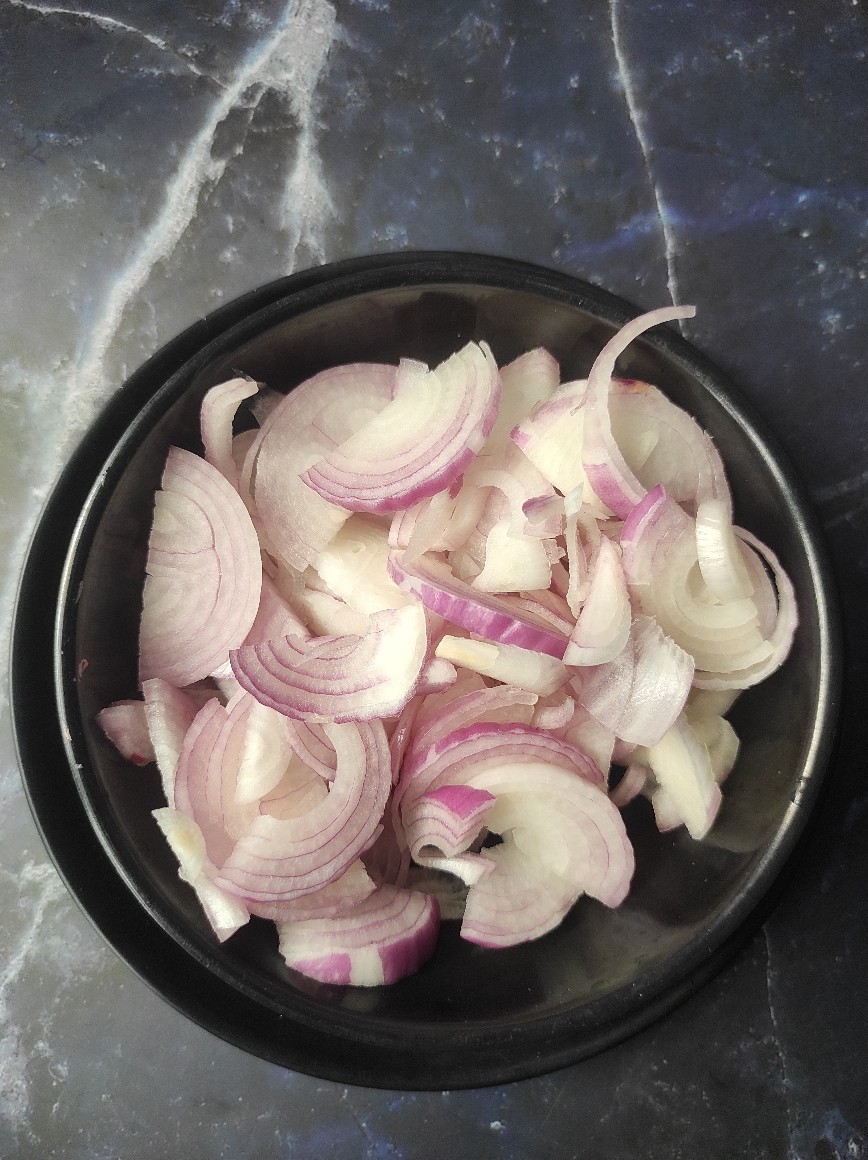 2) Finely chop it as shown above.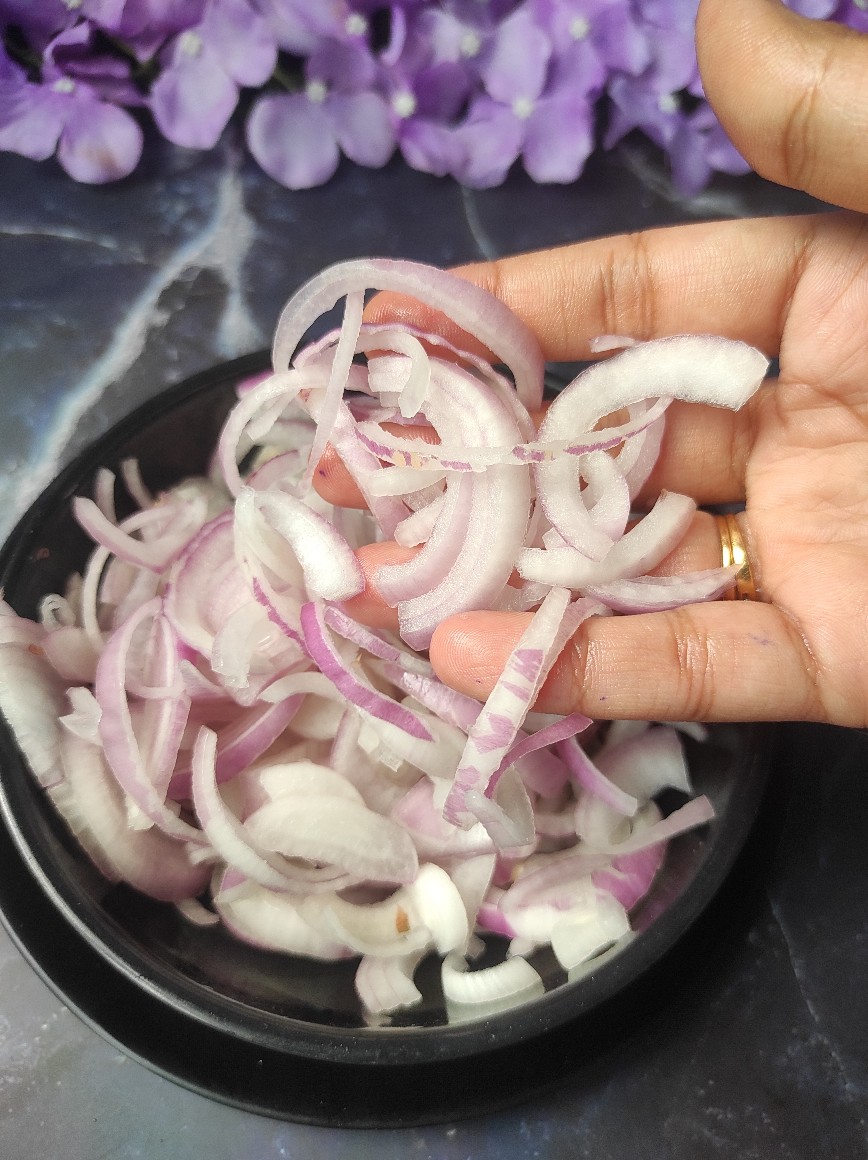 3) Now seperate the slices using your fingers.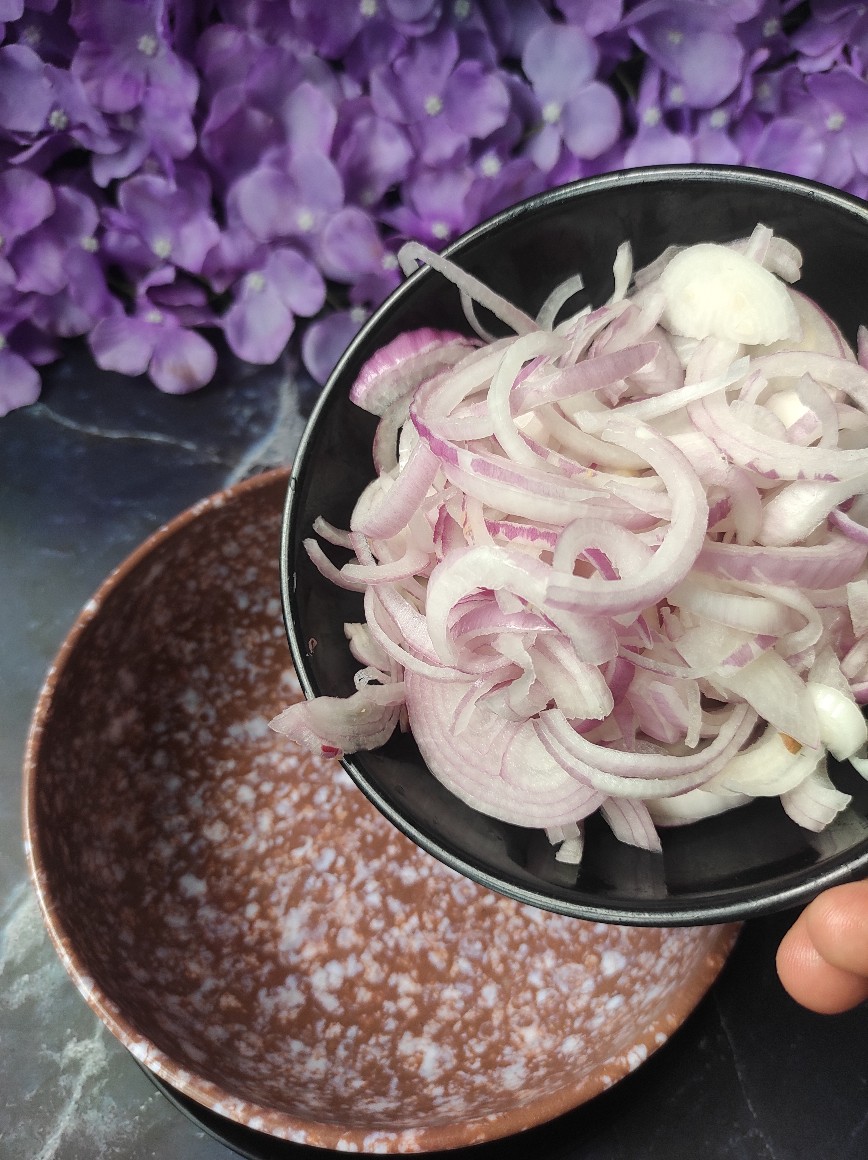 4) Transfer it to a bowl.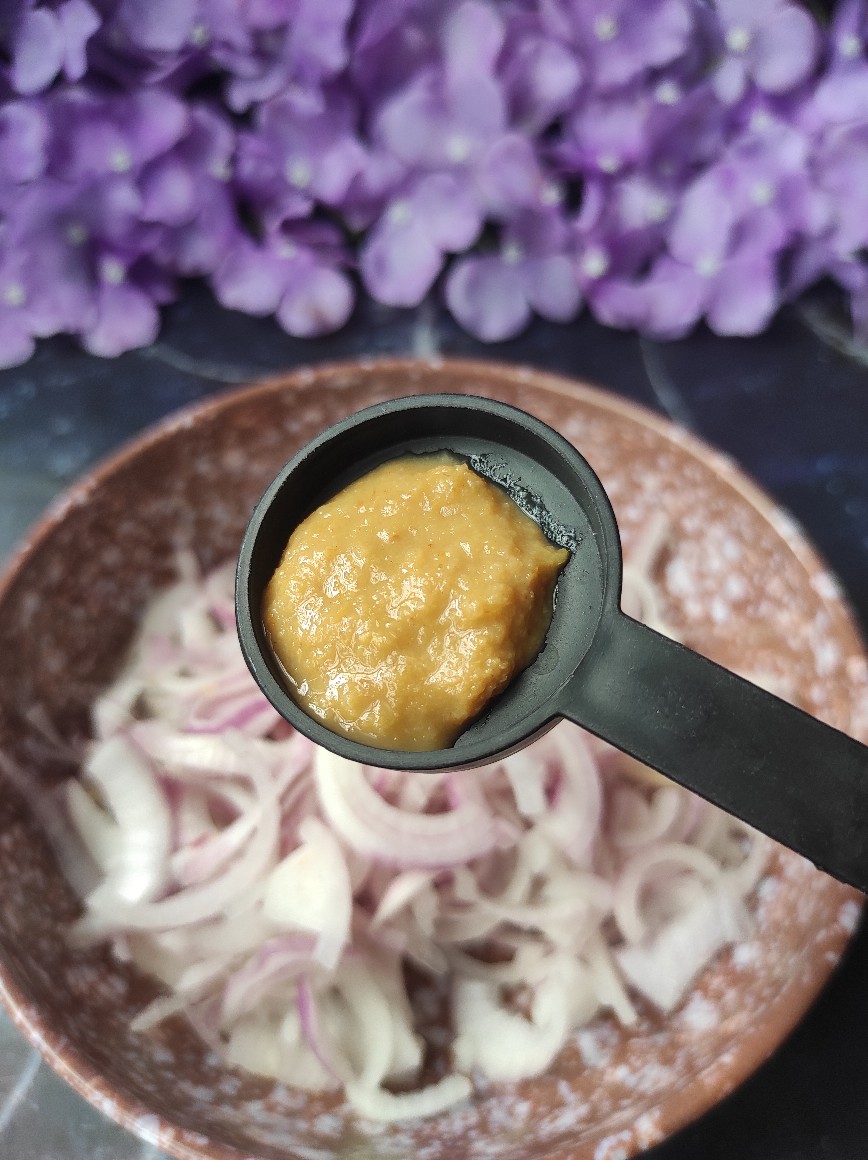 5) Add 1/2 tablespoon of ginger, garlic paste in it.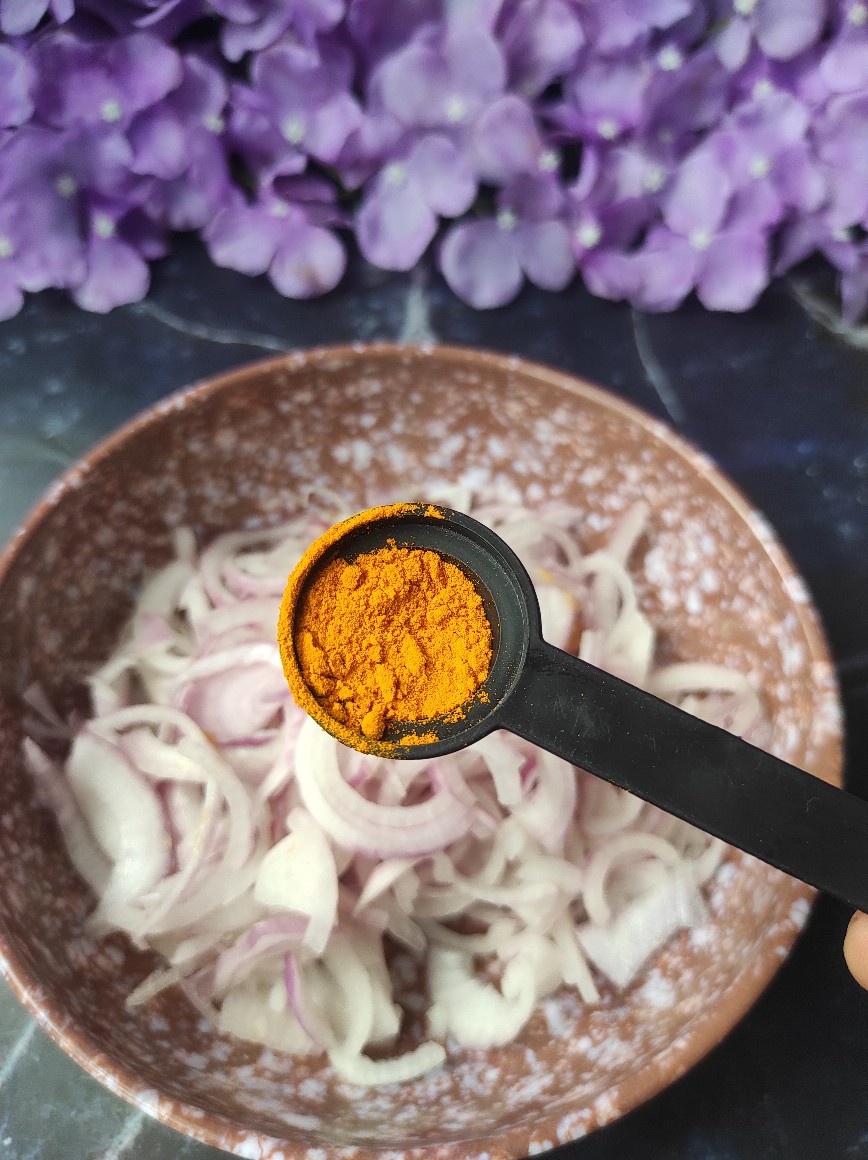 6) Now add 1/2 teaspoon of turmeric powder in it.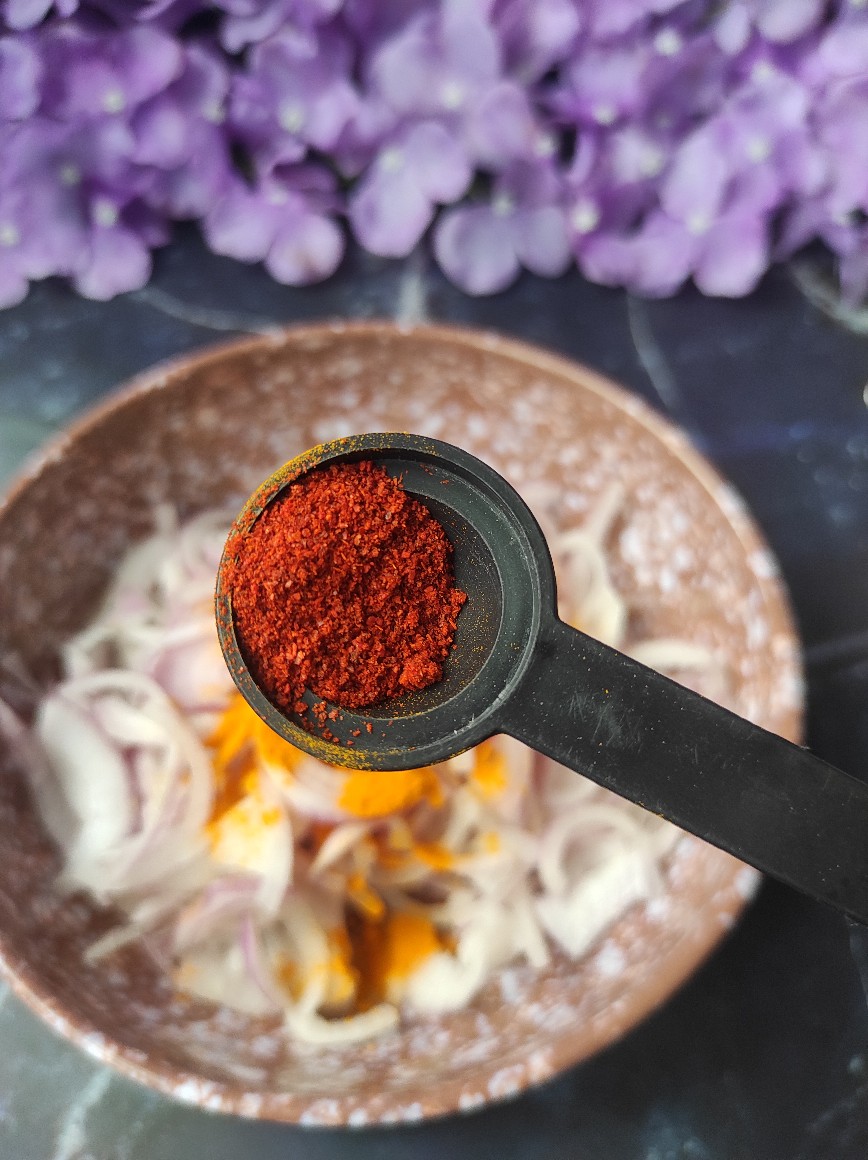 7) Add 1/2 teaspoon of red chili powder in it.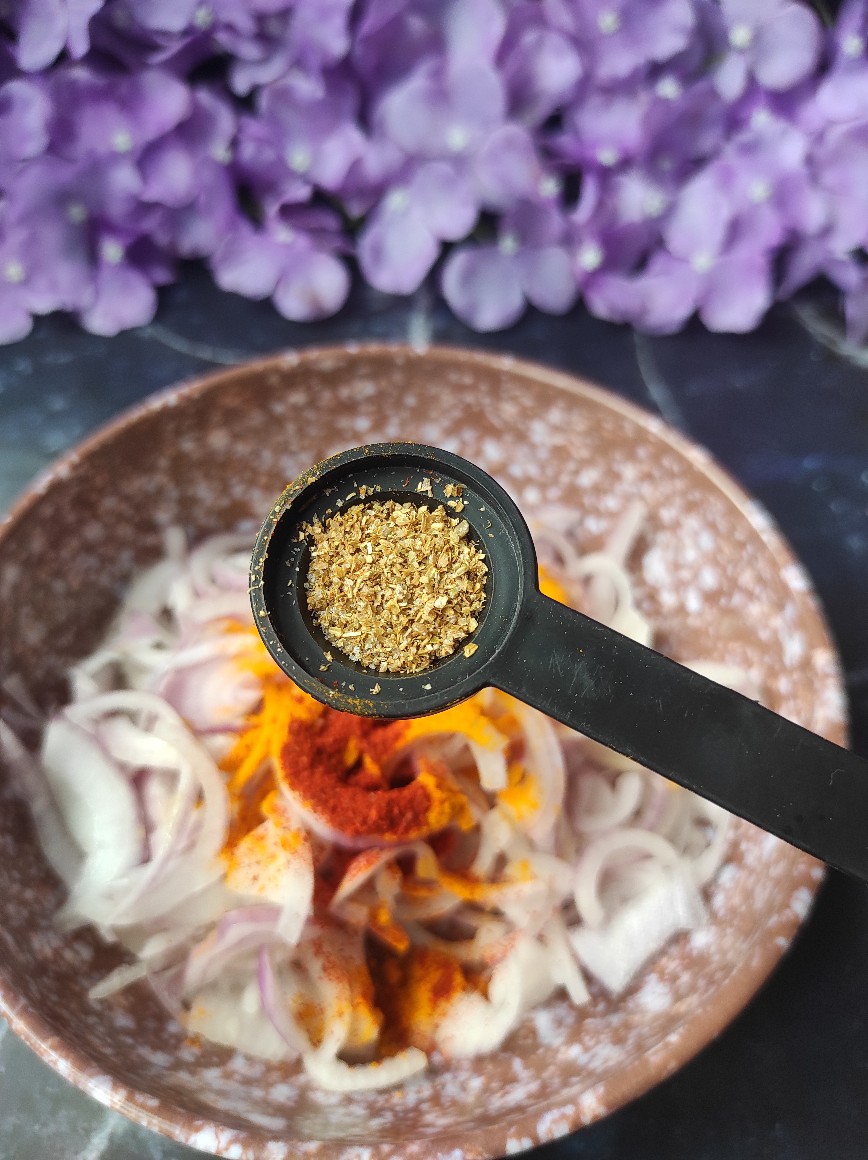 8) Add 1/2 teaspoon coriander powder in it.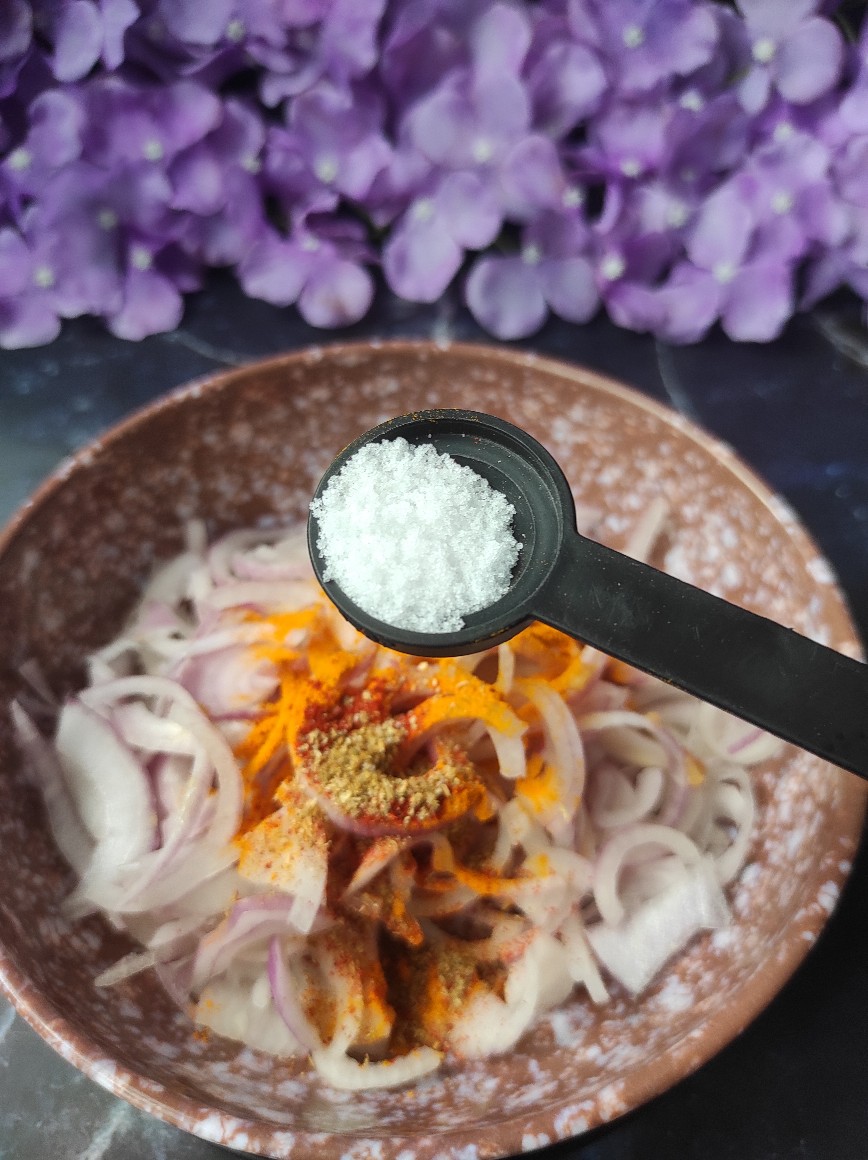 9) Now add salt as per taste.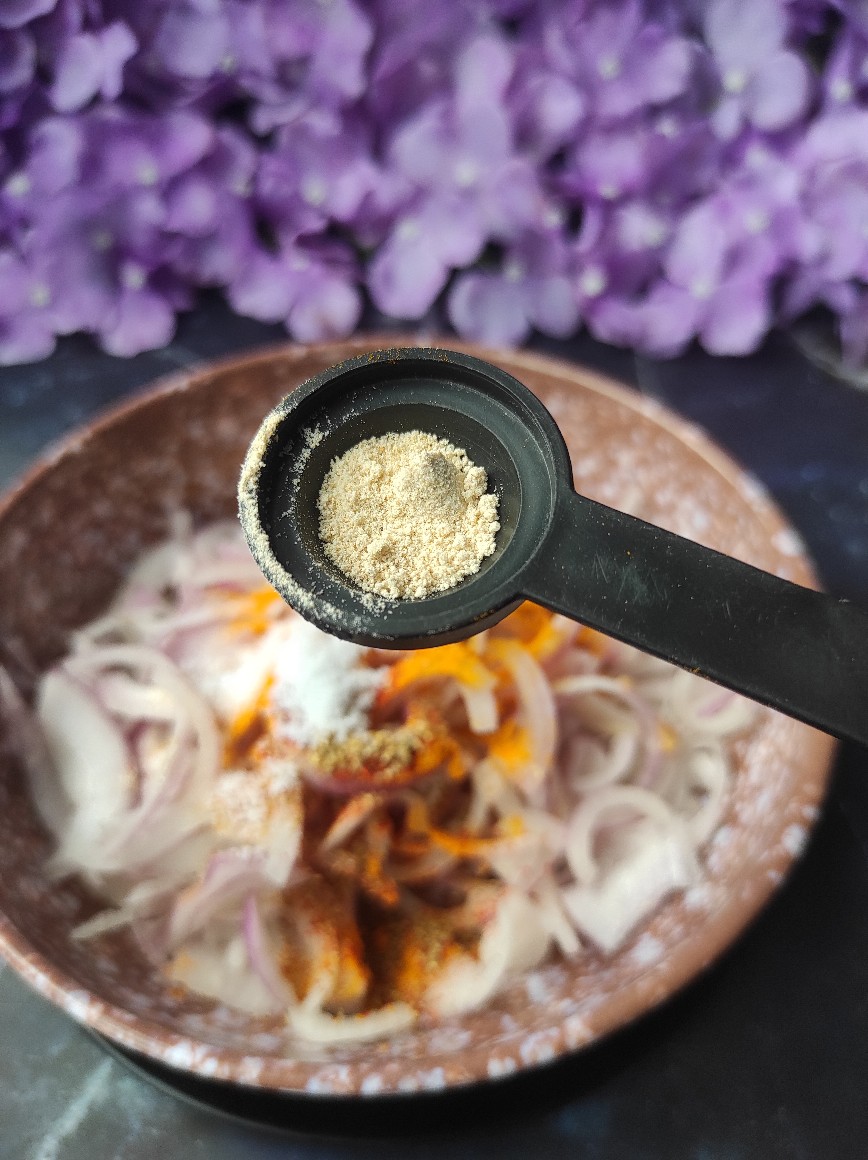 10) Add 1/2 teaspoon aamchur powder(dry mango powder) in it.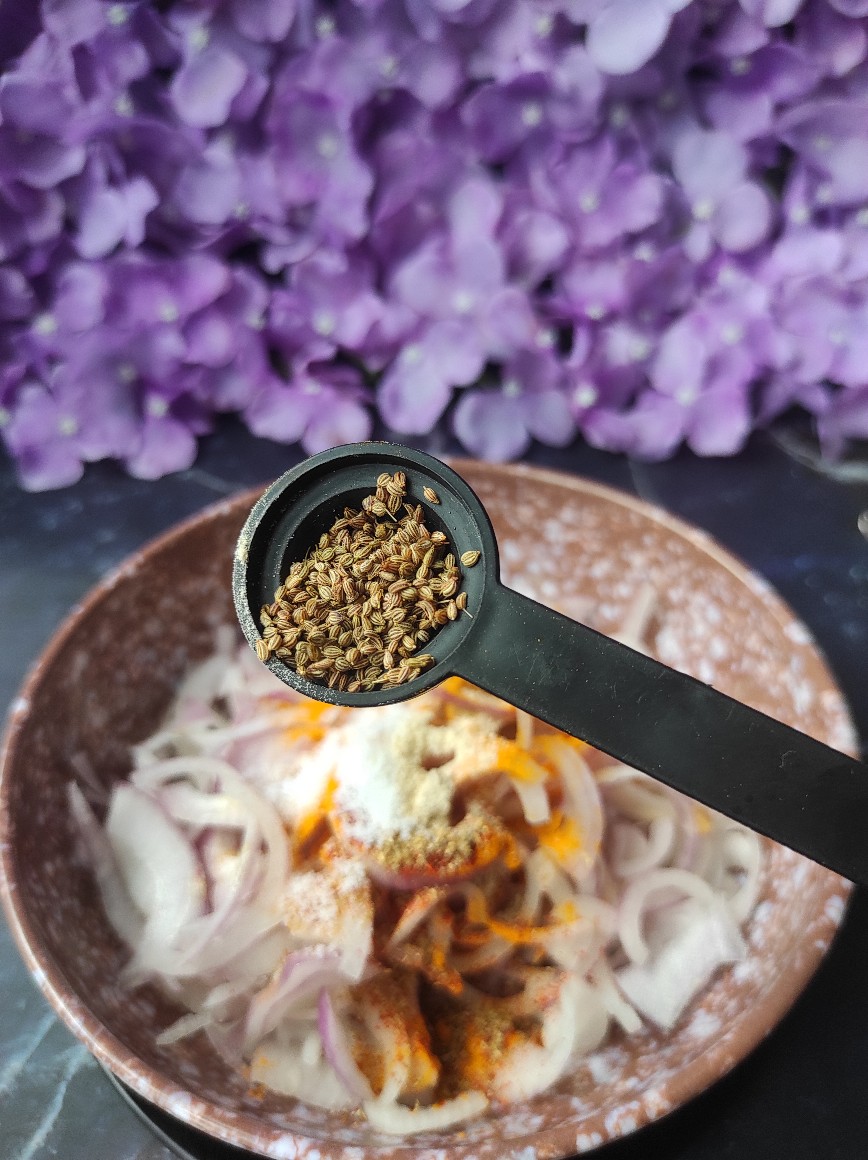 11) Add 1/2 teaspoon of carrom seeds in it.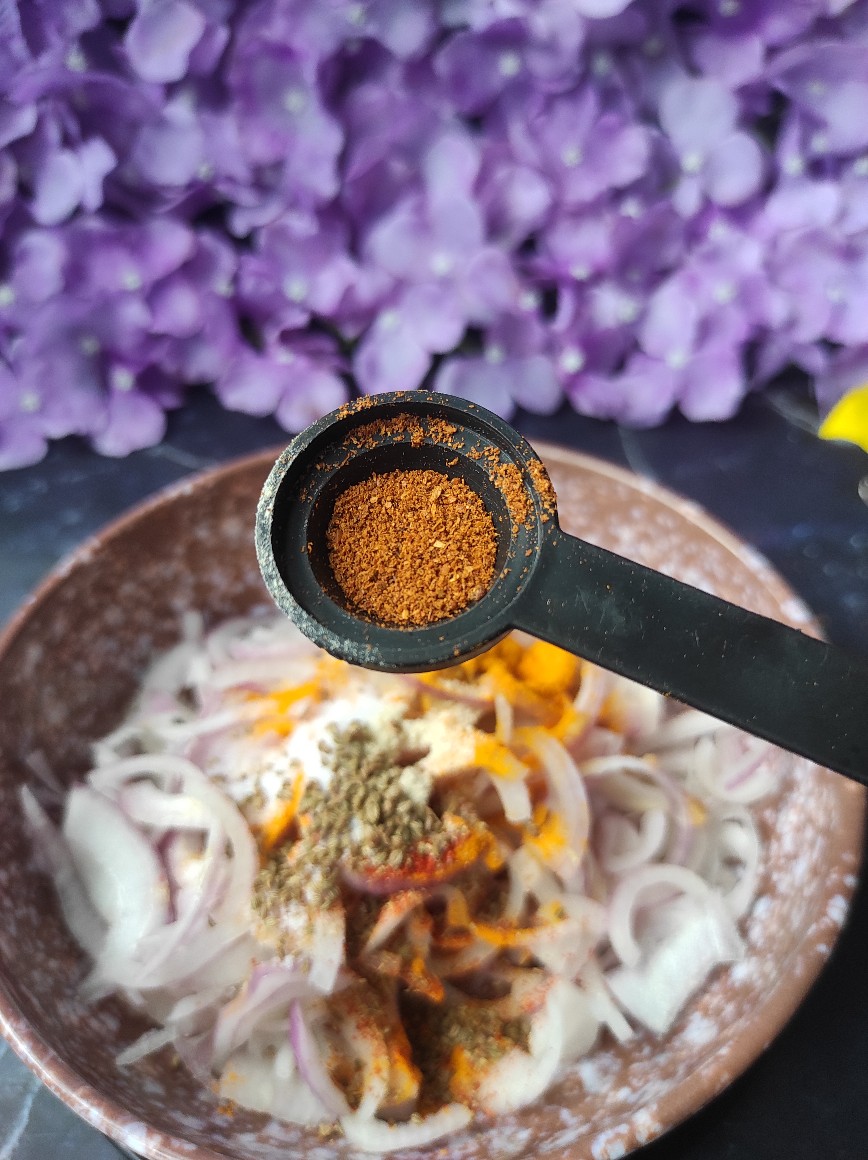 12) Add 1/2 tablespoon of garam masala in it.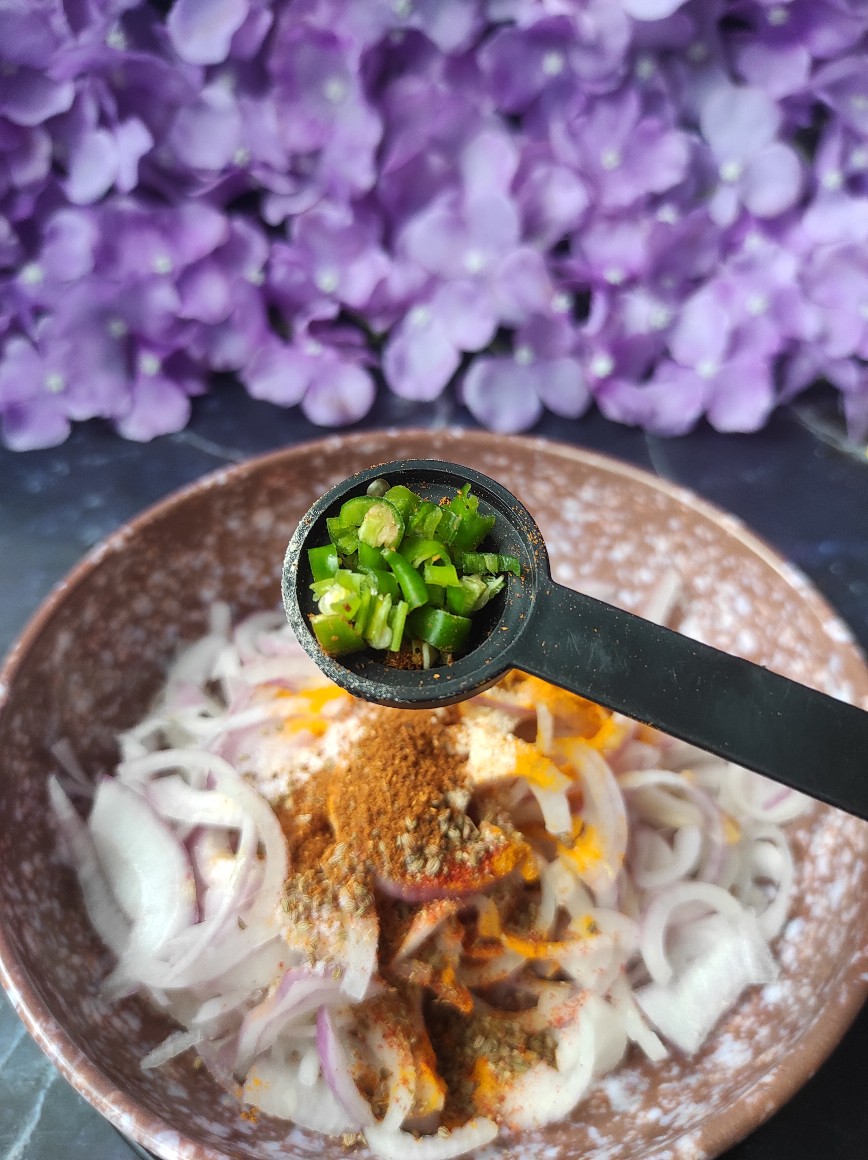 13) Add two finely chopped green chillies in it.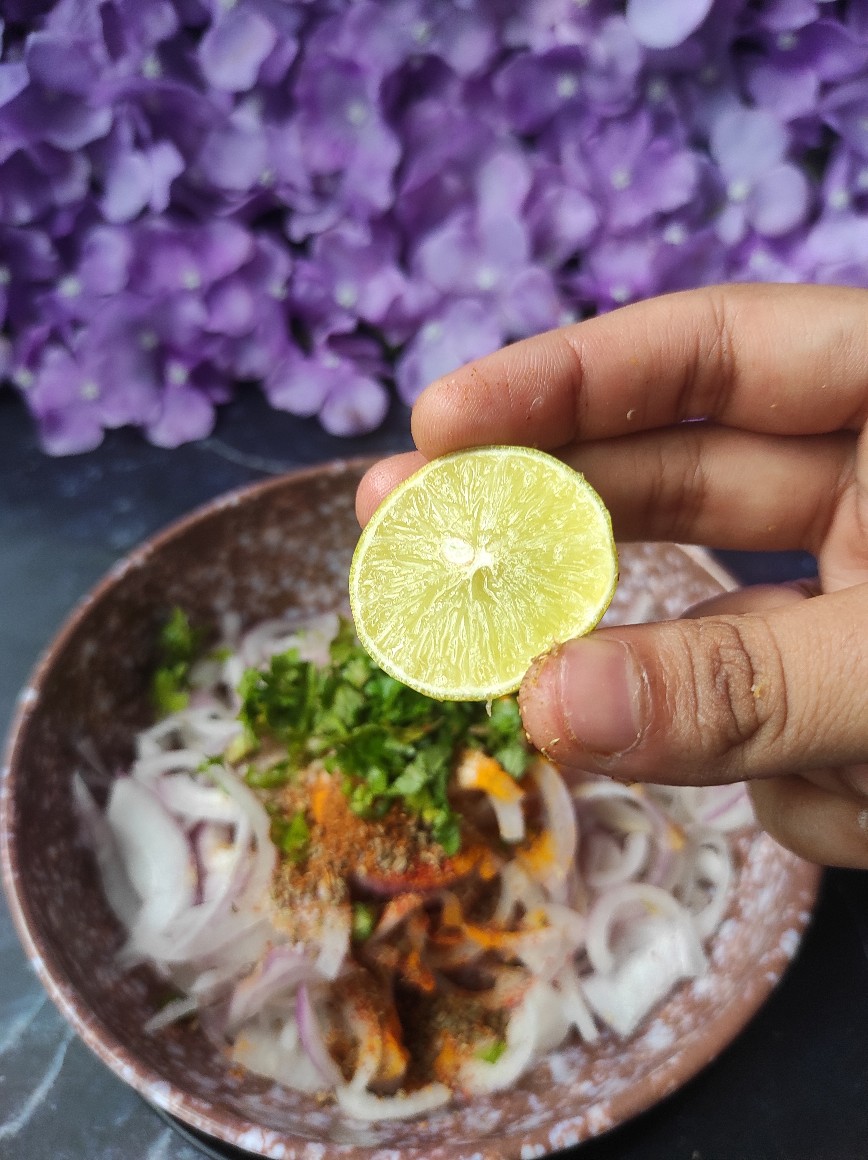 14) Now add a teaspoon of lemon juice in it.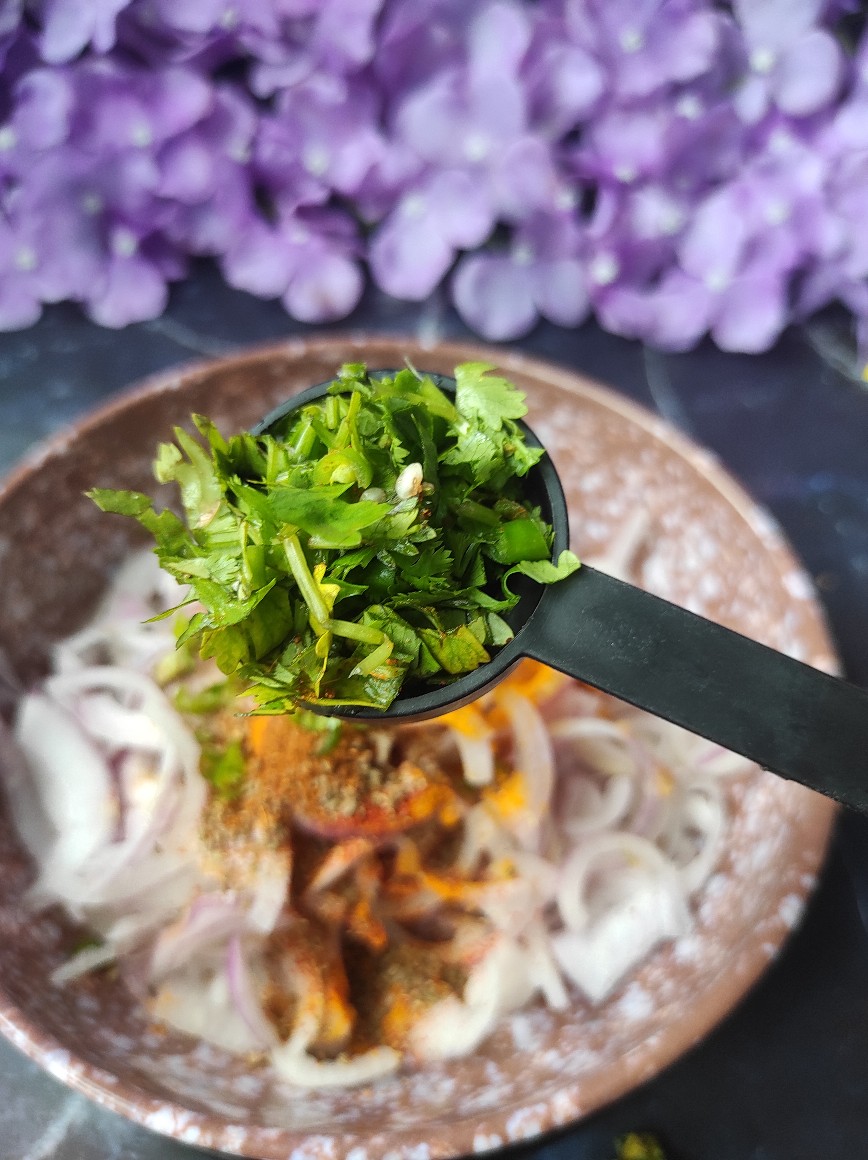 15) Add finely chopped coriander leaves in it.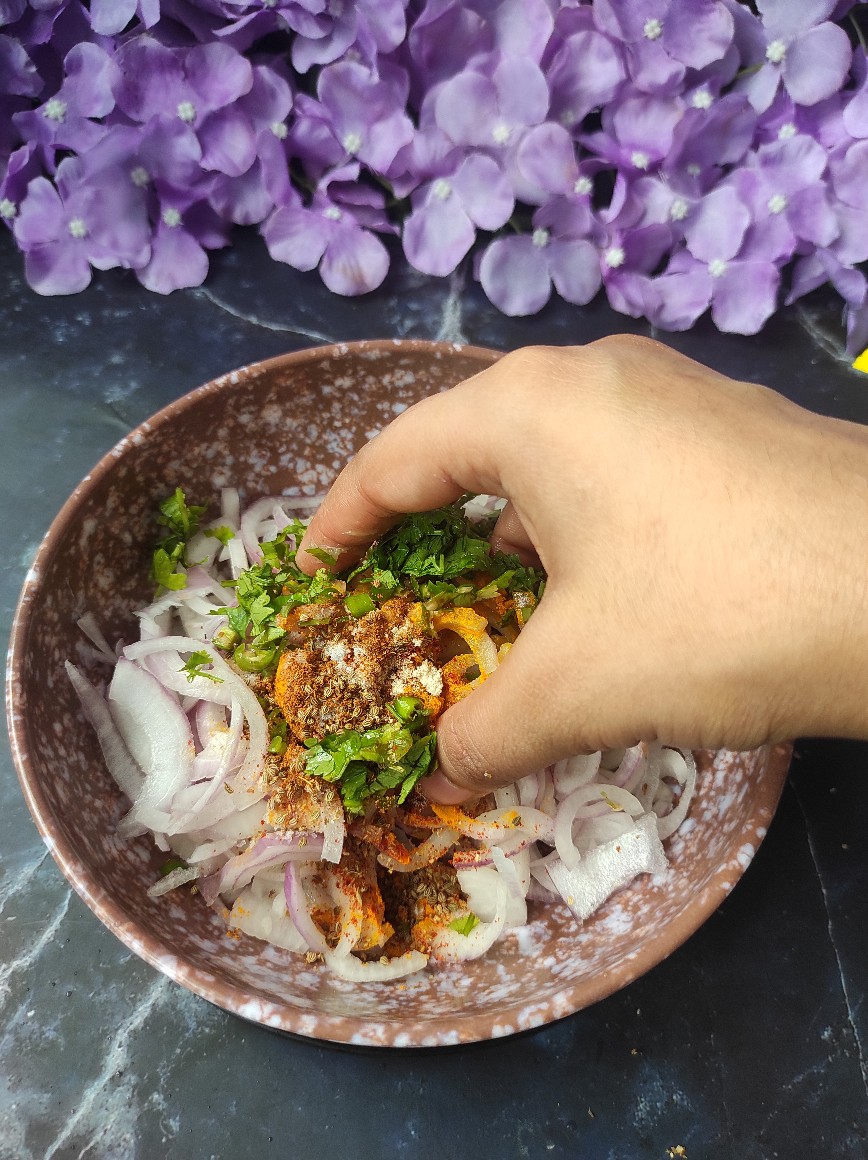 16) Mix them well with your hands .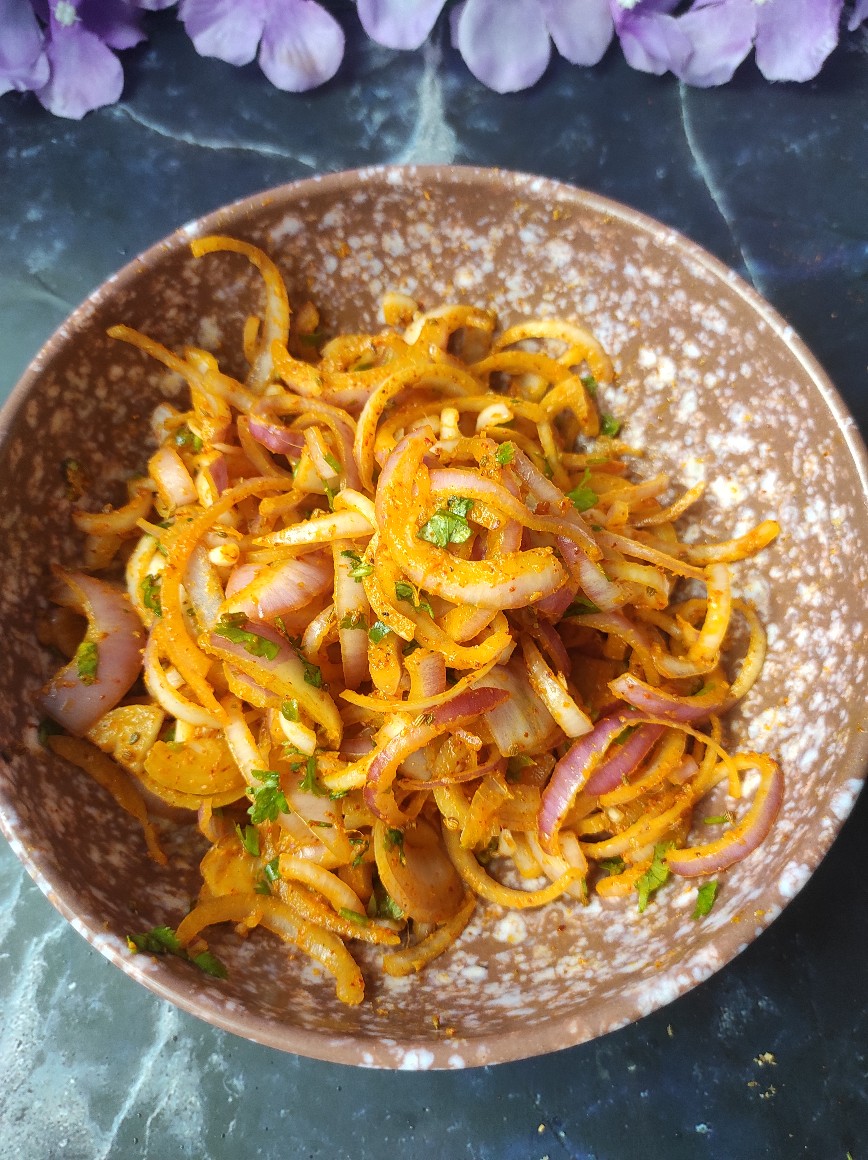 17)After marinating , rest it for 5 minutes.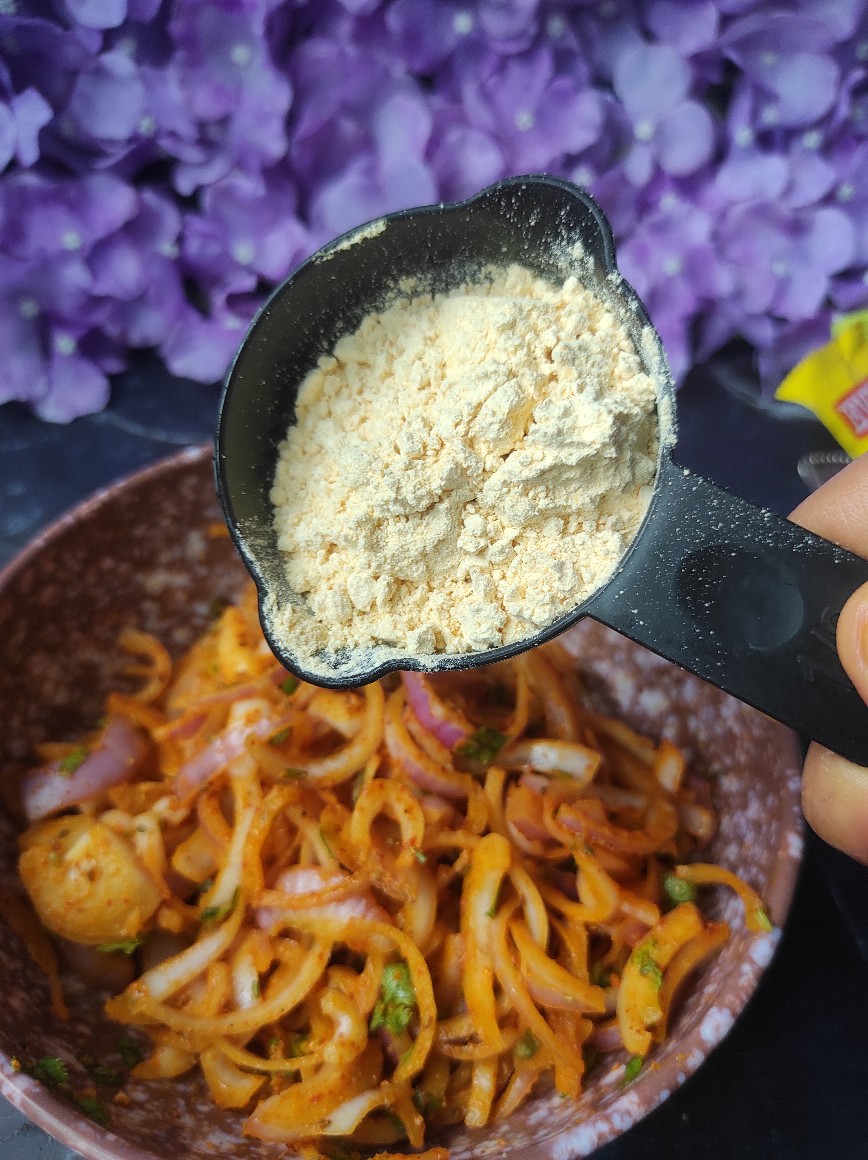 18) Now add 1/4 cup of besan Or gram flour in it.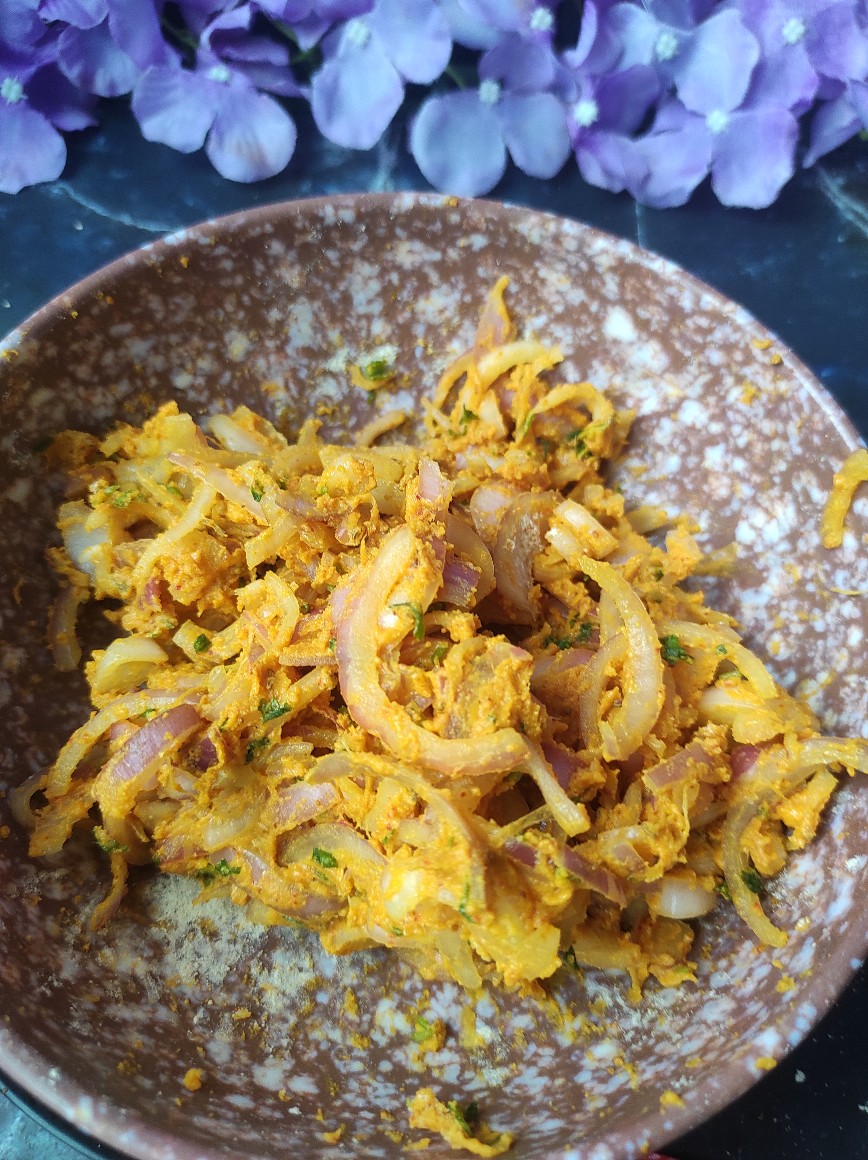 19) Mix them well with your hands.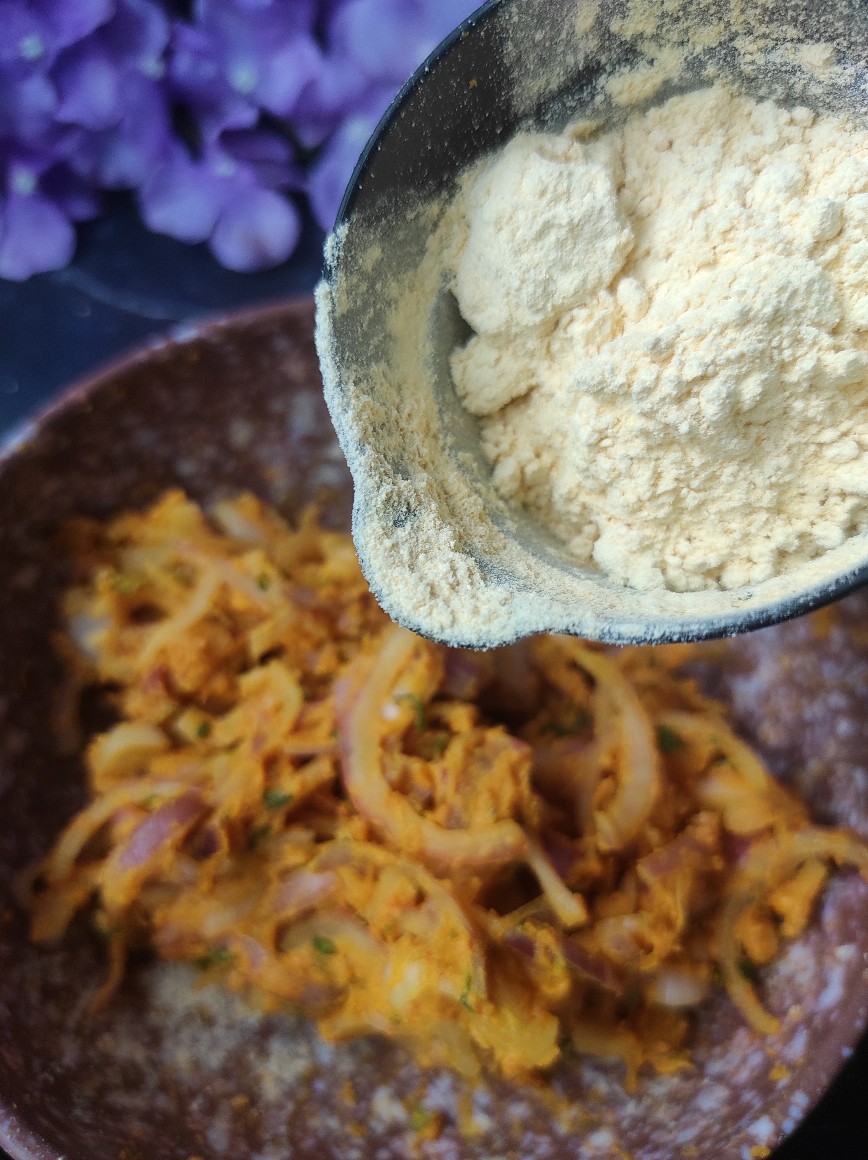 20) Now add the remaining 1/4 cup of gram flour in it.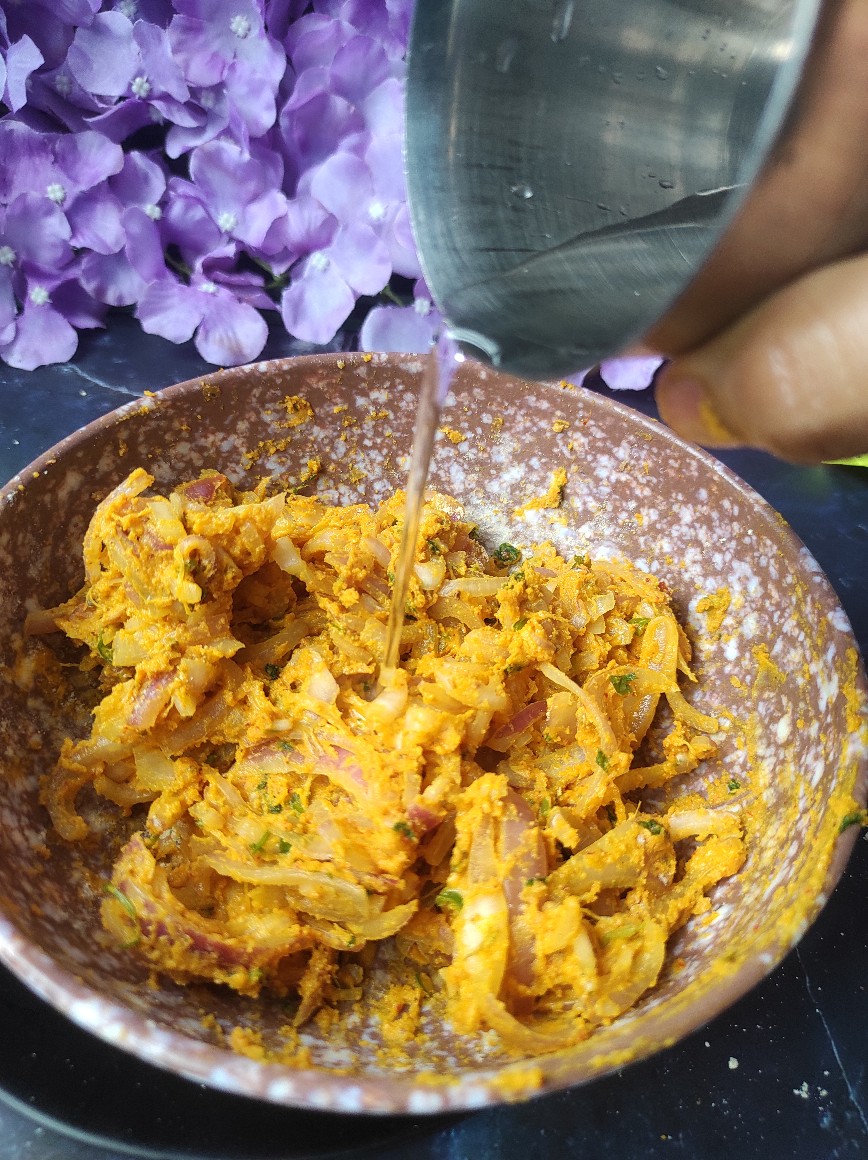 21) Add 2 tablespoon of water in it.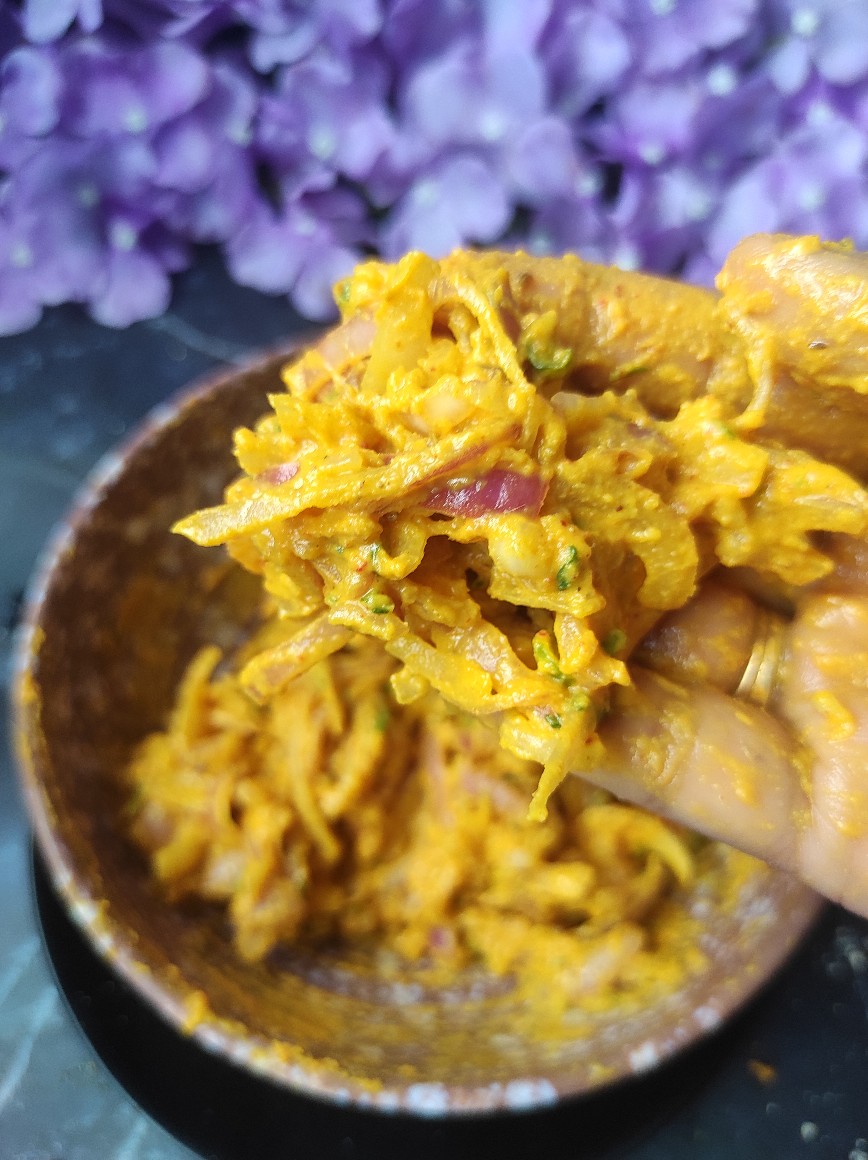 22) Mix them well with your hands.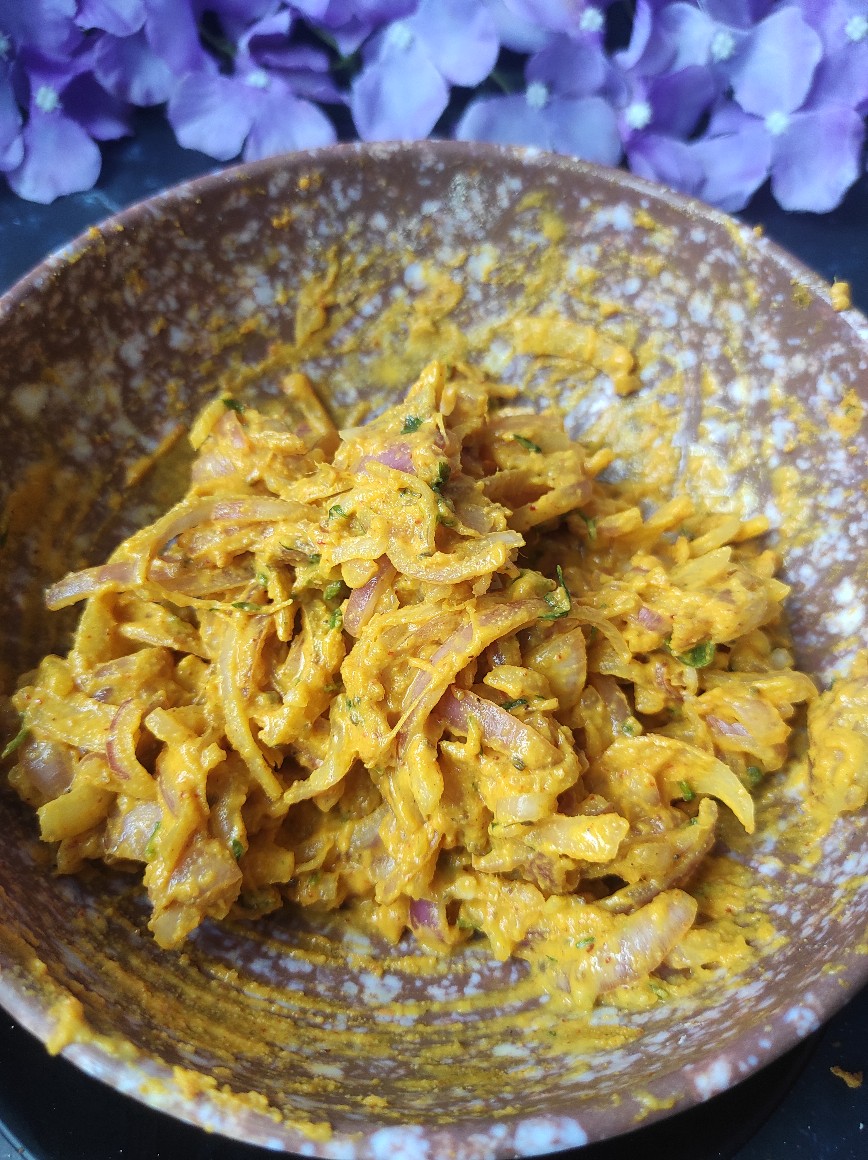 23) You are done with the batter when you reach the consistency shown above.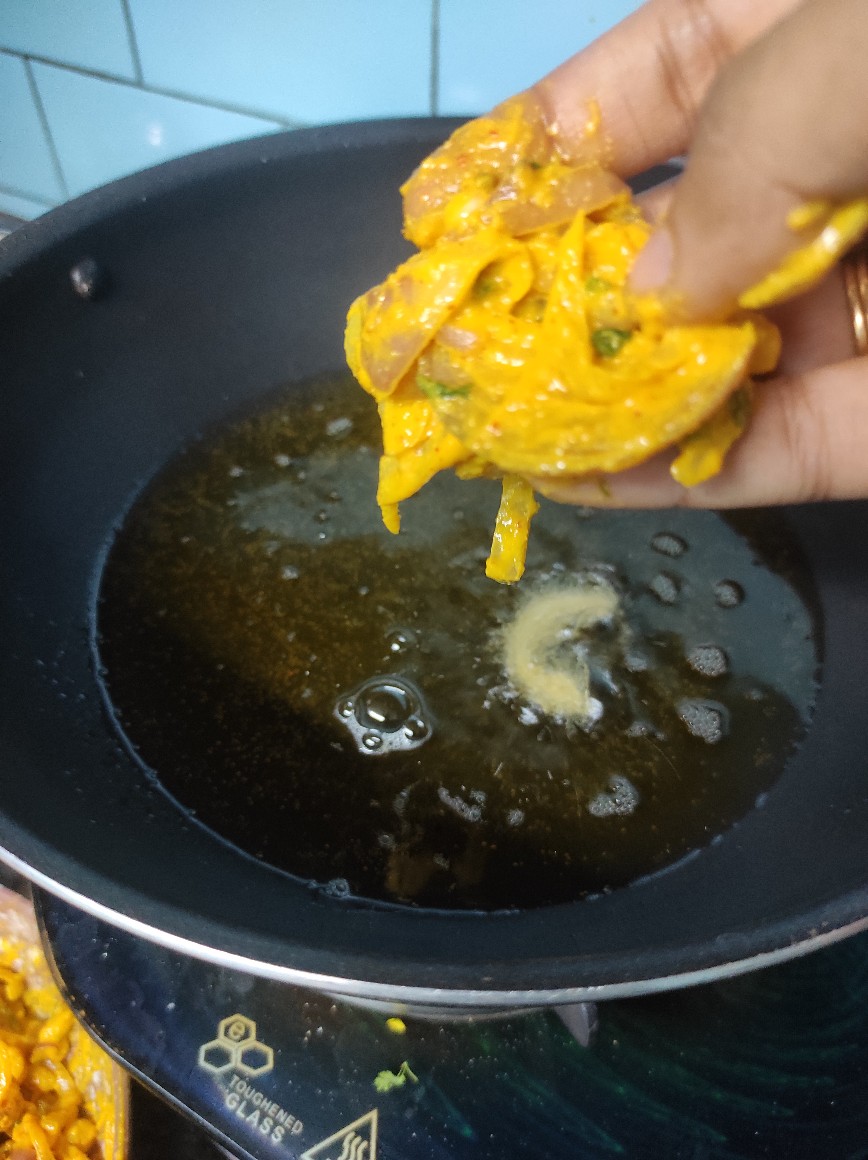 24) Now heat a pan with oil. Add a pinch of batter in the oil. When it comes up, your oil is ready for frying.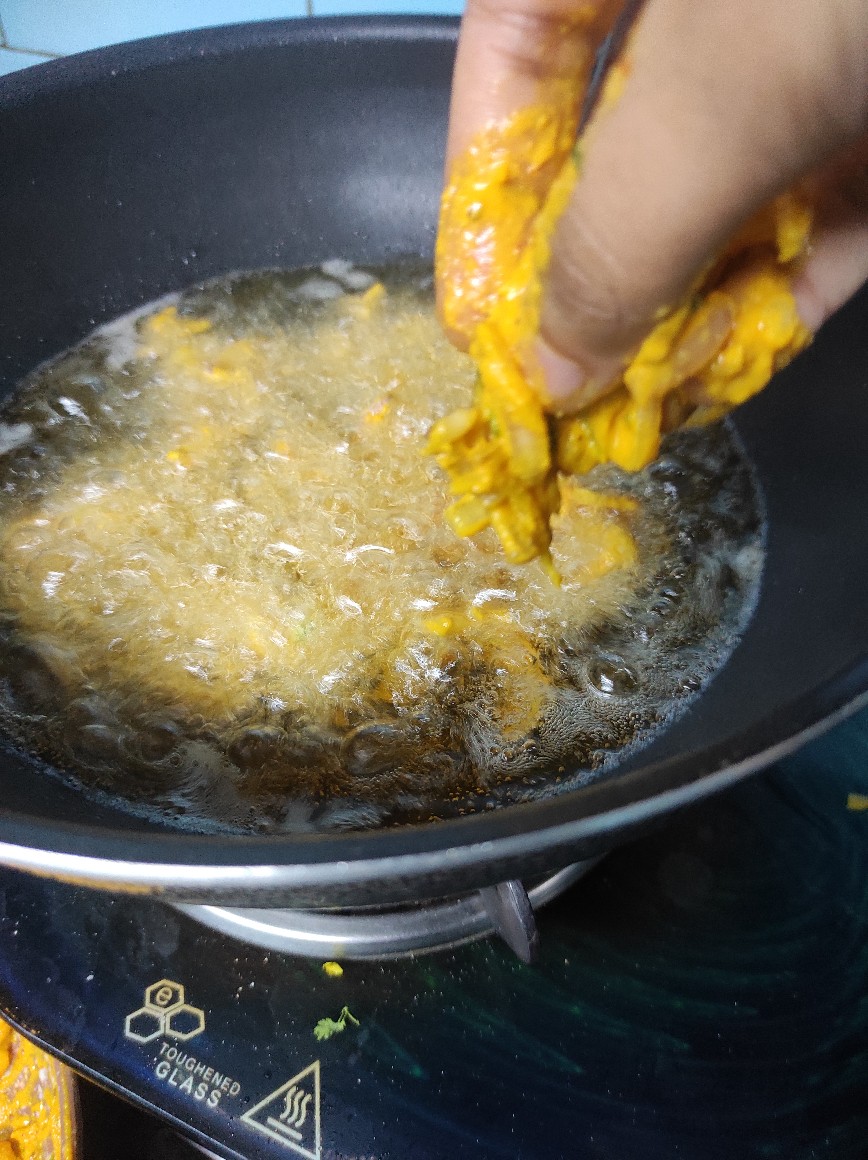 25) Now slowly add the batter in hot oil, spreading it in all directions evenly.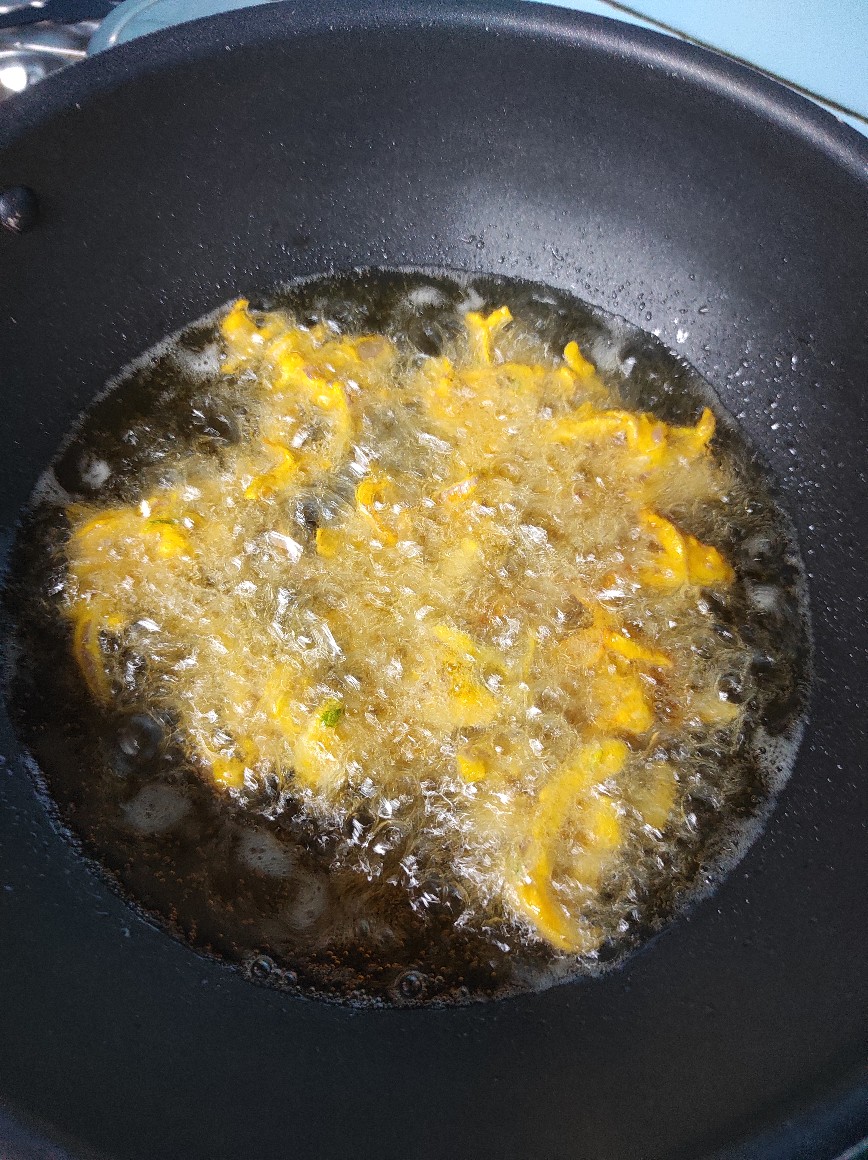 26) Deep fry for 2 minutes on medium flame.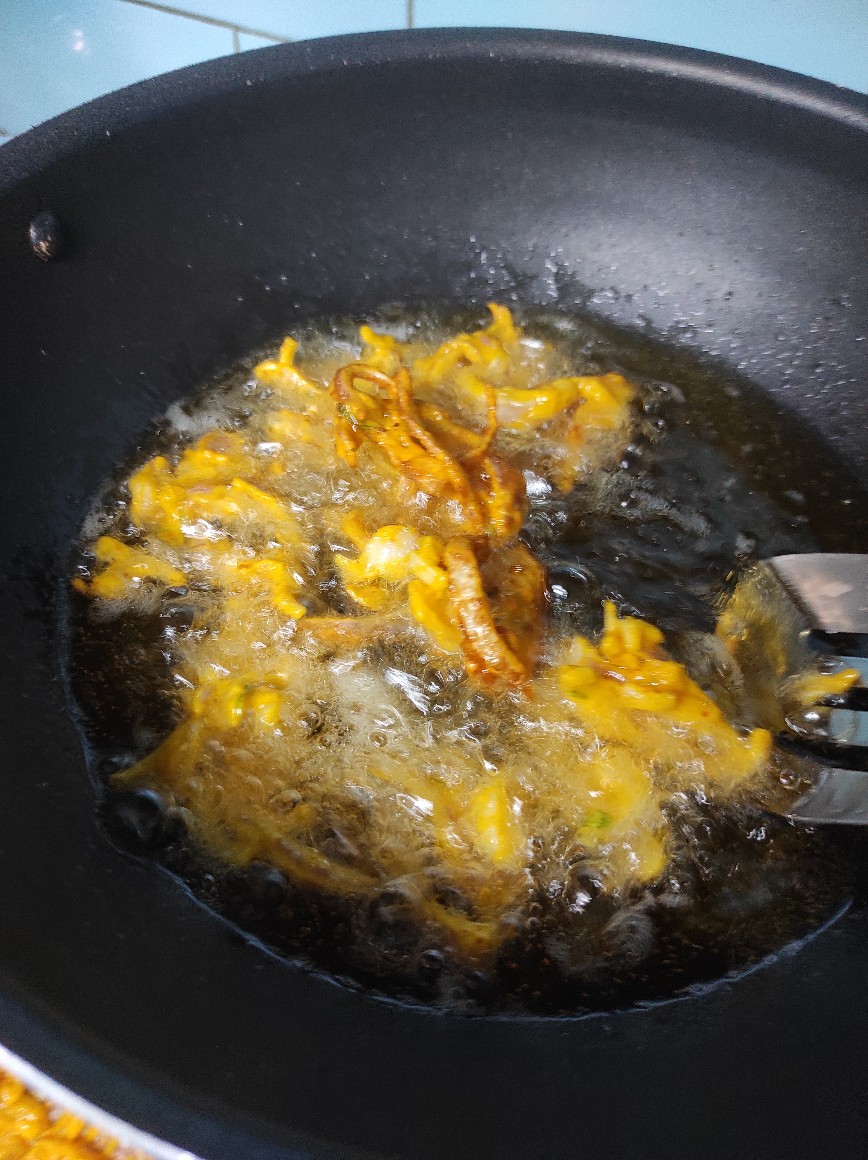 27) Now flip the pakoras on other side and turn the flame to low.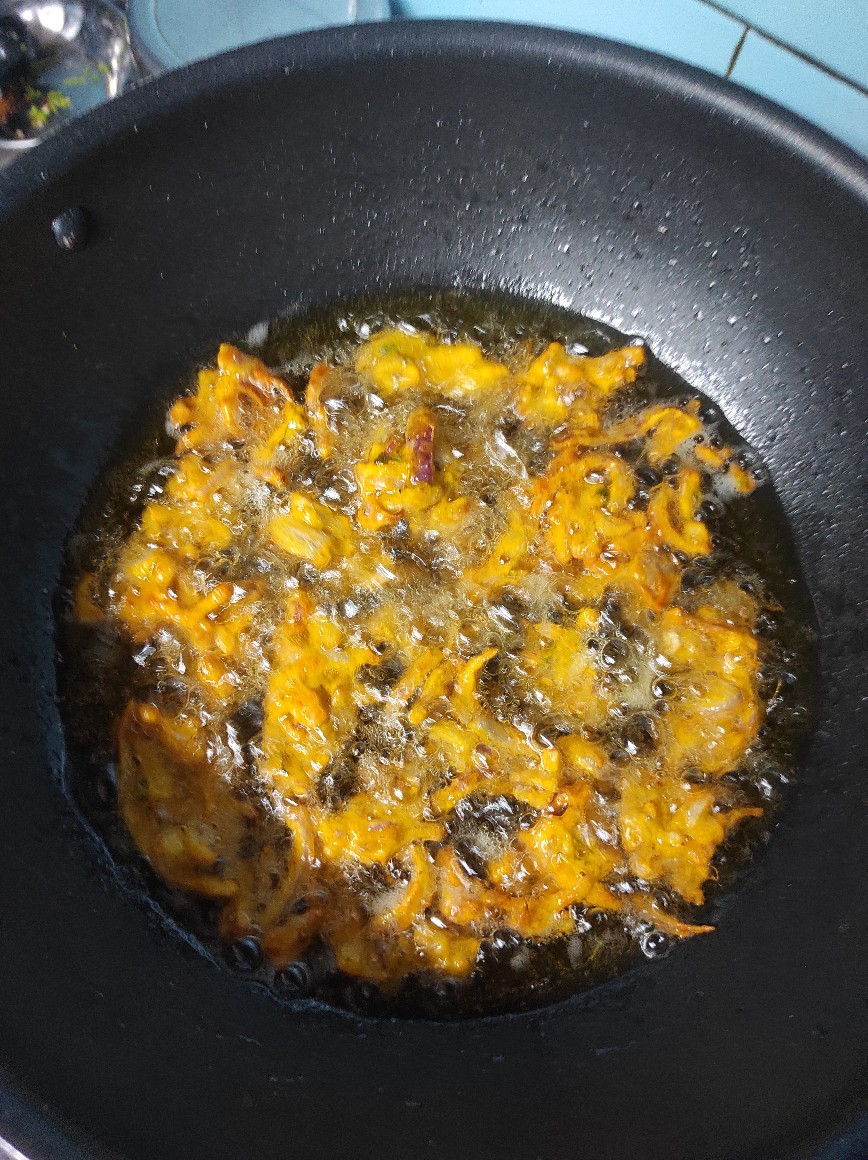 28) Cook the pakoras or bhajias on low flame for 3 to 4 minutes until golden brown and crisp.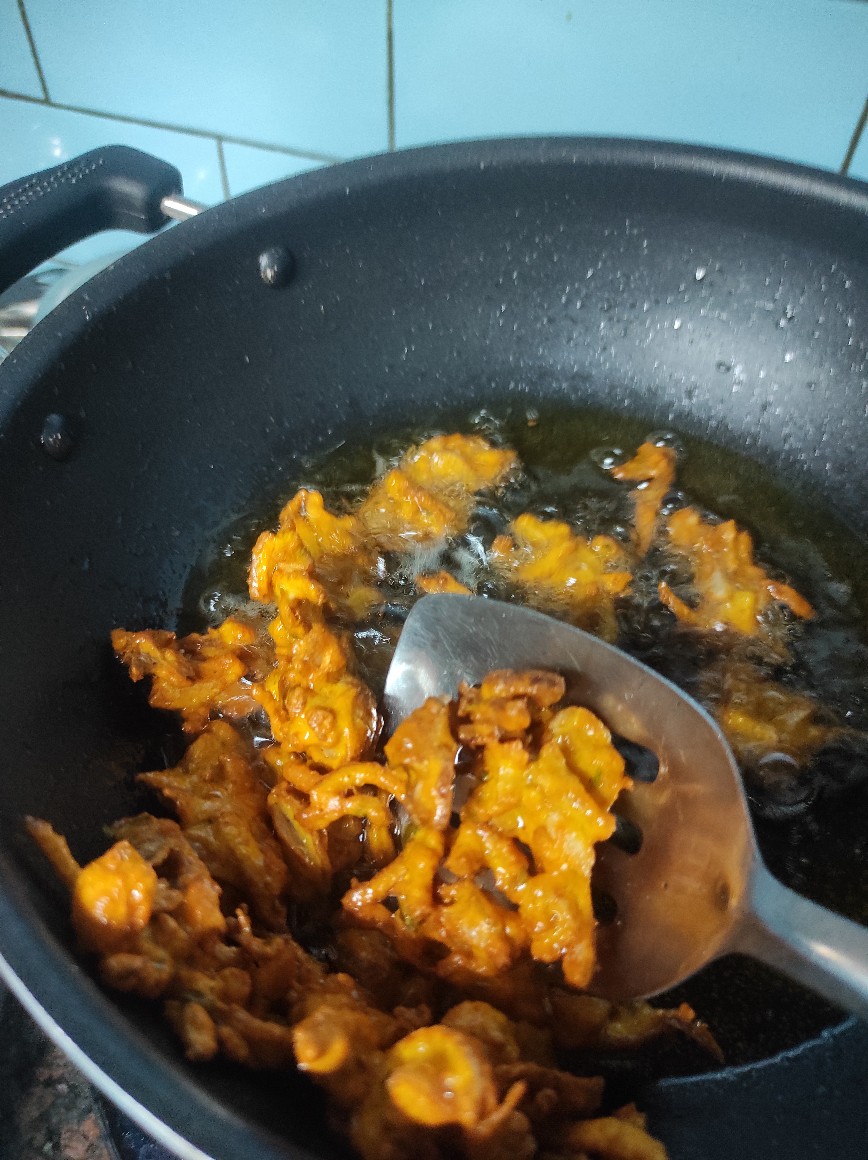 29) Now drain the pakoras using a spatula and repeat the same with the remaining batter.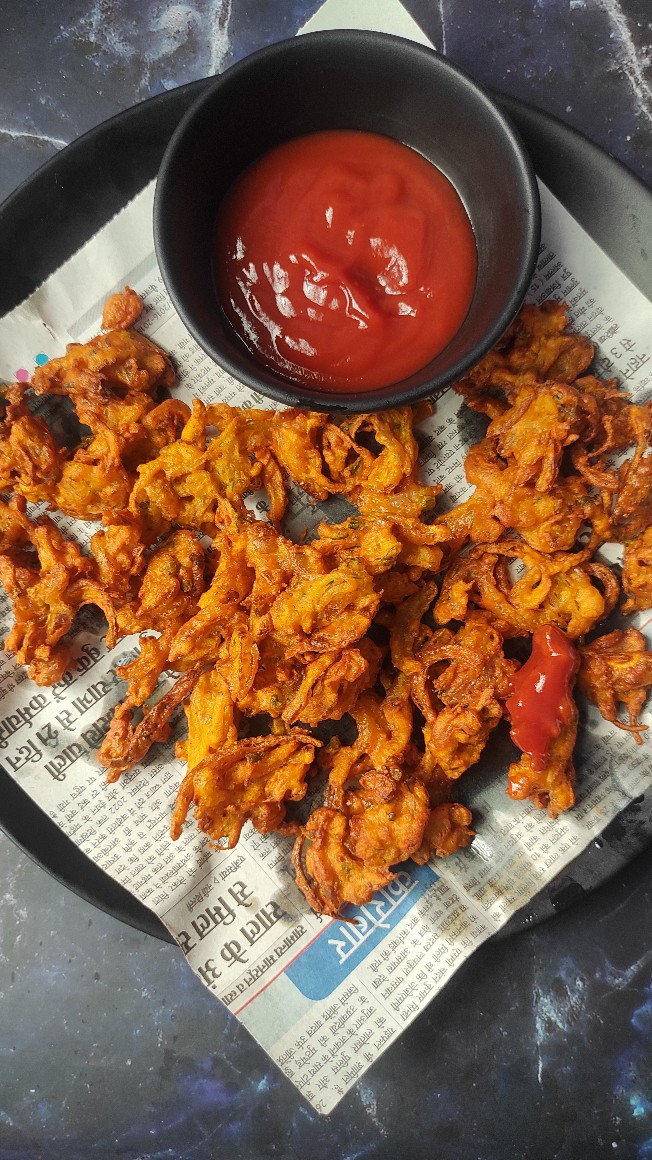 30) Your yummy, crispy and spicy onion bhajiye Or pakoras are ready to be served. Enjoy with ketchup and hot tea.
Tips and Tricks
1) Slice the onions evenly. The slices should neither be too thick nor too thin.
2) Marinate and keep the batter aside for 5 minutes.
3) Add the besan in two batches.
4) Don't add more than 2 tablespoon of water. Water is just for binding the batter and must not be added in excess quantity.
5) Deep fry the pakoras firstly on medium flame and then on low flame. This will make the pakoras crispy.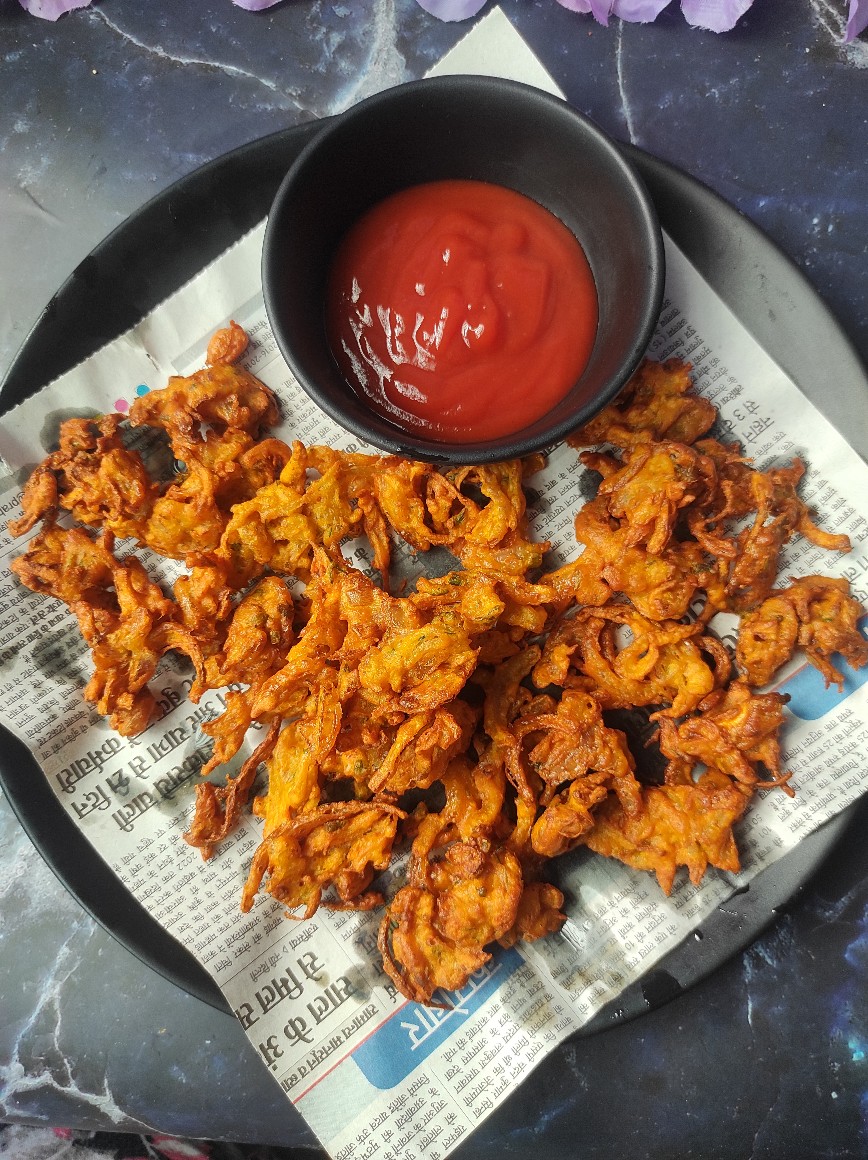 Healthier Version

1) You can avoid using spices if you want a simple version of it.
2) You can airfry the bhajiye if you want.