Loaded with a number of health benefits, Makai ki roti is a very famous dish from the state of Punjab. It is made with makai ka aata also known as maize wheat. It compliments well with sarso ka saag. This super combination is my all time favourite and is loved by everyone in my family. Usually there are a number of variations in which this maize flour flatbread is made. Some people simply add salt and carrom seeds to season it whereas others use a number of healthy leaves and vegetables along with it to get a more healthier and tastier version of it. I personally prefer using carrot and radish along with some coriander leaves to knead the dough. They turn out to be softer and tastier than the normal makai ki roti.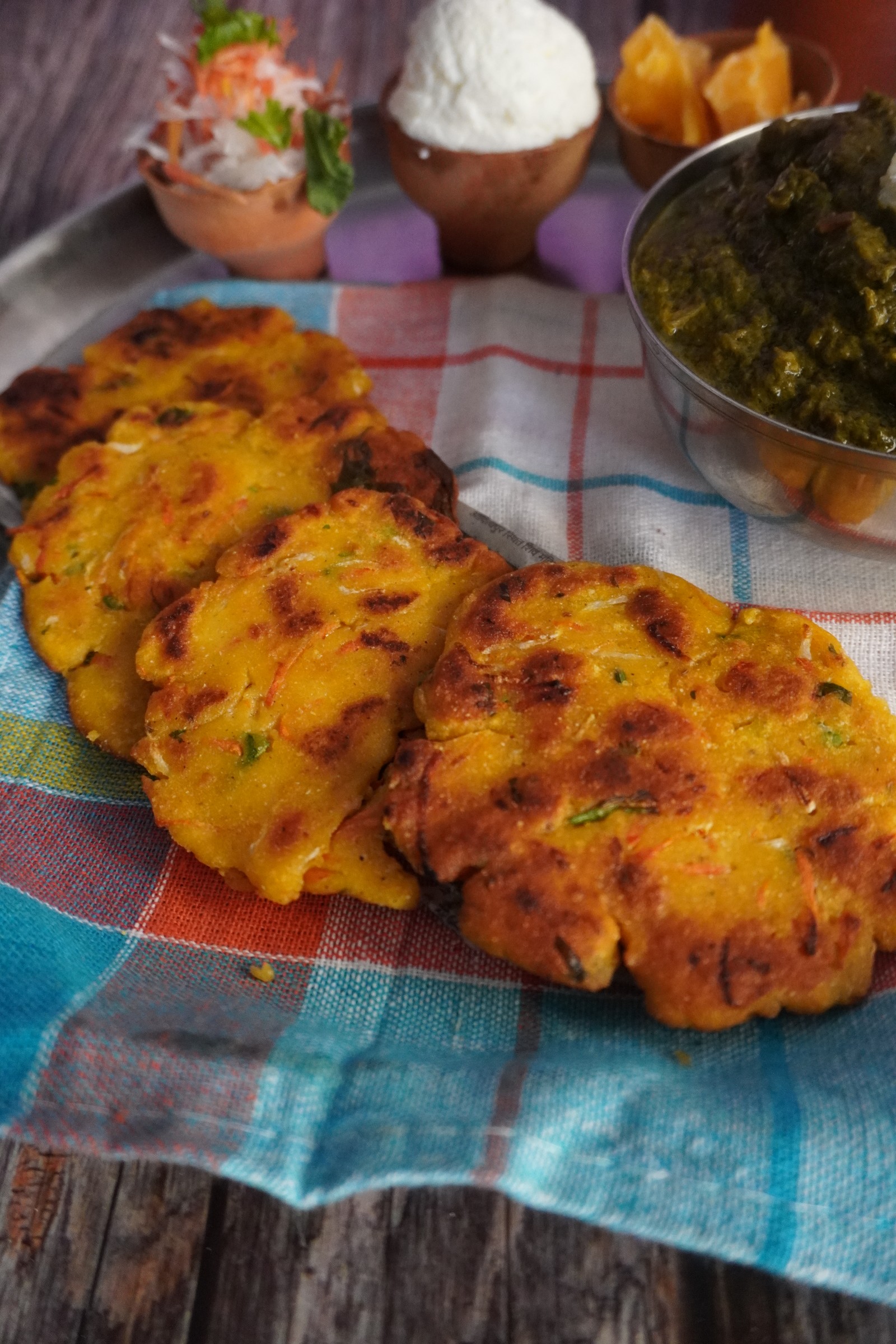 Introduction
This yummy flatbread is made by kneading flour maize along with grated radish and carrot. They are further seasoned with salt, carrom seeds and chopped coriander leaves. Once kneaded well, they are rolled and flattened in a thick flatbread and then tossed on both sides with desi ghee until it turns golden brown and crisp on the outside. They taste best with sarso ka saag and matar allu ki sabji and is a must try for everyone. So go ahead and give this recipe a try and don't forget to share your comments and reviews in the comments section below⬇
Ingredients
Makai ka aata- 1/2 kg
Carrot- 1/2 cup (grated)
Radish- 1/2 cup (grated)
Coriander leaves- handful (finely chopped)
Salt- as per taste
Carrom seeds- 1/2 tablespoon
Water- to knead the dough
Desi ghee- as per requirements
Oil- As per requirements
Step by step recipe with images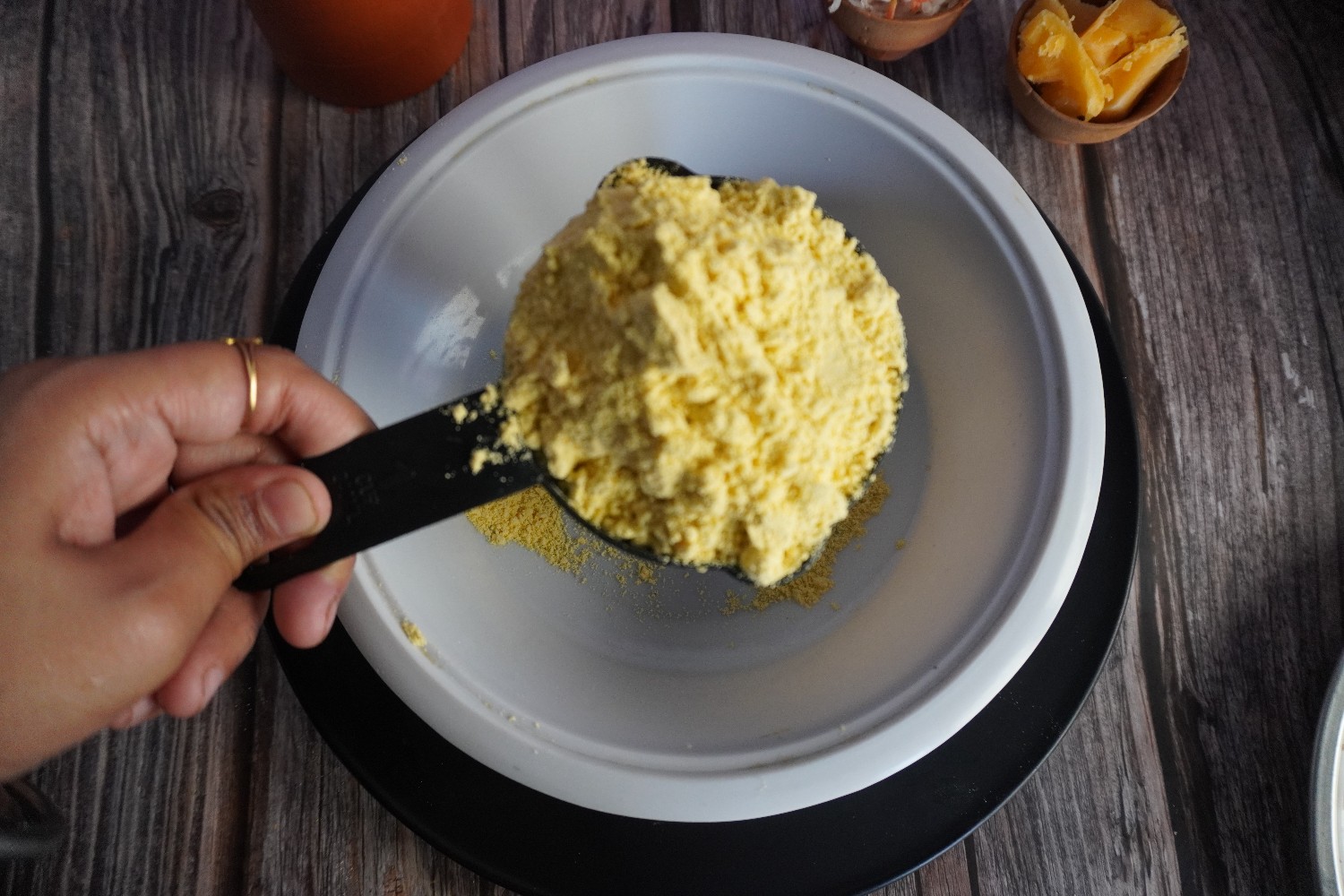 1) Firstly add 2 cups of maize flour in a mixing bowl.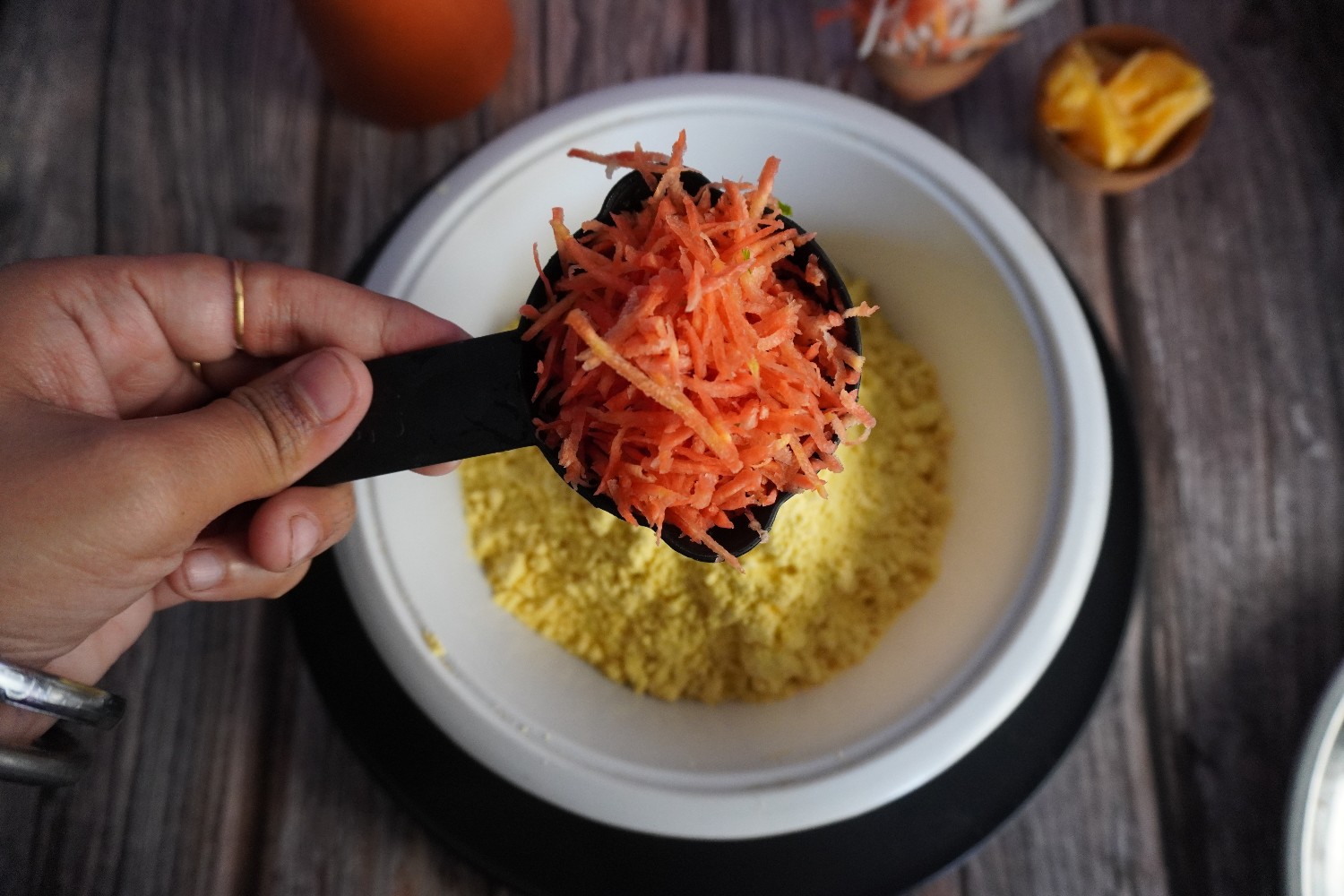 2) Add half cup of grated carrot in it.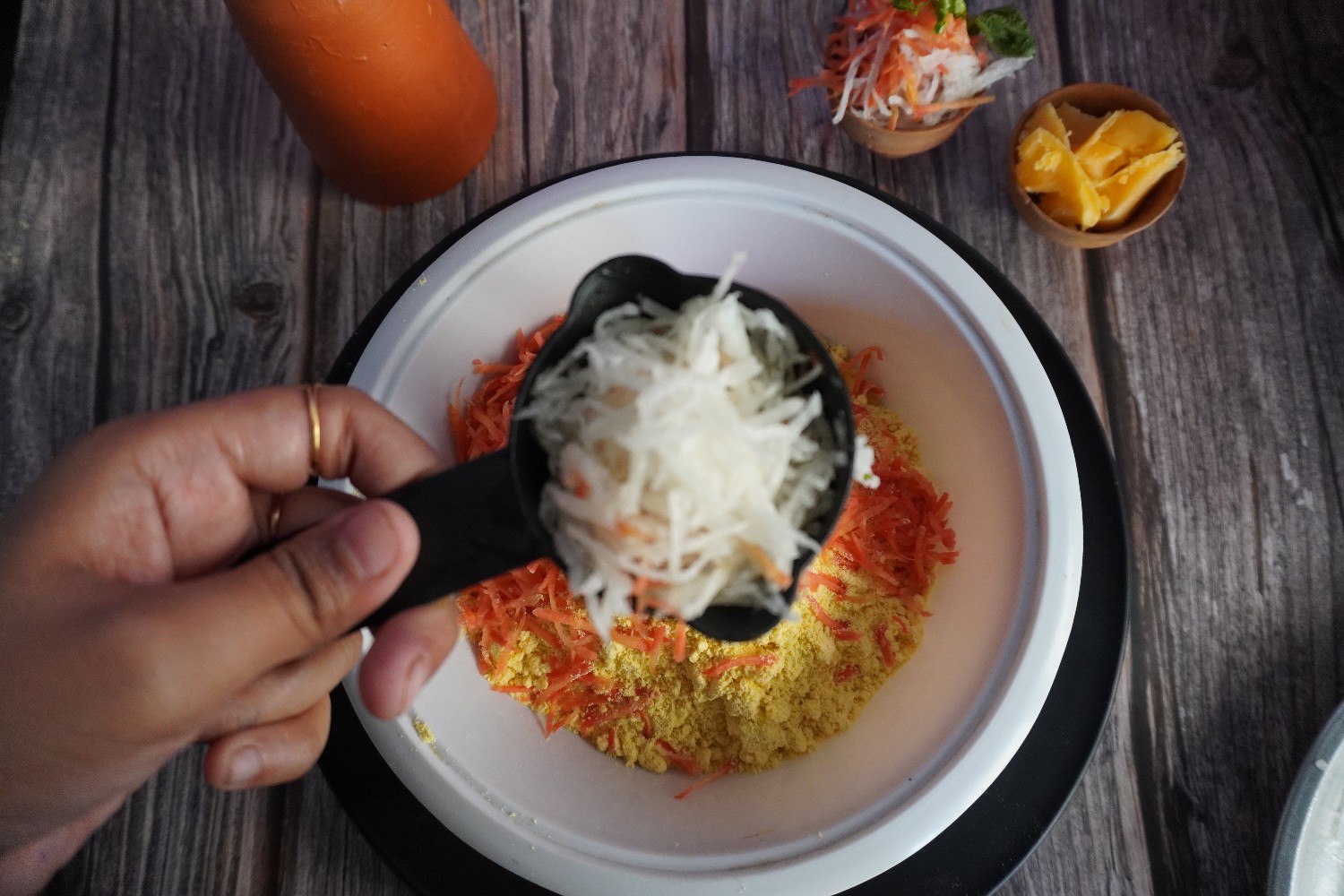 3) Add half cup of grated radish in it.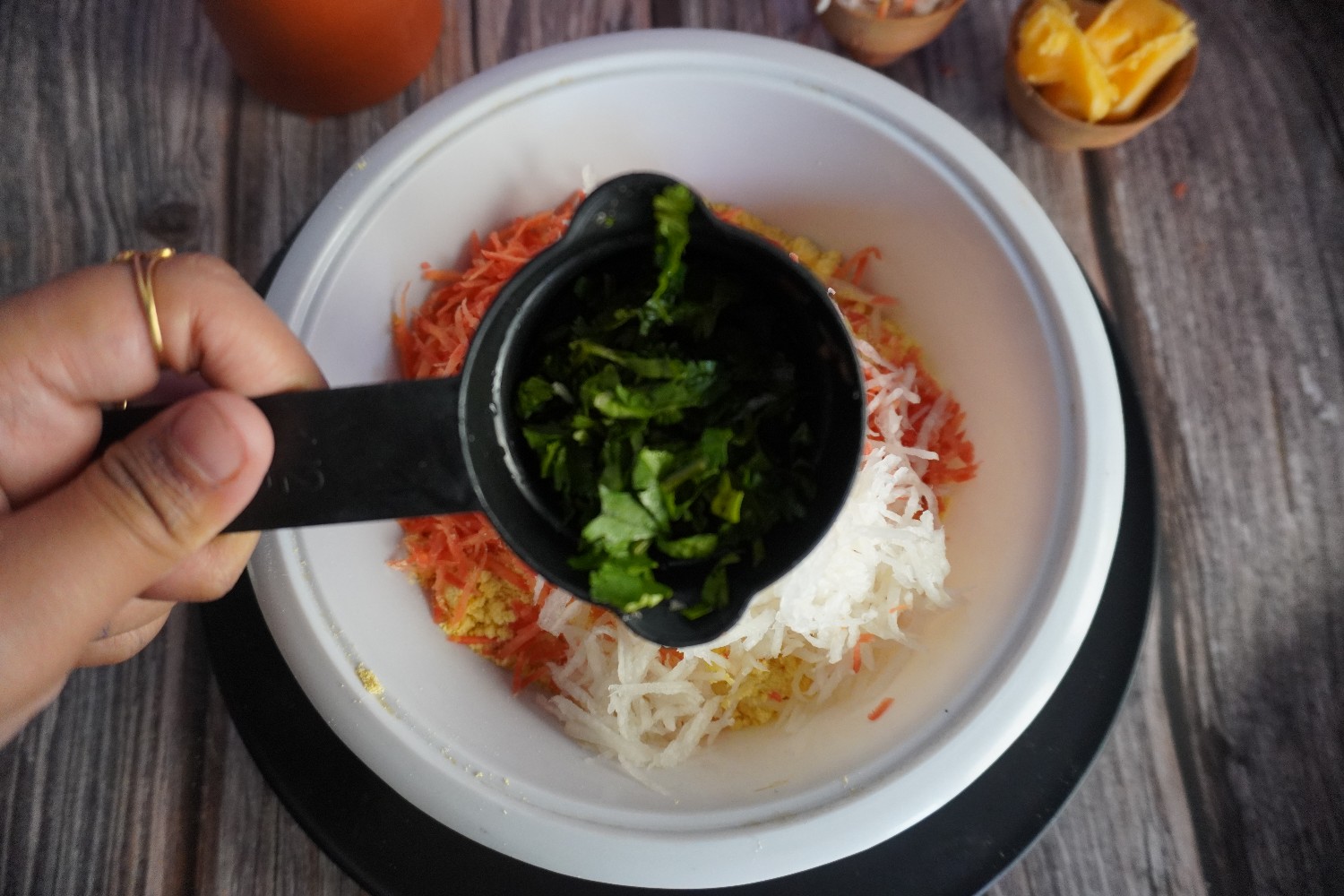 4) Add 1/4 cup chopped coriander leaves in it.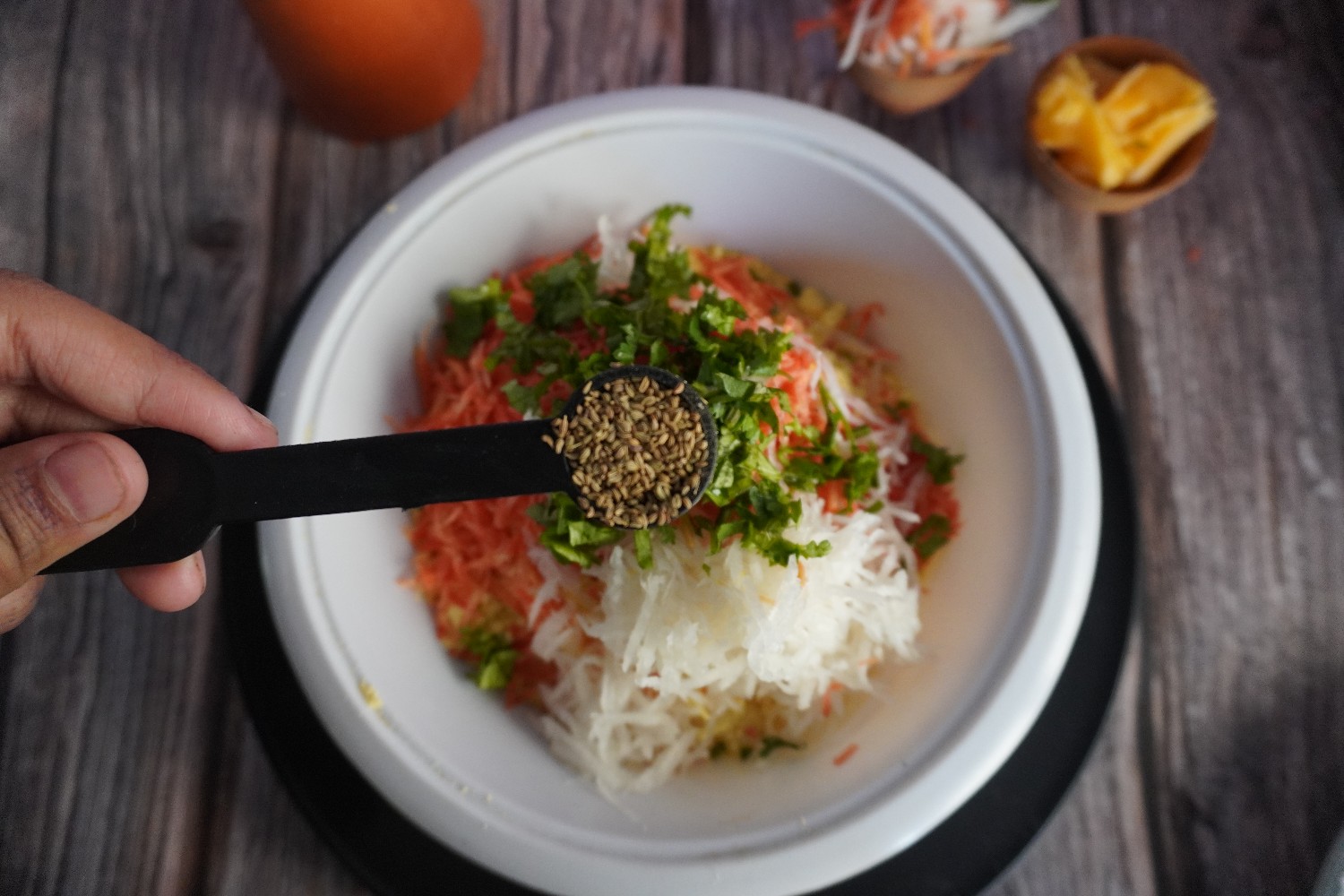 5) Add 1/2 tablespoon carrom seeds in it.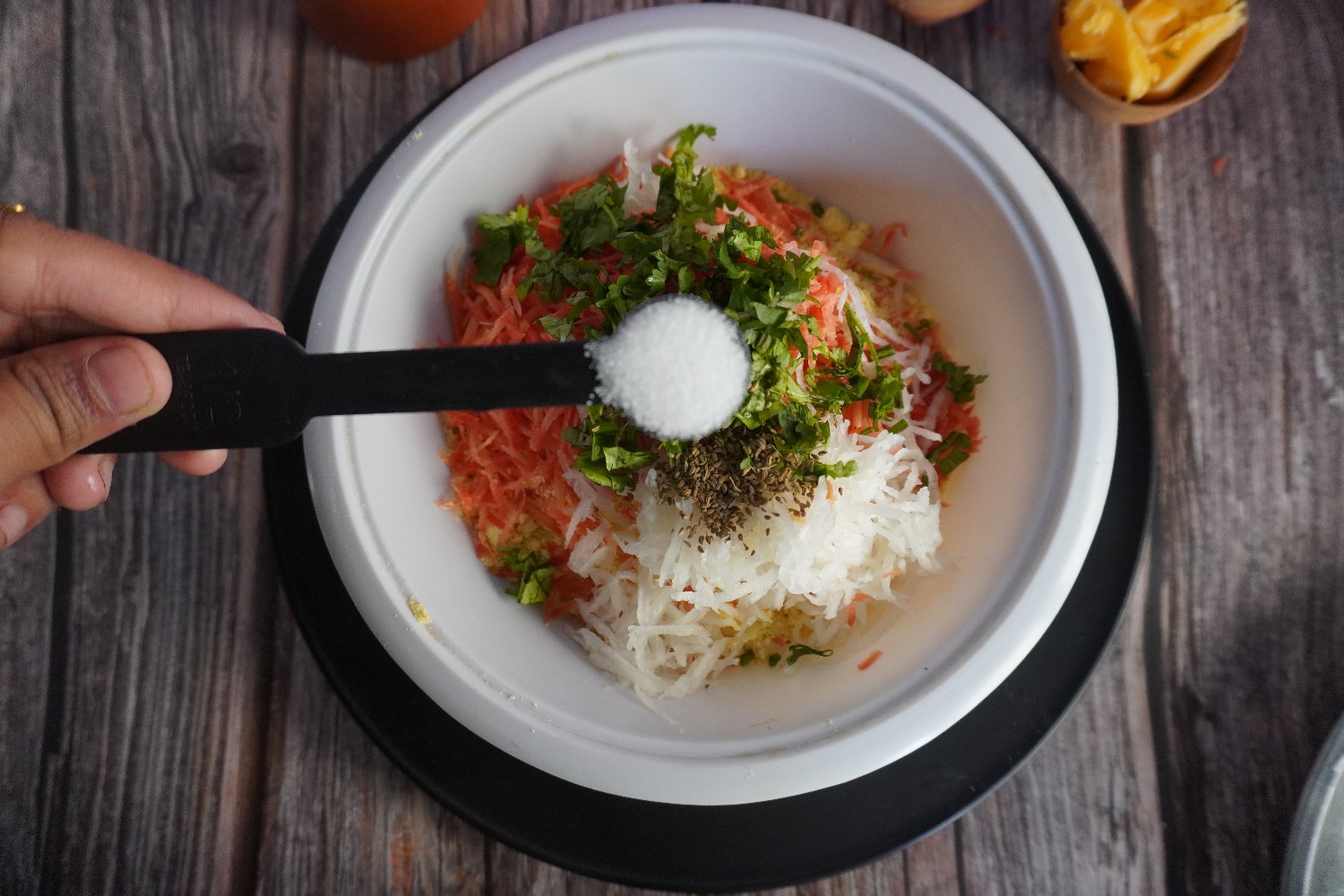 6) Add salt as per taste.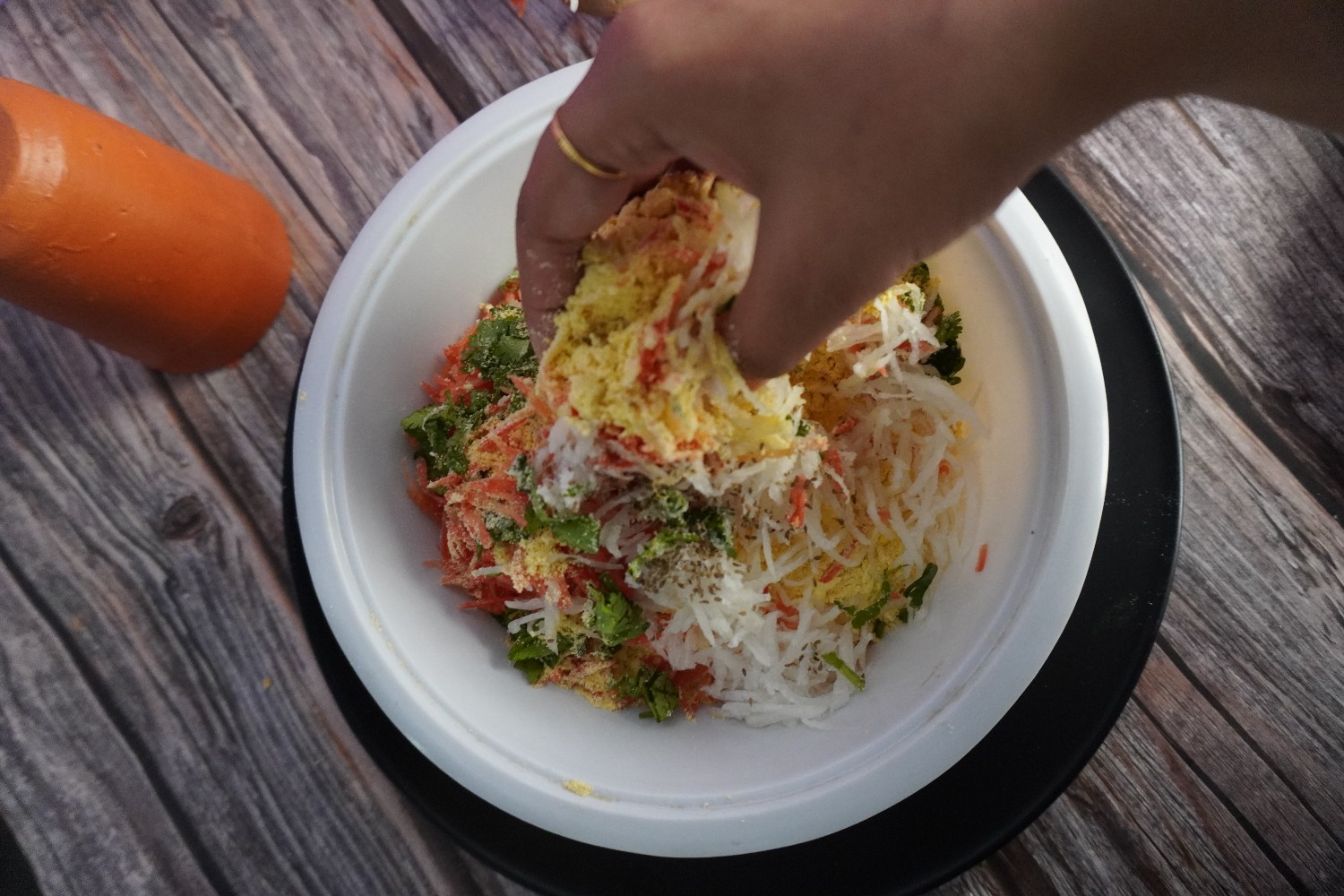 7) Now mix everything using your hands.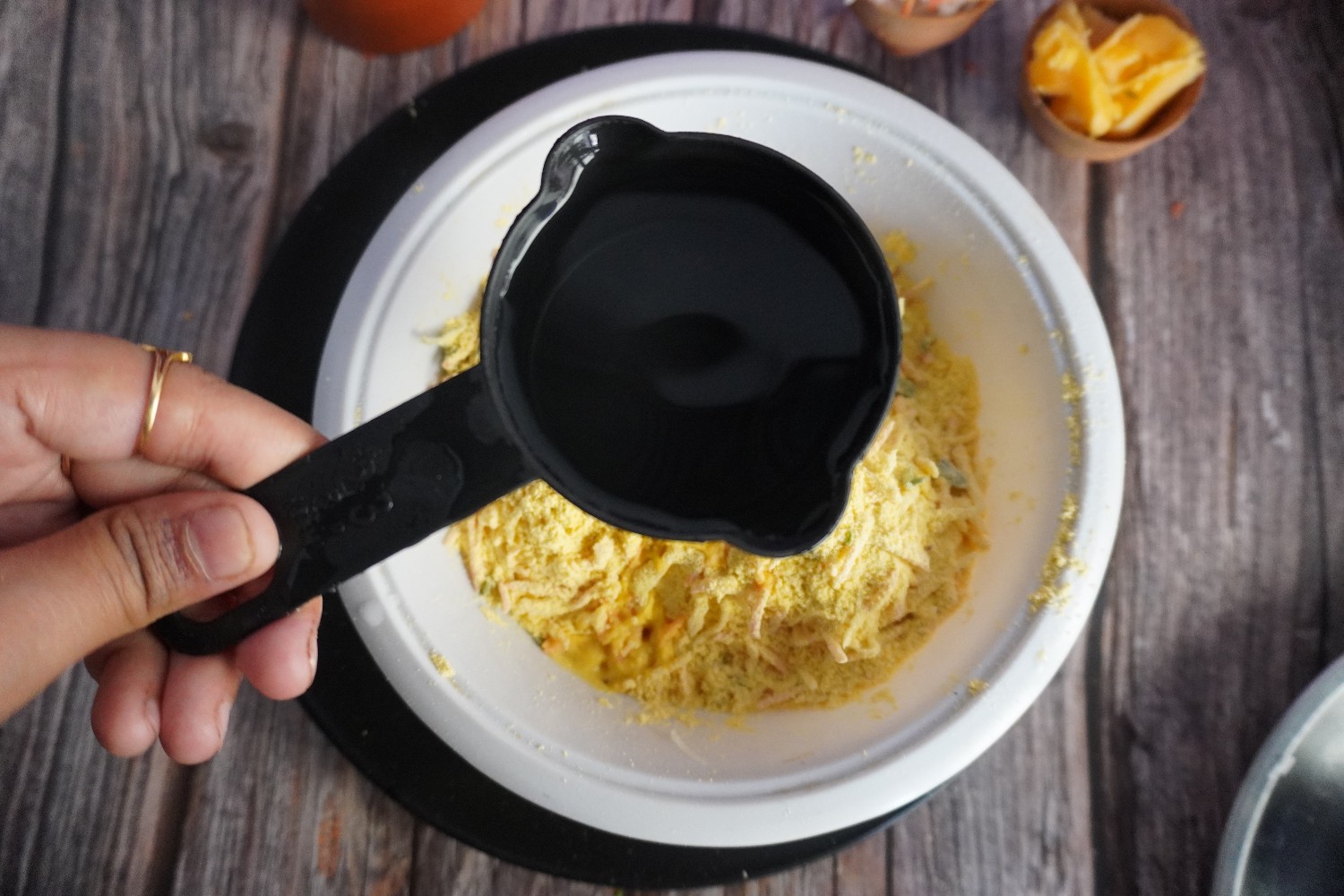 8)Now add required amount of water in it to knead a soft dough.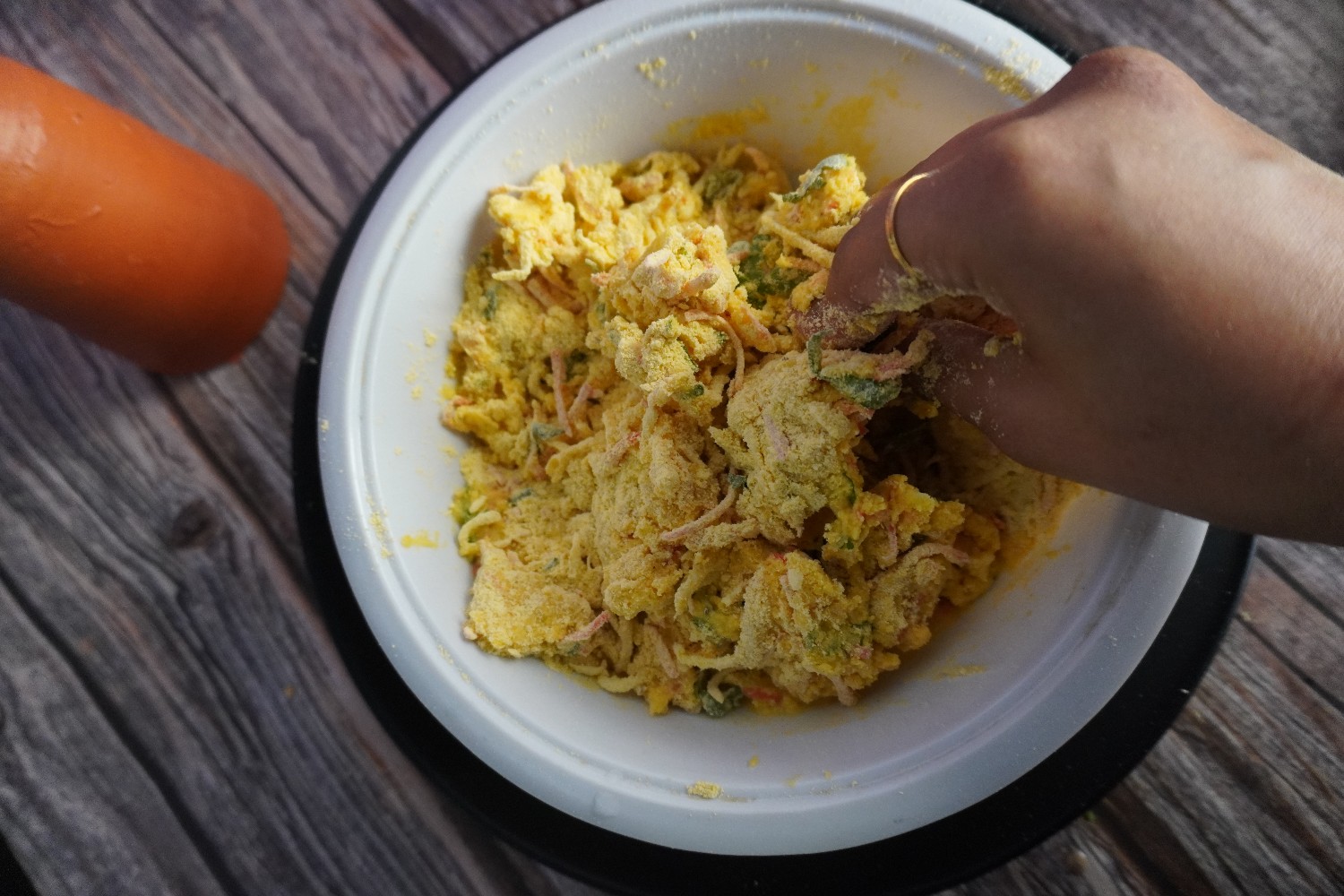 9) knead a soft dough with your hands.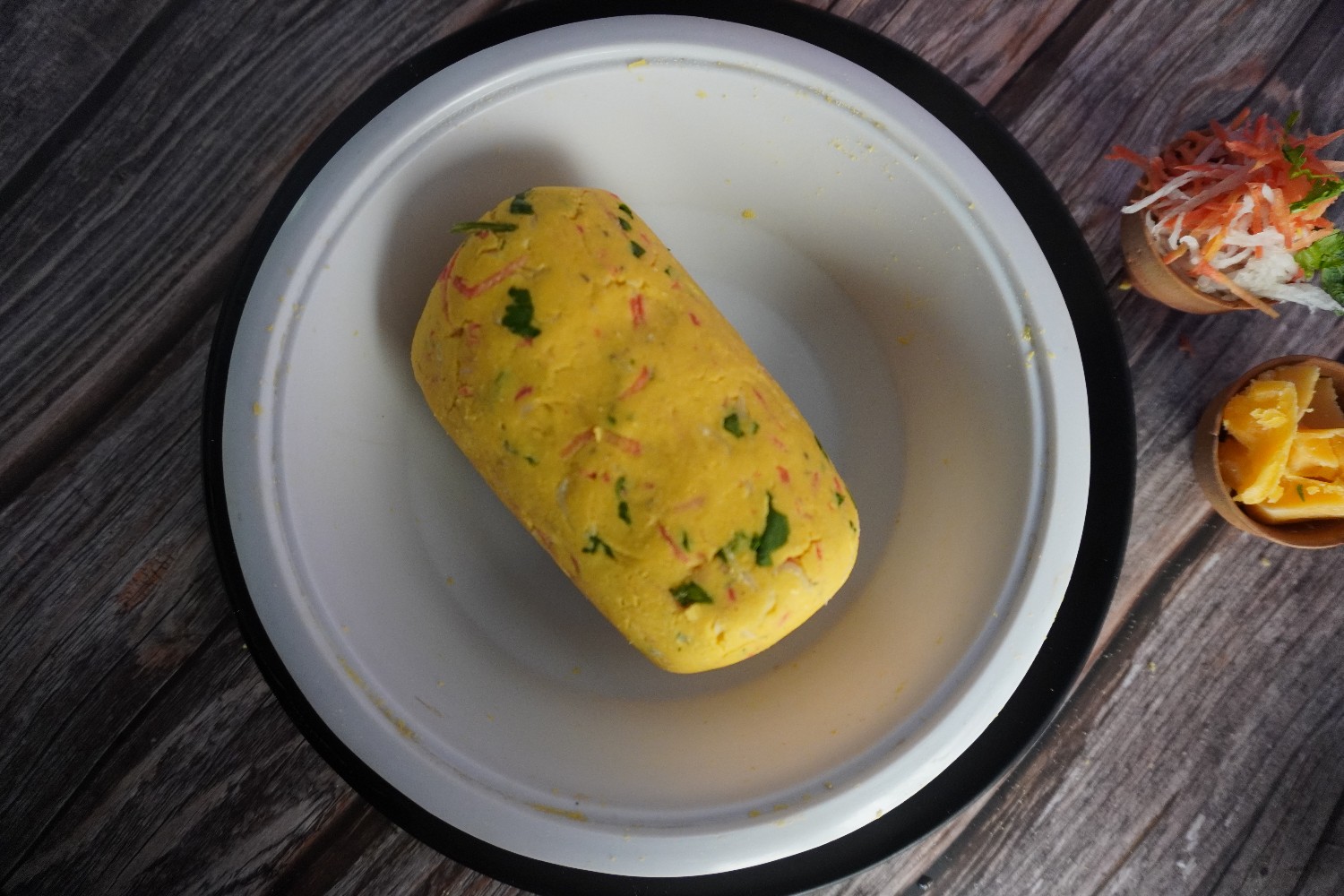 10) Rest it for 5 minutes.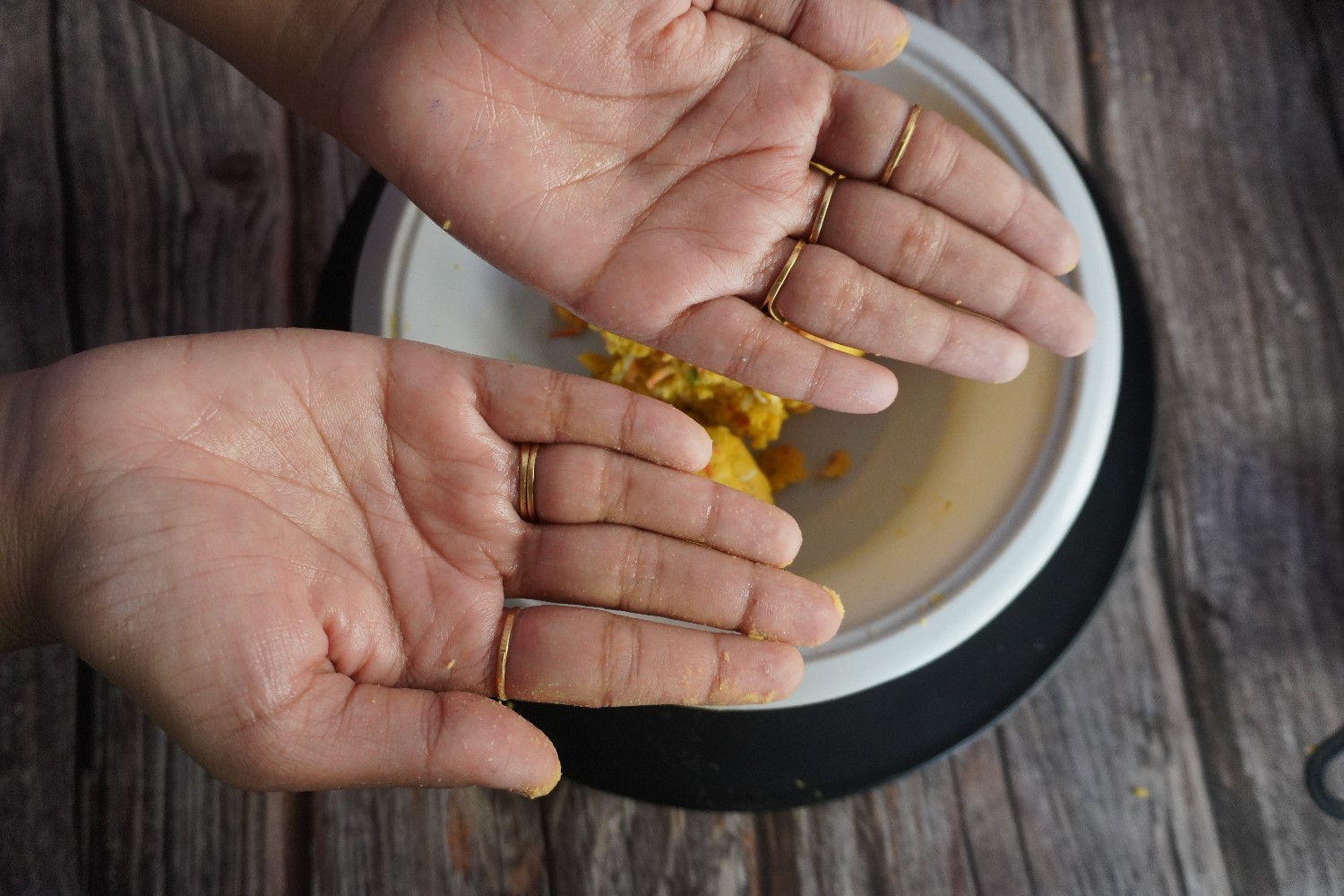 11) Apply some oil in your palms.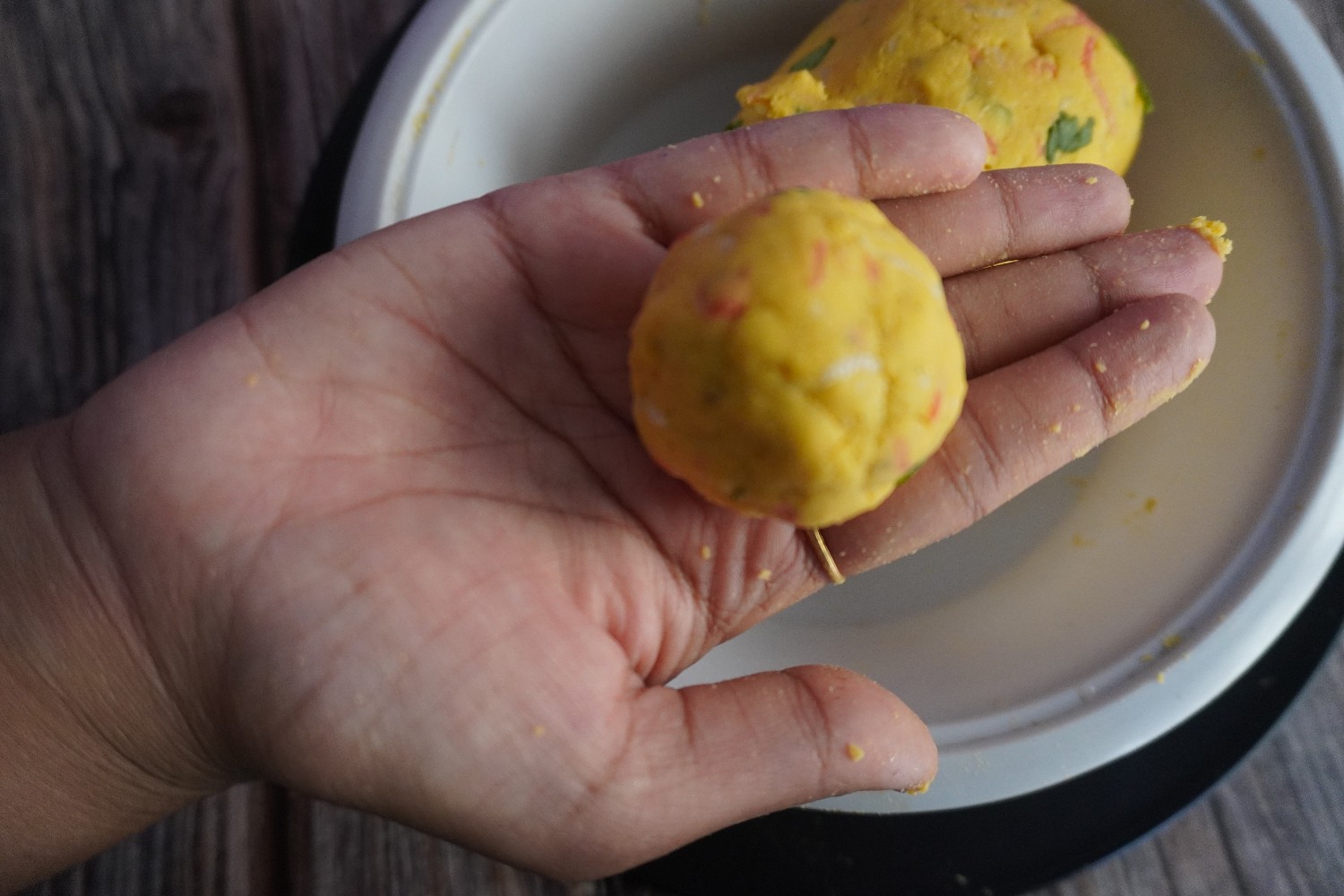 11) Now take a ball sized dough in your palms.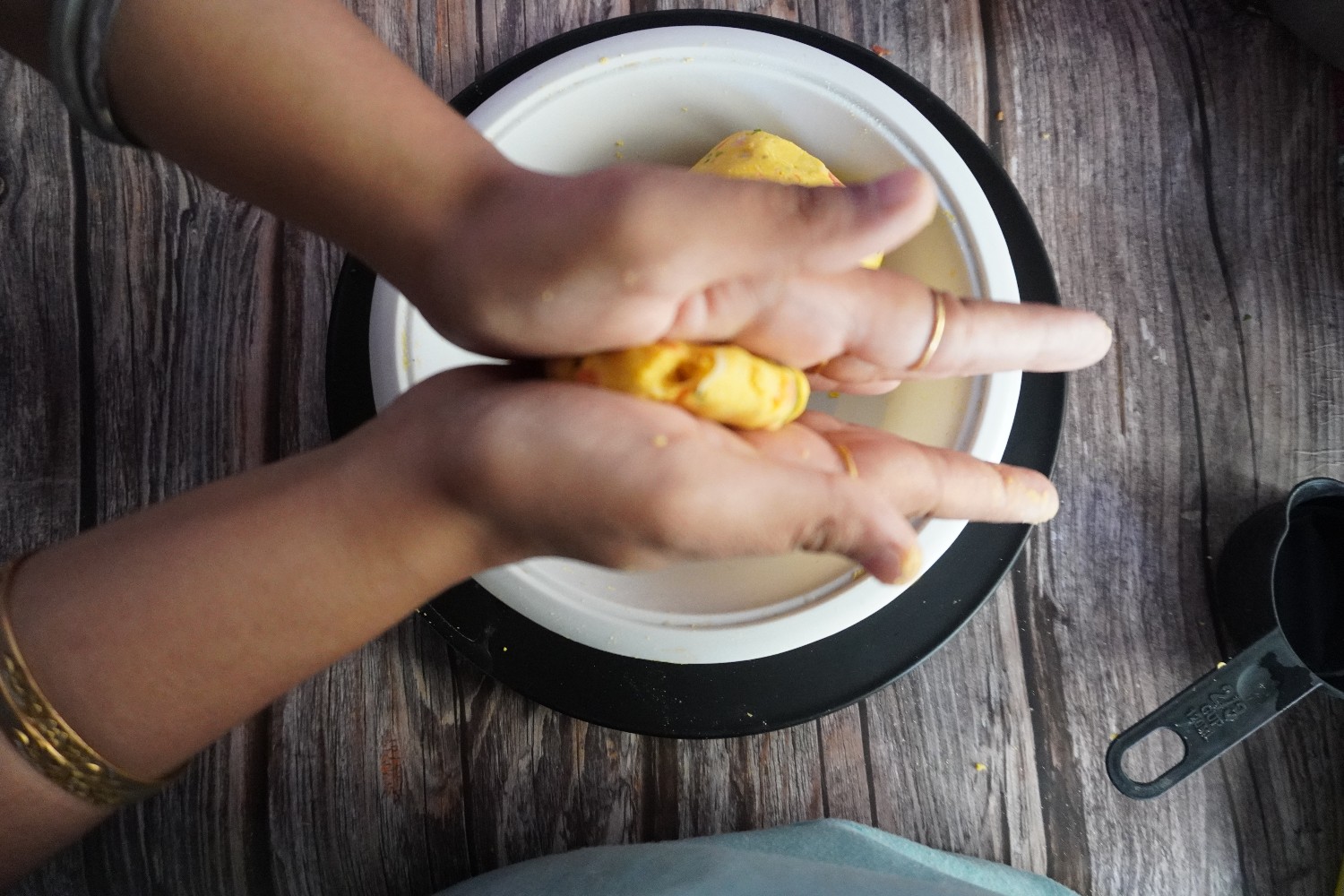 12) Flatten it by pressing it between both your palms.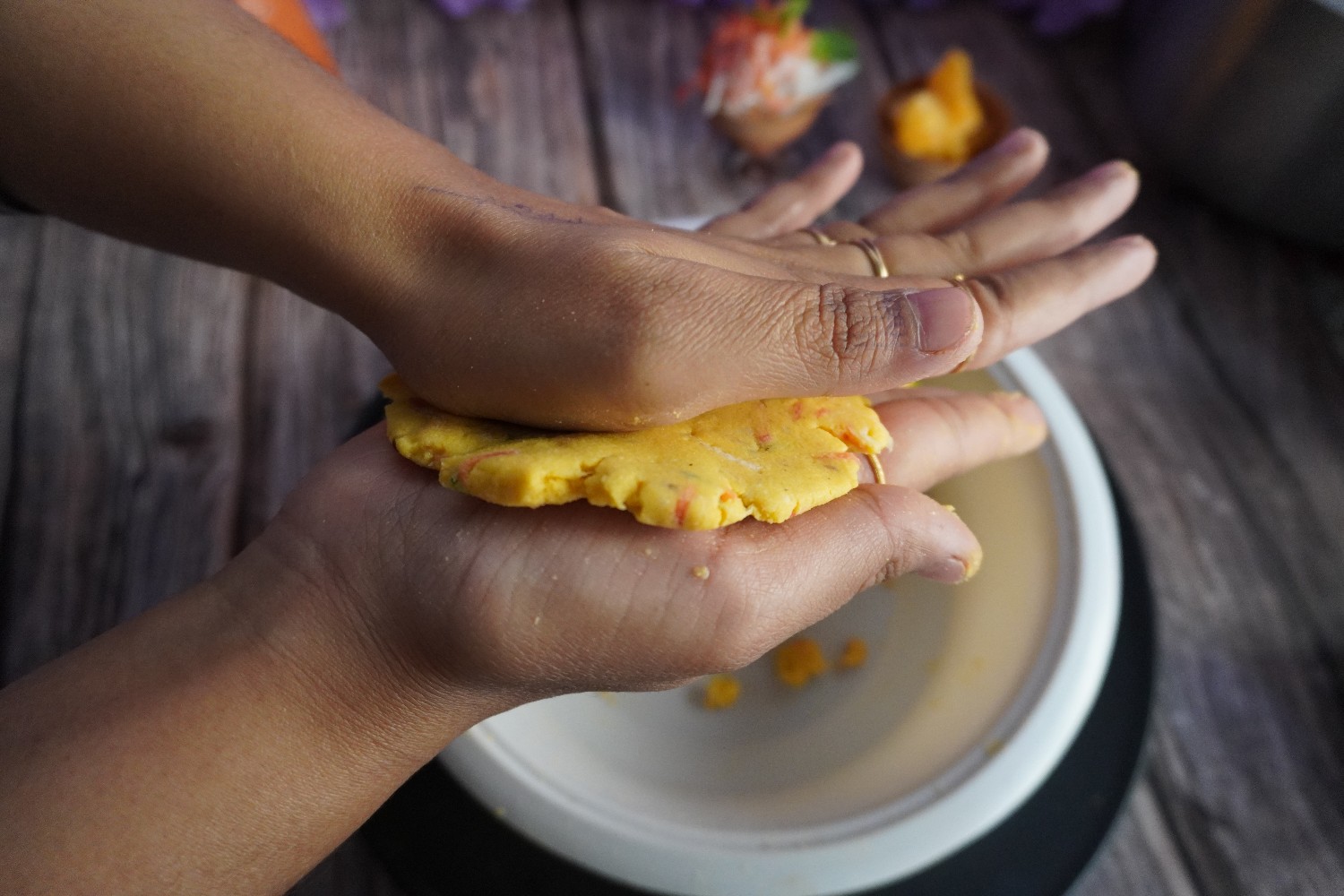 13) Once it reaches the thickness above shown. Your roti is ready to be cooked.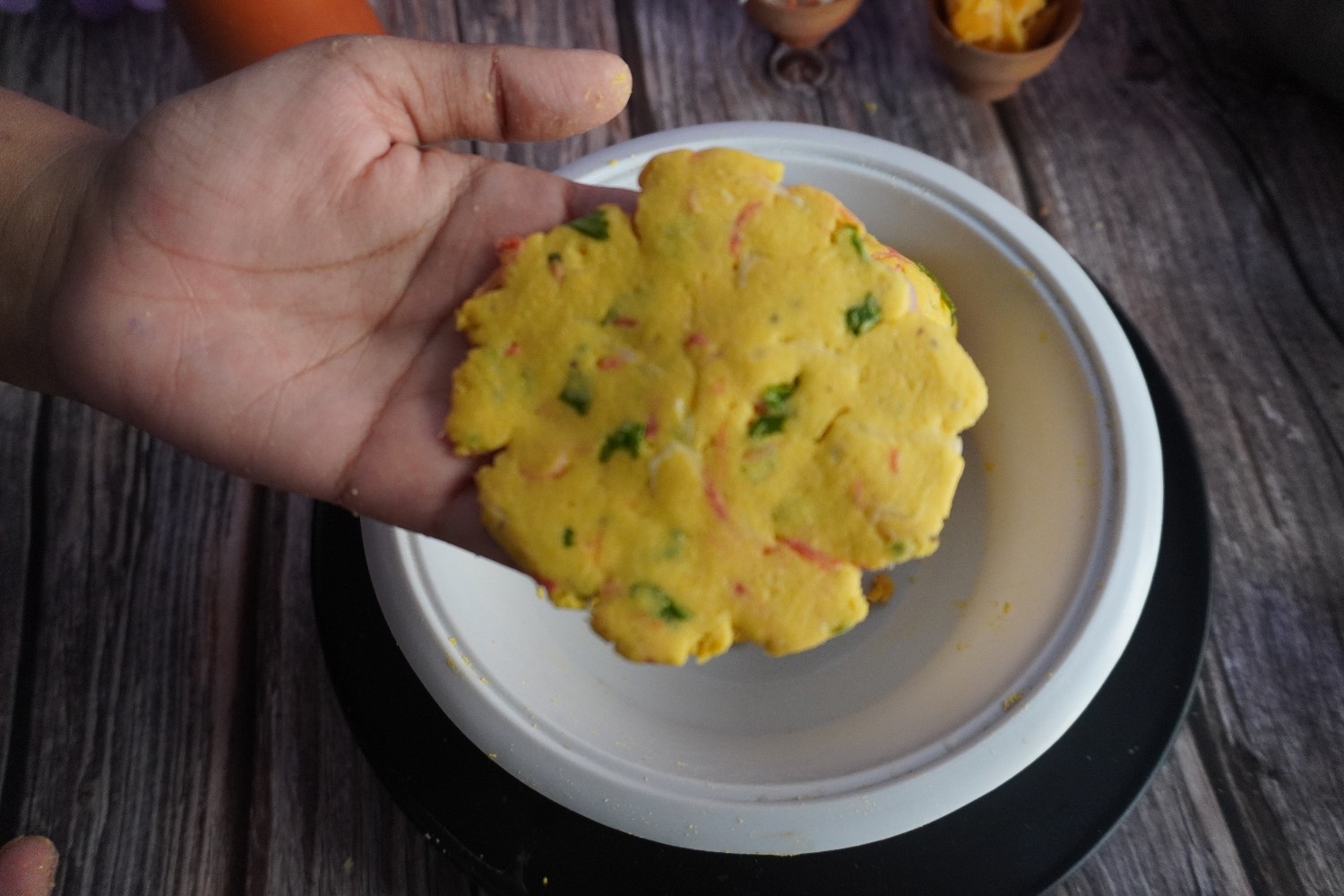 14) Repeat the same with the remaining batches.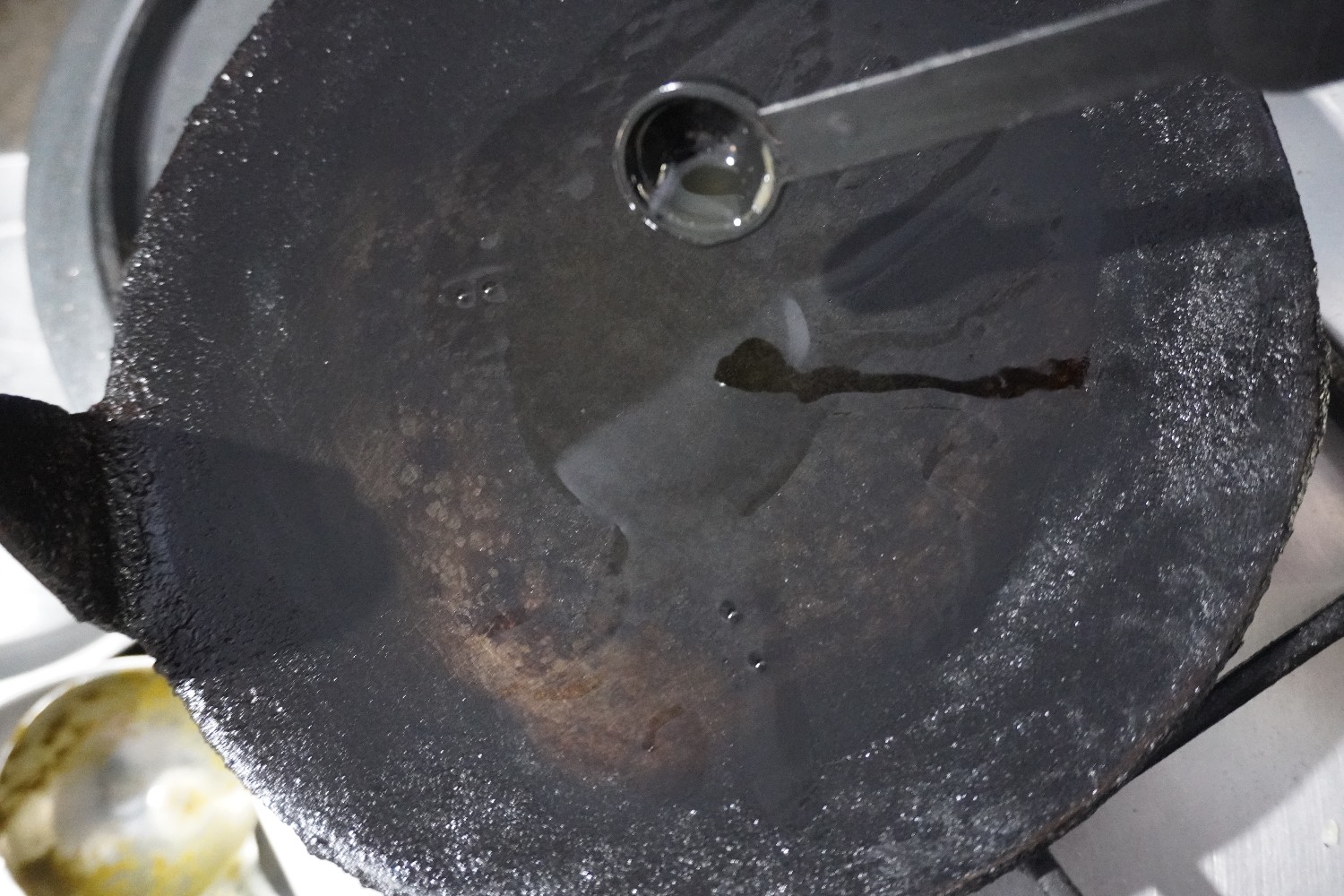 15) Heat a tava with a tablespoon of oil.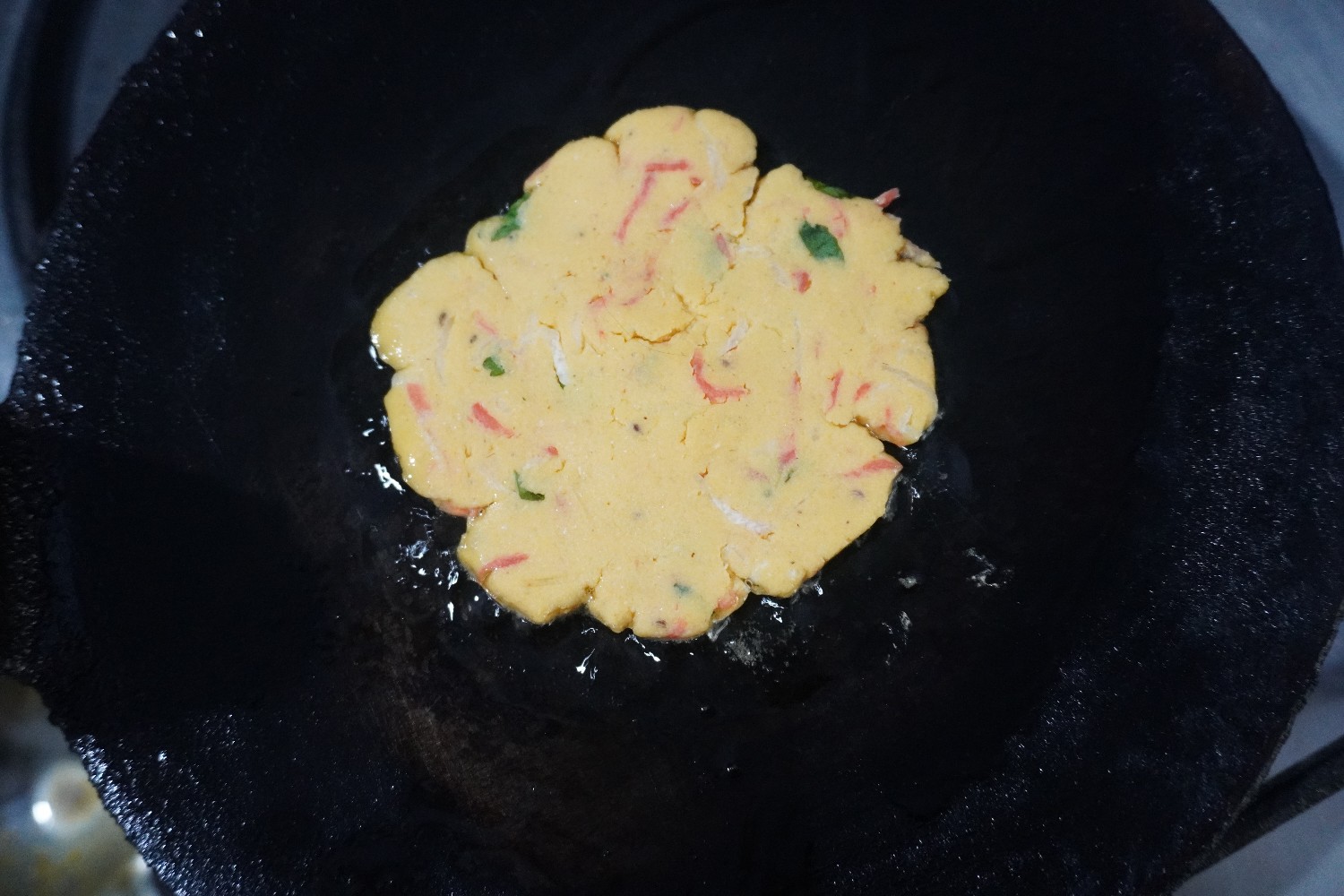 16) Now gently place your roti in it.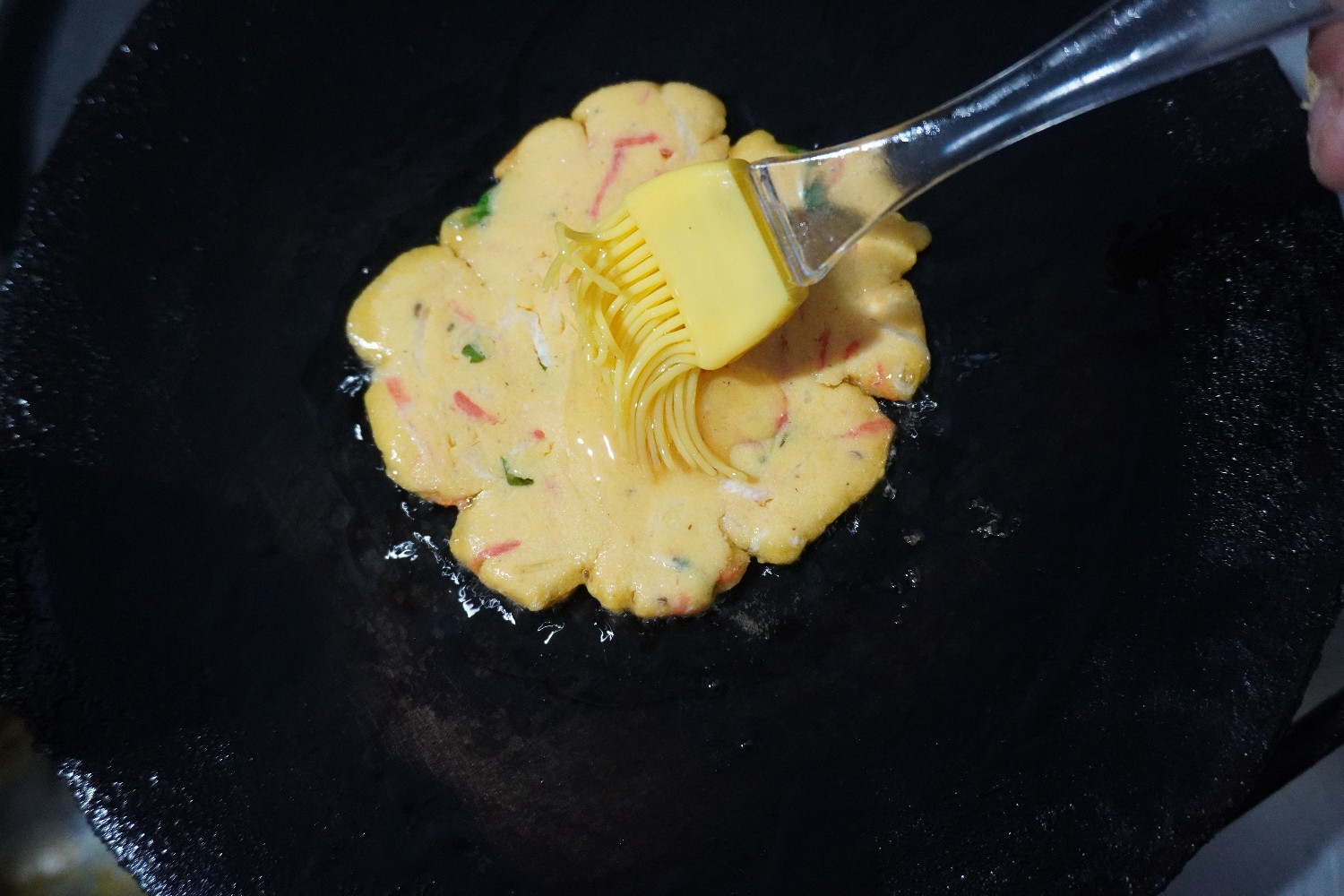 17) Let it cook on medium high flame for a minute.Now brush some oil on the chapati.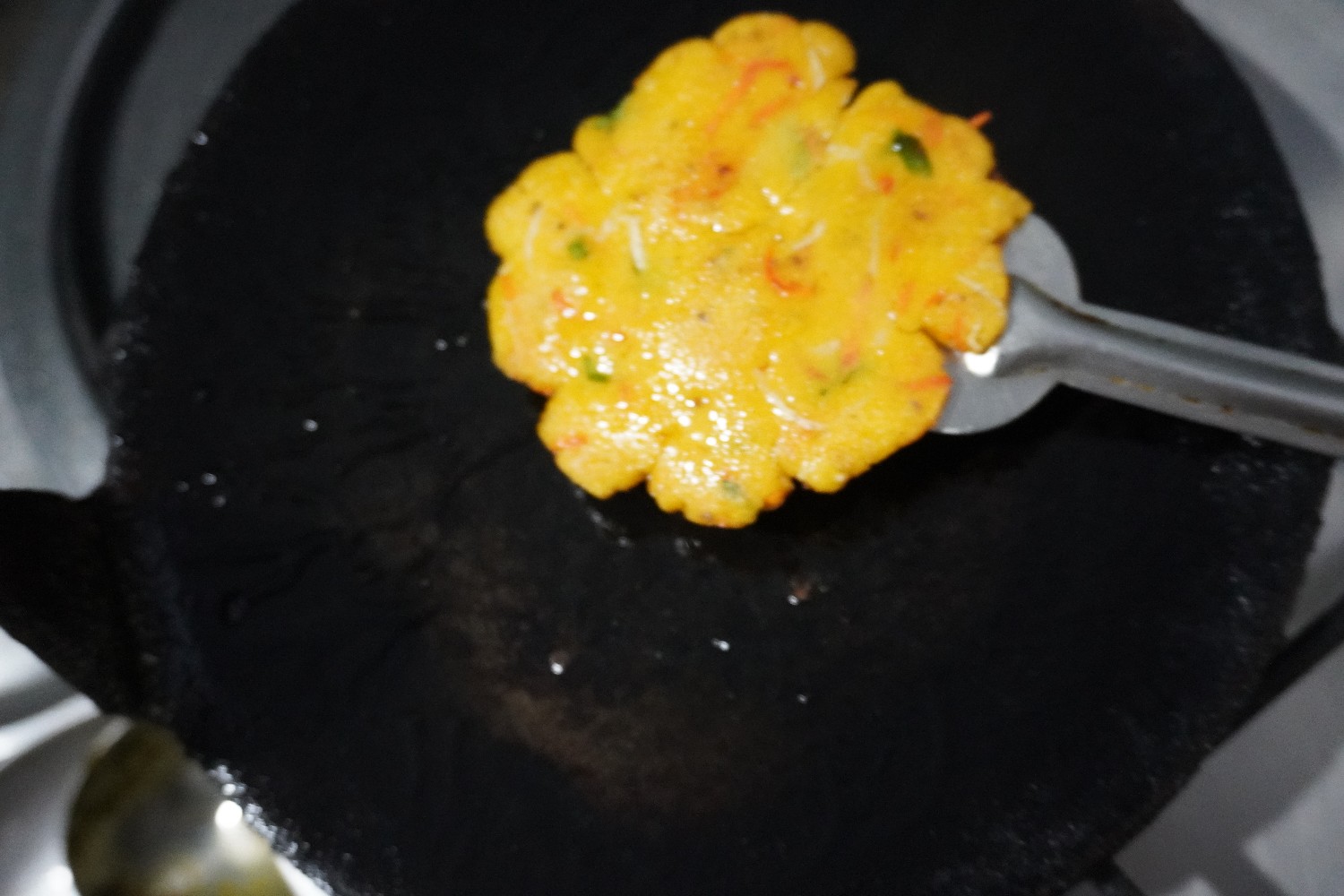 18) Now flip it on the other side.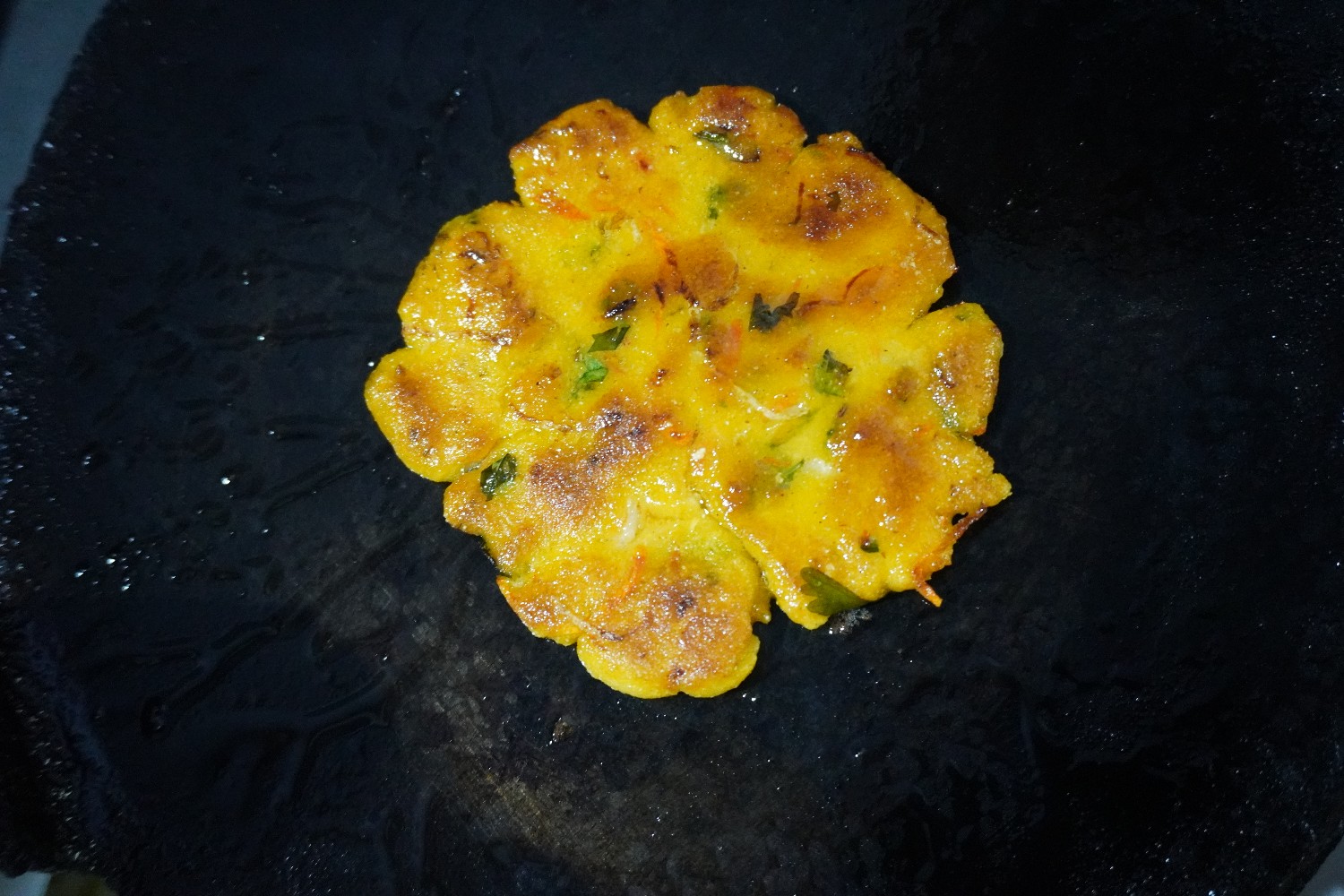 20)Let it cook for 2 minutes on medium high flame until it has some charred spots on it.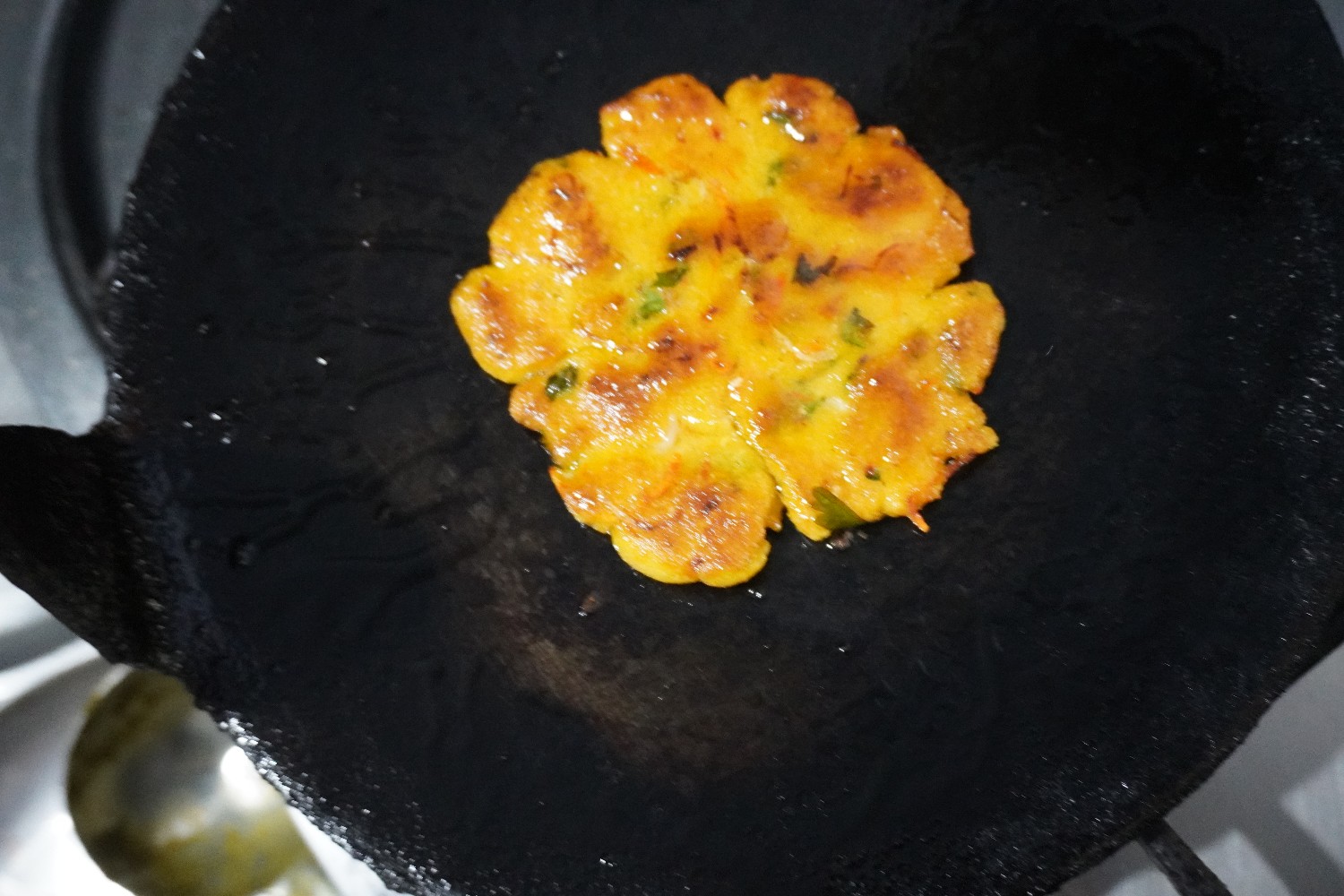 21) Once done turn off the flame and apply some desi ghee on it.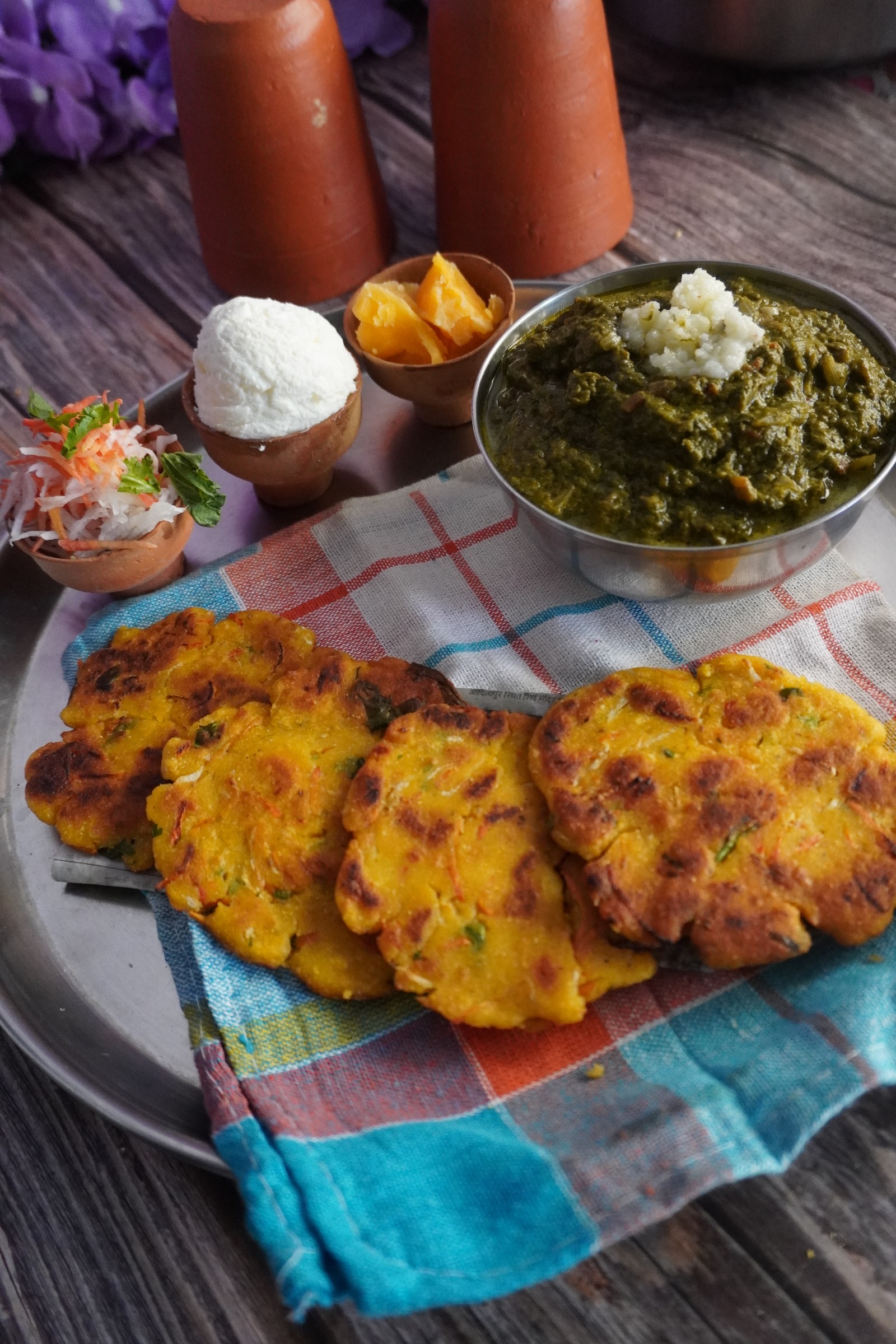 22) Serve it along with sarso ka saag. Tastes best when served hot.
Tips and Tricks
1) Grate the carrot and radish but do not squeeze them before adding them in the flour. The water content in the veggies add a lot of flavors in the dough.
2) Add required amount of water to knead a soft dough.
3) You can flatten the chapati with your palms or you can use a roller and parchment paper to do so.
4) Be patient while cooking the chapatis., they take longer time to cook than your normal wheat chapatis.
5) serve them hot. They taste best when served hot.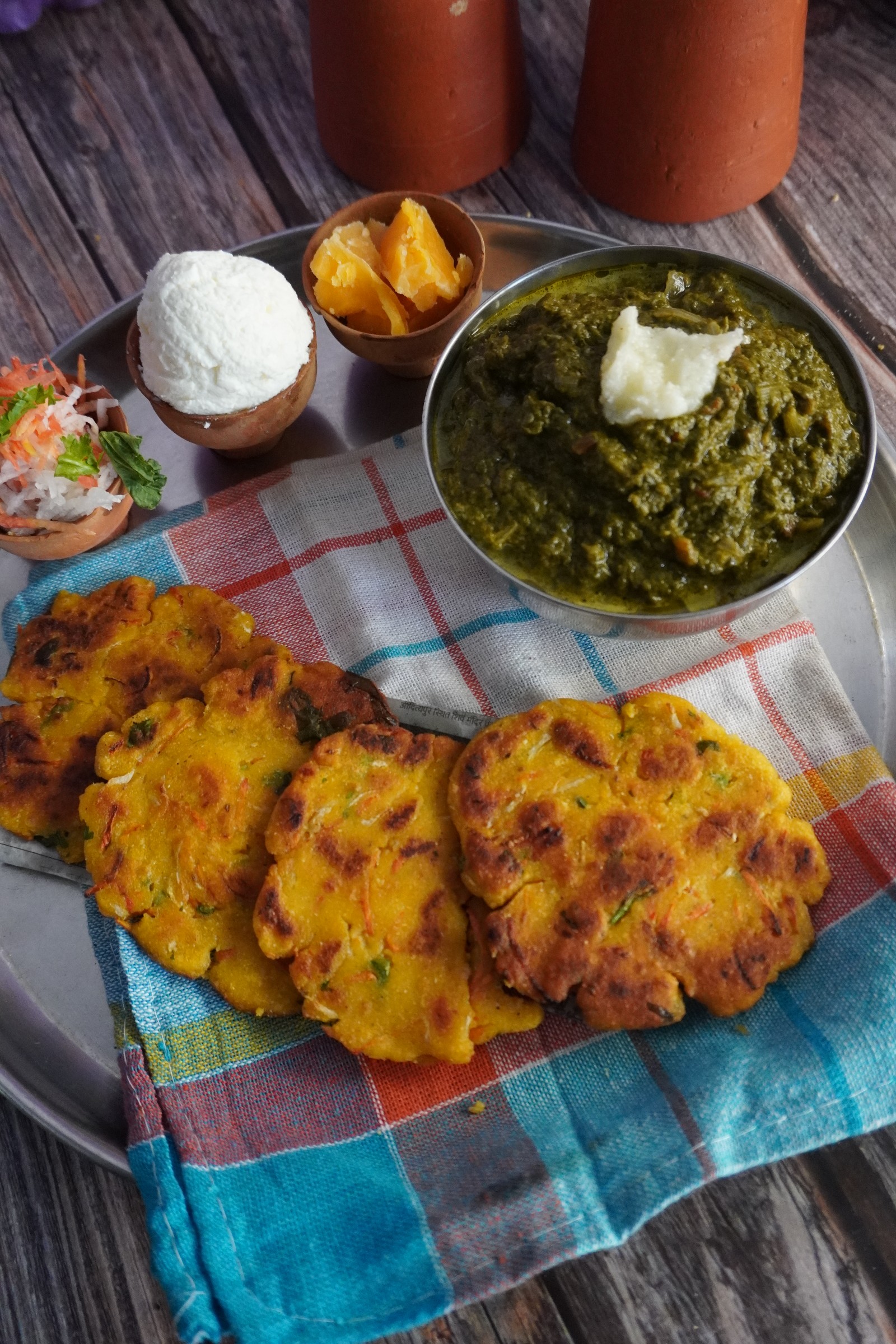 Healthier version
1) You can add methi leaves in it if you want..
2) You can use less oil while cooking the chapatis.