Batata poha is simply made by washing and tossing the soaked poha along with potatoes, peanuts and onions. They are seasoned with salt , turmeric and lemon juice and garnished with coriander and grated coconut. They are super healthy and can be made by adding more veggies of your choice. This particular poha namely batata poha is simply made by adding potatoes and onions. They can be made instantly and can be served as evening snack along with tea. So go ahead and give this recipe a try and please don't forget to share your reviews in the comments section below⬇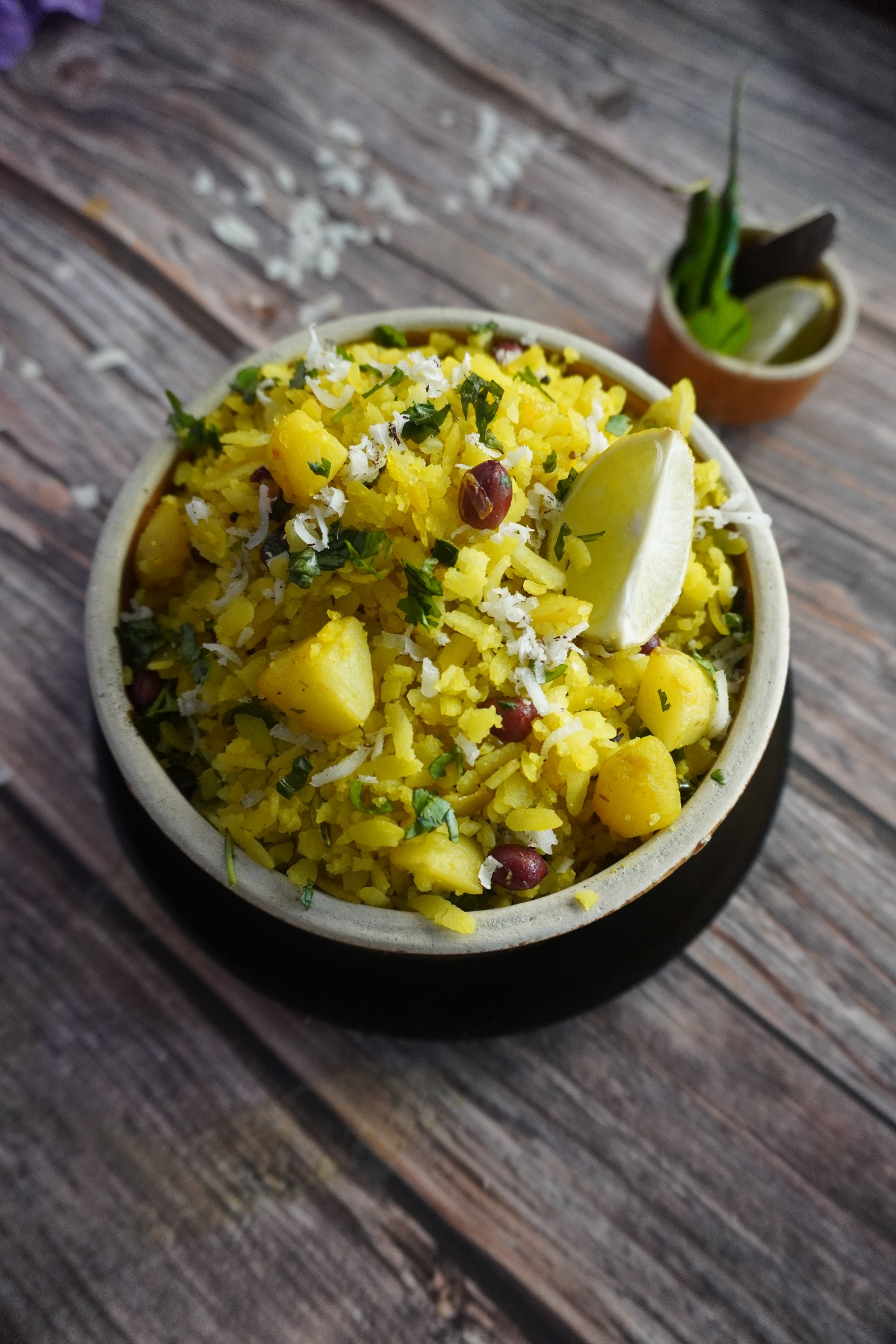 Introduction
Batata poha is simply made by washing and tossing the soaked poha along with potatoes, peanuts and onions. They are seasoned with salt , turmeric and lemon juice and garnished with coriander and grated coconut. They are super healthy and can be made by adding more veggies of your choice. This particular poha namely batata poha is simply made by adding potatoes and onions. They can be made instantly and can be served as evening snack along with tea. So go ahead and give this recipe a try and please don't forget to share your reviews in the comments section below⬇
Ingredients

Poha (chidwa) – 3 cups
Potatoes- 1 cup (diced)
Onion- 1/2 cup (finely chopped)
Peanuts- 3 tablespoon
Cumin seeds- 1/2 tablespoon
Mustard seeds- 1/2 tablespoon
Curry leaves- 8 to 10 leaves
Green chillies- 2 to 3 (finely chopped)
Turmeric powder- 1/2 tablespoon
Salt -as per taste
Sugar- 1/2 tablespoon
Coriander leaves- 2 tablespoon (finely chopped)
Coconut- 2 tablespoon (grated)
Lemon- 1 tablespoon or half lemon slice.
Oil- 3 to 4 tablespoon
Step by step recipe with images
Step by step: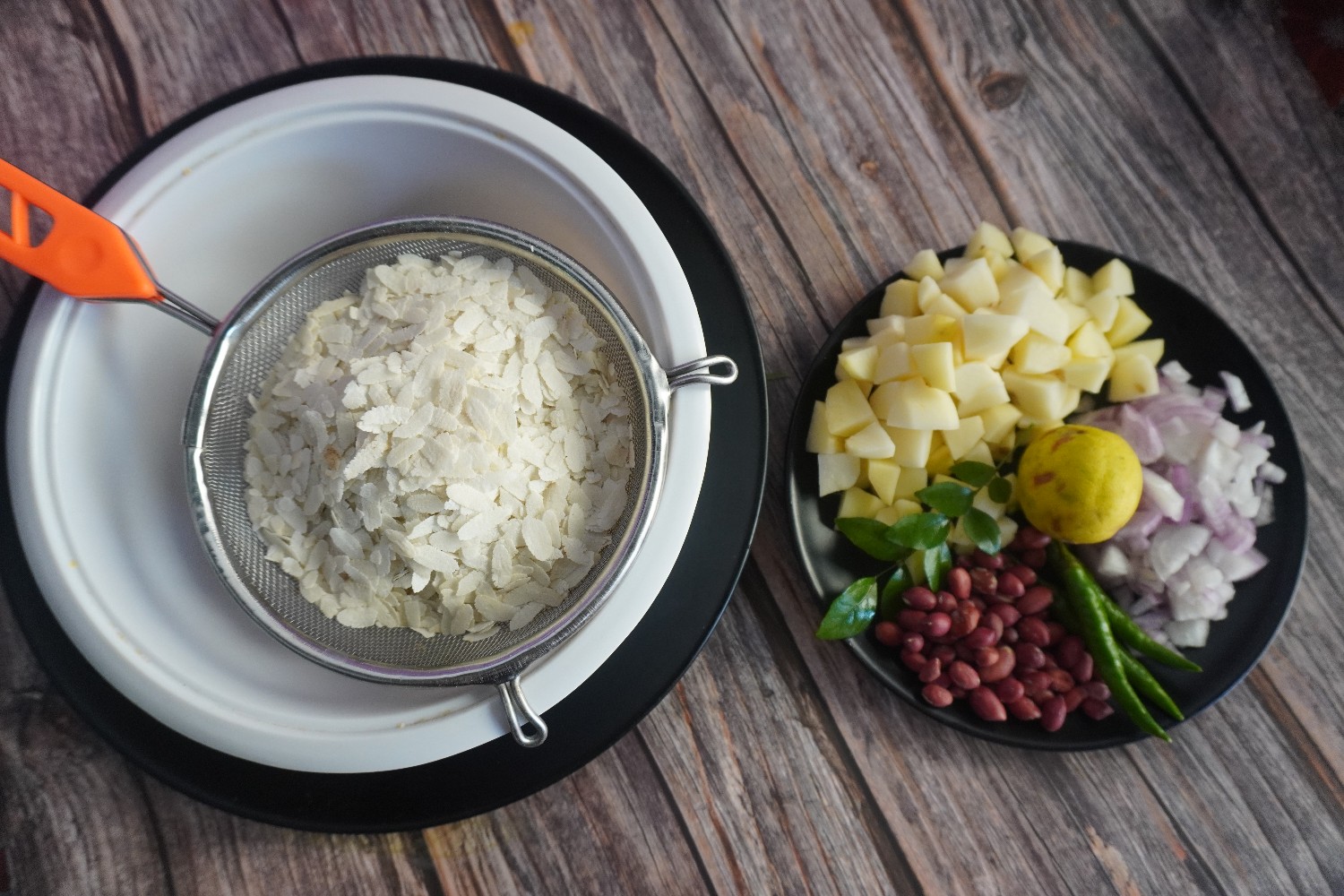 1) Firstly dice the potatoes and finely chop the onions.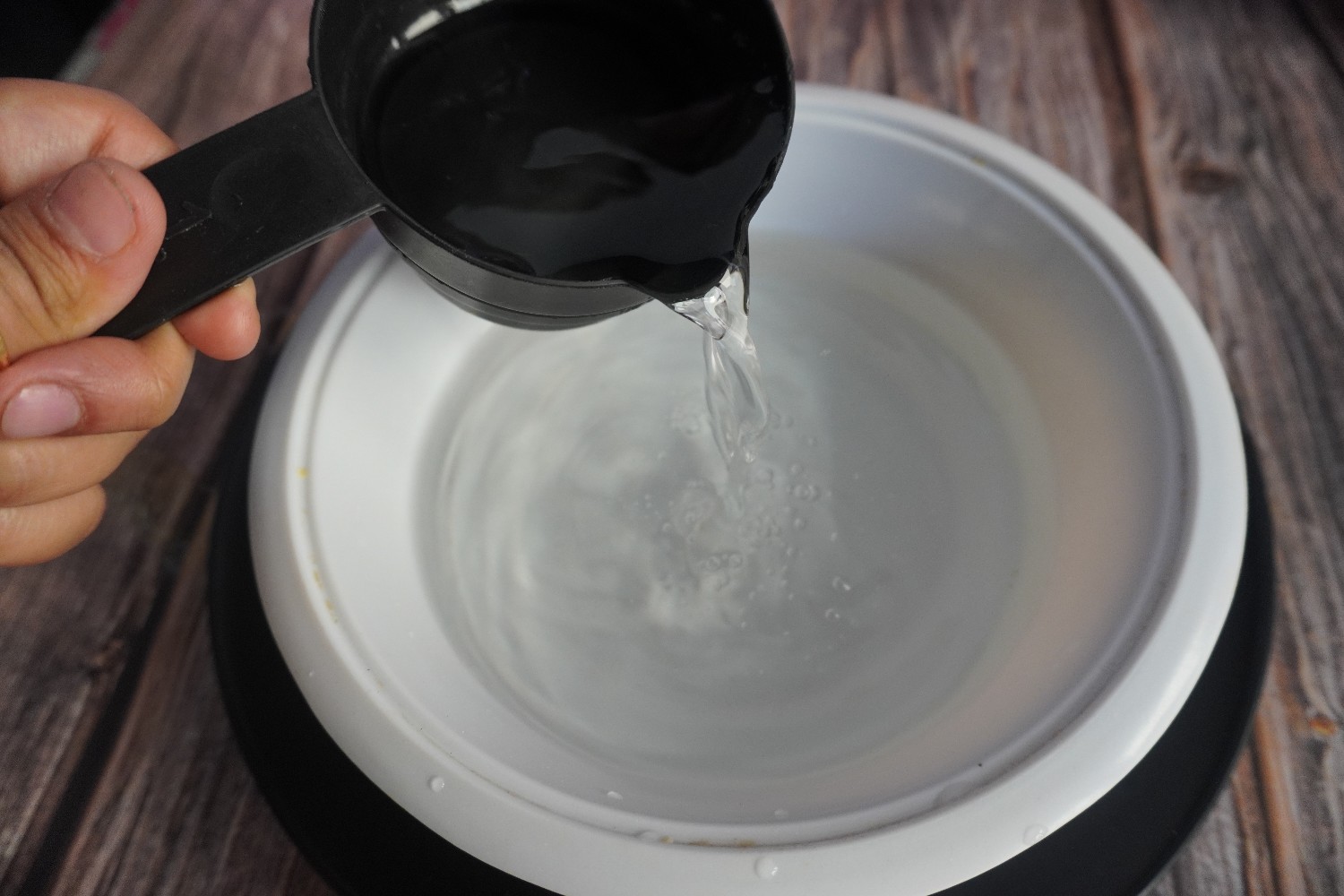 2) Now add 4 cups of water in a bowl.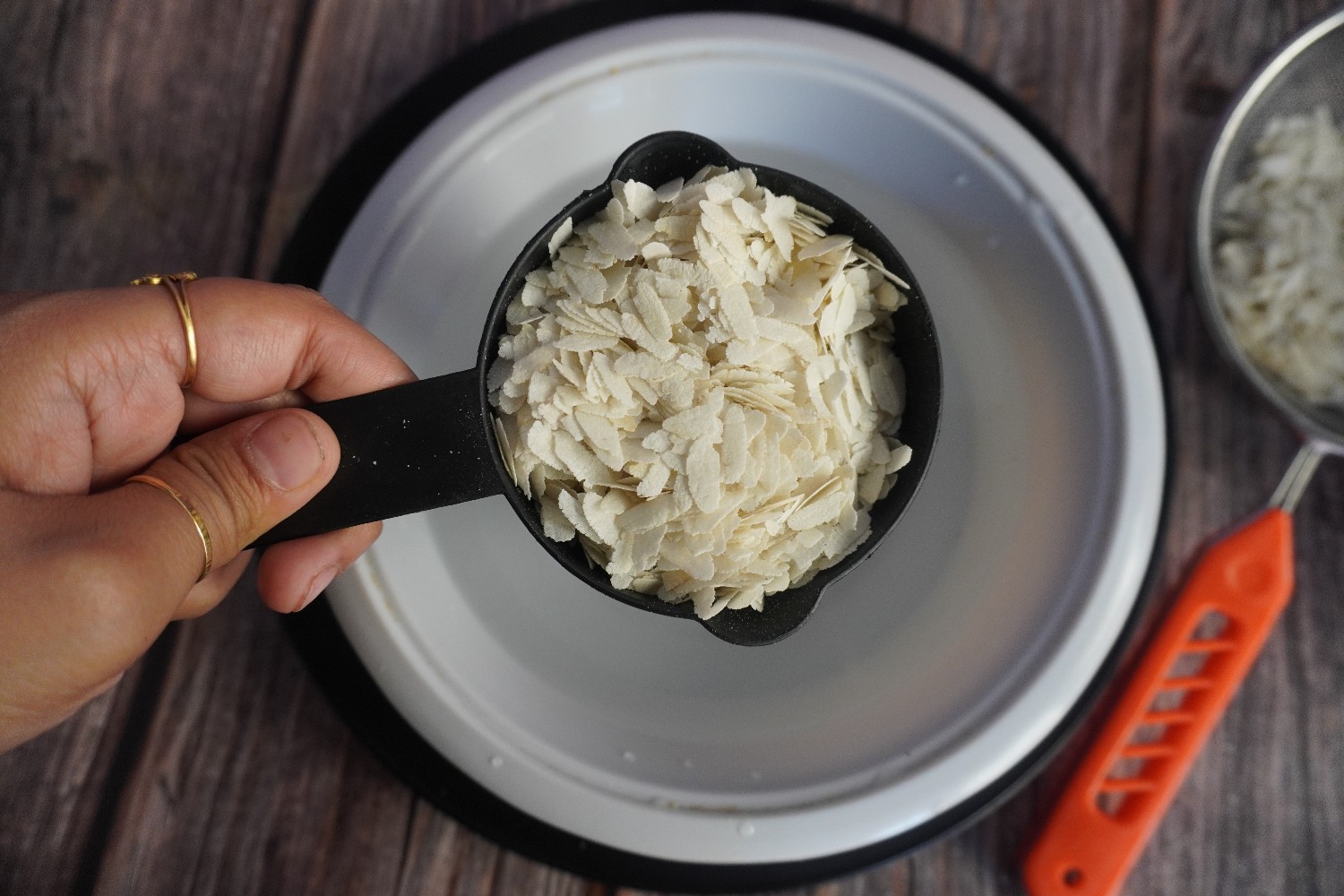 3) Add 3 cups of poha Or chivda in it.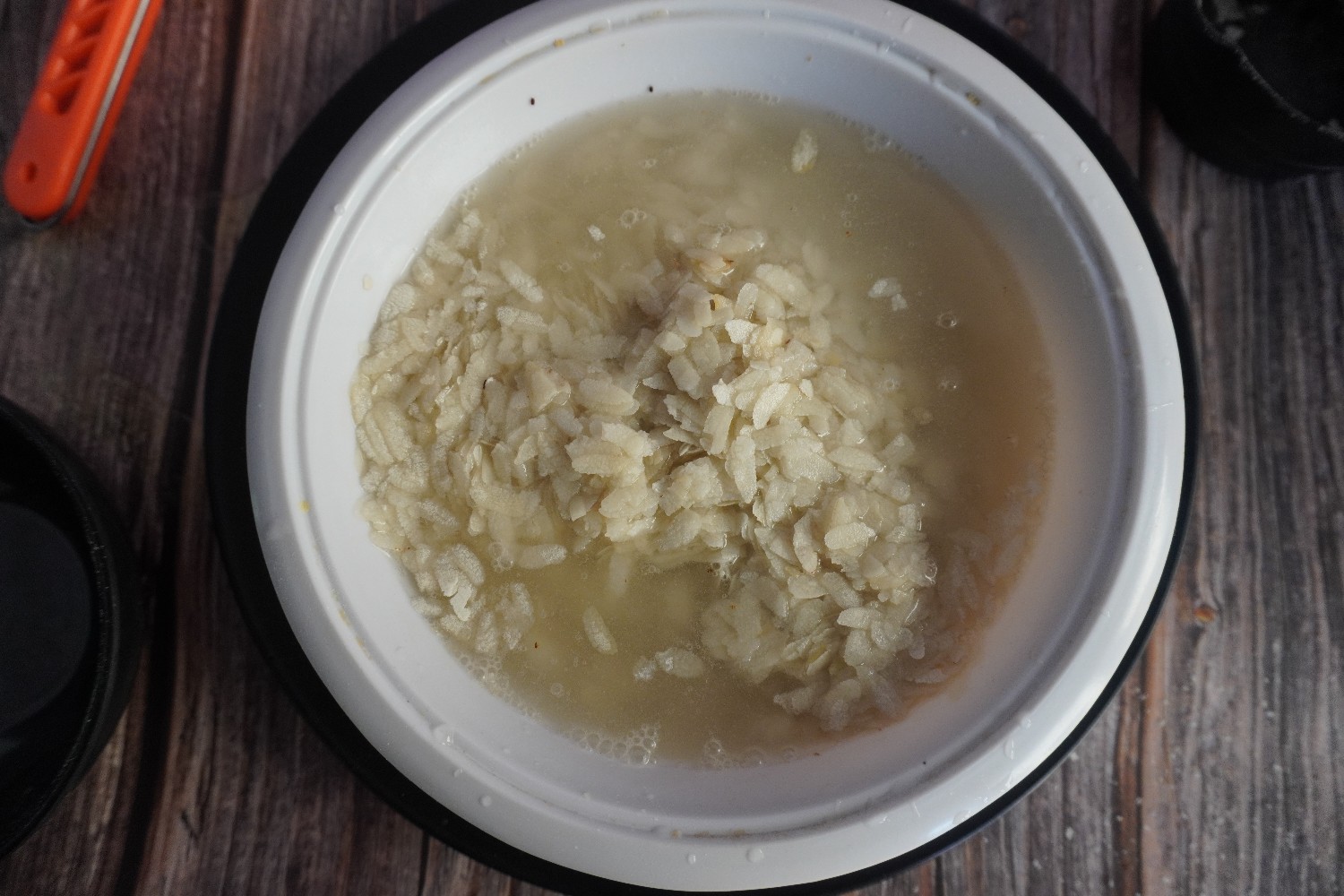 4)Wash them well for half a minute.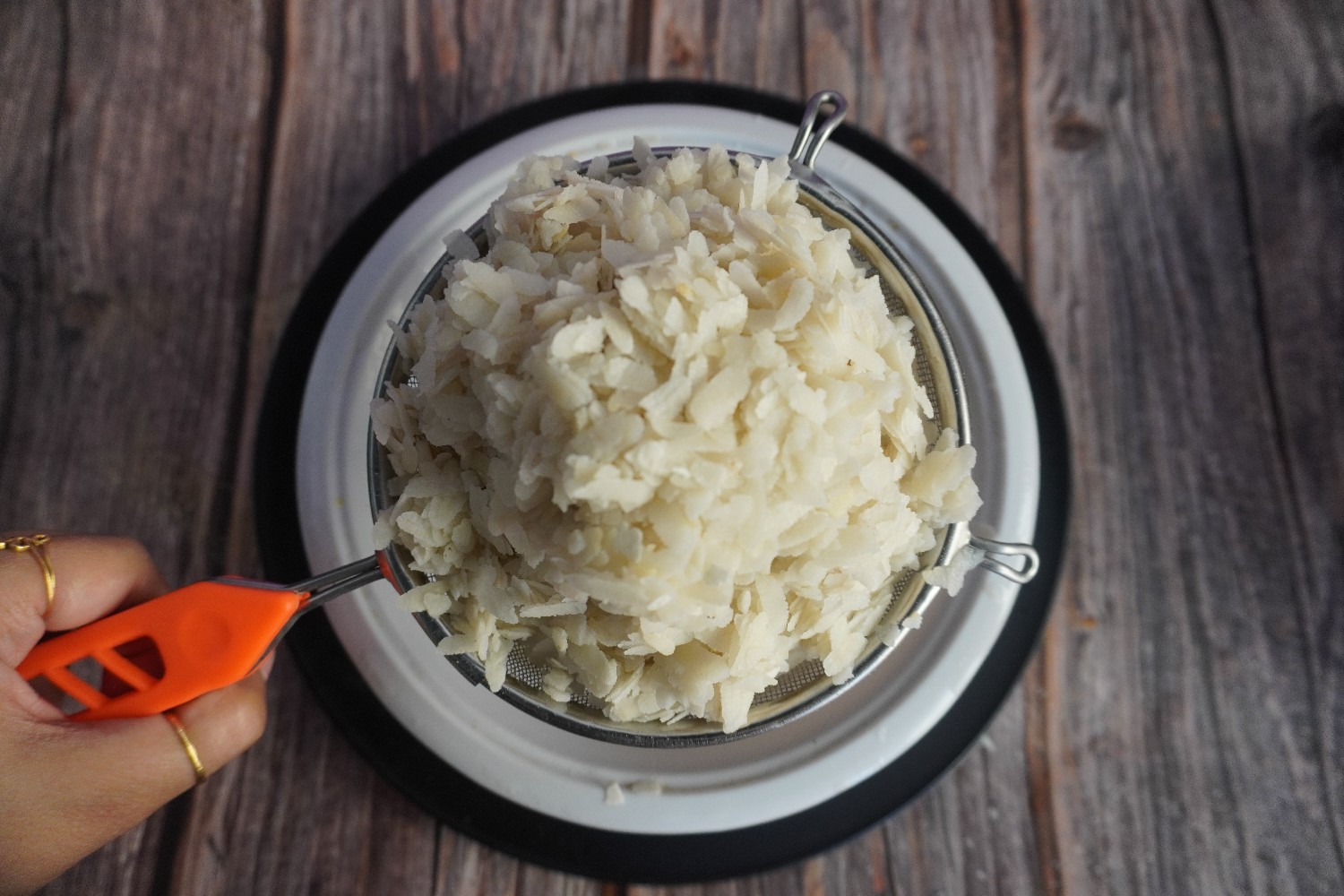 5) Drain them instantly. Don't over soak them. Washing and draining them should be done within a minute. You can also wash it directly under running water. Let it drain until excess water comes off. Rest it for 5 minutes.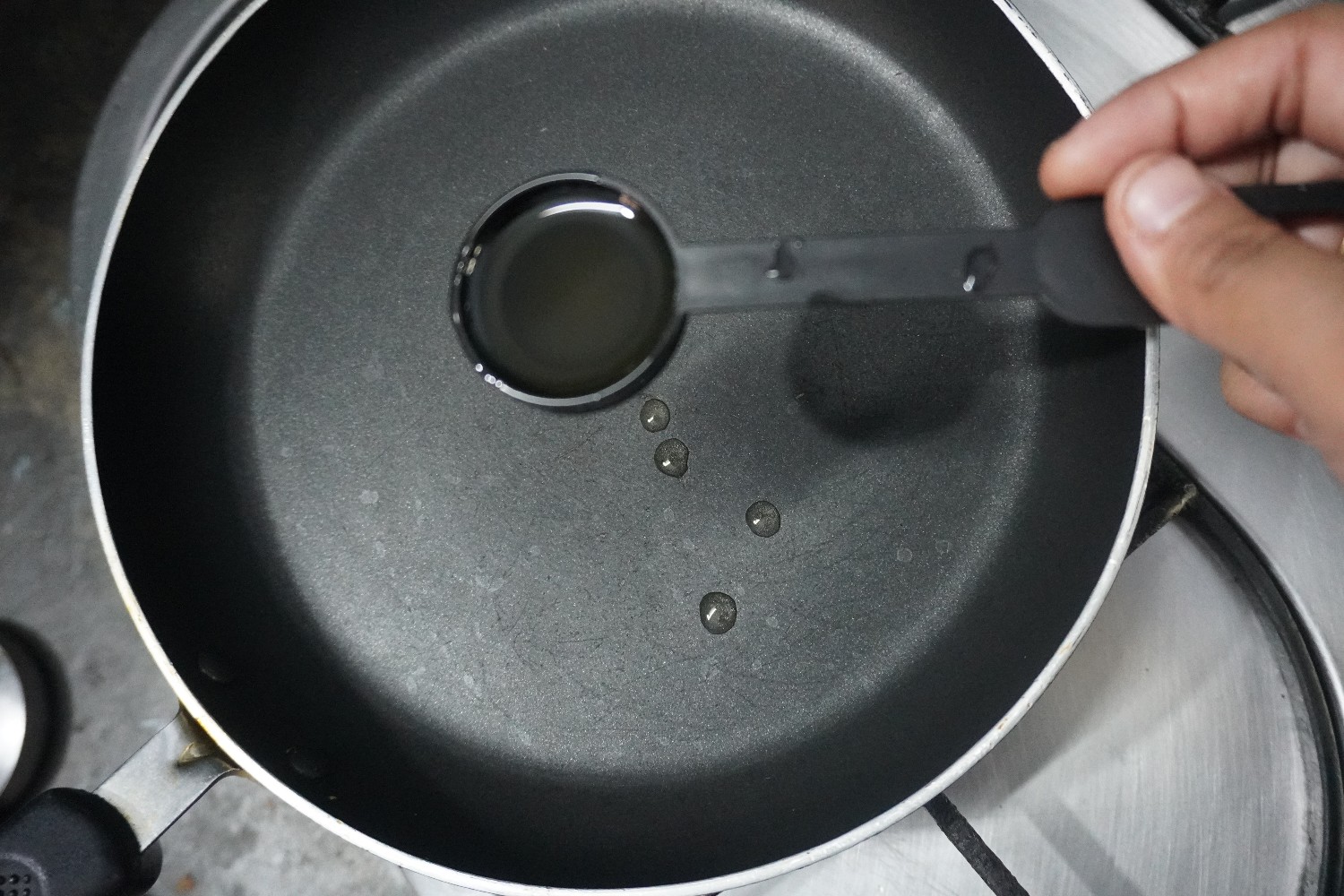 6) Now heat a pan with 3 to 4 tablespoon of oil.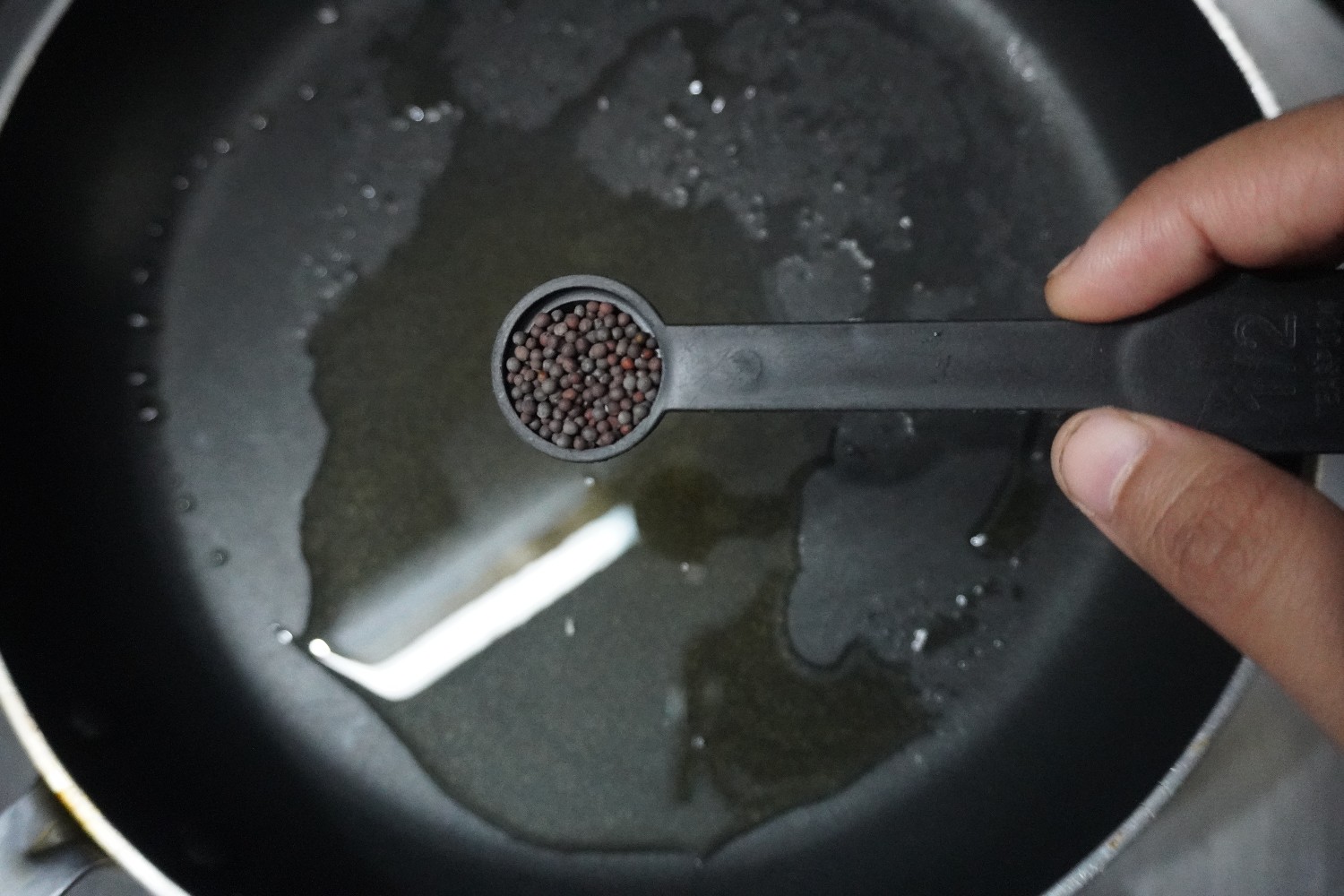 7) Add 1/2 tablespoon of mustard seeds in it.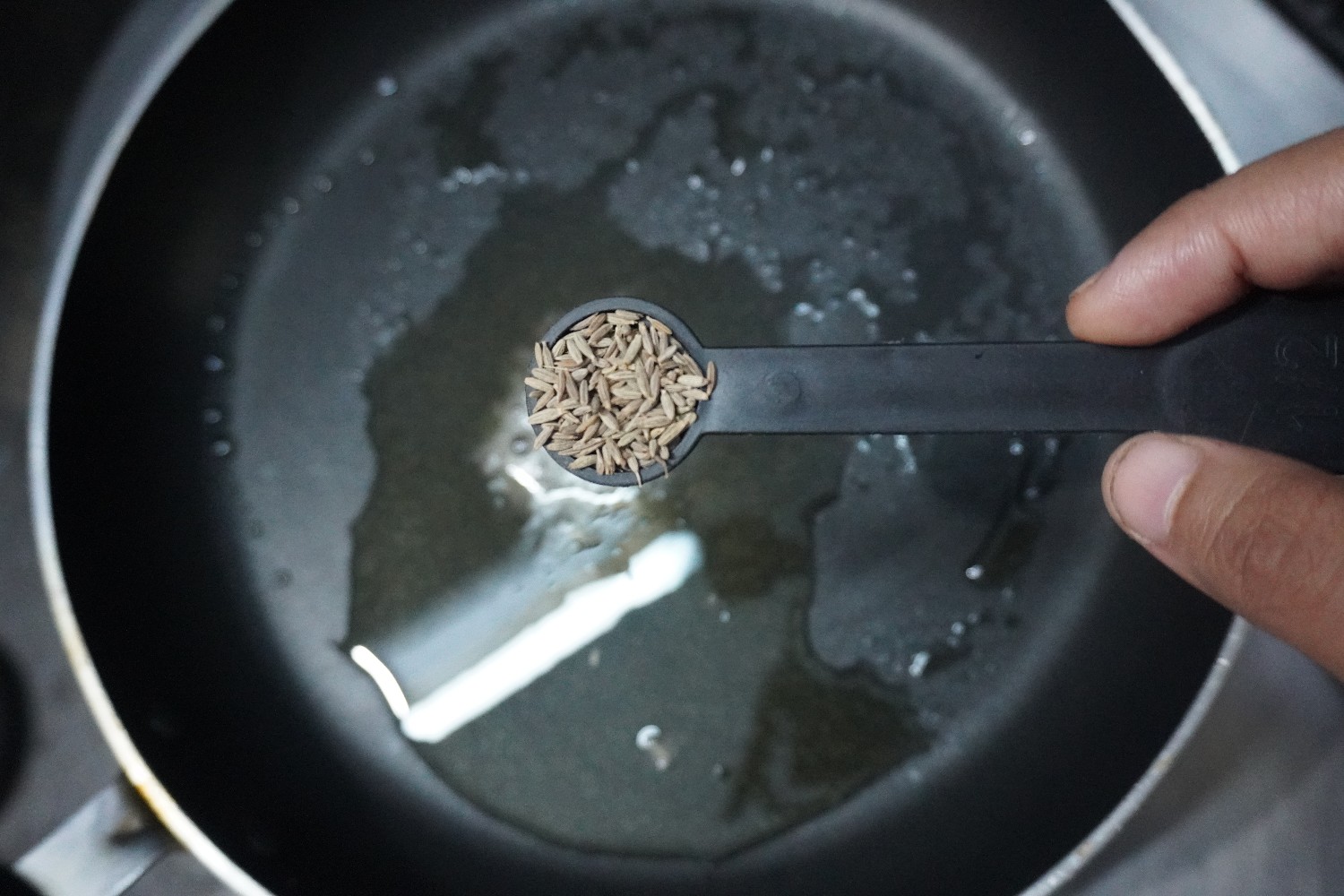 8) Add 1/2 tablespoon of cumin seeds in it.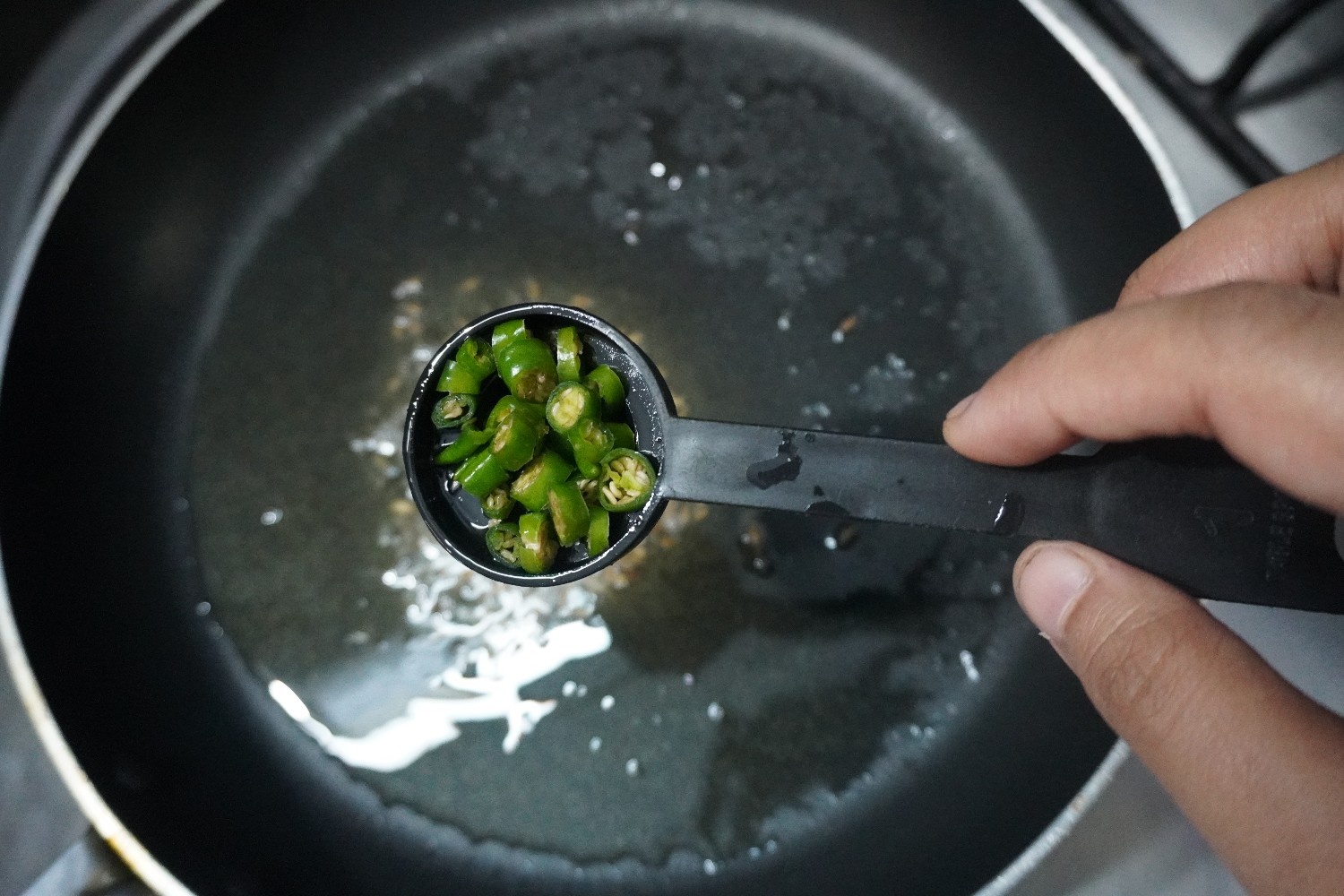 9) 9) Let it crackle and splutter. Now add chopped green chillies in it.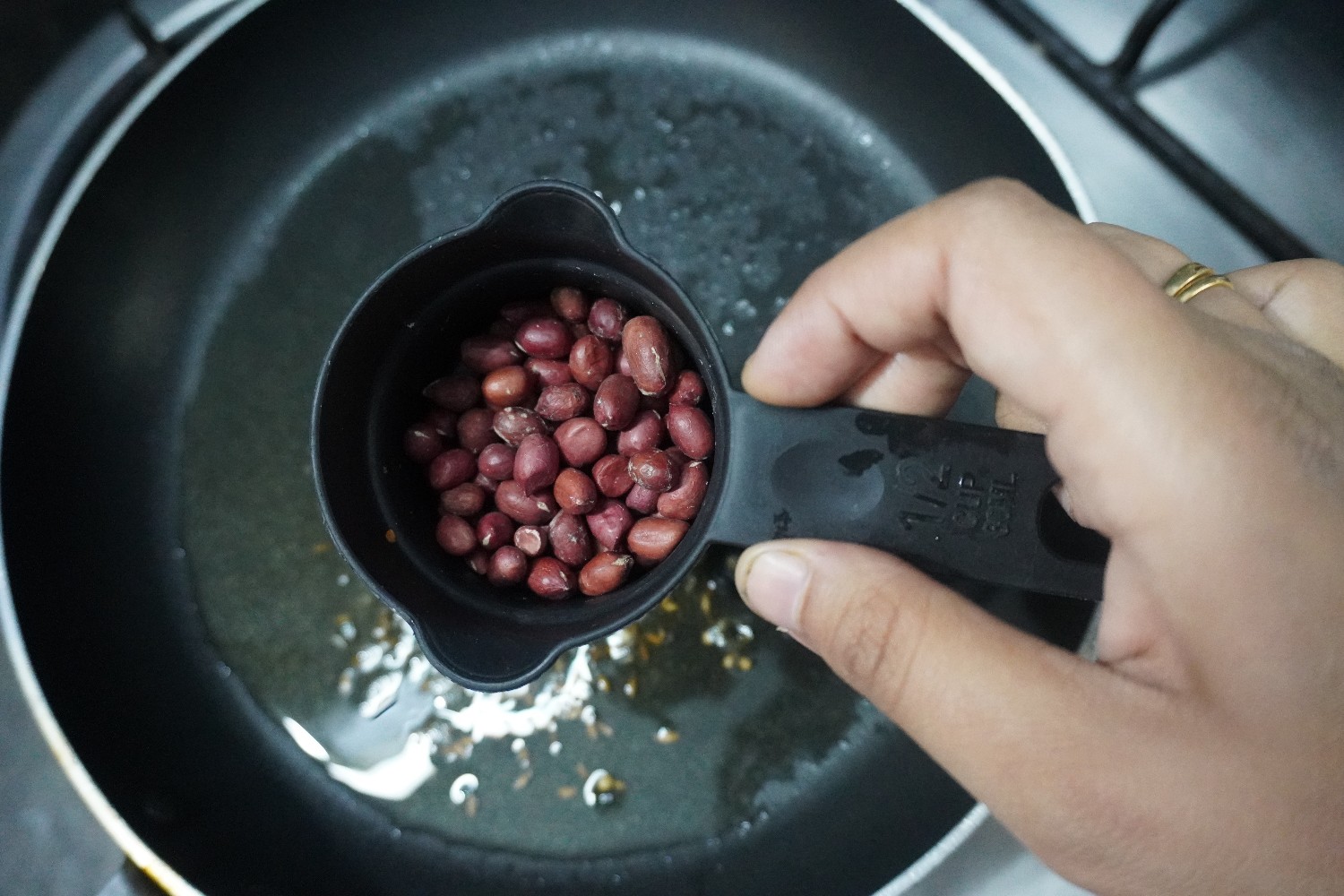 10) Add 3 tablespoon peanuts in it.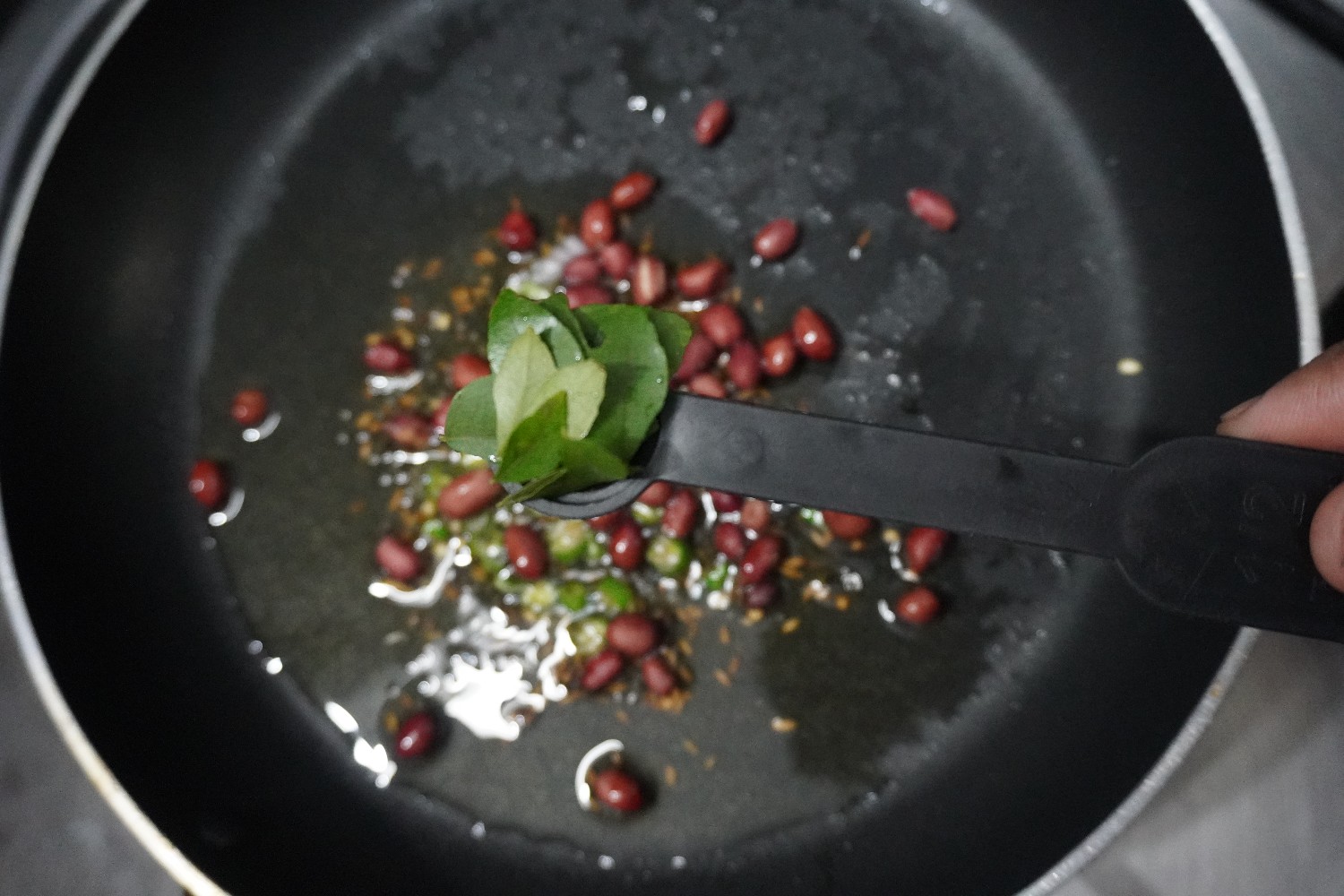 11)Add 6 to 8 curry leaves in it.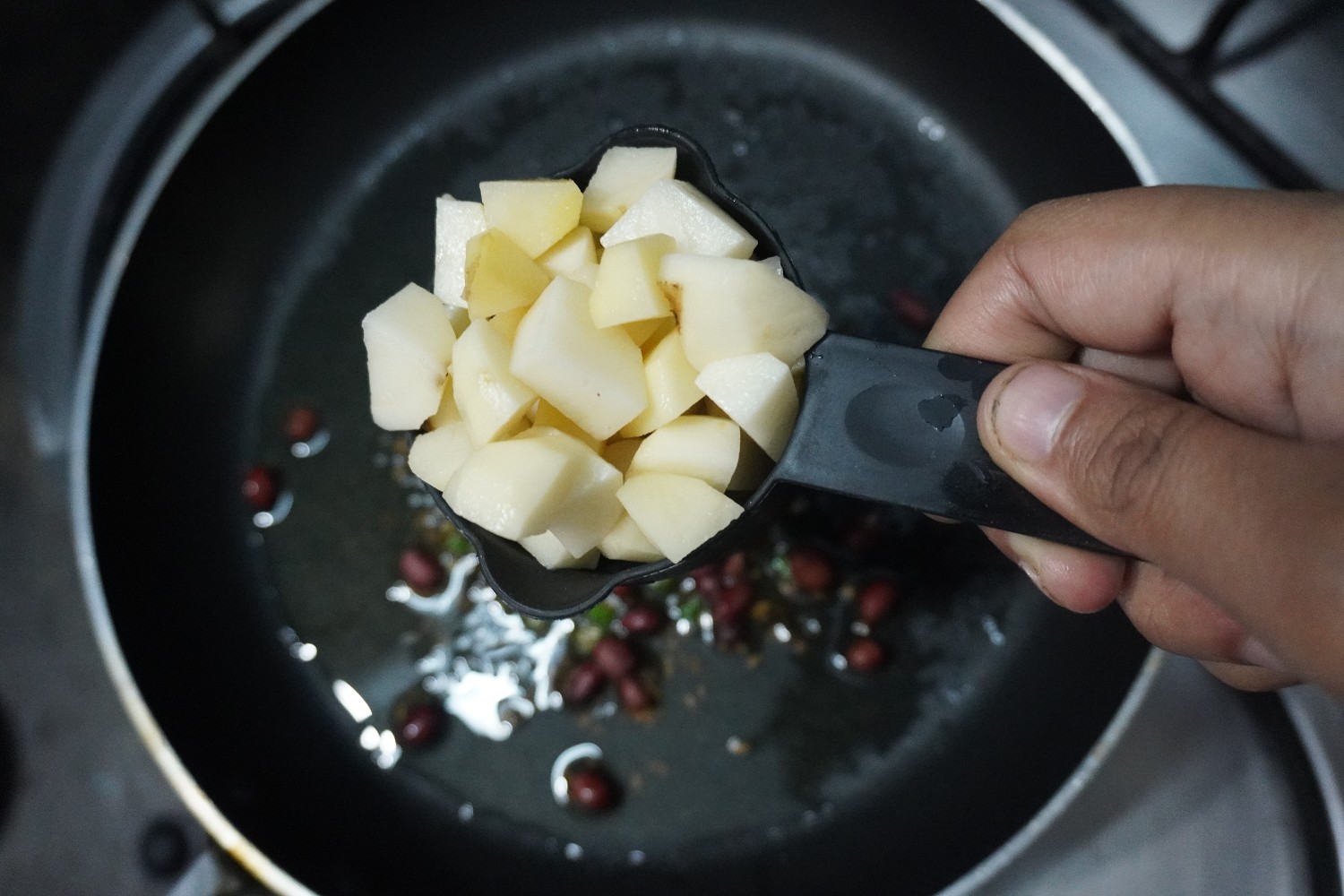 12) Now add 1 cup diced potatoes in it and cook it on medium high flame for 2 to 3 minutes until half done. (Potatoes are 50% cooked)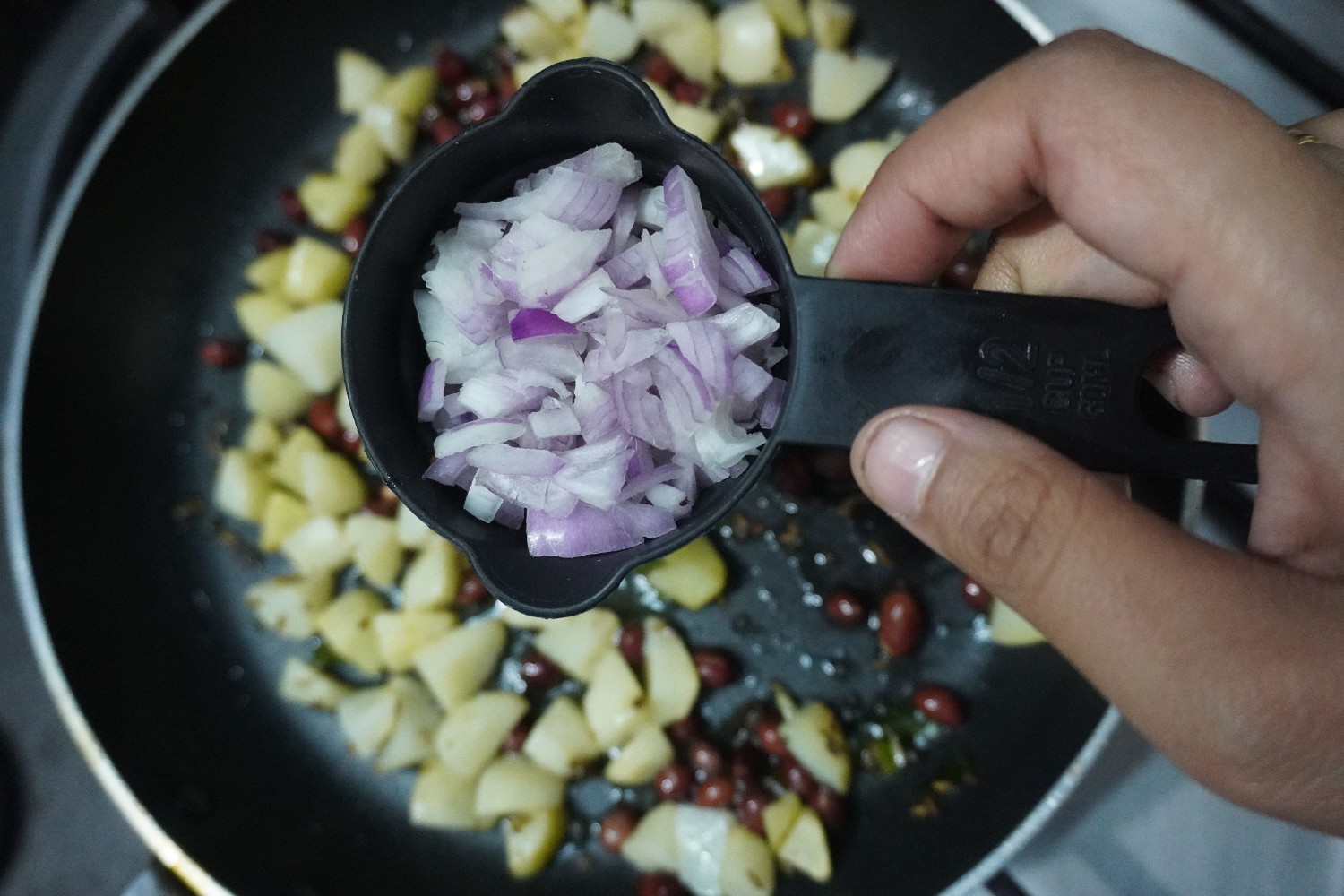 13) Now add chopped onions in it.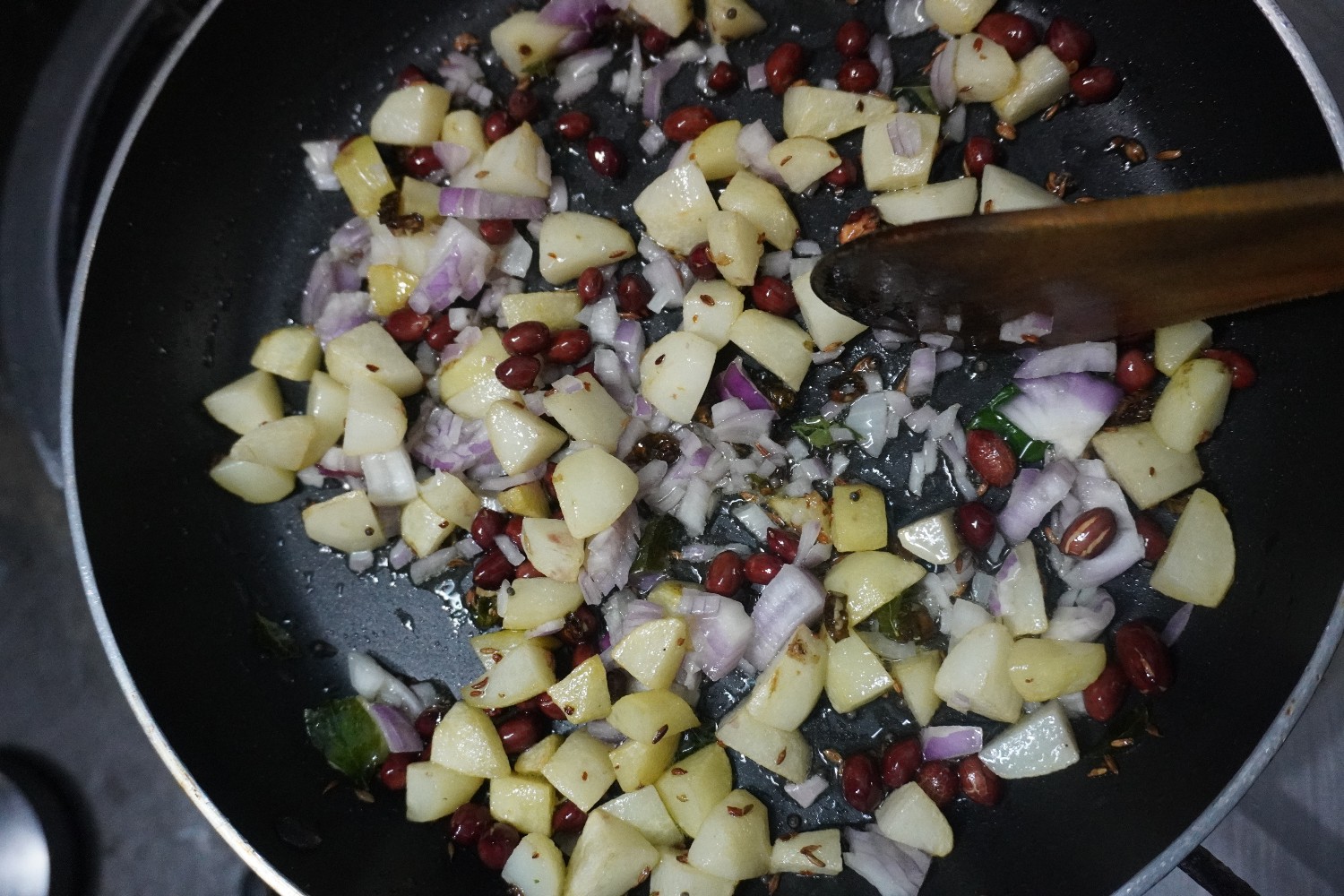 14) Cook them well until onions turn golden brown.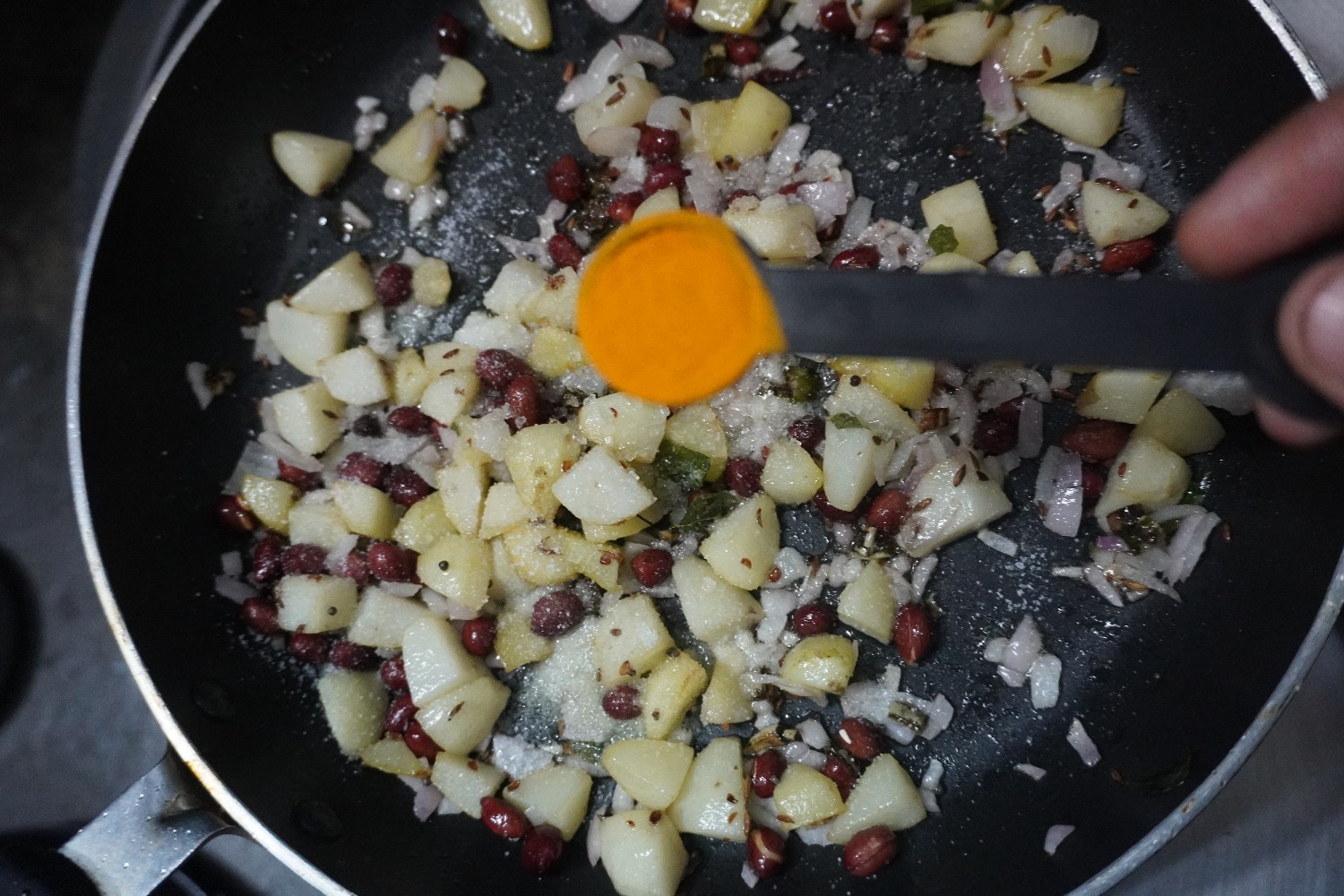 15) Turn the flame to low and add 1/2 tablespoon turmeric powder in it.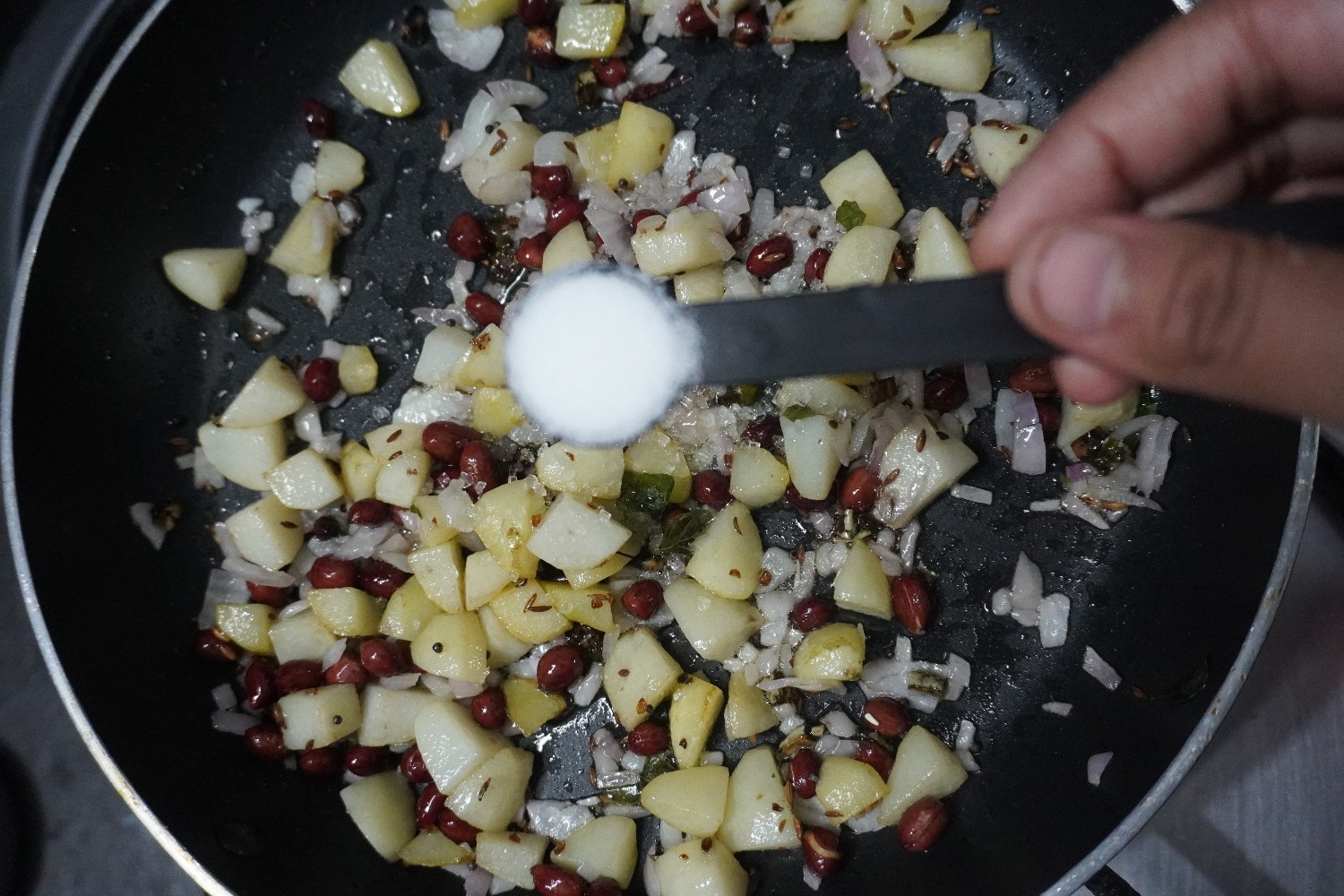 16) Add salt as per taste.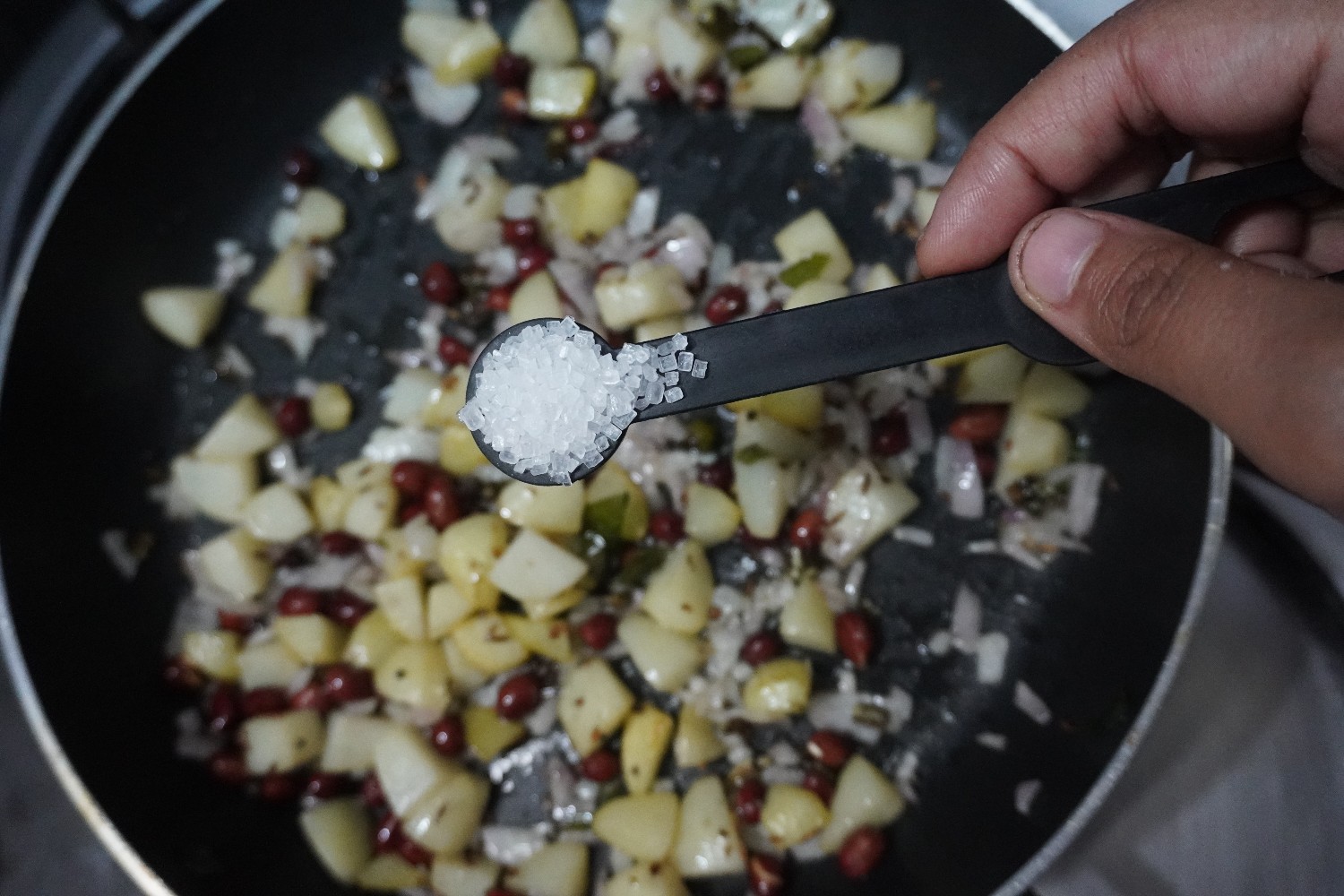 17) Now add 1/2 tablespoon sugar in it.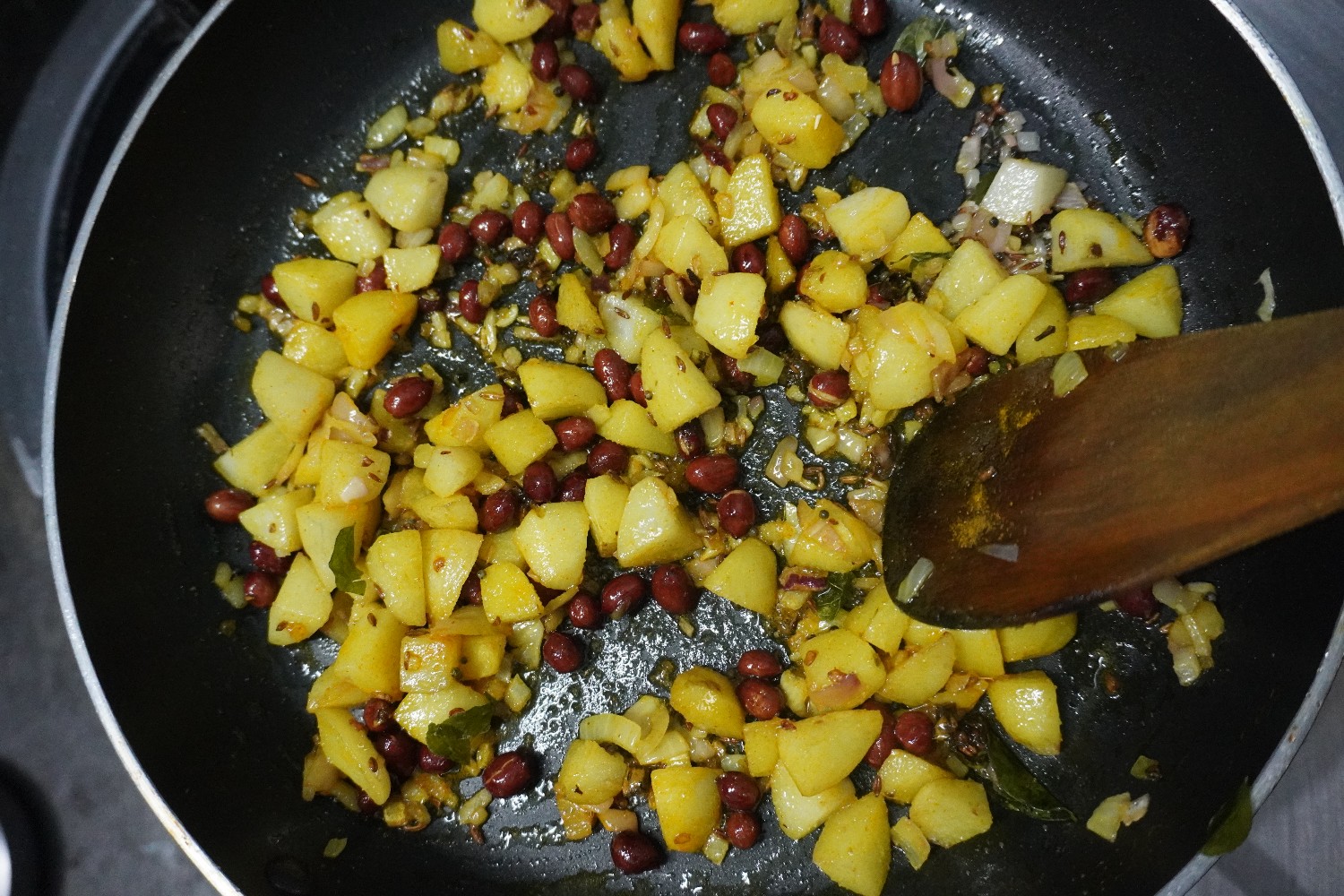 18) Saute it for a minute on low flame.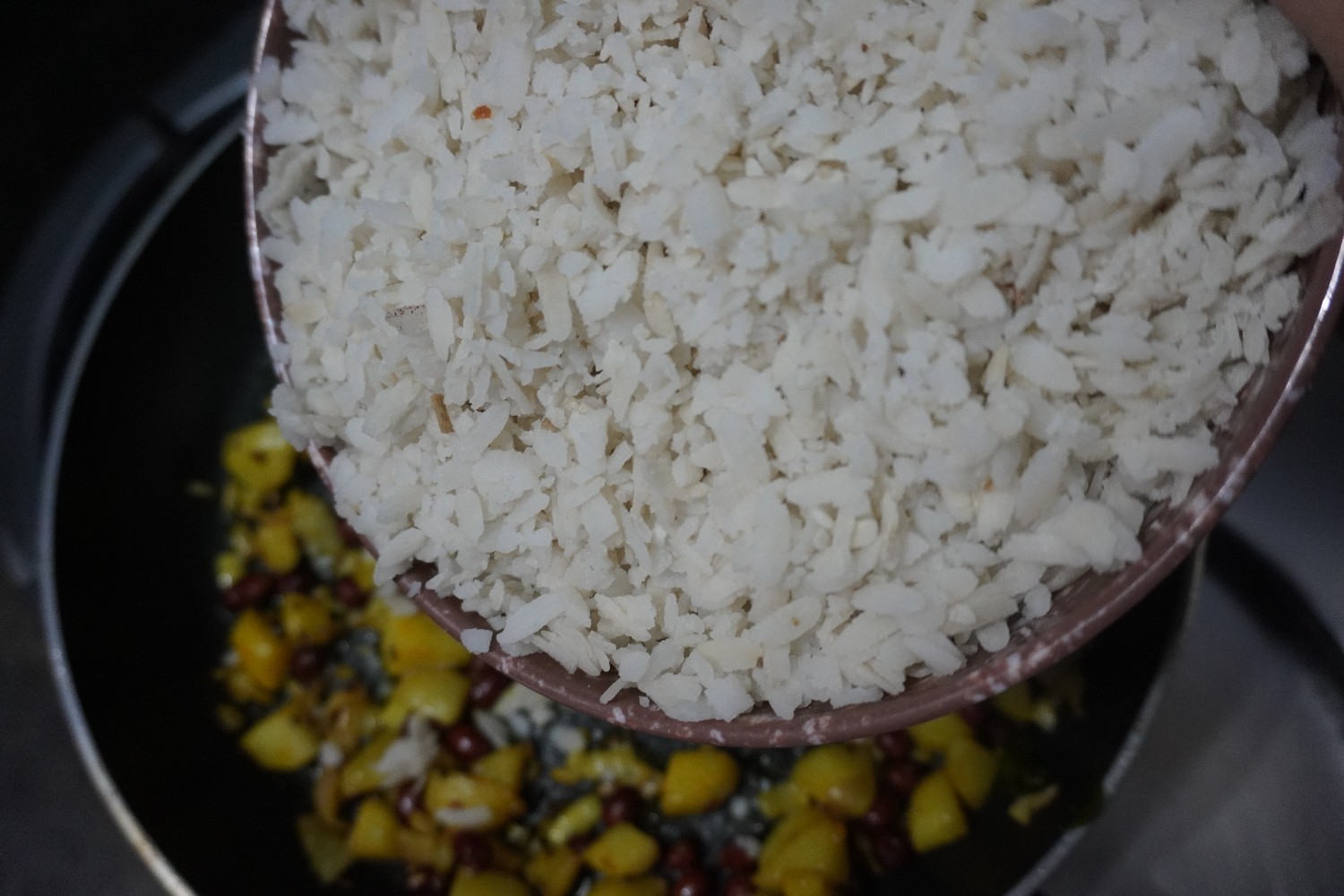 19) Now add soaked poha Or chivda in it.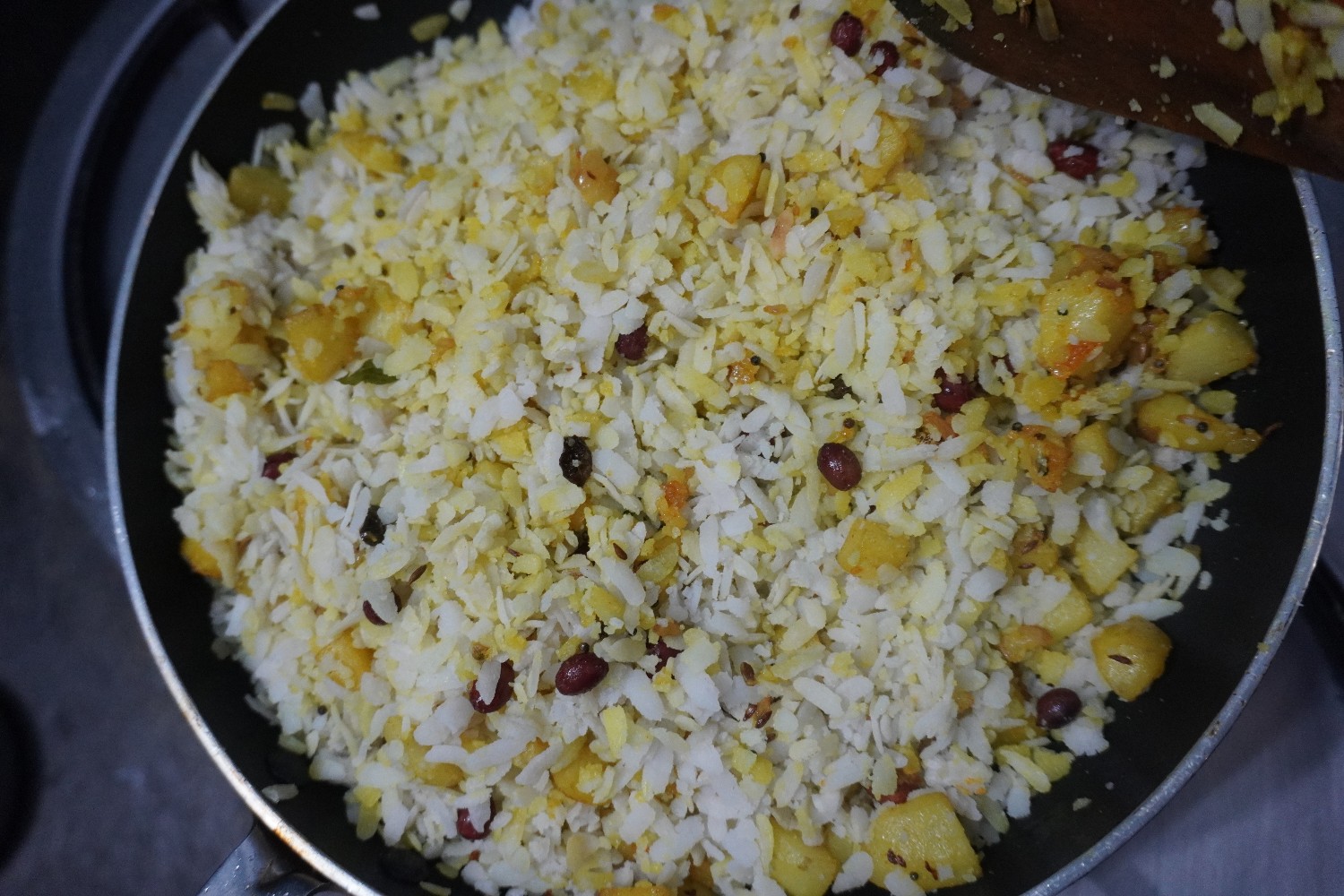 20) Stir and mix them well until they turn yellowish in colour.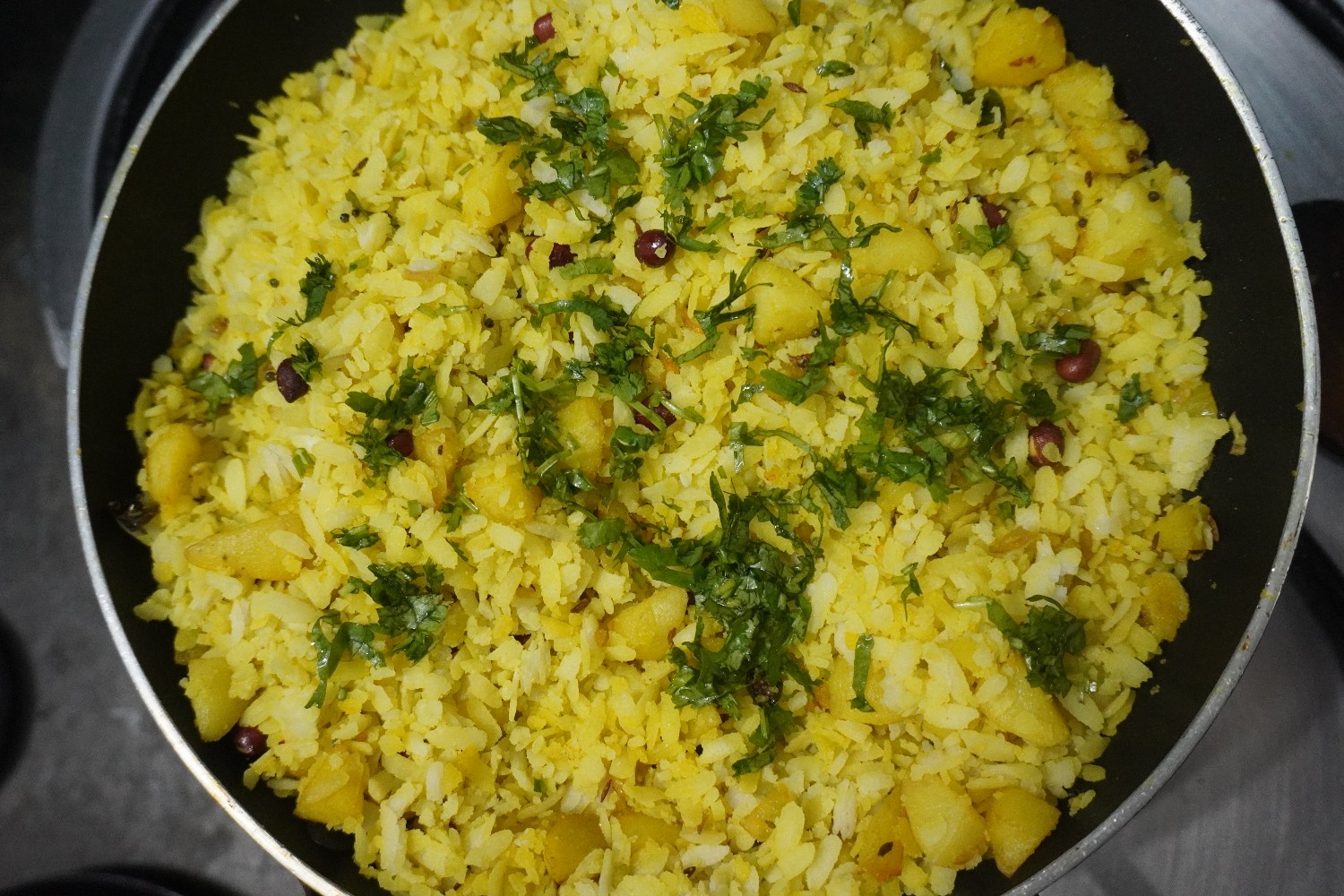 21)Now add finely chopped coriander leaves in it.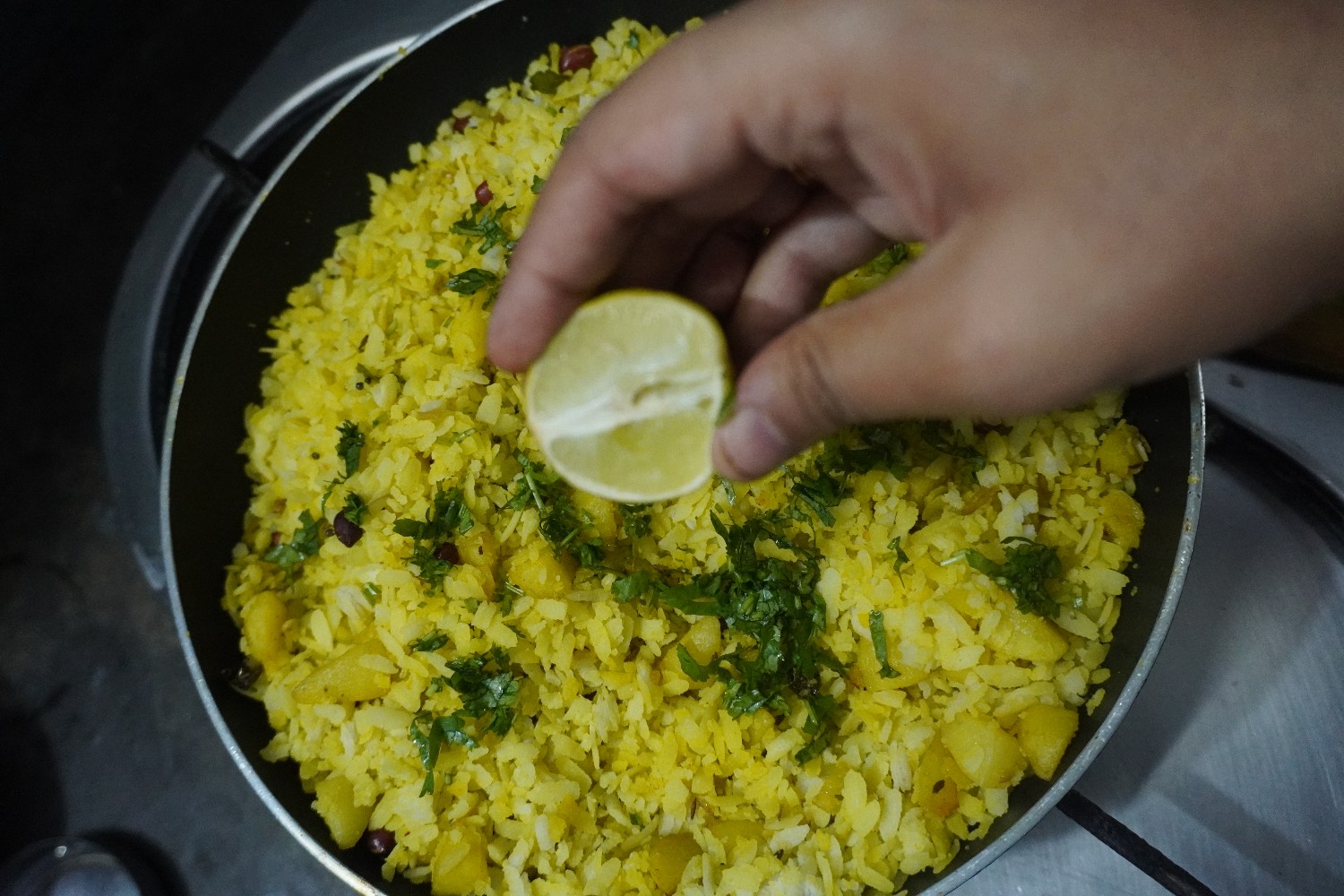 22) Squeeze half lemon in it.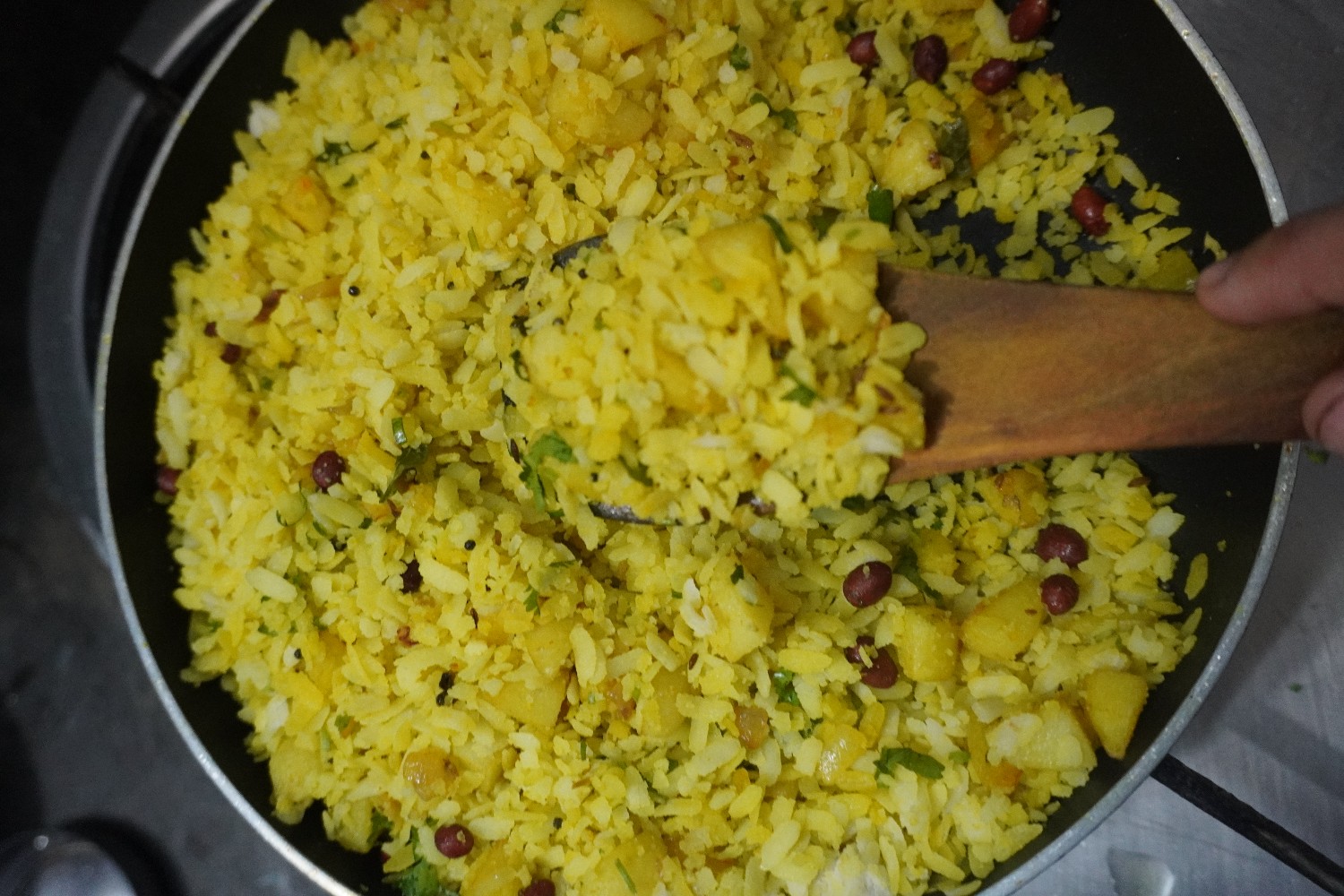 23) Mix them well and turn off the flame.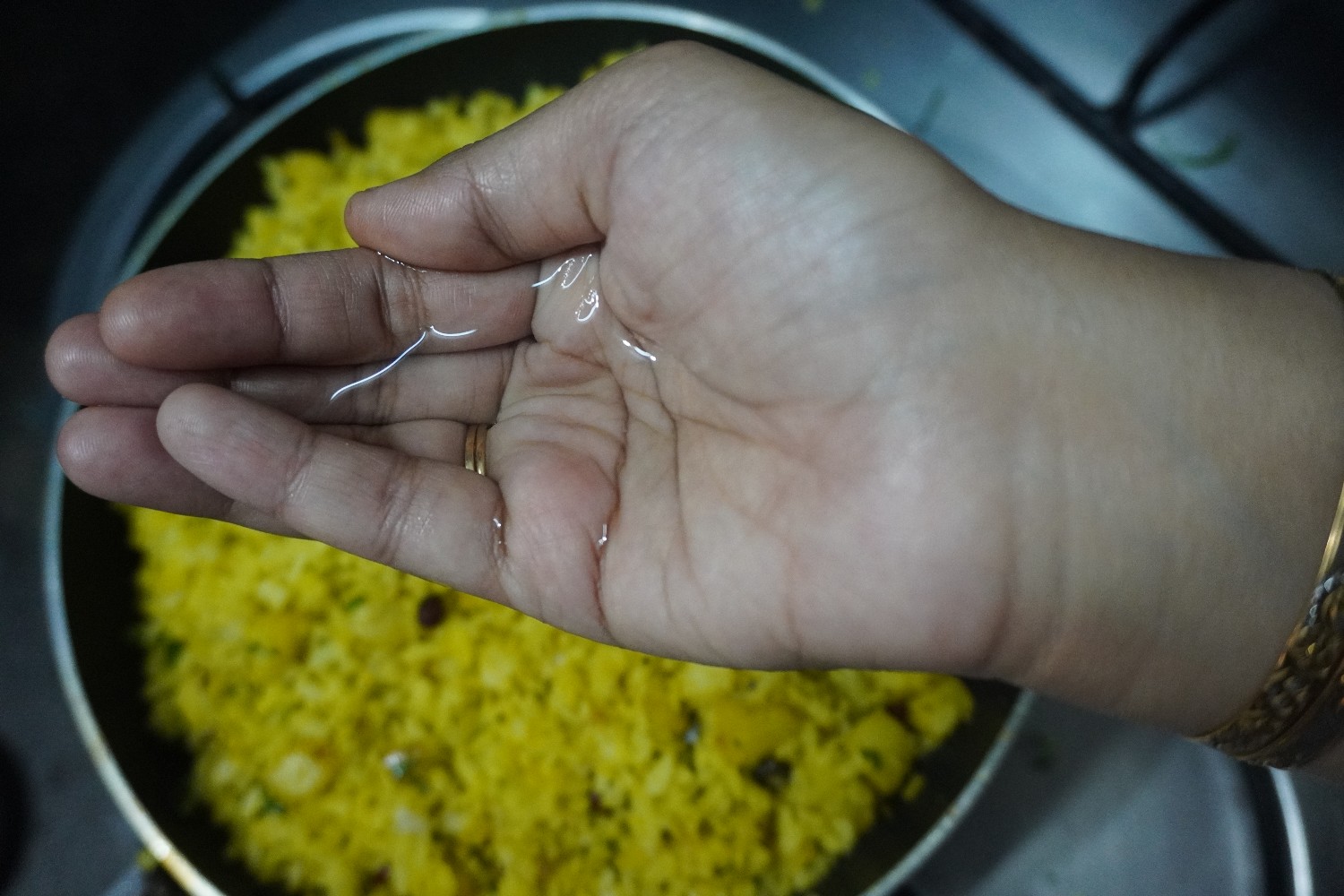 24) Lastly sprinkle some water in the poha with your hands.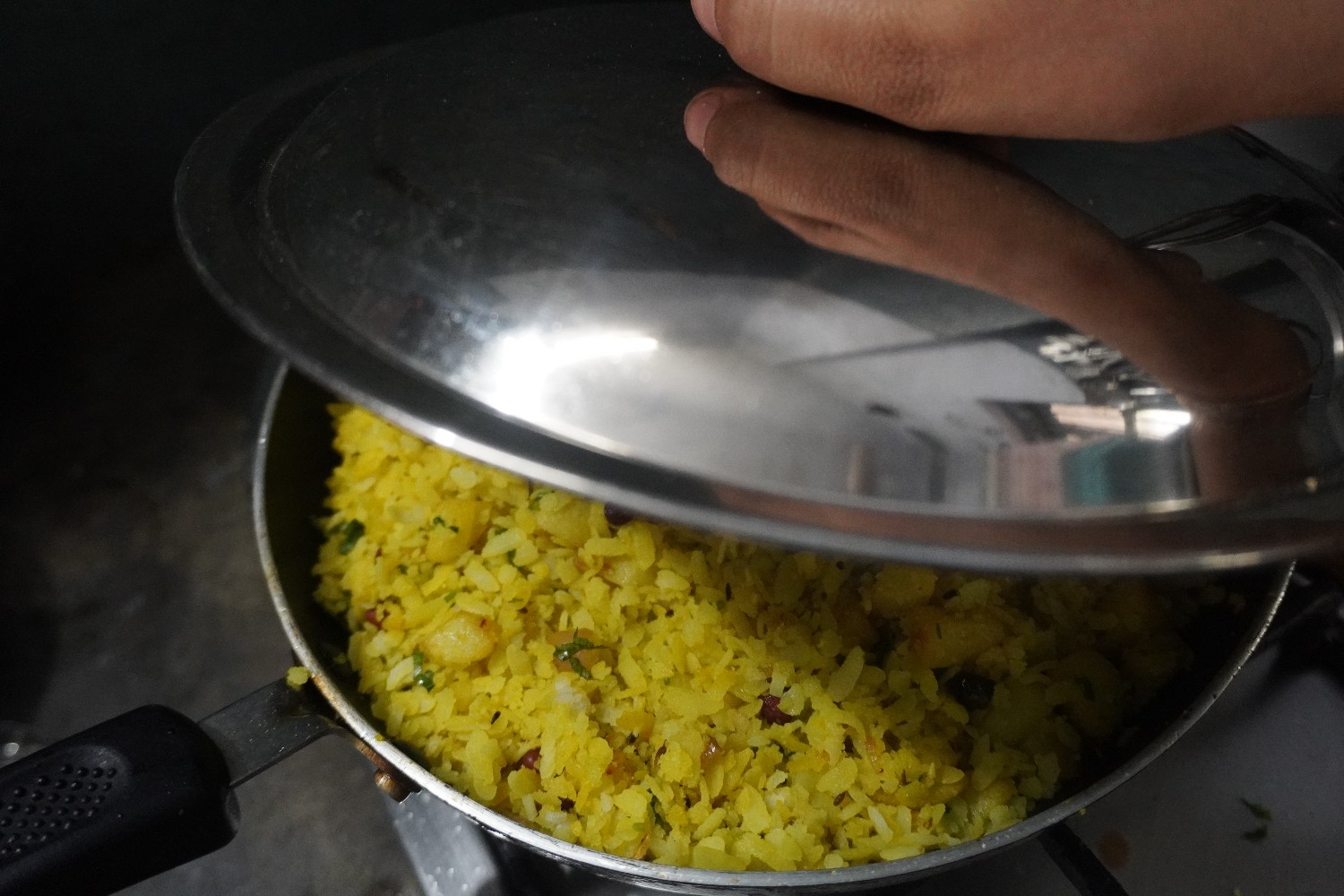 25) Cover it with a lid and rest it for 3 to 4 minutes until it absorbs the moisture from the water droplets.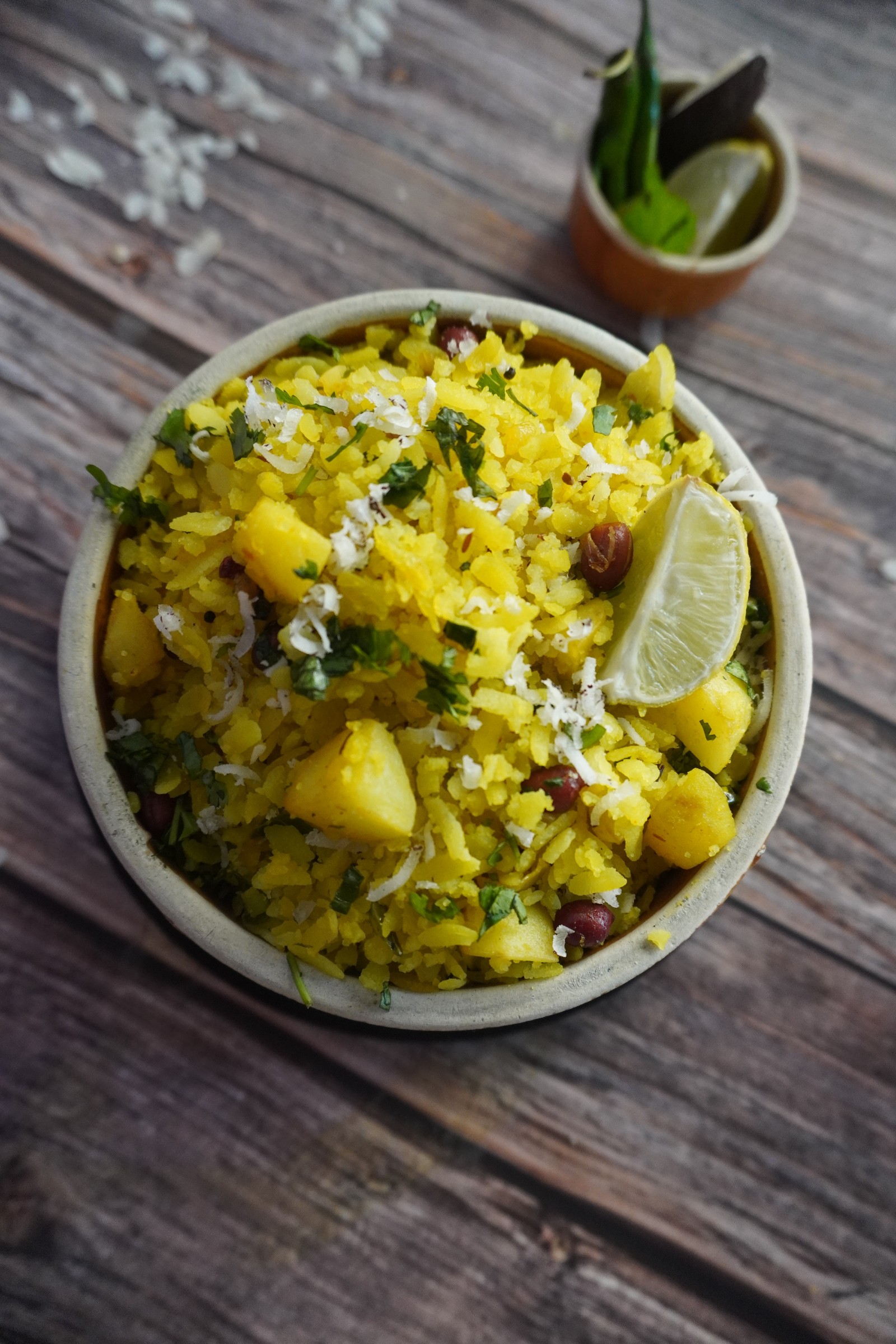 26) Once done, remove the lid and garnish with some grated coconut and coriander leaves. Serve immediately.
Tips and Tricks

1) Don't soak the poha Or chivda for more than half a minute. Or else they will turn soggy and break. You can instead wash them directly under running water.
2) First add the diced potatoes and add the onions only when potatoes are 50% done.
3) Stir the poha with firmly or it will break.
4) Sprinke some water in the poha and cover it for 4 to 5 minutes before serving. This process helps retain the moisture in the poha.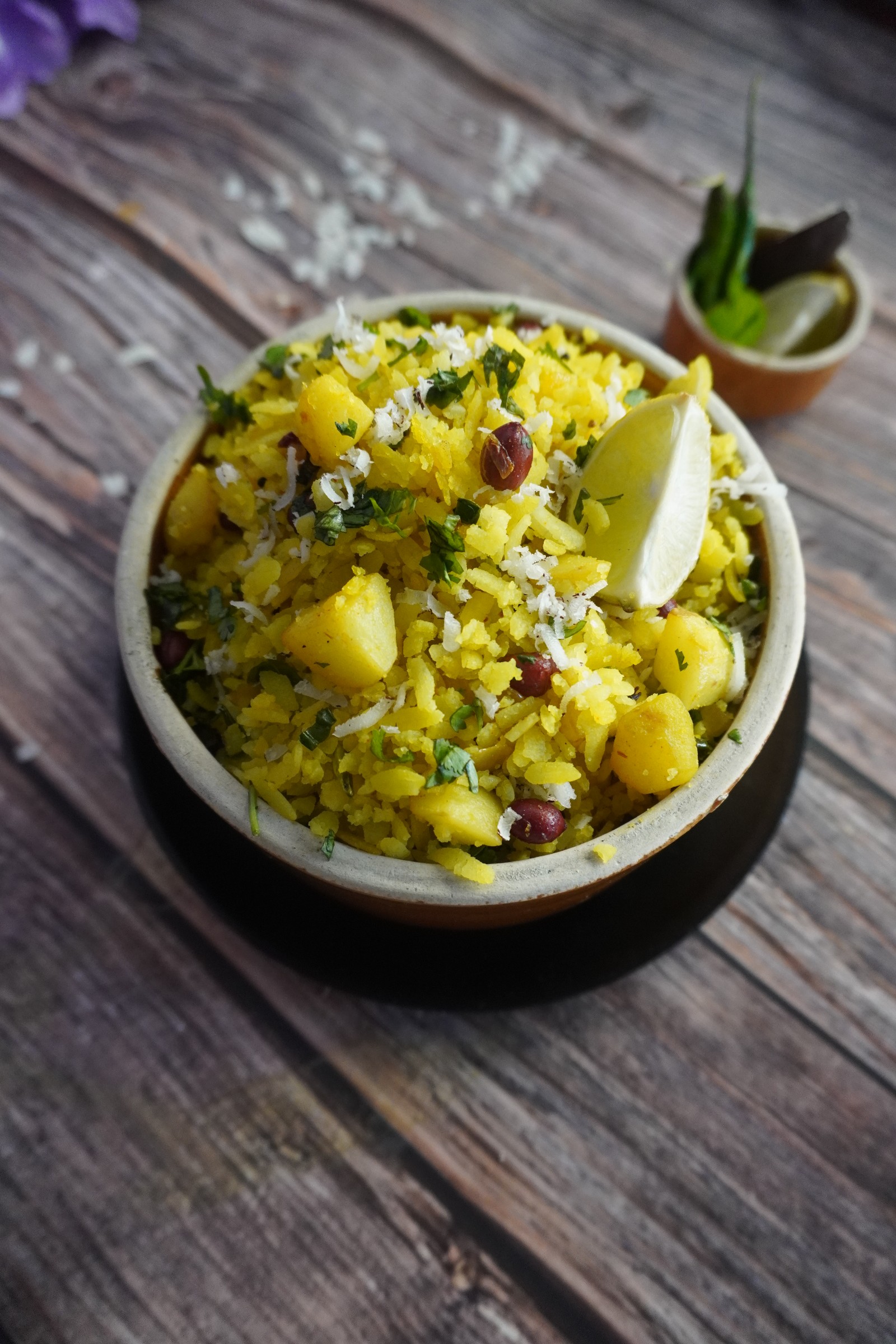 Healthier version

1) You can add a tablespoon of desi ghee instead of refined or olive oil.