Custard or vanilla pudding is one of the most loved dessert recipe. This yummy vanilla pudding when combined with yummy and juicy fresh fruits turn out to be heavenly and mouthwatering. This combination of fruit salad and vanilla pudding reminds me of my childhood days, when we used to wait for sundays to enjoy this super thick, delicious and chilled dessert. You can add fruits of your choice, I personally prefer adding cherries and bananas in it because of their sweet taste. I have also added some grapes and apples in it. You can even add pomegranate and mangoes if you want, Just make sure the fruits are sweet and not tangy.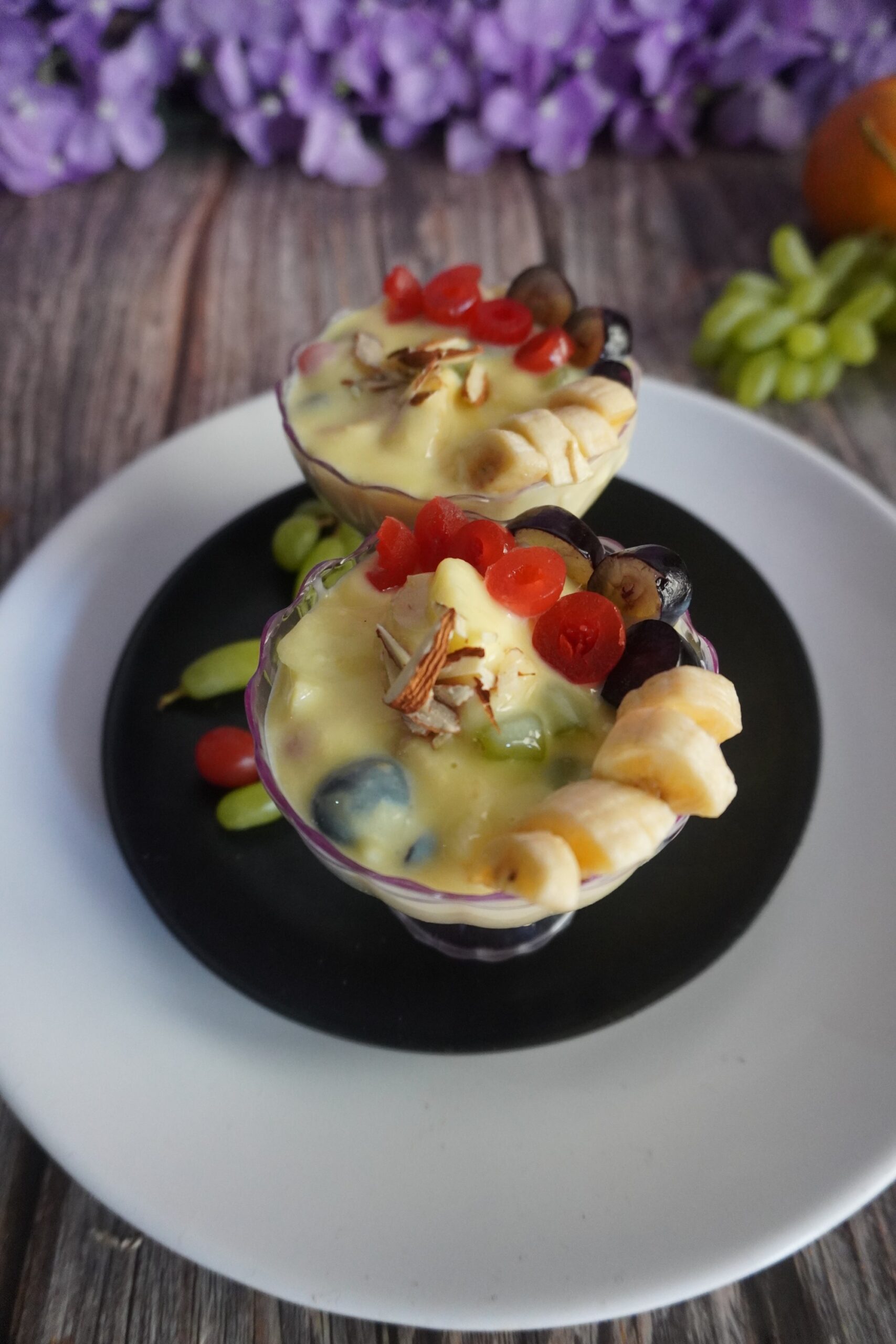 Introduction
This yummy dessert recipe is made by boiling full fat milk and adding custard mixture in it ,which is made by mixing together custard powder and milk. Once it thickens, you can add sugar or stevia and cook it well until dissolved. Once it cools down you can add fresh fruits of your choice and enjoy this yummy and creamy dessert recipe. Make sure you refrigerate it before serving. Do try this easy recipe and dont forget to share your reviews in the comments section below⬇
Ingredients

Milk- 2cups (500 ml) +4 tablespoon
Sugar- 5 to 6 tablespoon
Custard powder- 2 tablespoon
Apple- 1 (small) finely chopped
Green Grapes- 10 to 12
Black grapes- 10 to 12
Cherries- 5 to 6 (chopped)
Banana- 1 (finely chopped)
Step by step recipe with images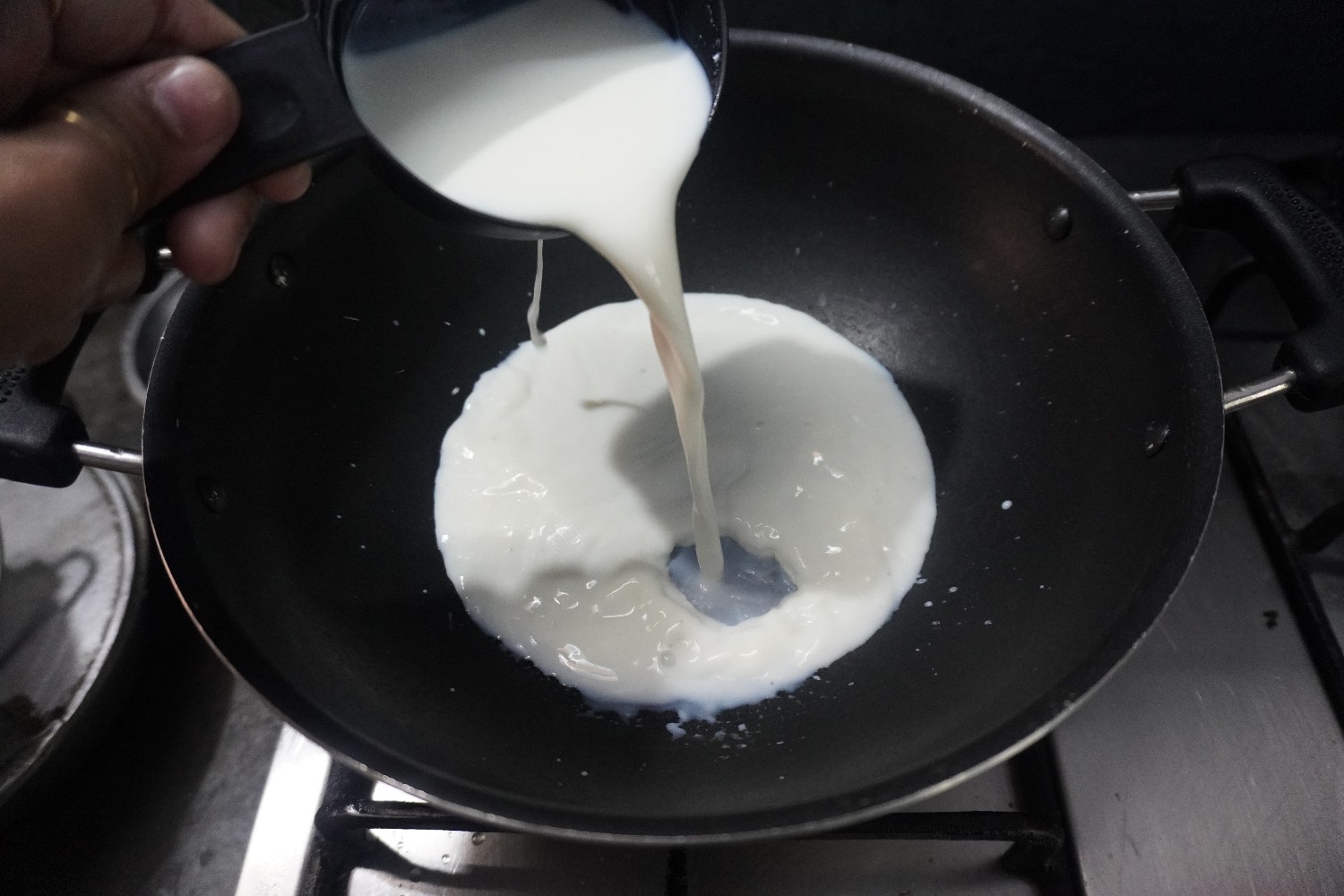 1) Firstly add 2 cups of milk in a thick bottomed pan.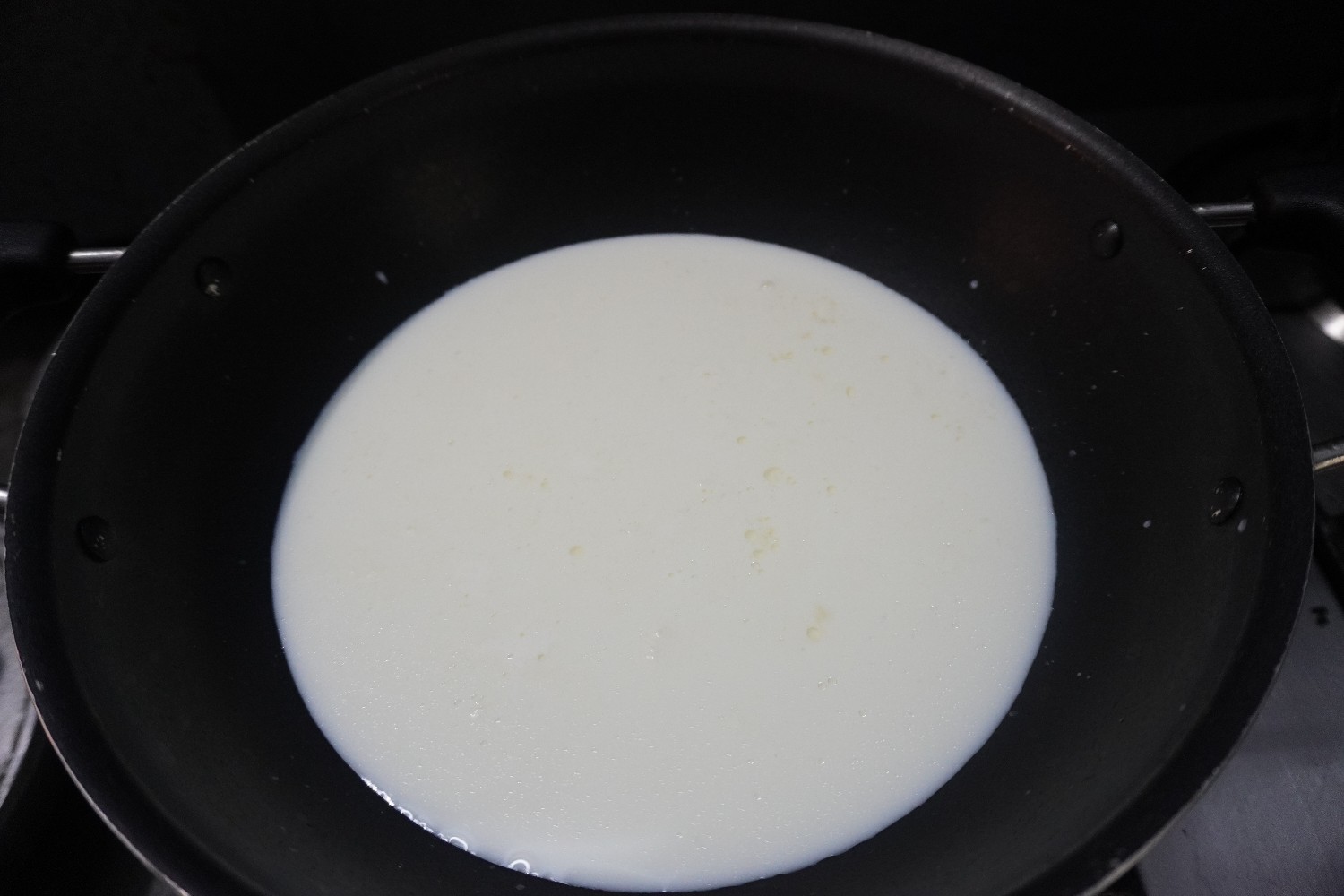 2) Turn the flame to medium high and let it boil.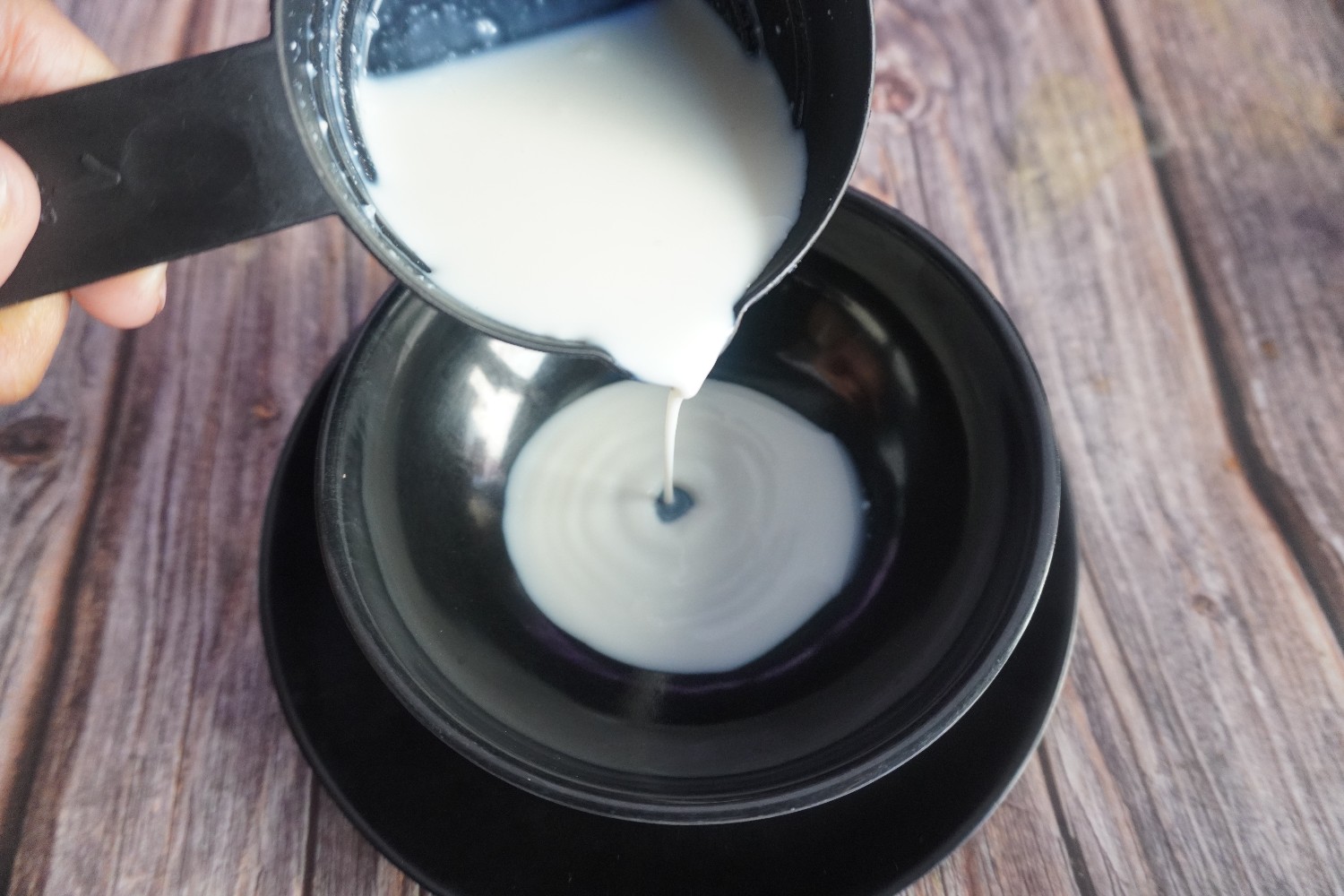 3) In the meantime take a small mixing bowl and add 4 tablespoon lukewarm milk in it.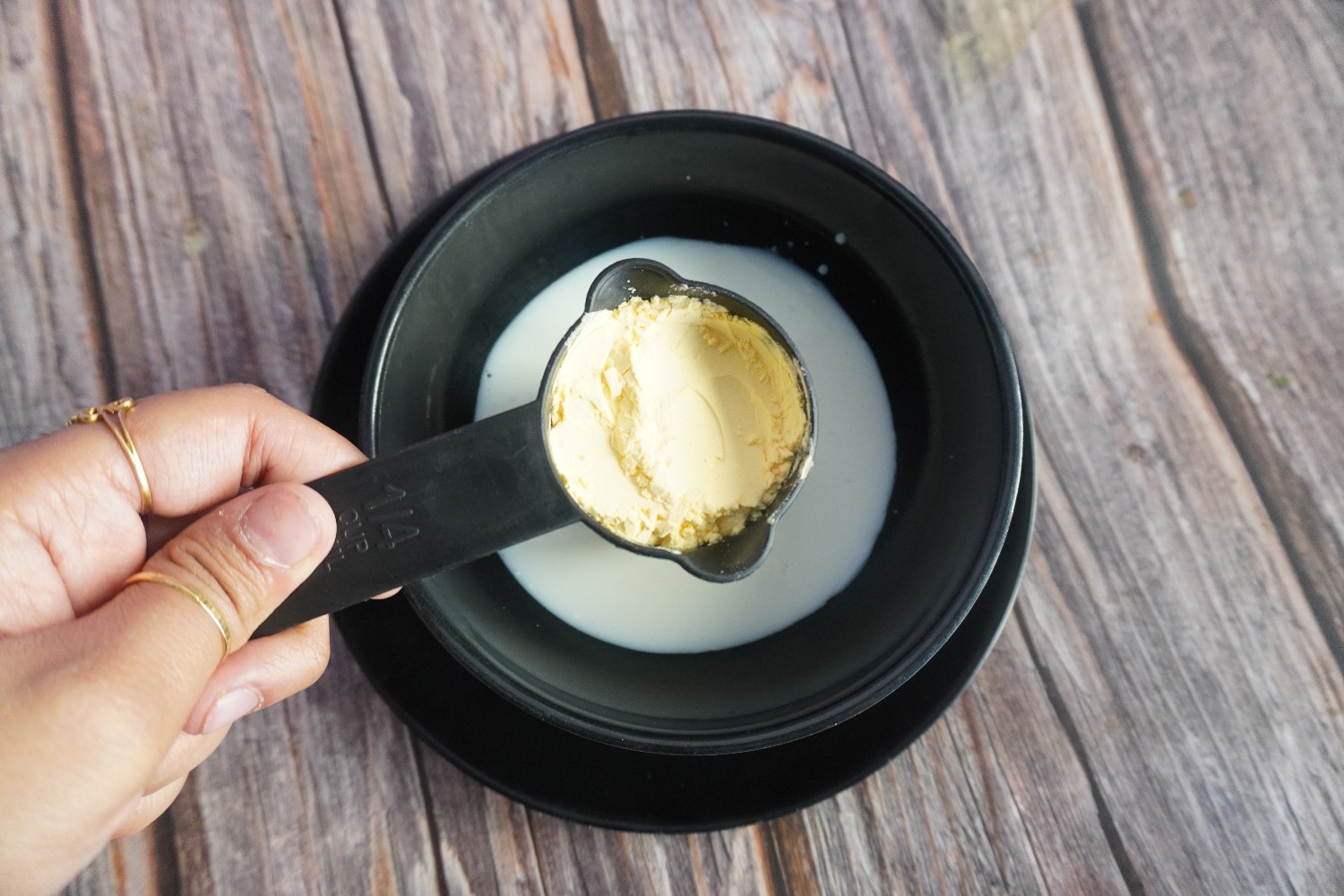 4) Add 2 tablespoon of custard powder in it.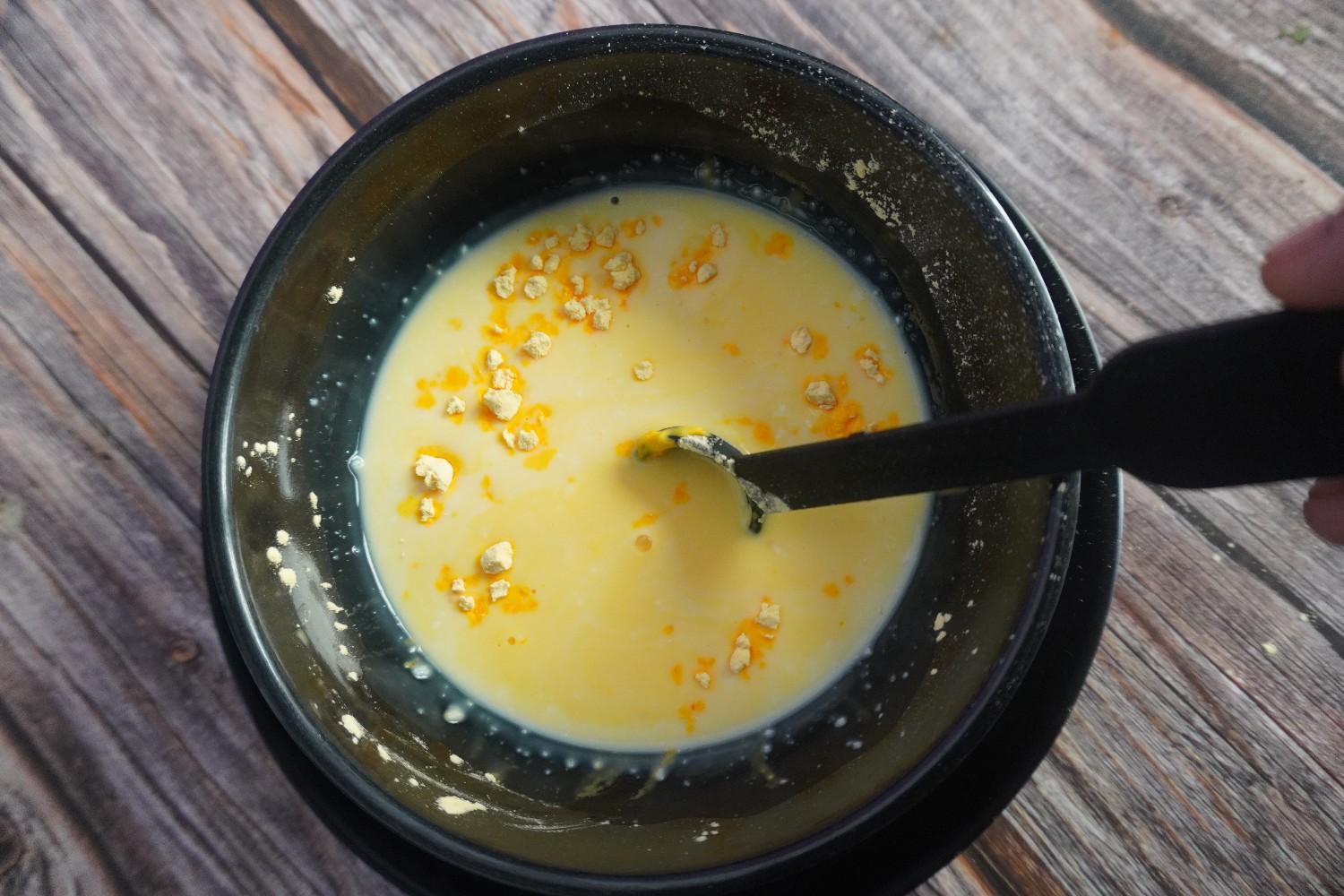 5) Mix them well using a spoon.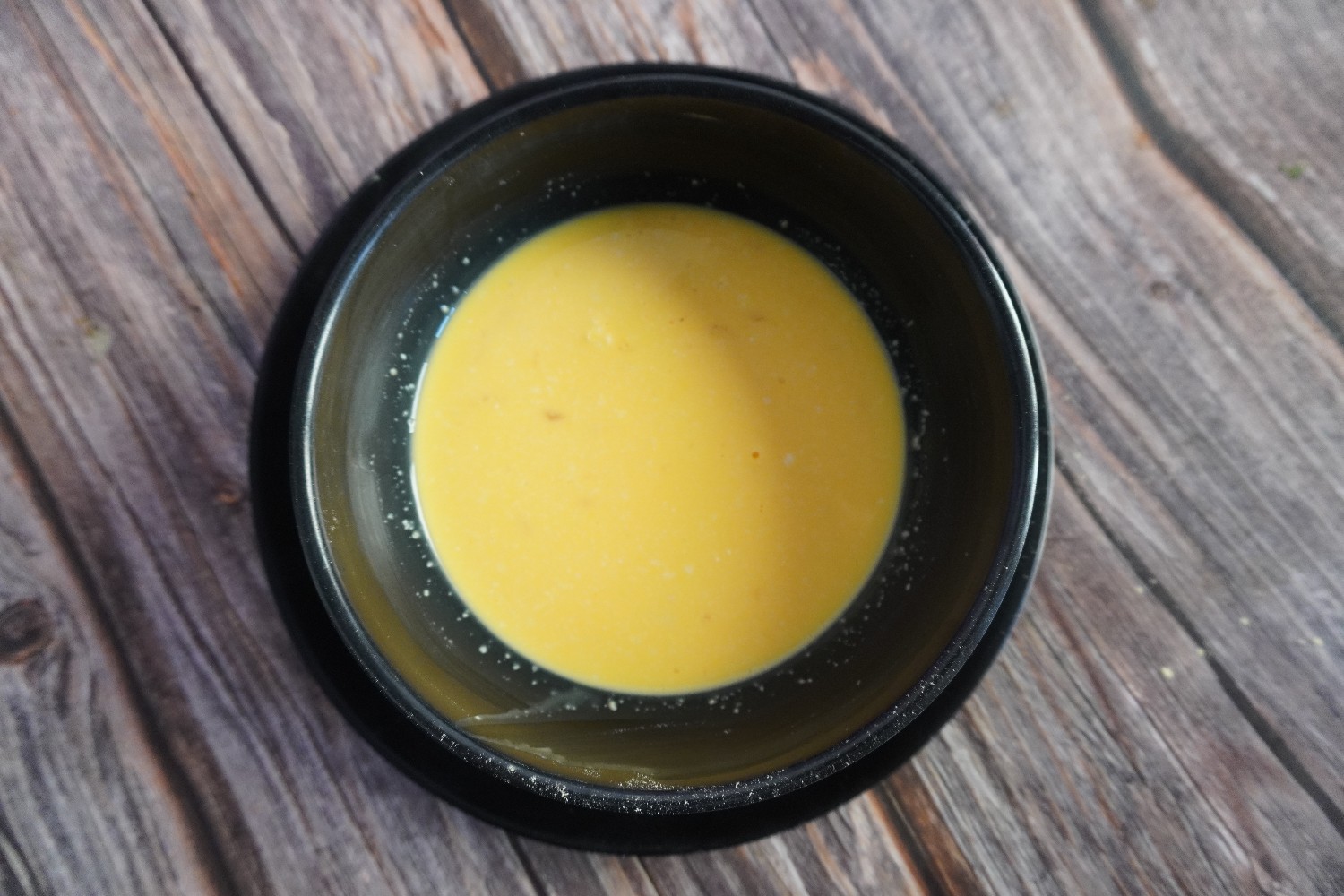 6) Once done, keep it aside for later.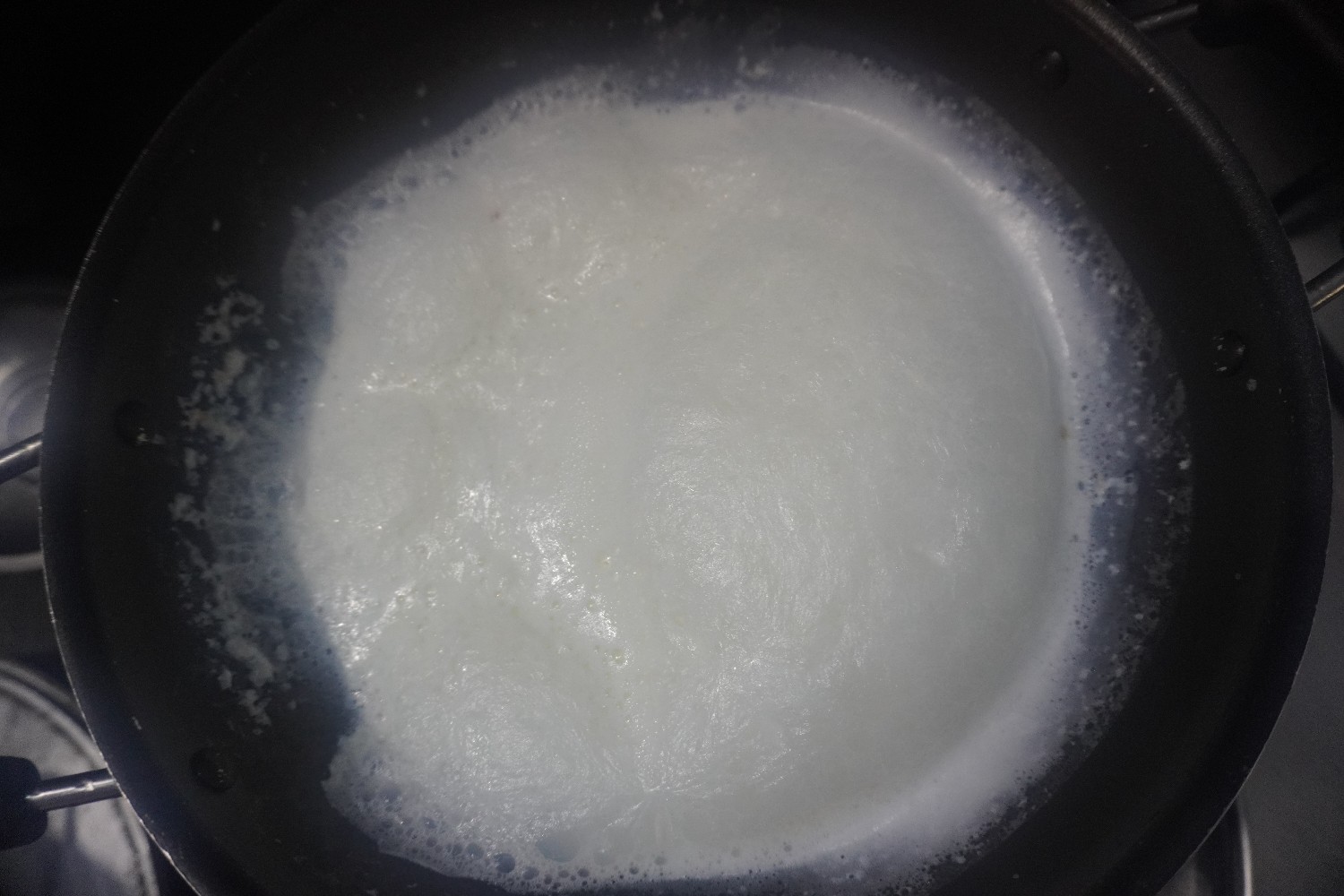 7) Once the milk boils, turn the flame to low.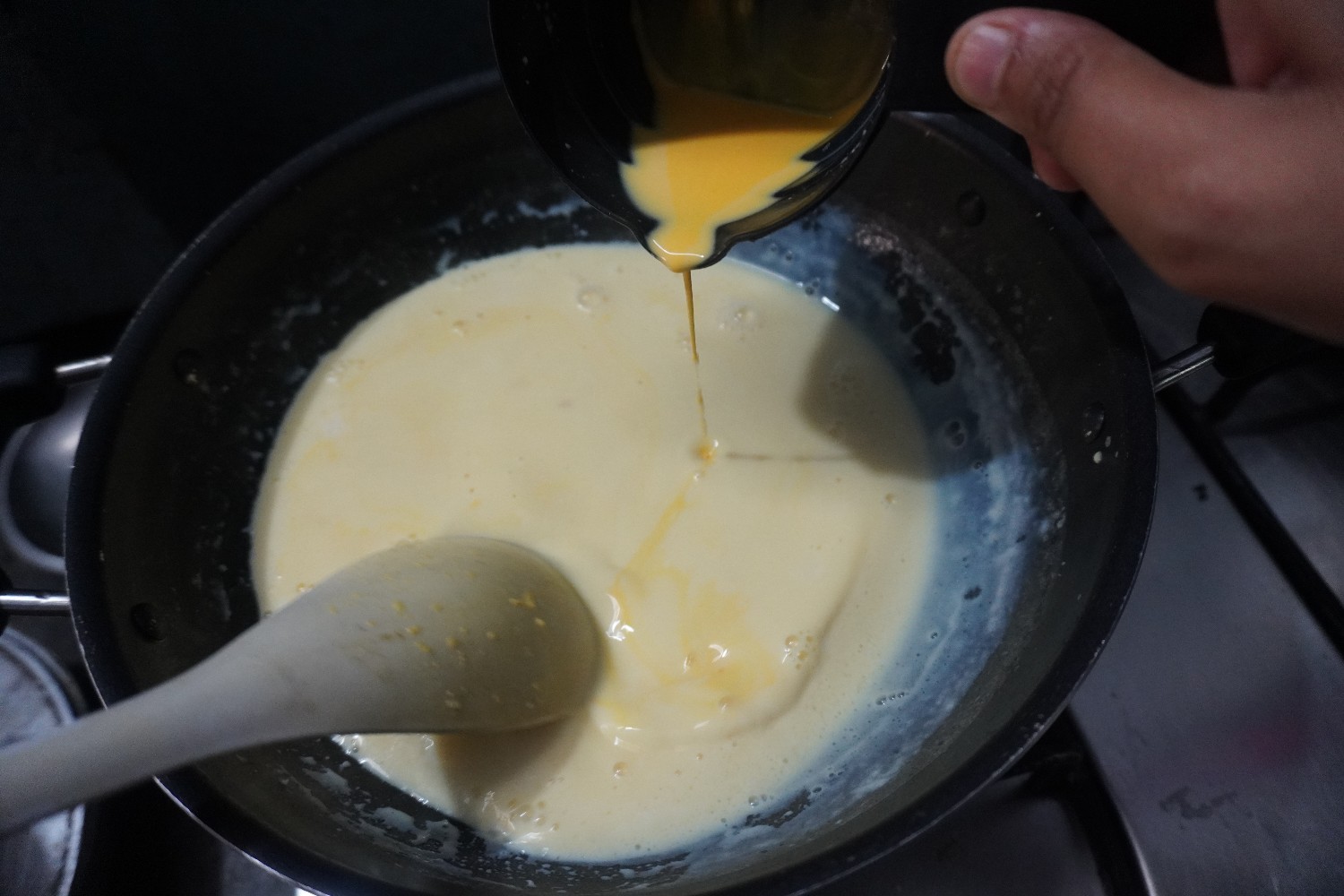 8) Now keep stirring and adding the custard mixture in the milk.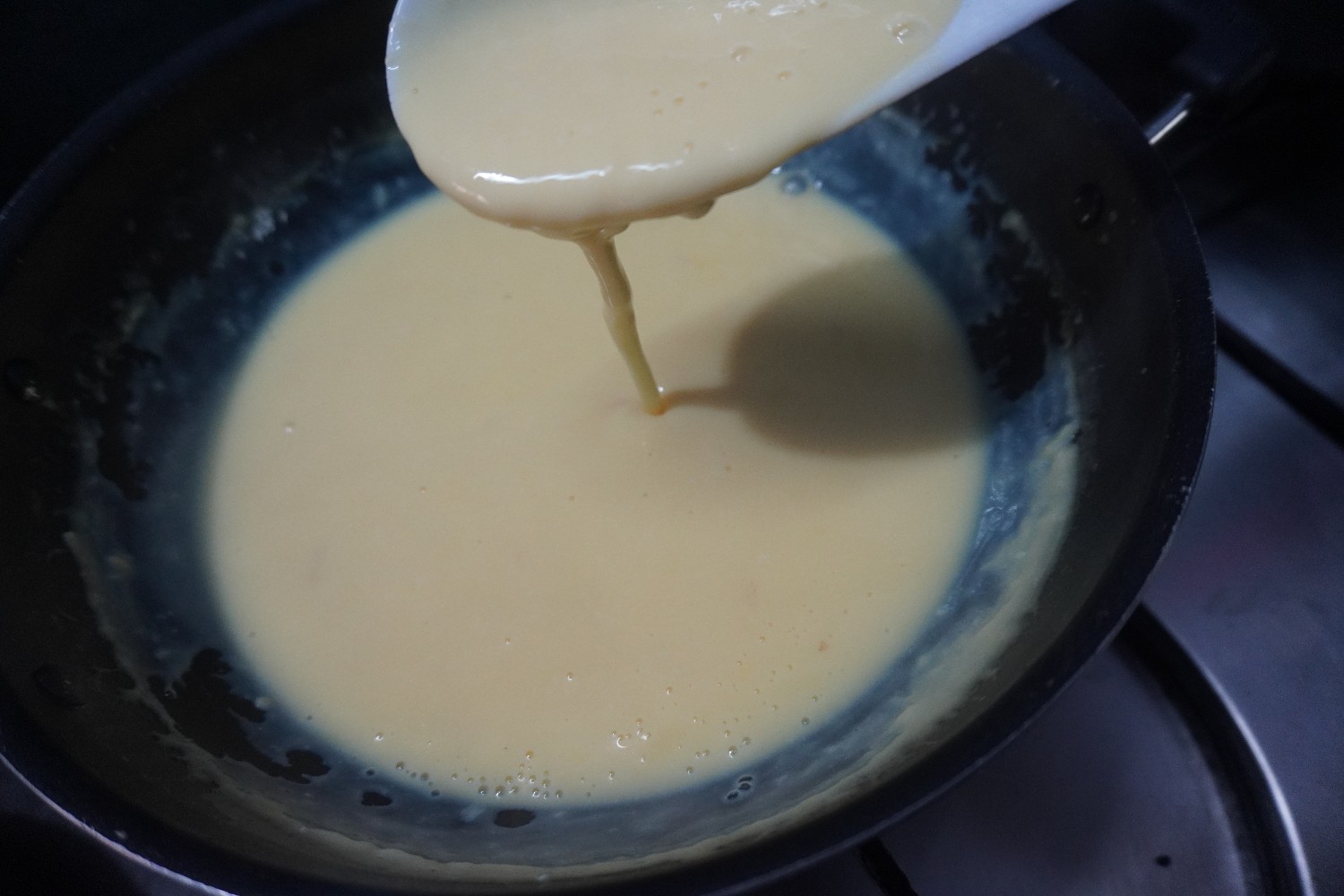 9) Once it starts to thicken stir and cook it on low flame for 2 minutes.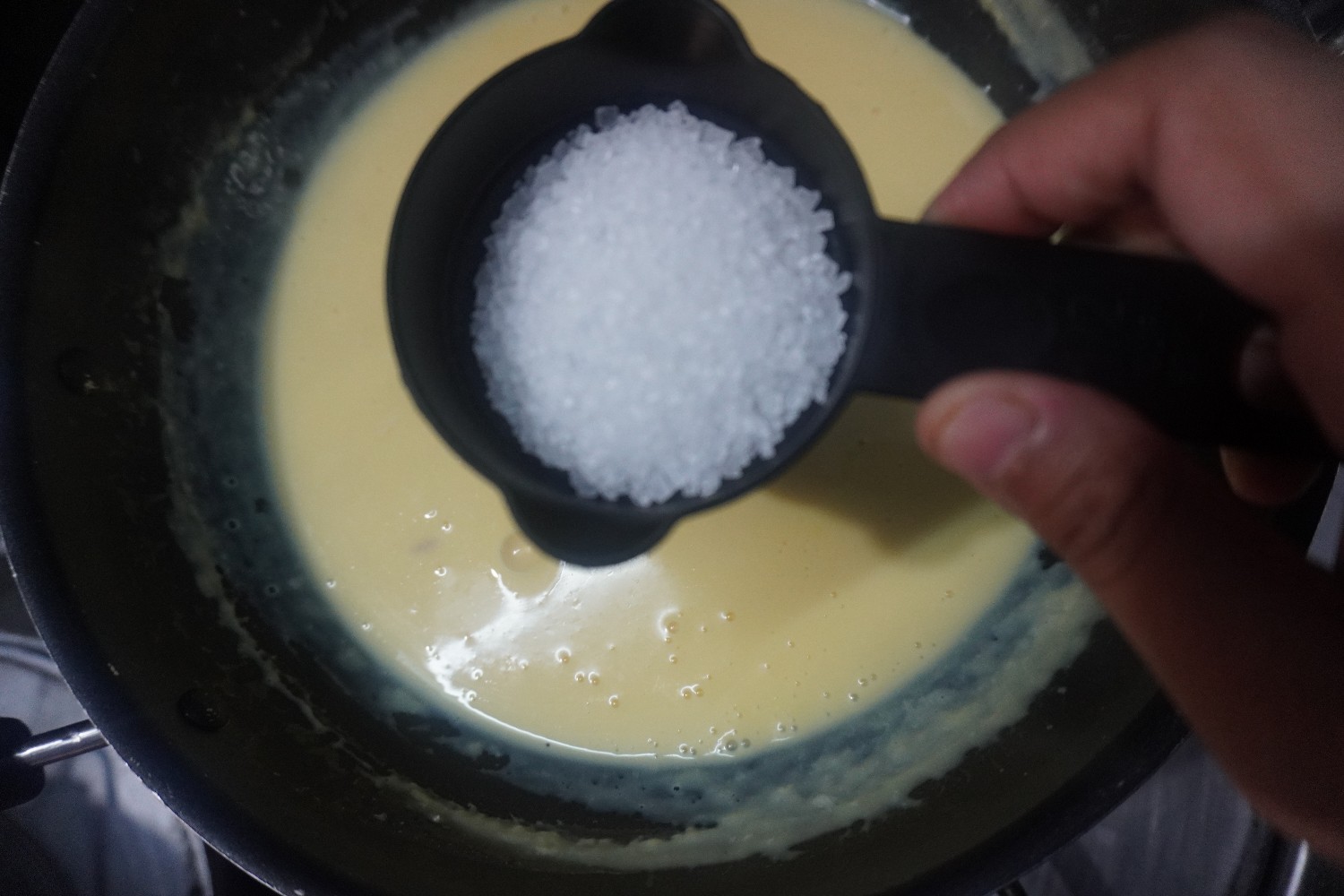 10) Now add 5 to 6 tablespoon sugar in it. You can alter the quantity of sugar as per your taste.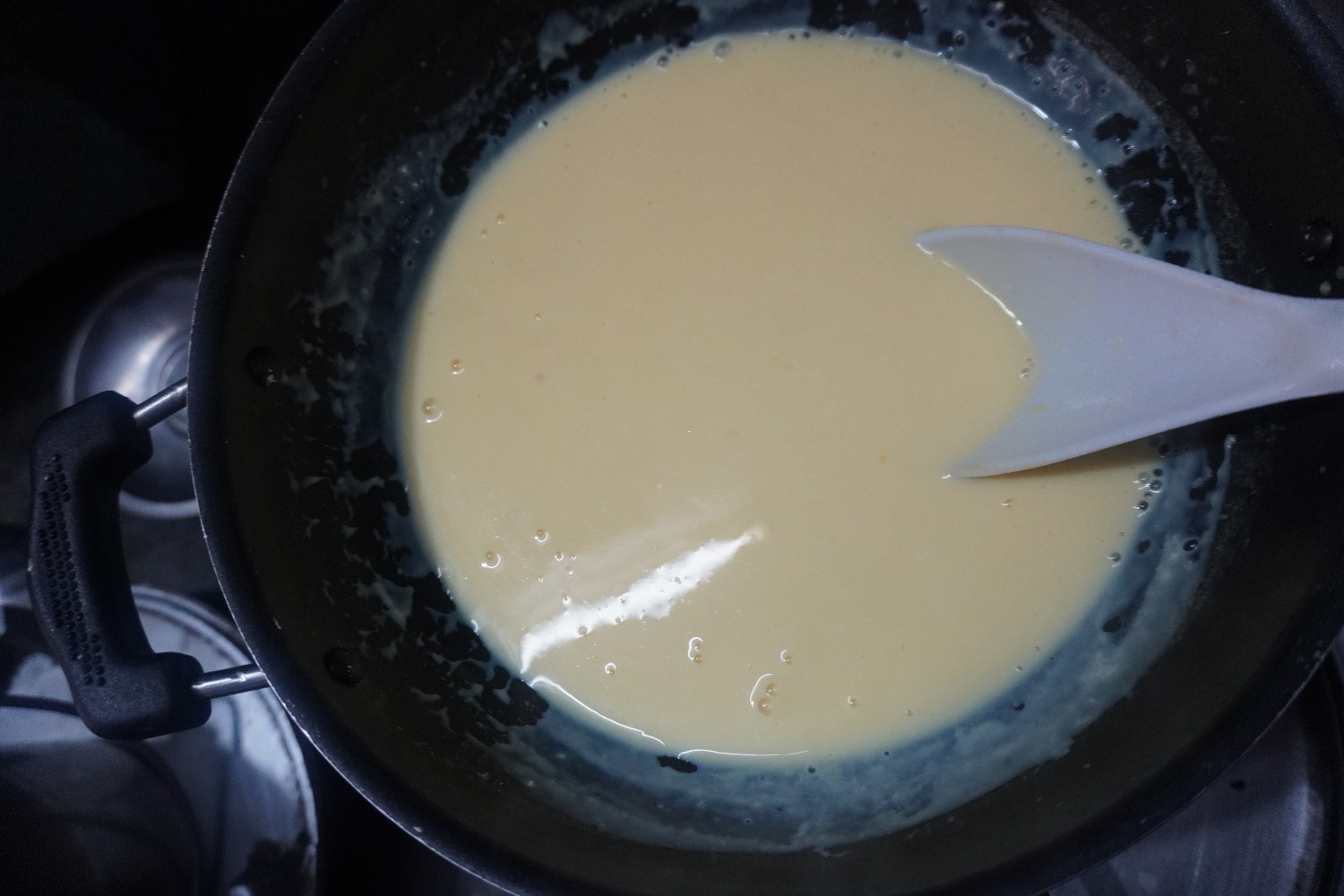 11) Stir well and cook it for 2 to 3 minutes until sugar dissolves.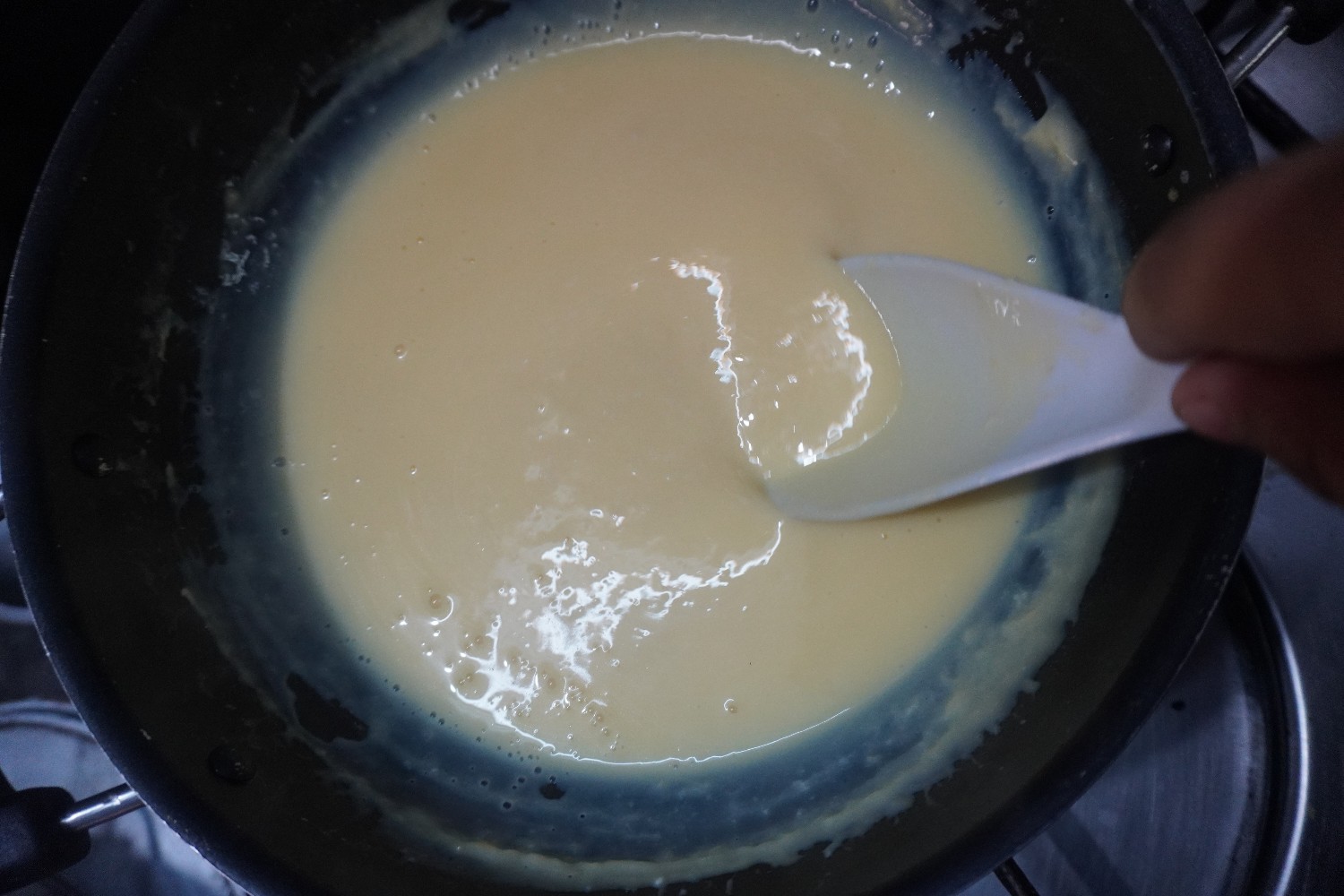 12) Once it reaches the consistency shown above, turn off the flame.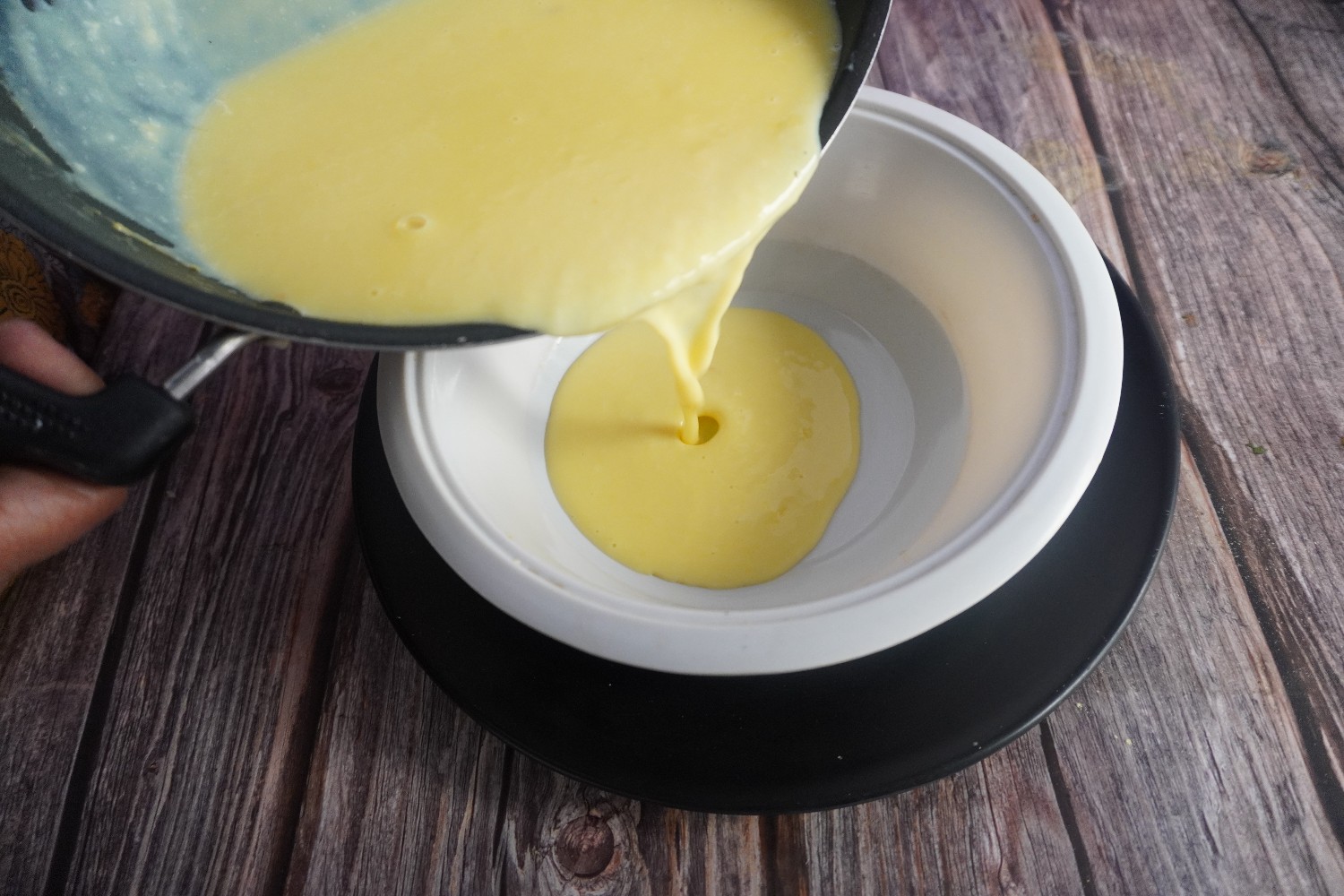 13) Now transfer the custard into a mixing bowl.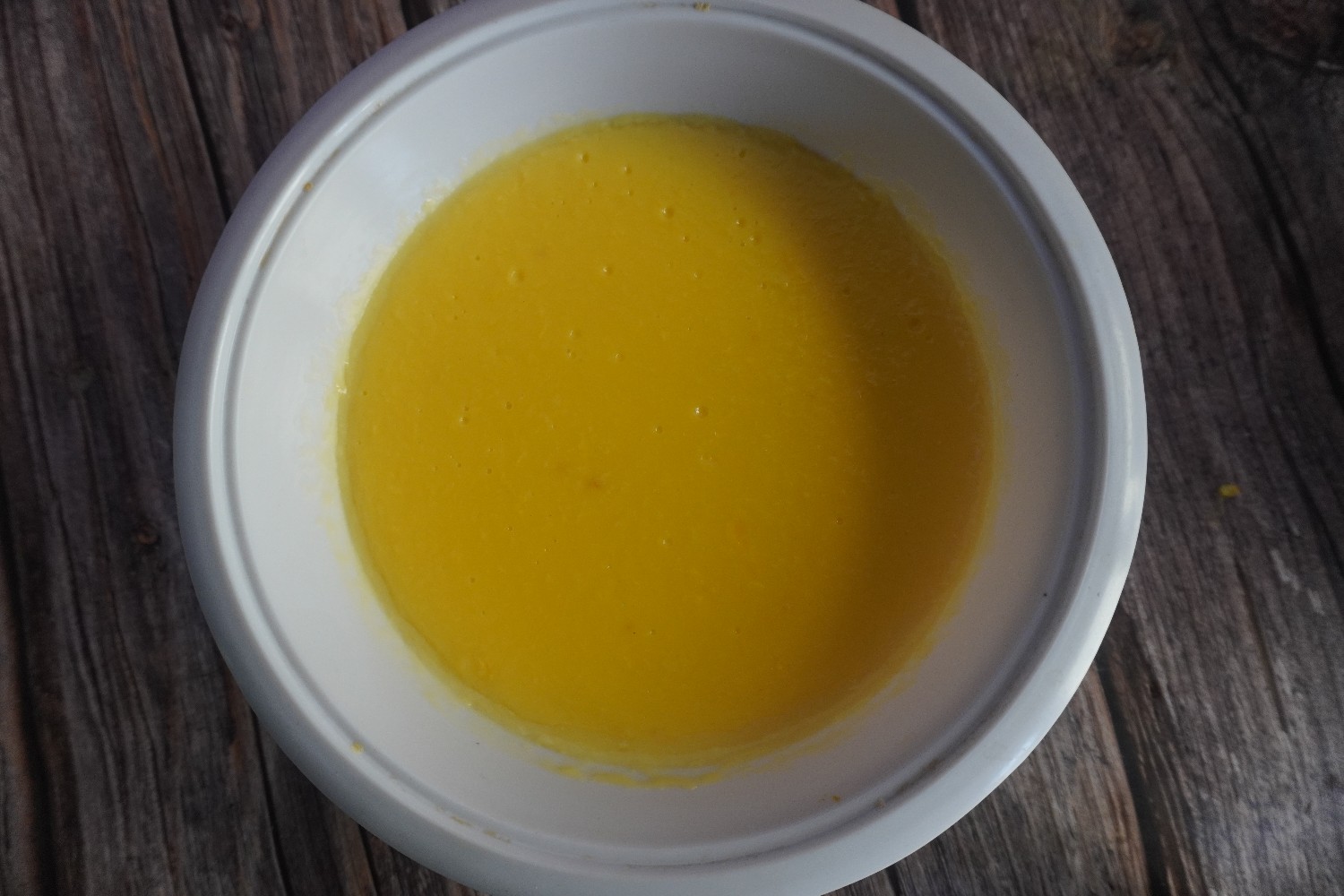 14) Rest it and let it cool down in the refrigerator for an hour.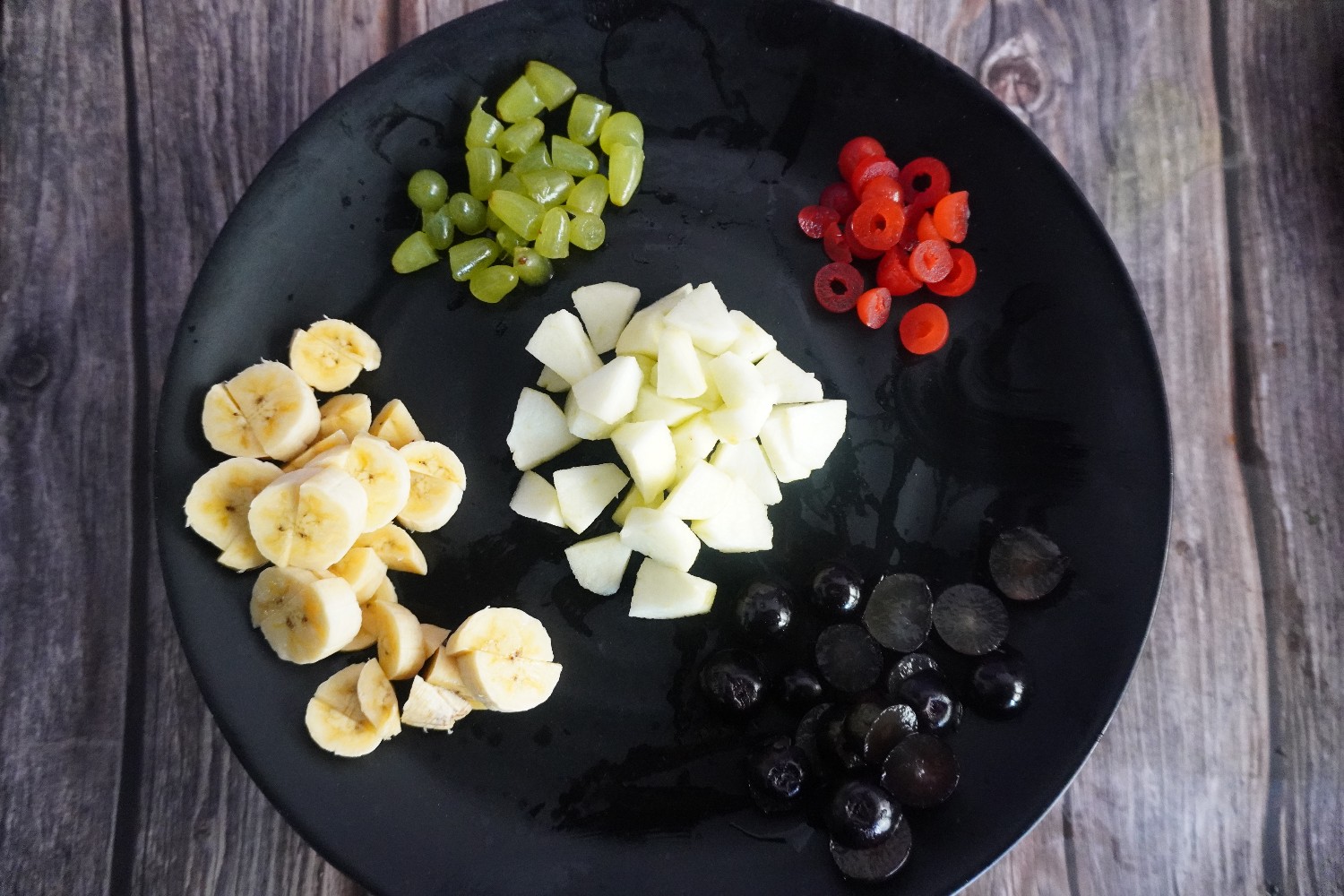 15) Now finely chop the fruits as shown above.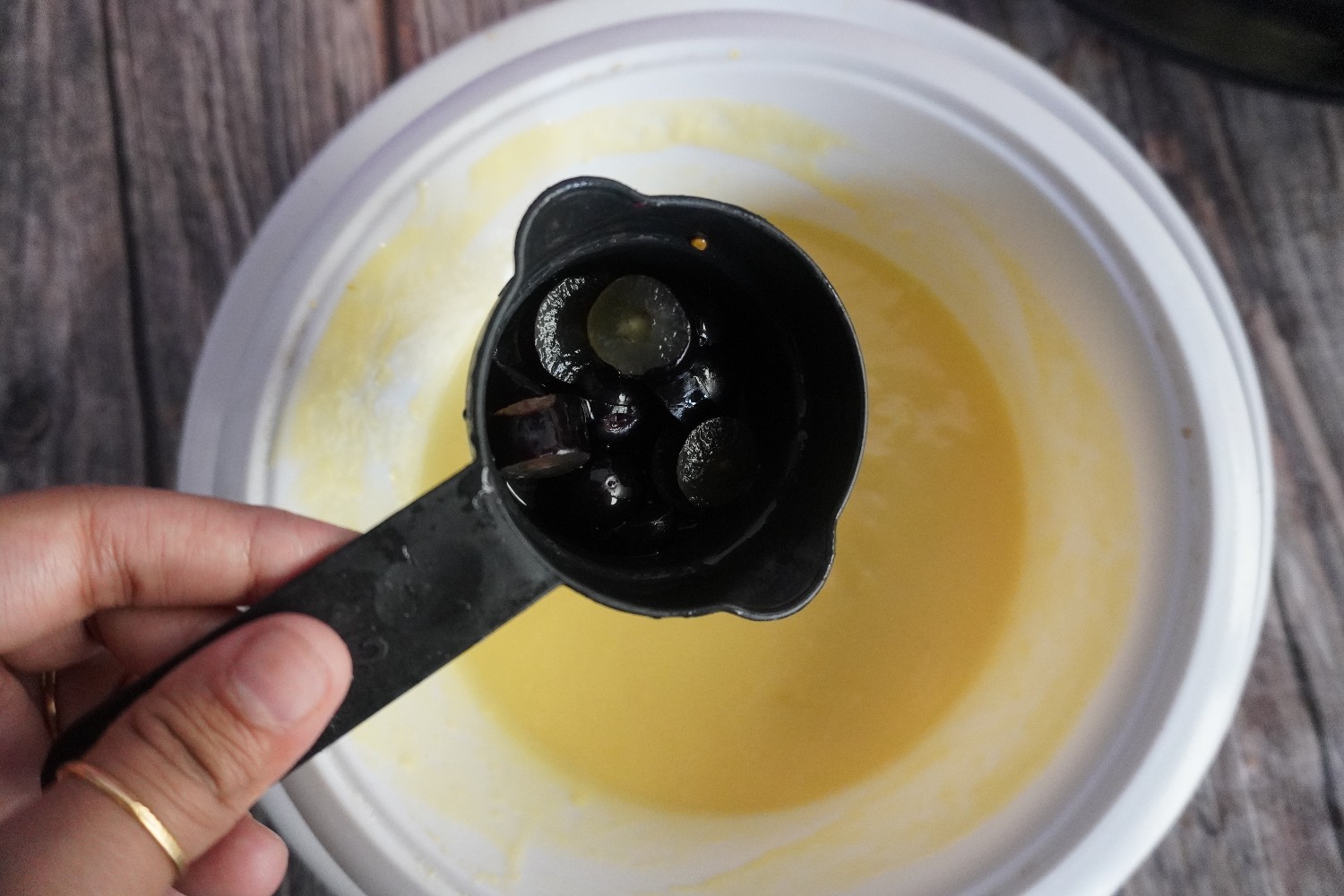 16) Add the chopped black grapes in it.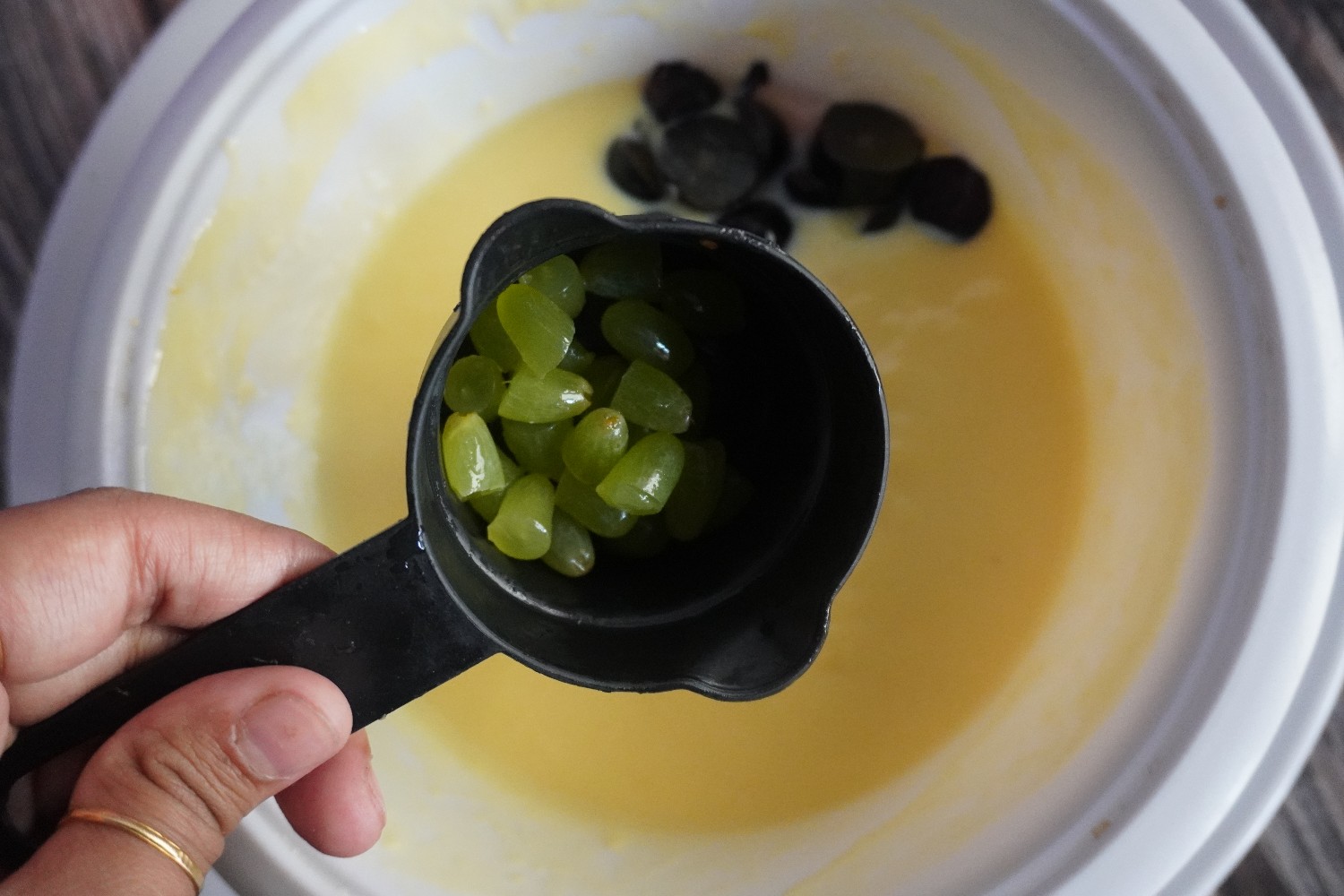 17) Add chopped green grapes in it.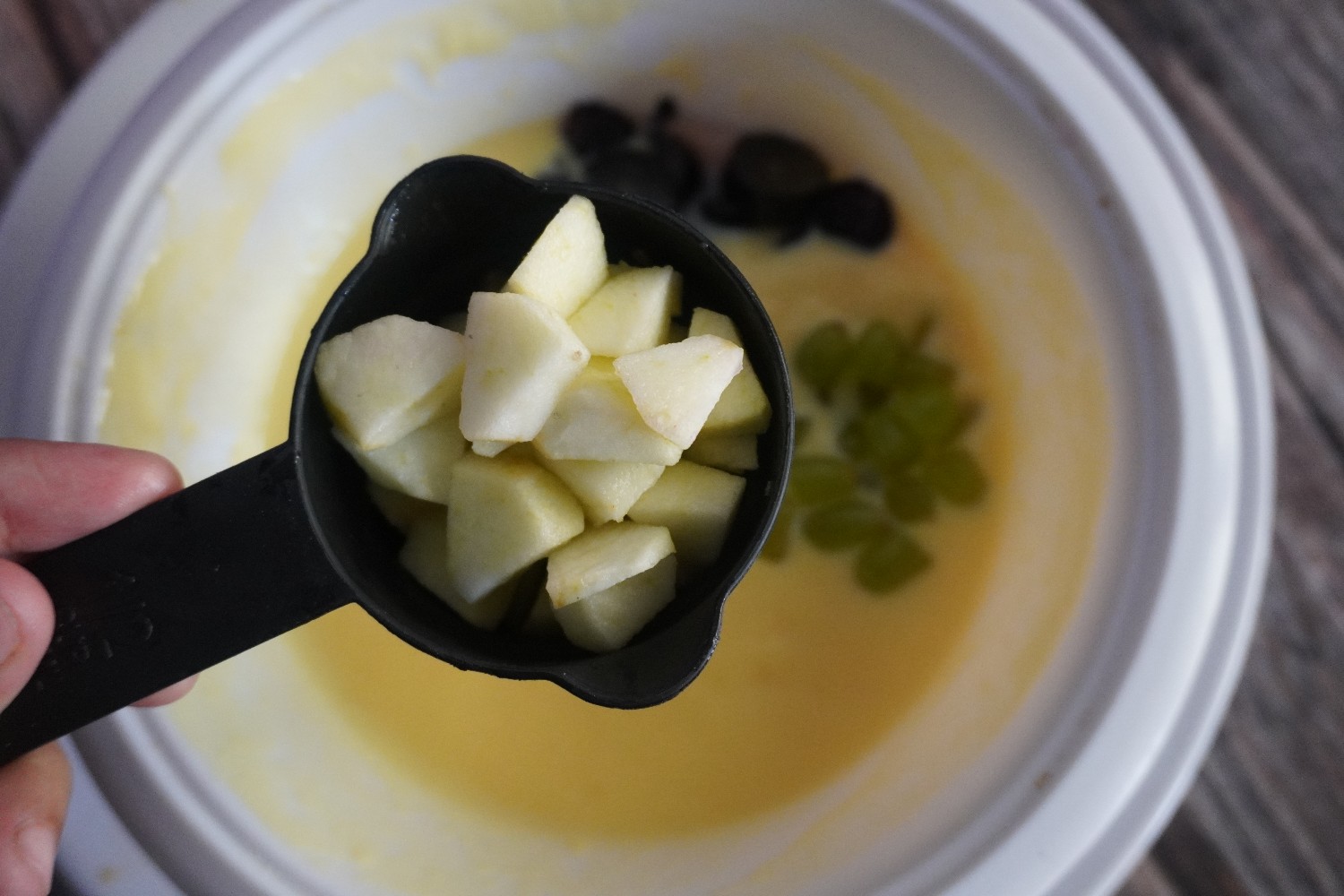 18) Add finely chopped apples in it.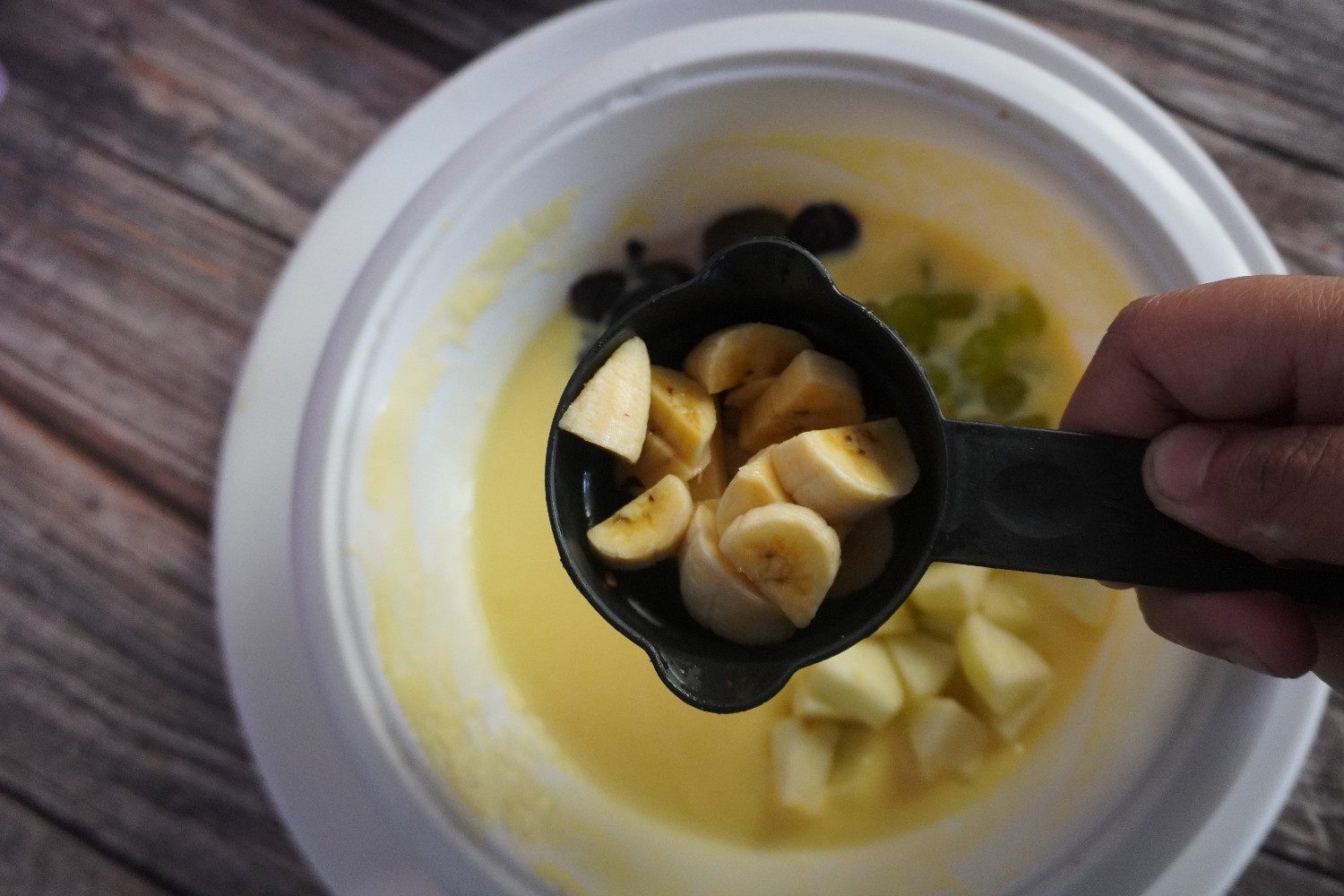 19) Add the chopped bananas in it.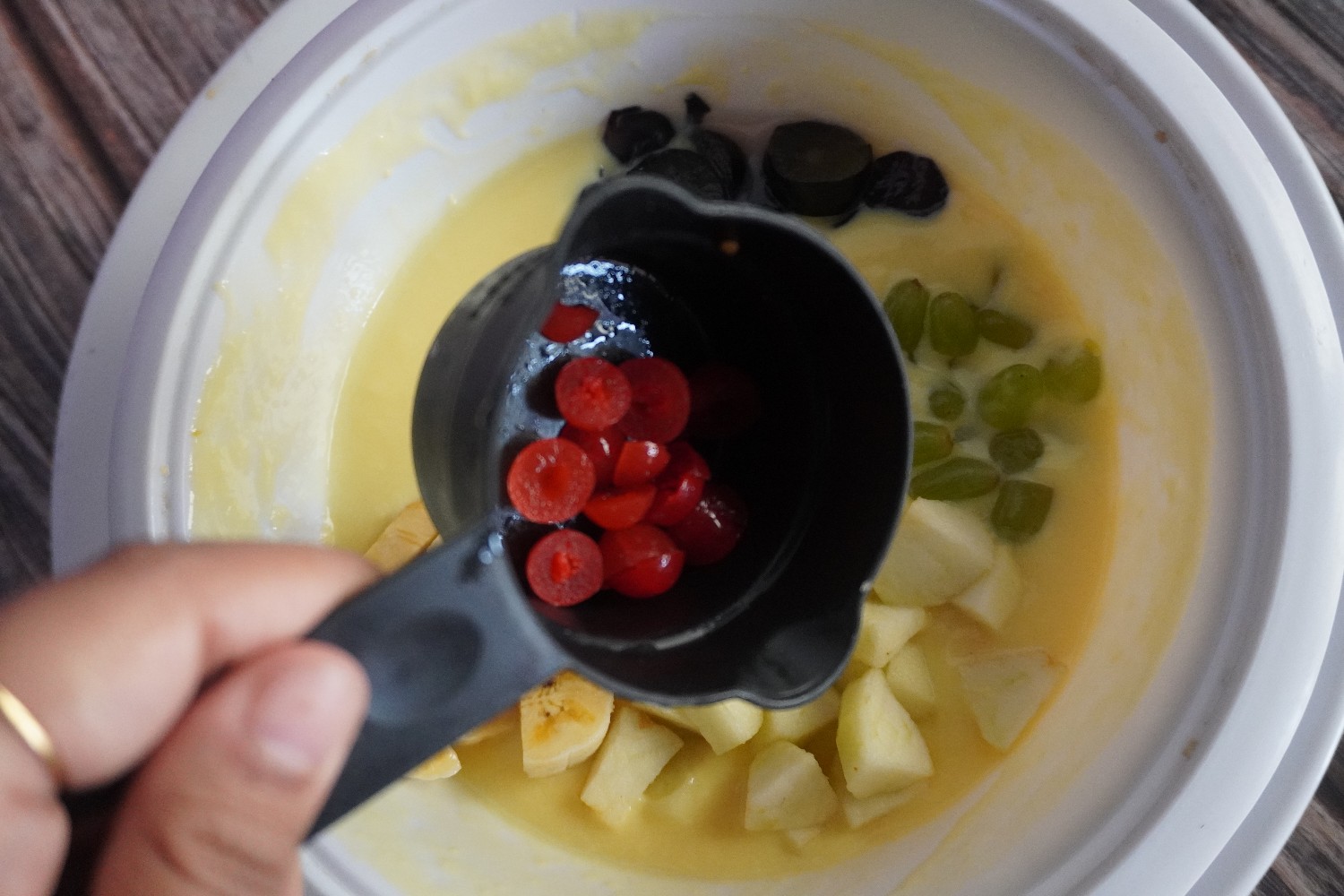 20) Finally add the chopped cherries in it.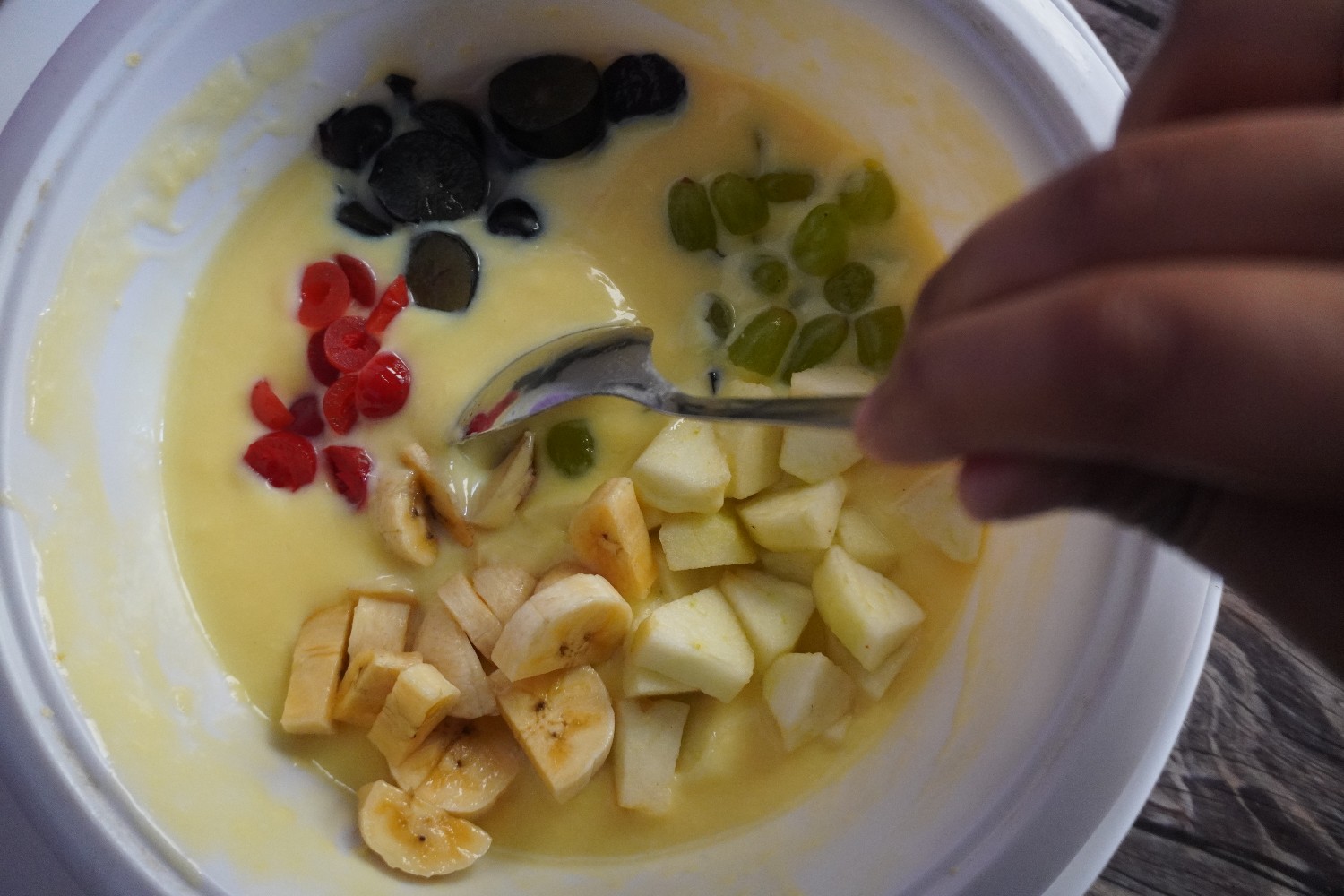 21) Now mix them well using a spoon.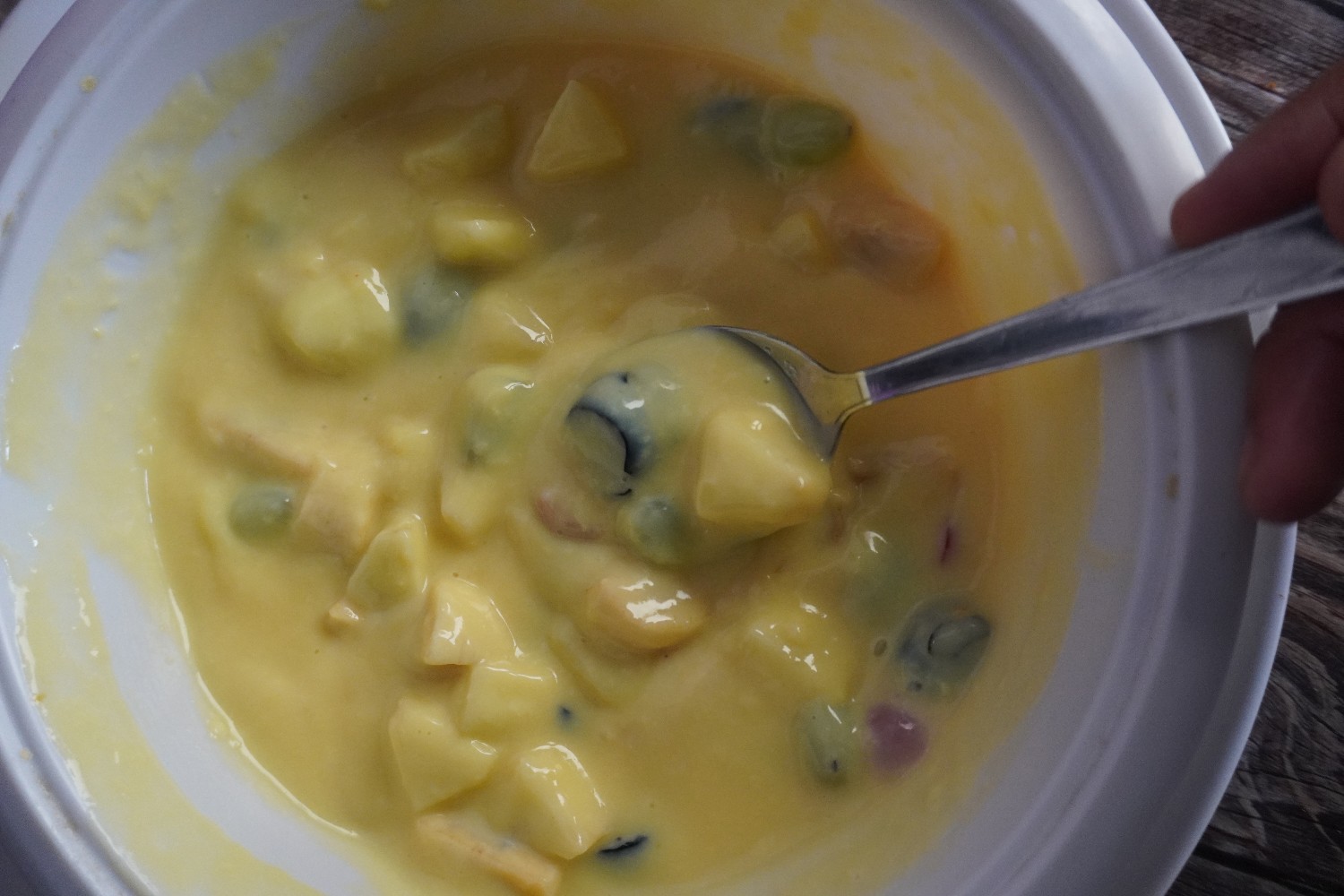 22) Once done, your custard is ready for serving.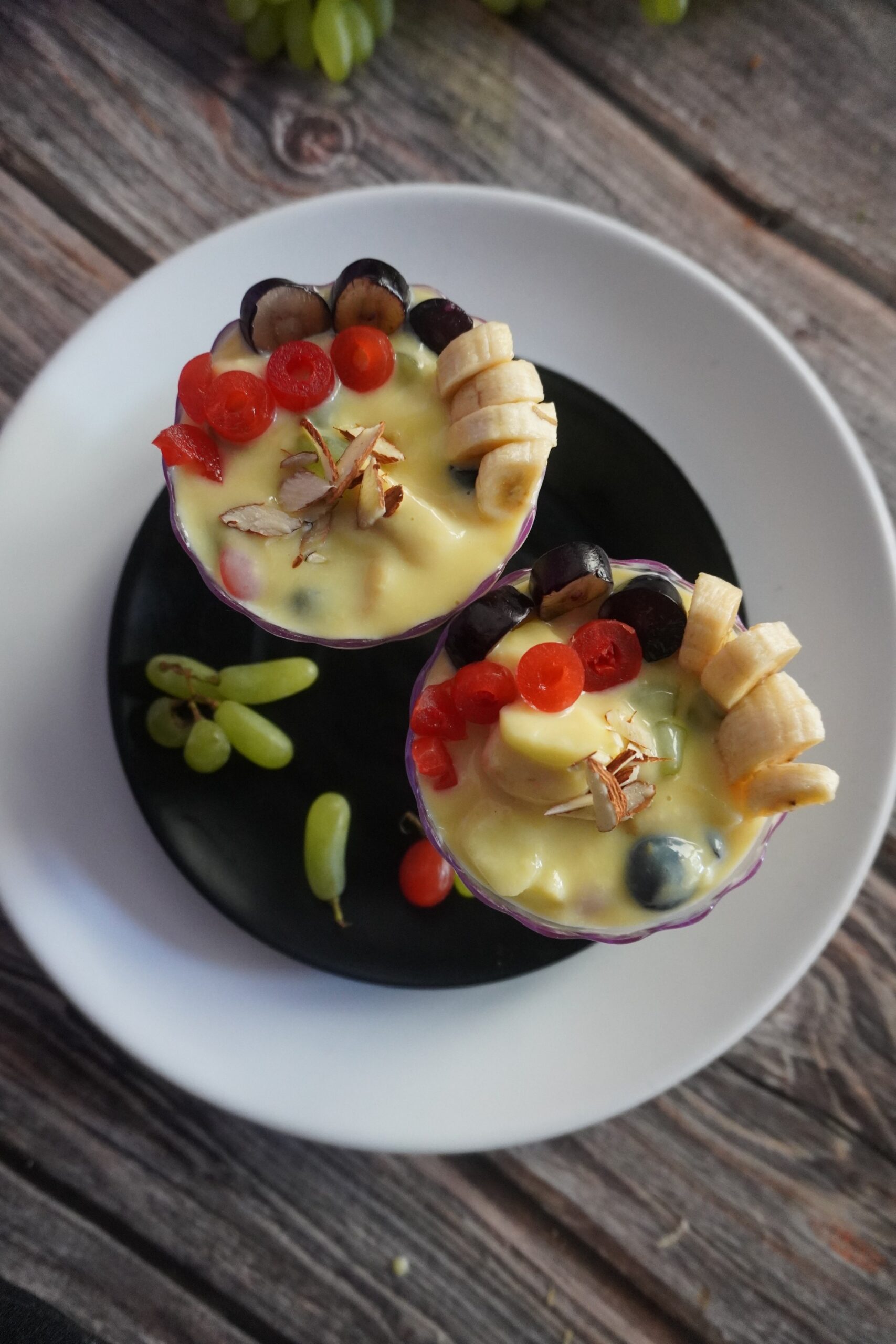 23) Garnish them with some chopped fruits and enjoy chilled.
Tips and Tricks

1) Boil the milk properly.
2) Add the custard powder in lukewarm milk to avoid lumps.
3) Turn the flame to low before adding the custard mixture in the milk.
4) Keep on stirring the milk while adding custard mixture in it in order to avoid lumps.
5) You can alter the quantities of sugar as per your taste.
6) Cool down and refrigerate the custard before serving.
7) Finely chop the fruits above mentioned.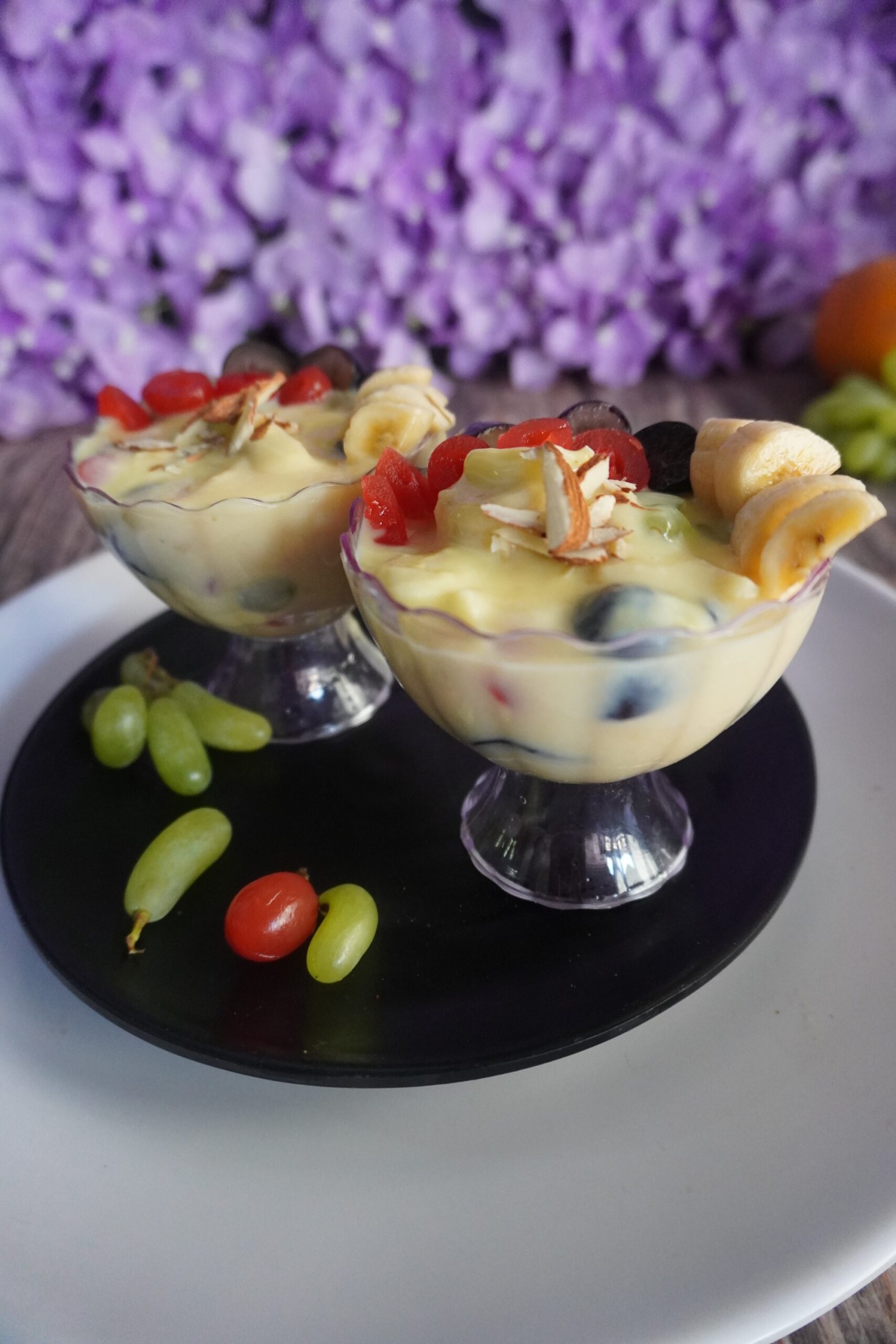 Healthier version

1) You can skip using sugar and replace it with stevia Or organic brown sugar.
2) You can add other healthy fruits and nuts of your choice
3) You can use almond milk, if you prefer plant based or vegan diet.