One of the most famous North Indian recipe Daal makhani is famous throughout the world for its richness, taste and creaminess.This recipe was Originated in the state of Punjab. It is still cooked in a very traditional way in Punjab, where the lentils are kept on low flame over charcoal fire and cooked for 6 to 8 hours or sometimes overnight until they turn smooth and creamy. The recipe soaks in the aroma of the charcoal and makes it taste much more delicious. This recipe is loved by one and all and is healthy as well. Every Punjabi household has a different way to prepare daal makhani but each variation turns out to be yummy. This particular recipe which I m sharing is a restaurant style recipe and turns out to be super creamy and delicious.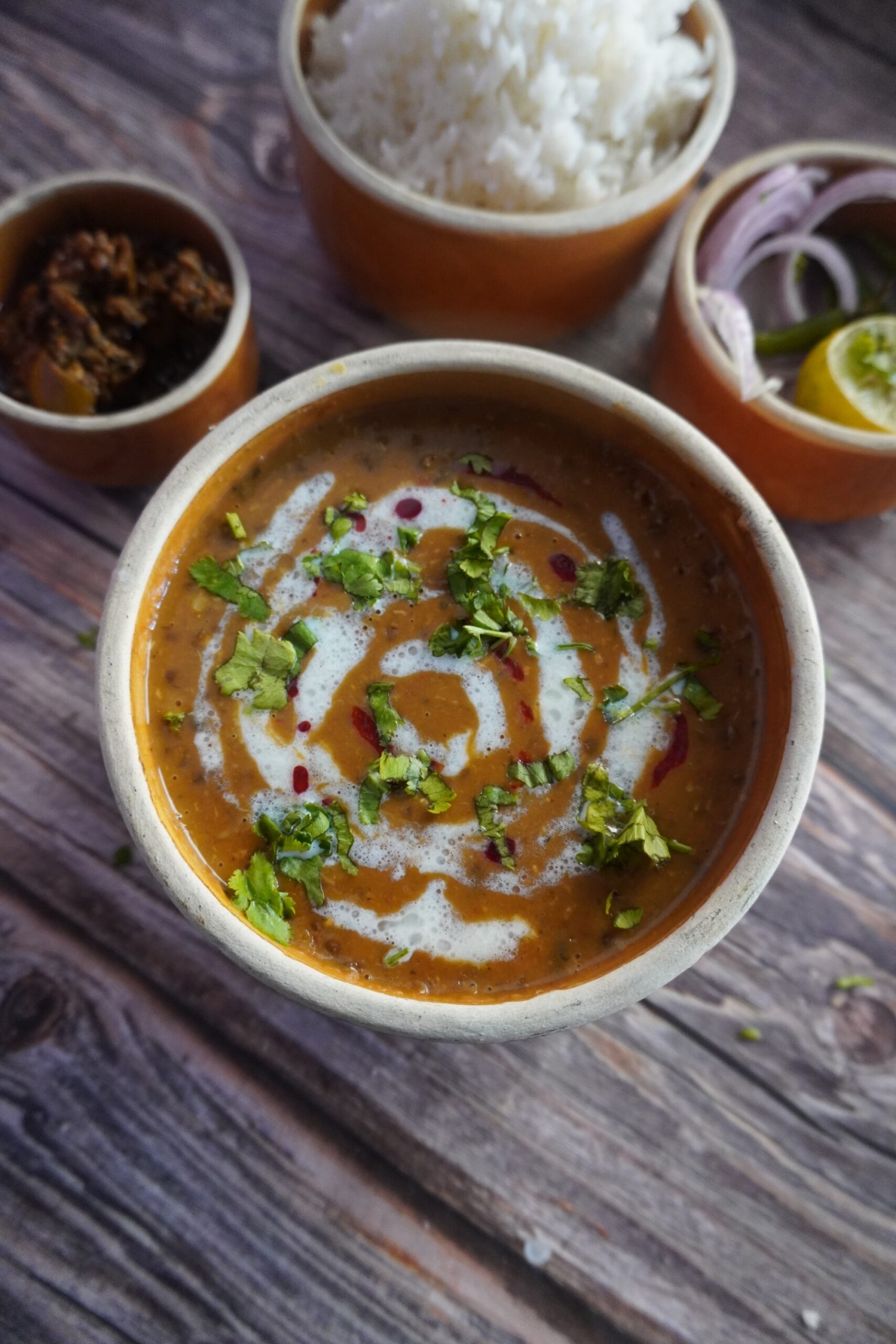 This recipe firstly requires proper washing and boiling of the lentils until they soften. Later they are tossed in tomato puree and cooked on low flame until it turns creamy and gets that perfect texture. Cream is added at last for that perfect richness which the recipe demands. This recipe can be enjoyed along with naan Or tandoori roti and can be a perfect option for your dinner tonight. This recipe requires patience along with the ingredients to make it perfect. So go ahead and give it a try and please don't forget to share your reviews in the comments section below.
Ingredients
Ingredients:
Whole urad daal- 200 grams
Turmeric powder- 1/2 tablespoon
Red chilli powder- 1/2 tablespoon
Salt- as per taste
Desi ghee-1 tablespoon
Garlic- 1 tablespoon
Ginger- 1/2 tablespoon
Green chillies- 3 chillies
Fresh cream-1/4 cup
Kasturi methi- 1/2 tablespoon
Water- as per requirements
Step by step recipe with images

1) Firstly take a bowl and add 3 cups of water in it.
2) Add 200 grams of whole urad lentils in it.
3) wash them thoroughly by rubbing them between your palms for 5 minutes.
4) Change the water twice and repeat the washing process.
5) Once the lentils change colour, your lentils are perfectly washed.
6) Now transfer them in a pressure cooker.
7) Add 2 cups of water in it.
8) Add salt as per taste.
9) Add 1/2 tablespoon of turmeric powder in it.
10) Cook them on medium high flame until it starts boiling.
11) Once it starts boiling, cover it with a lid.
12) Pressure cook for 6 to 7 whistles until the lentils turn mushy.
13) Turn the flame to low and cook it for 5 minutes.
14) Now release the pressure and remove the lid to check if the lentils are done or not.
15) Now take a mixer jar and add 3 medium sized tomatoes in it.
16) Add 3 green chillies in it.
17) Blend them into a smooth puree.
18)Now heat a pan with desi ghee.
19) Add a tablespoon of finely chopped garlic in it.
20) add a tablespoon of finely chopped ginger in it.
21) Saute them on low flame until golden brown.
22) Now add the tomato puree in it.
23) Cook it for 4 to 5 minutes on medium high flame.
24) Turn the flame to low and cook until it starts bubbling.
25) Now add 1/2 tablespoon of ref chilli powder in it.
26) Cook it on low flame for 2 to 3 minutes until oil comes up and it reduces to half.
27) Now add the cooked lentil in it.
28)Stir and mix them well.
29) Cook it on low flame for 5 to 6 minutes until it starts bubbling and water evaporates.
30) Now add a cup of water in it.
31) Mix them well.
32) Keep stirring and cook it again for 5 to 6 minutes.
33) Once it reduces and starts bubbling mash them well with a spatula.
34) Repeat the process for 2 to 3 times until it reaches a smooth consistency.
35) Add salt as per requirements.
36) Lastly add 1/4 cup of fresh cream in it.
37) Stir and mix them well on low flame until it reaches a perfect creamy texture. Turn off the flame.
38) Now heat a pan and add a tablespoon of kasturi methi in it.
39) Roast it on low flame for a minute.
40) Once done turn off the flame.
41) Now crush the roasted methi with your fingers.
42) Add the methi powder in the lentil and mix well.
43) Your yummy, creamy and delicious daal makhani is ready to be served enjoy them with hot and fuffy tandoori rotis.
Tips and Tricks

1) Wash the lentils thoroughly for 3 to 4 times.
2) Pressure cook for 6 to 7 whistles until it turns mushy.
3) Blend the tomatoes into smooth puree.
4) Stir and Cook the tomato puree on low flame until oil comes up and it reduces toh half.
5) Cook the lentils for 20 to 25 minutes by continuously stirring and adding water as and when required.
6) Turn off the flame immediately after adding cream.
Healthier version

1) You can skip using fresh cream .