Who doesn't loves cake? Each and everyone around us is so fond of cakes especially one baked at home. And when it comes to almond cake, I can actually give up all my diet routines to just have a slice of it. They are immensely yummy and taste super delicious. This super soft and delicious cake is worth trying and will surely melt in your mouth like butter. Along with the buttery taste , the crunch added by almonds is divine.I remember how my mom used to bake this cake for me during my school days especially on my birthdays. Apart from being yummy this almond cake is healthy too.
Introduction
This yummy cake is simply made by mixing oil, milk and sugar together until sugar dissolves. Then refined flour, baking soda and milk powder is added and mixed well until smooth. The batter is further flavoured with vanilla essense and chopped almonds and baked till perfection.
Whenever craving for something sweet and filling at the same time, go ahead and give this recipe a try and I promise you that you will simply love it. If you love this recipe do comment it in the comments section below and in case you have any queries and reviews, post them in the comments section as well.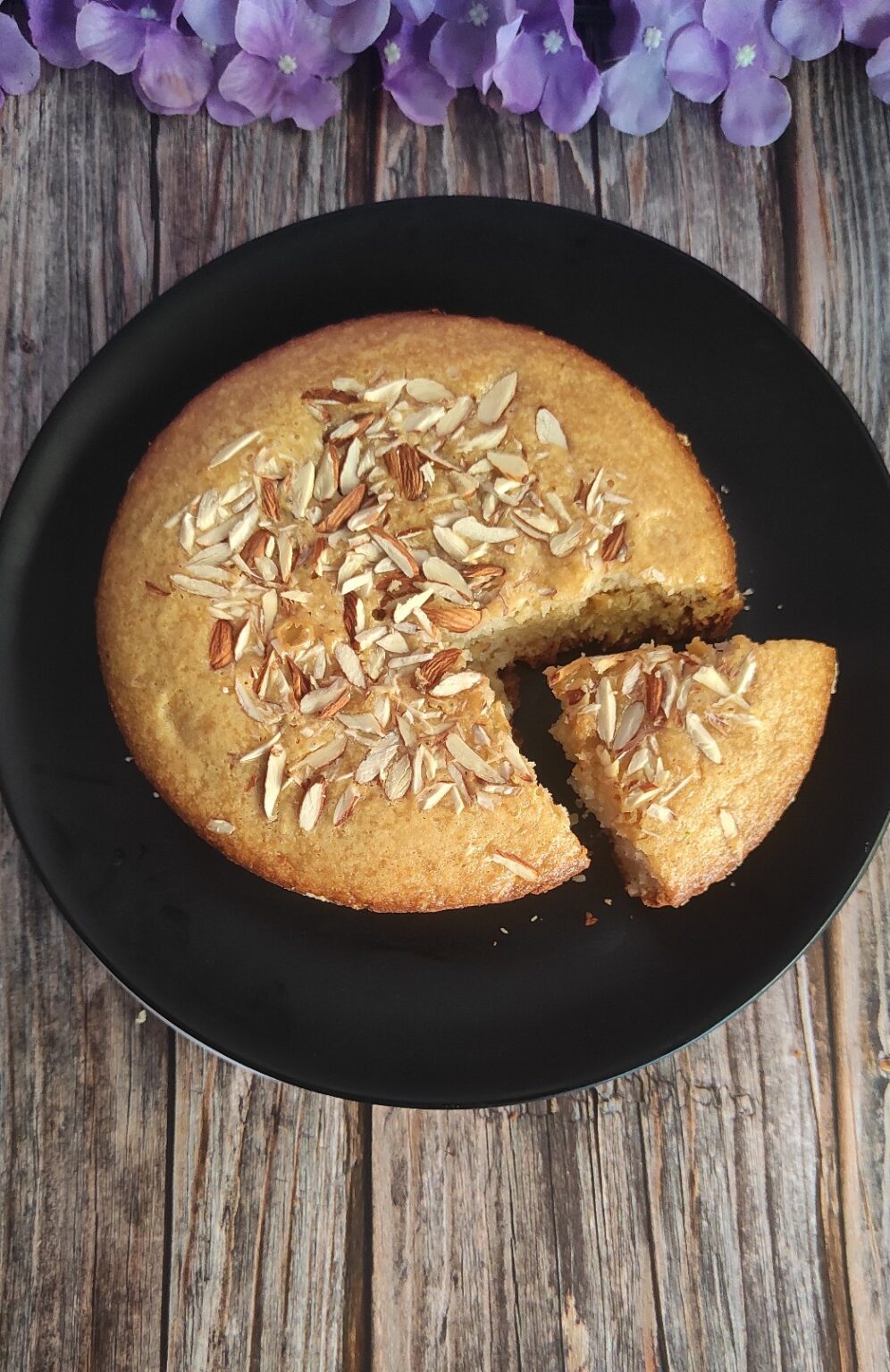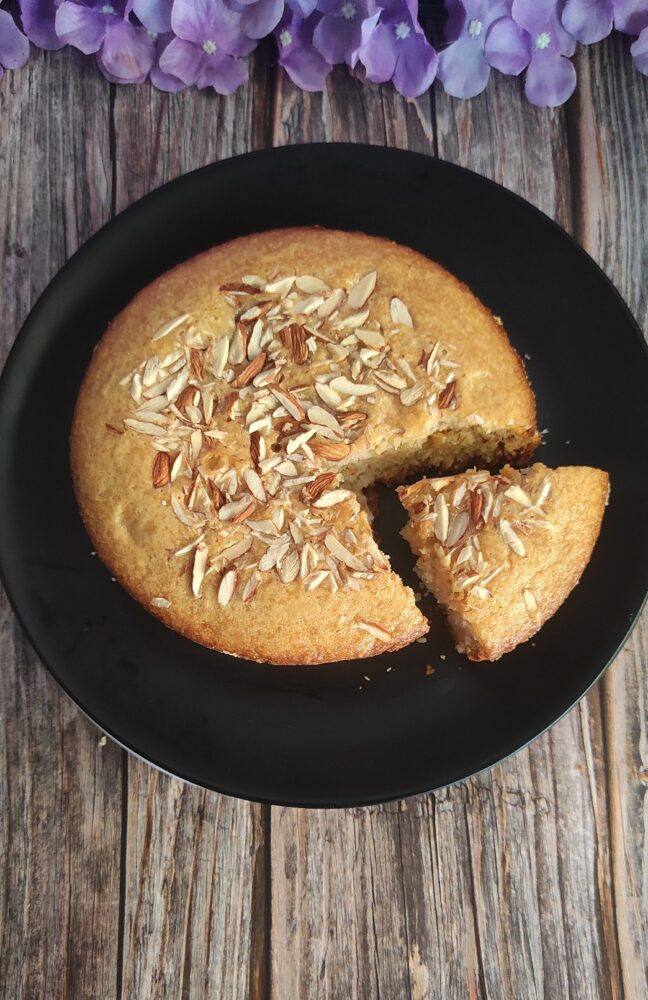 Ingredients

Refined flour-240 grams
Sugar-120 grams
Oil or melted butter- 100 grams
Milk – 80 ml
Almond- 40 grams
Baking powder- 2 teaspoons
Vanilla essense- 1 tablespoon
Milk powder- 30 grams
Step by step recipe with images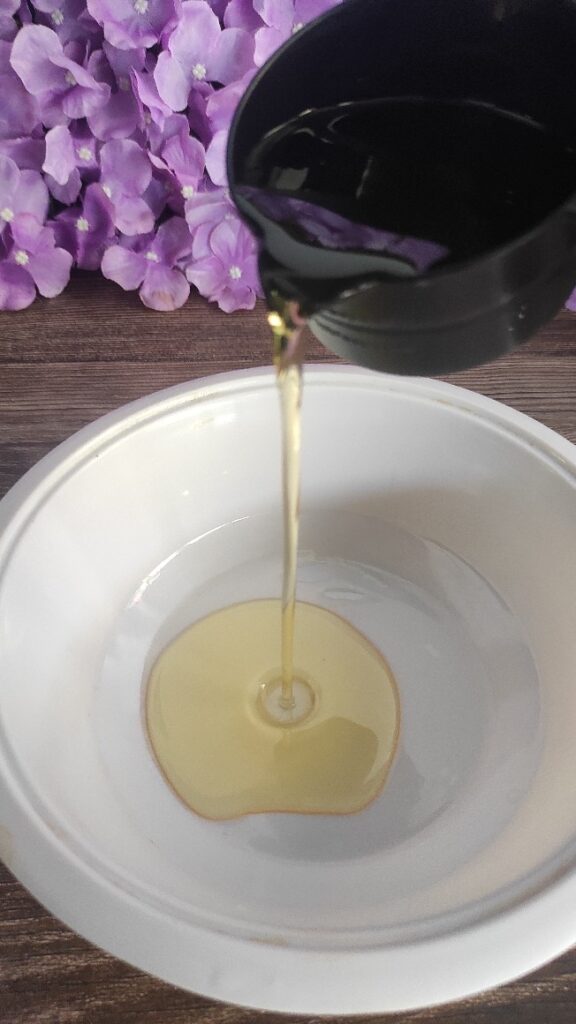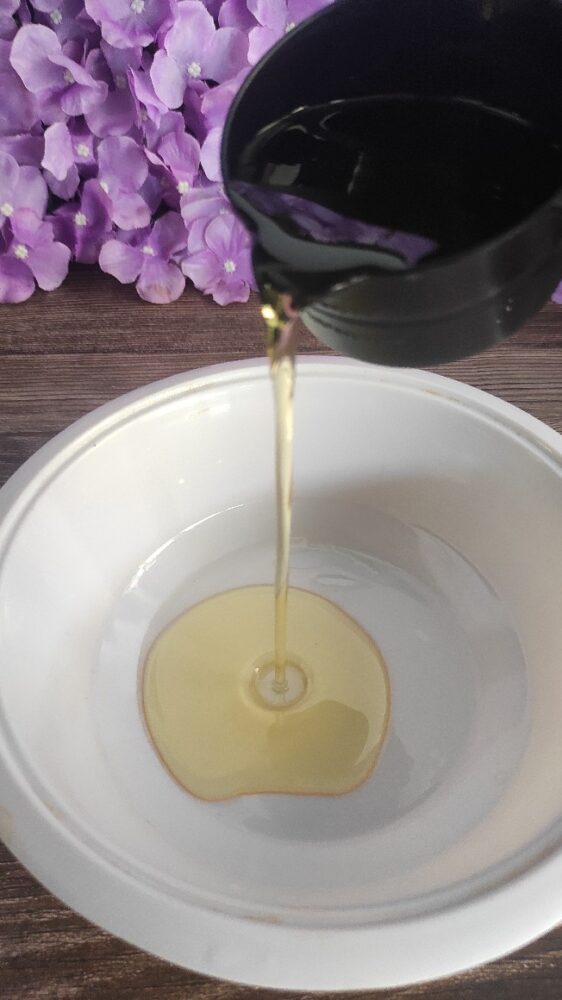 1) Firstly take a mixing pot and add 100 ml of oil in it.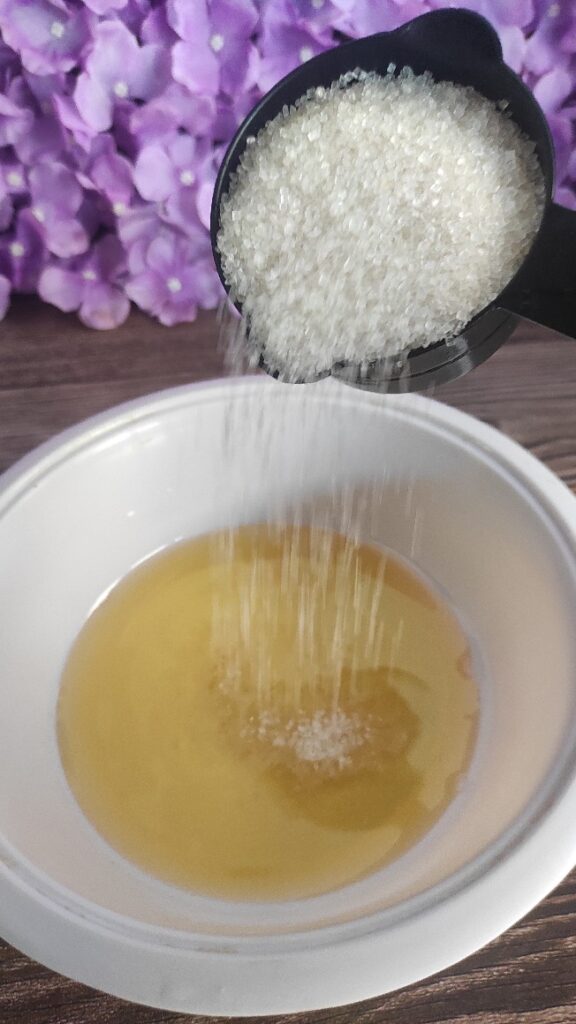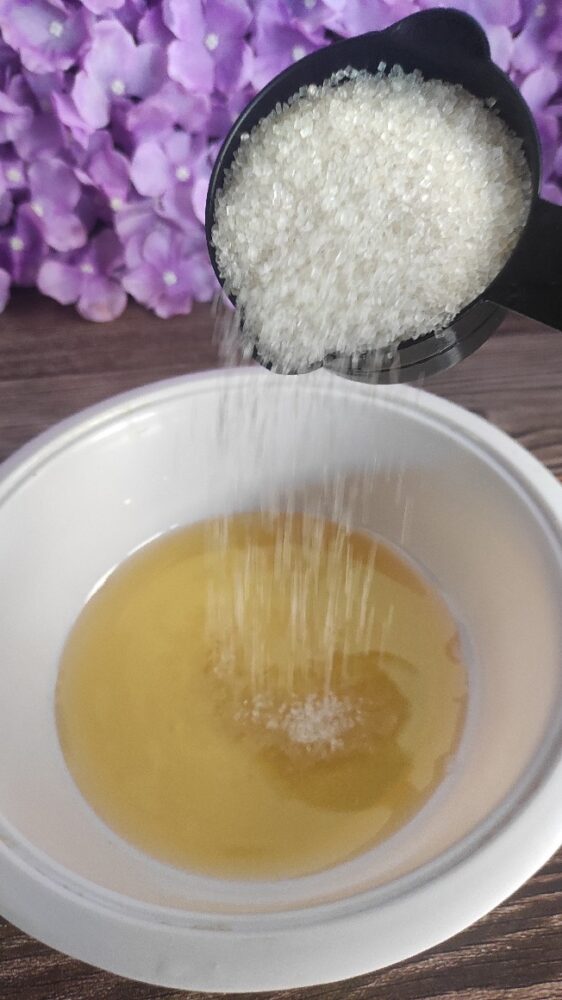 2) Add 120 grams of sugar in it.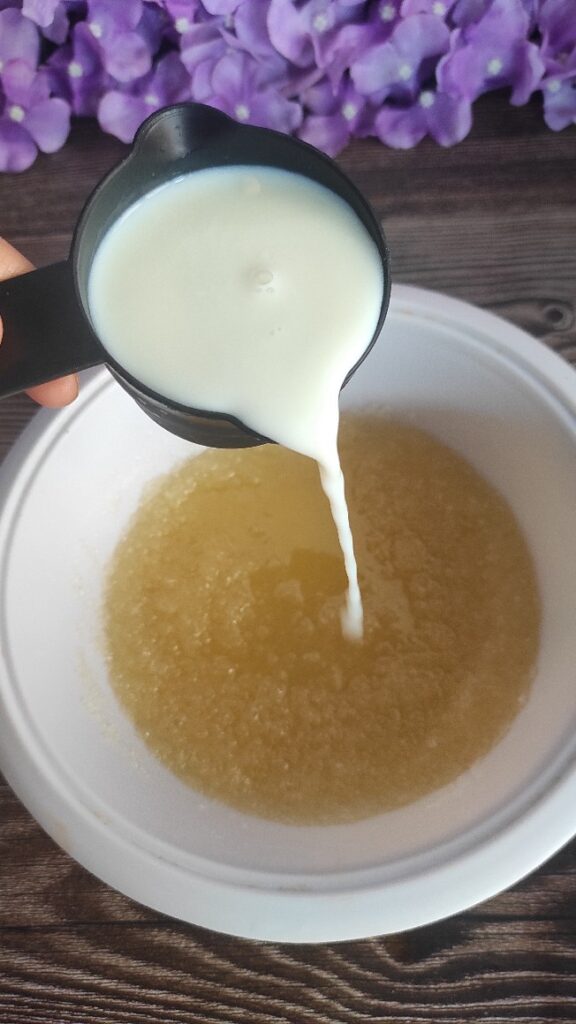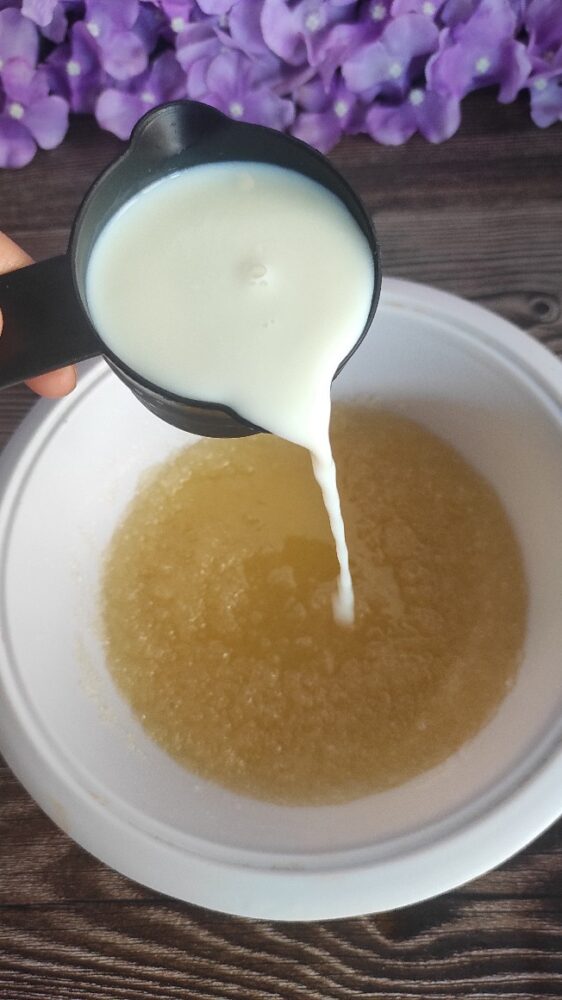 3) Add 80 ml of milk in it.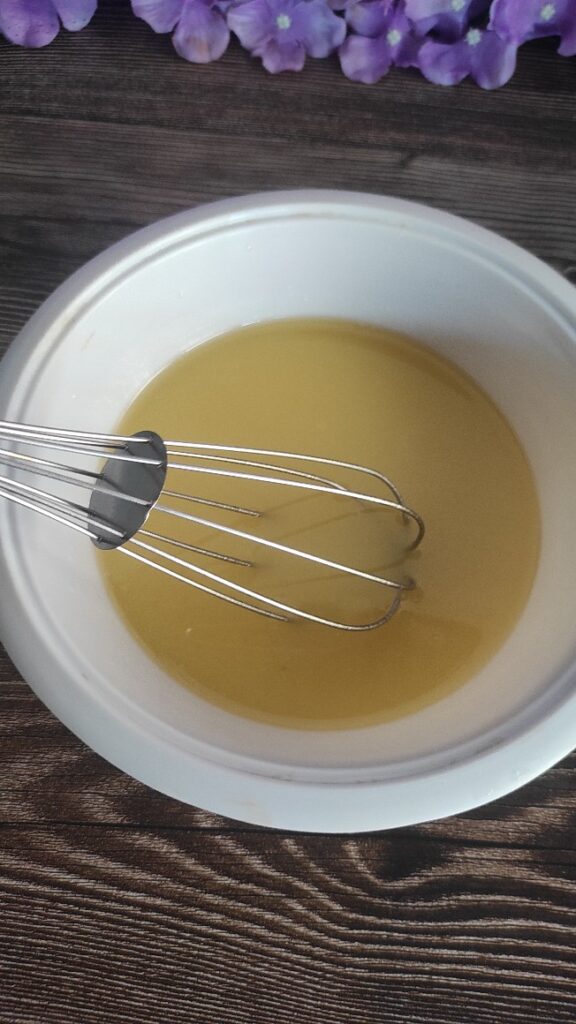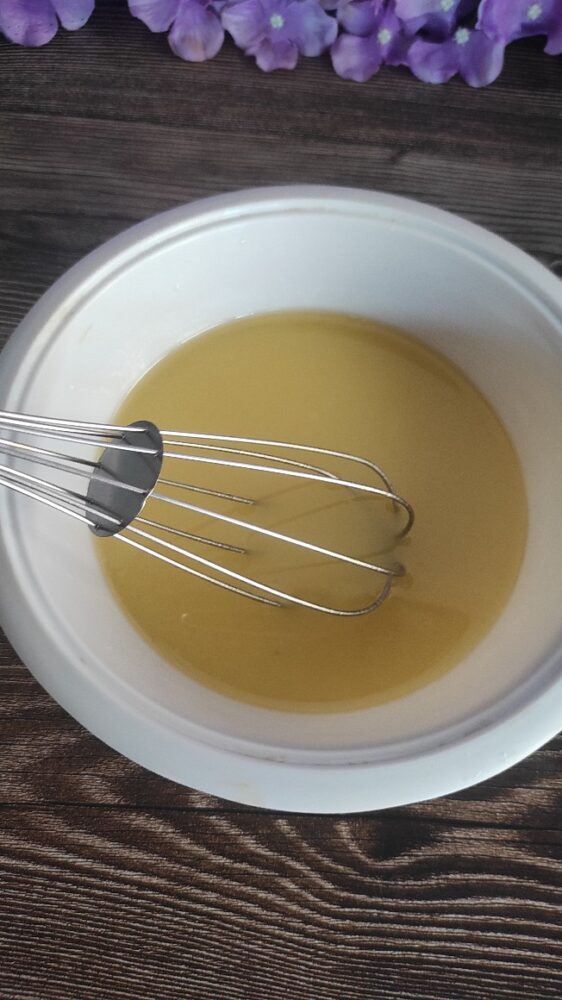 4) Stir them well for 5 minutes until sugar dissolves.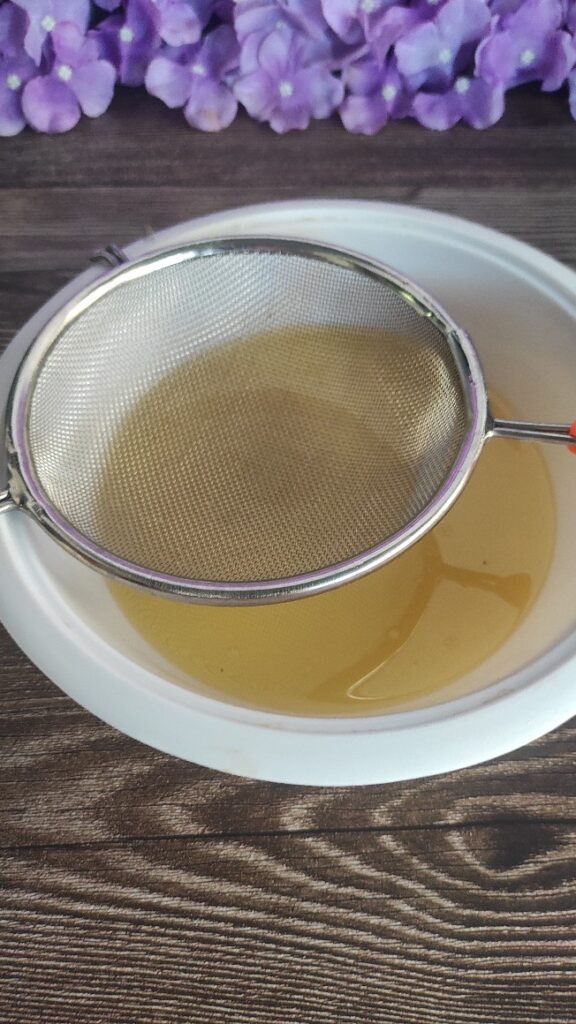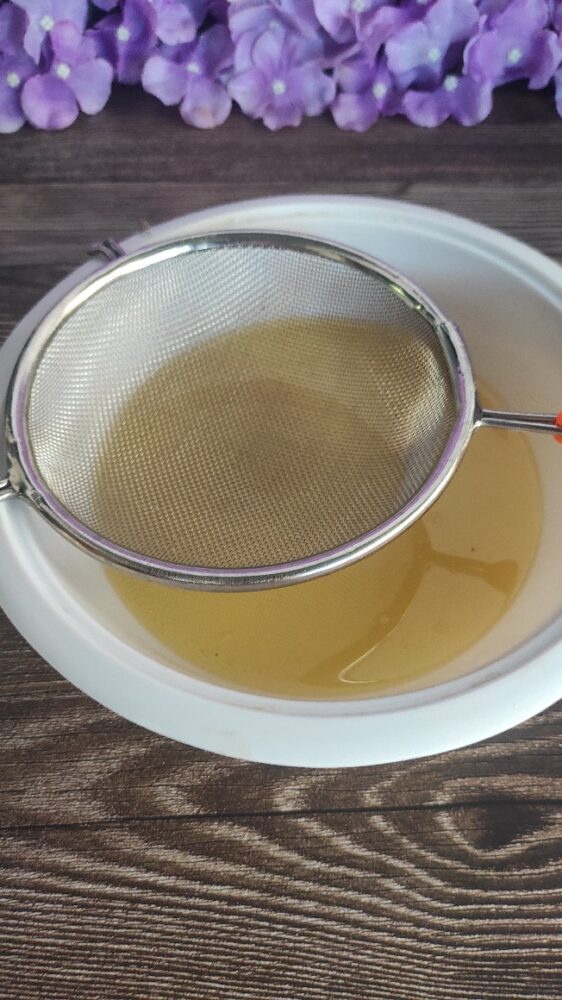 5) Now place a seive on mixing pot.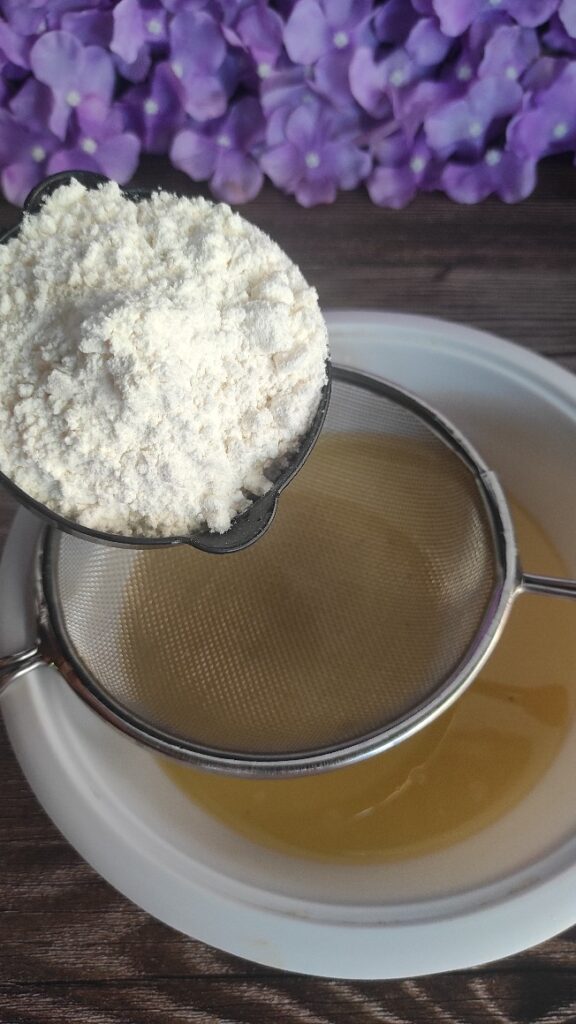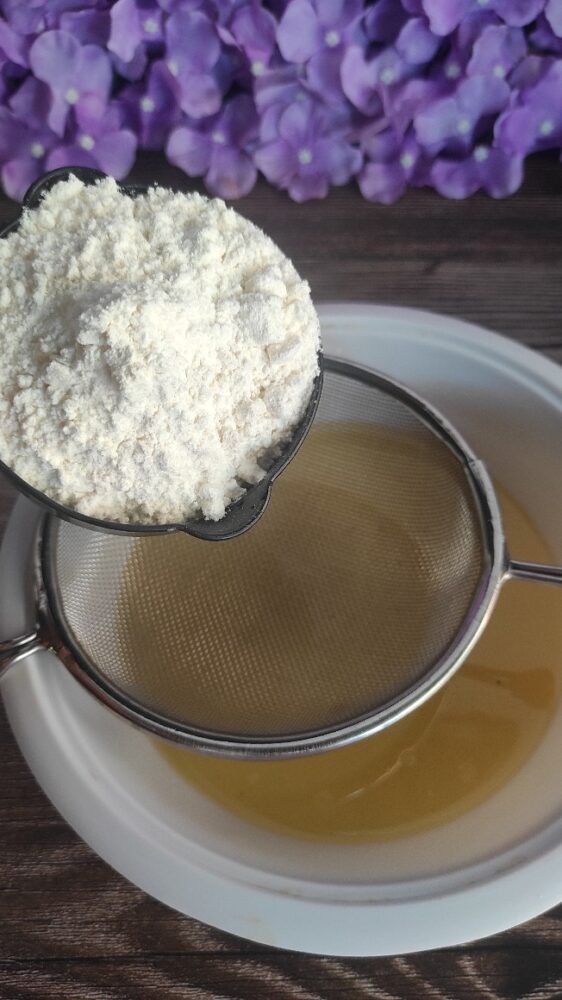 6) Add 240 grams of refined flour in it.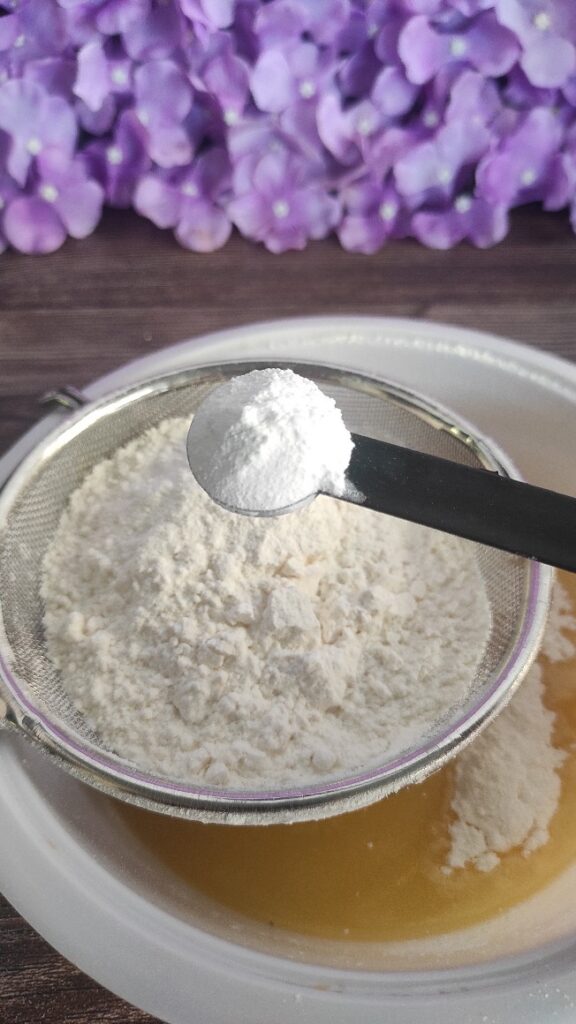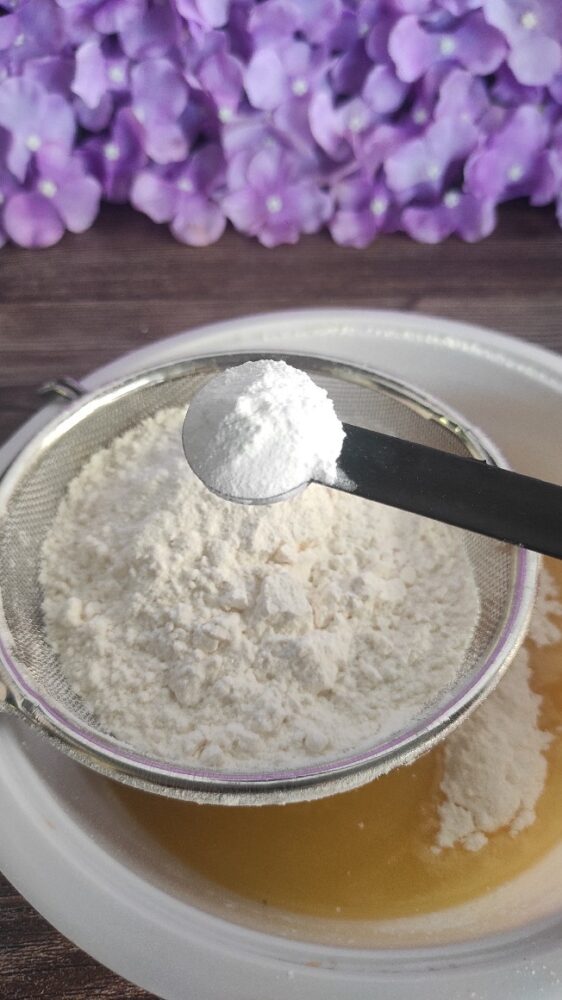 7) Add 2 teaspoons of baking powder in it.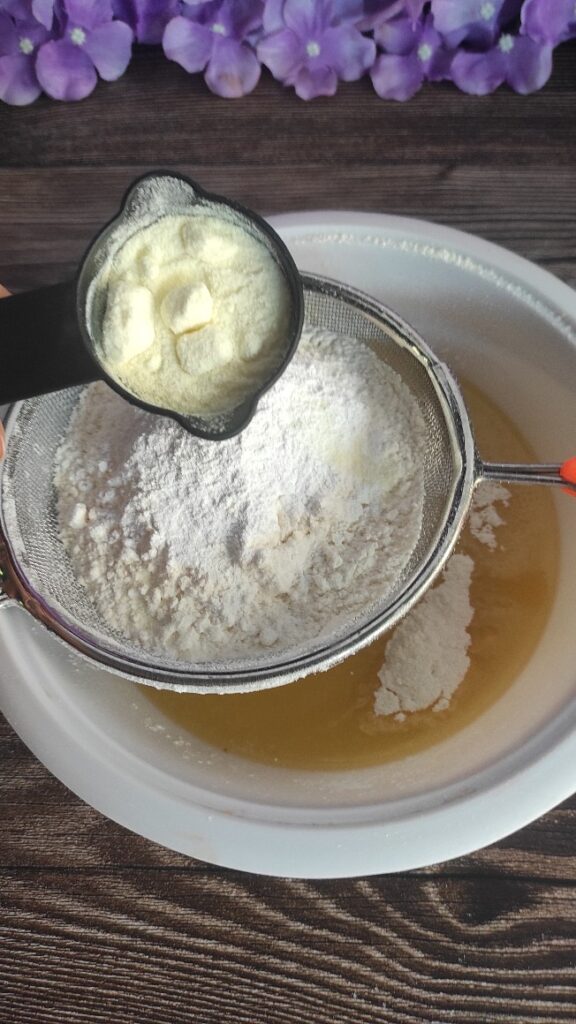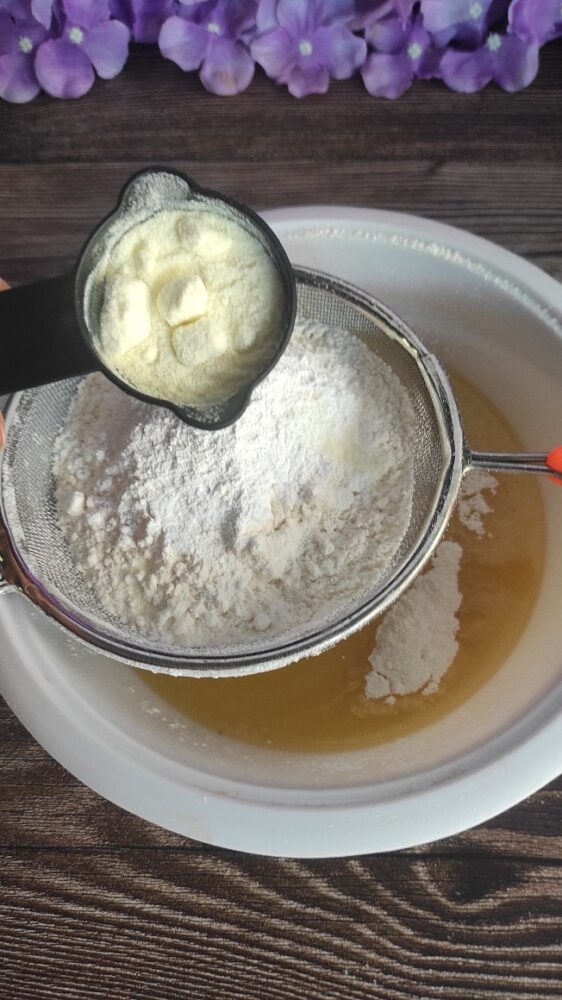 8) Add 30 grams of milk powder in it.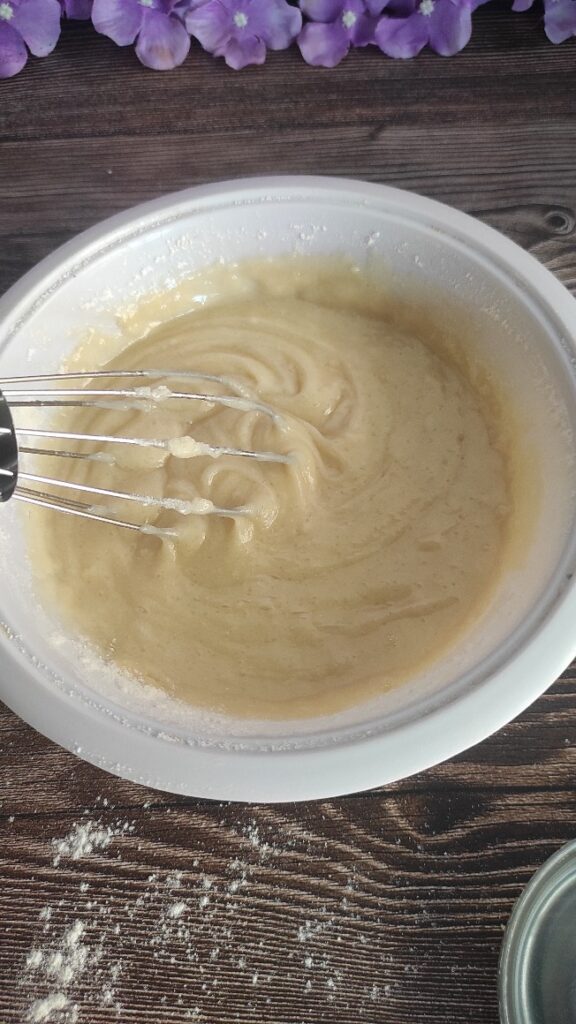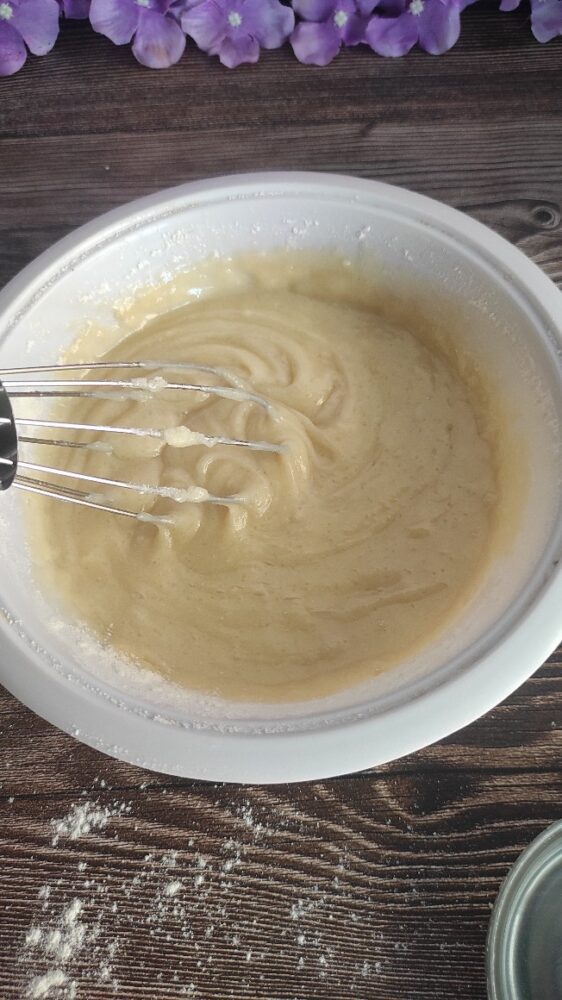 9) Mix them well until it turn smooth and creamy.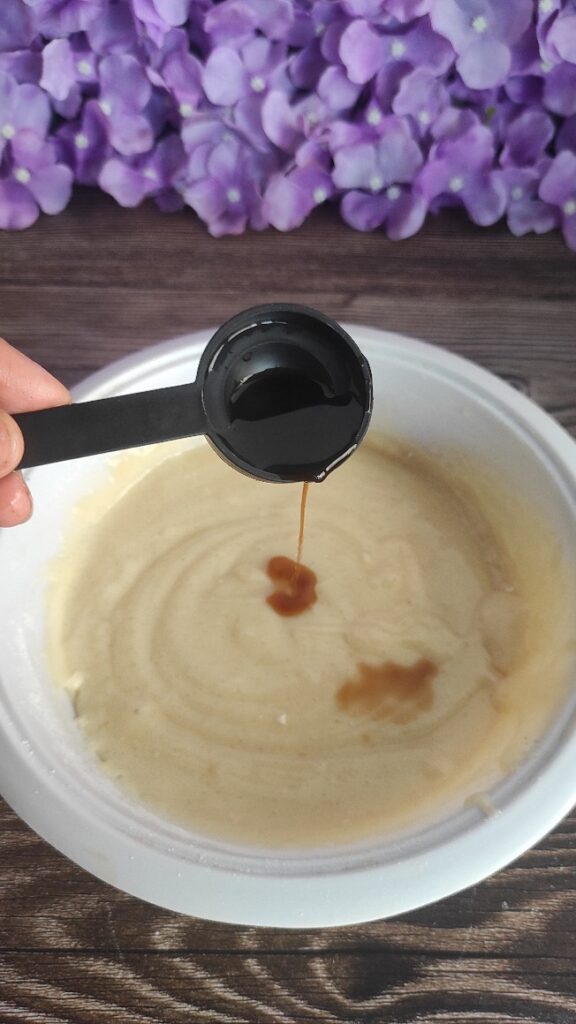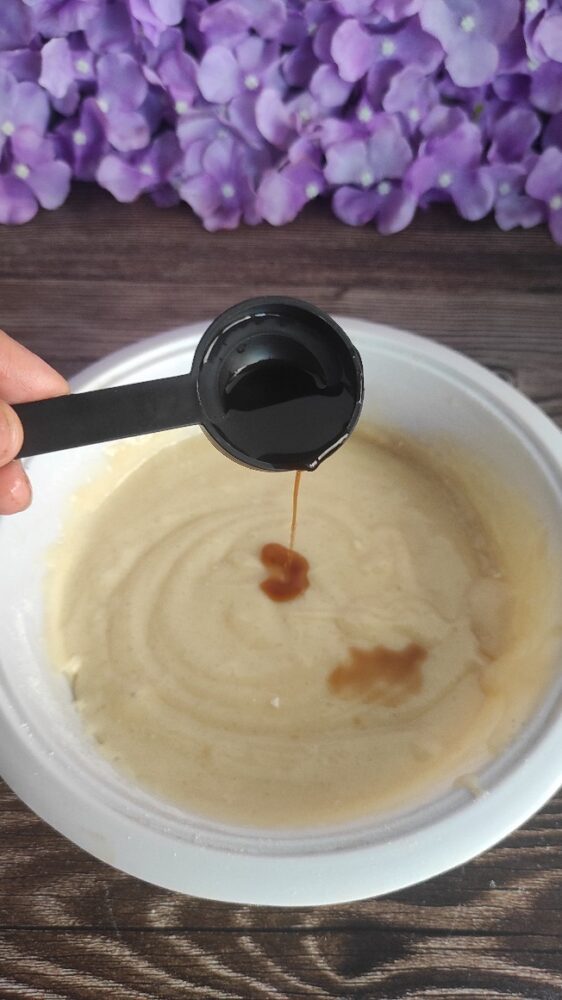 10) Now add 1 tablespoon of vanilla essence in it.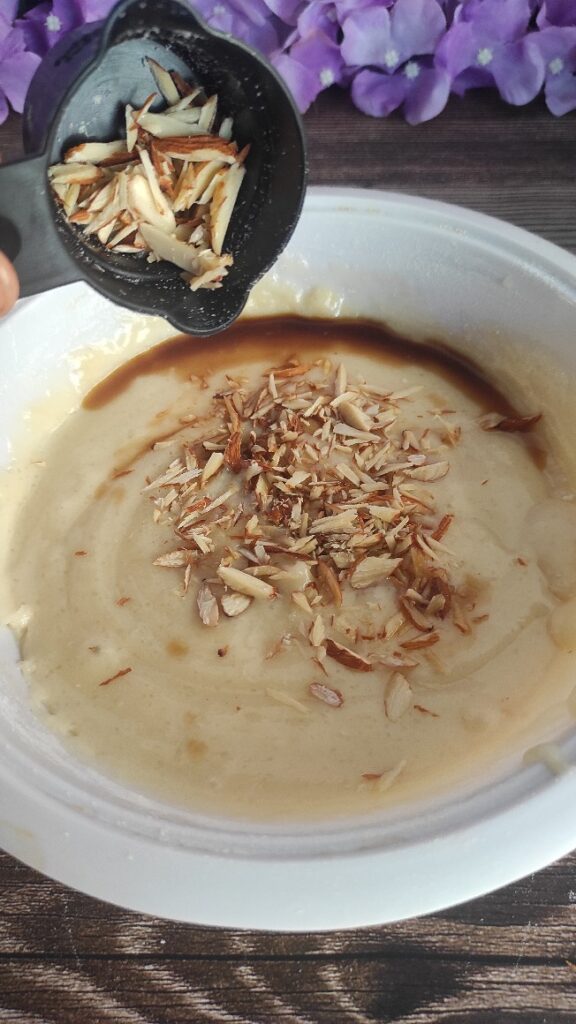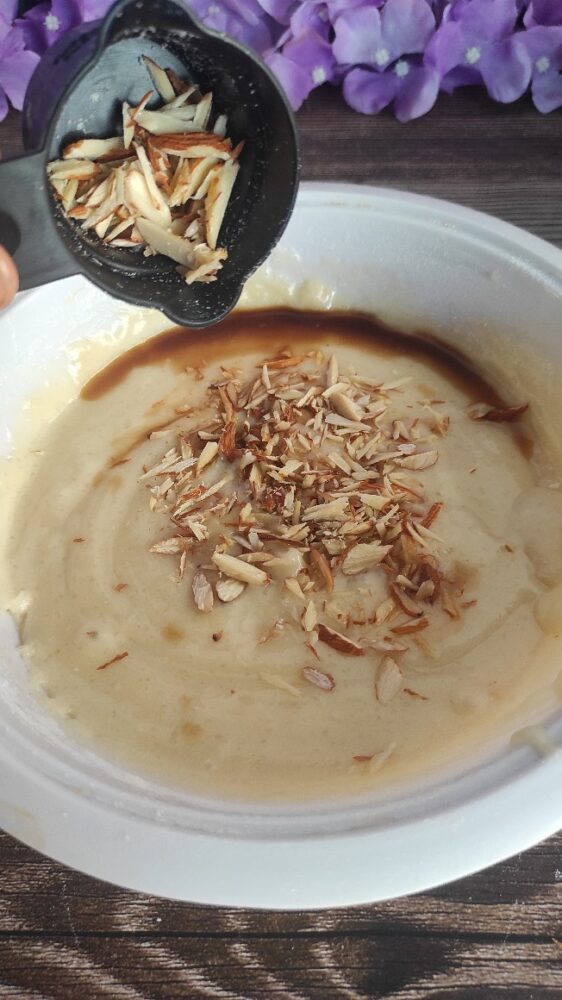 11) Finally add 30 grams of chopped almonds in it.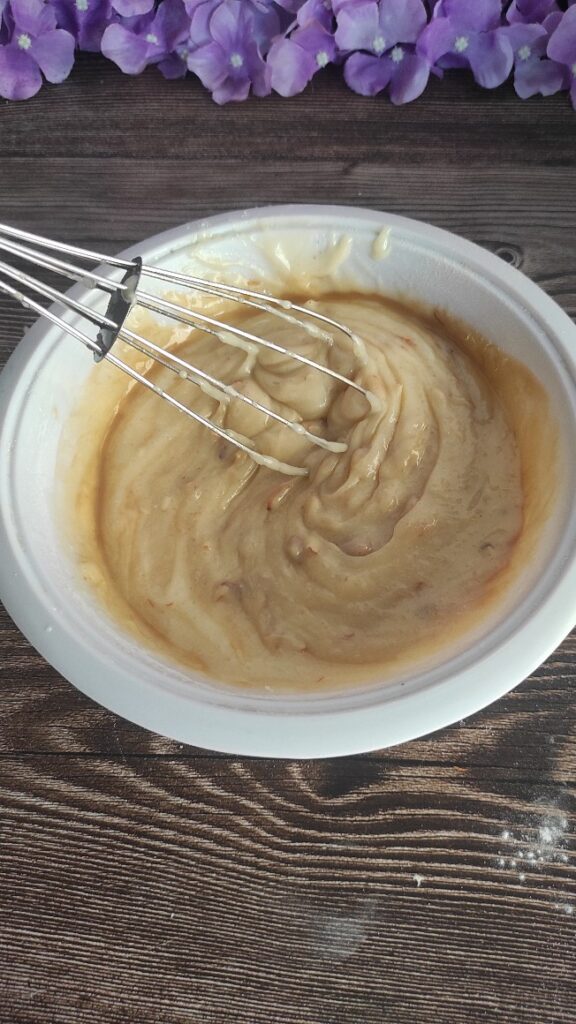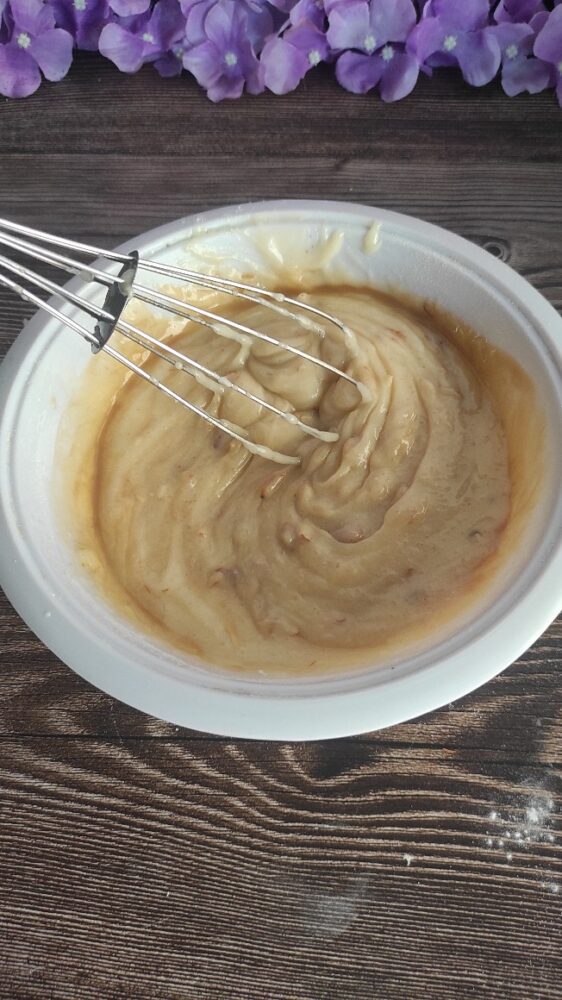 12 ) Mix them well .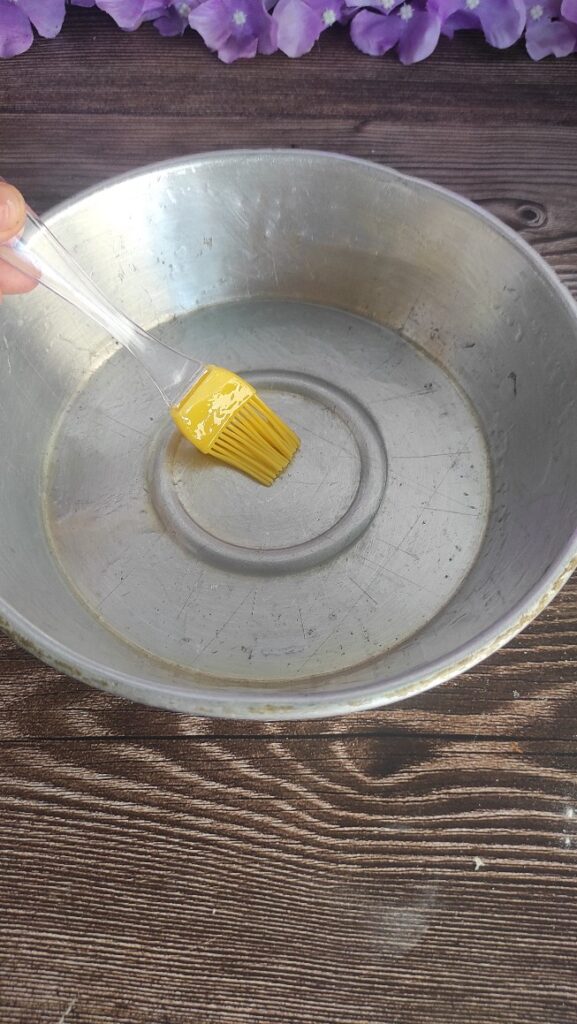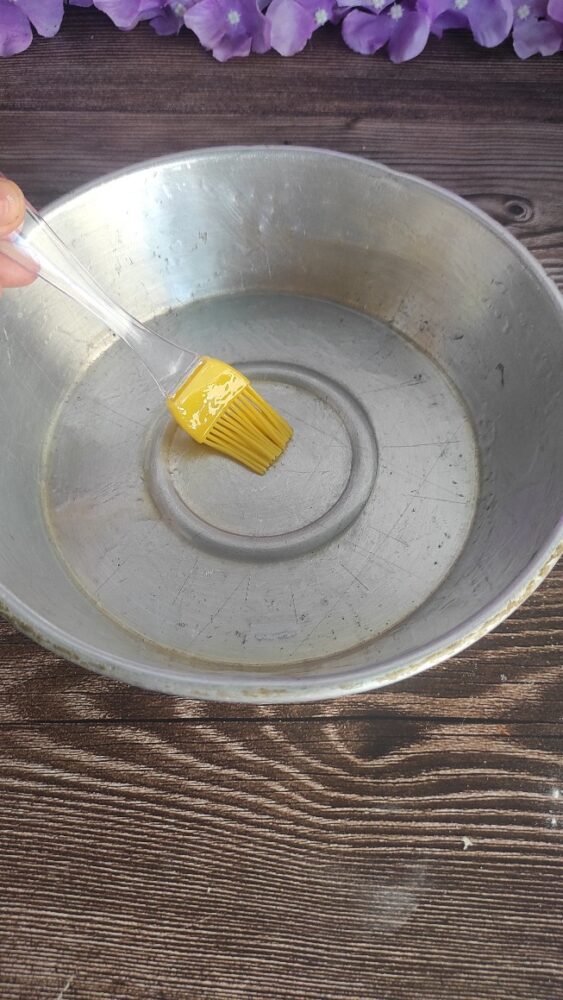 13) Now take a baking dish and grease it well using an oil brush.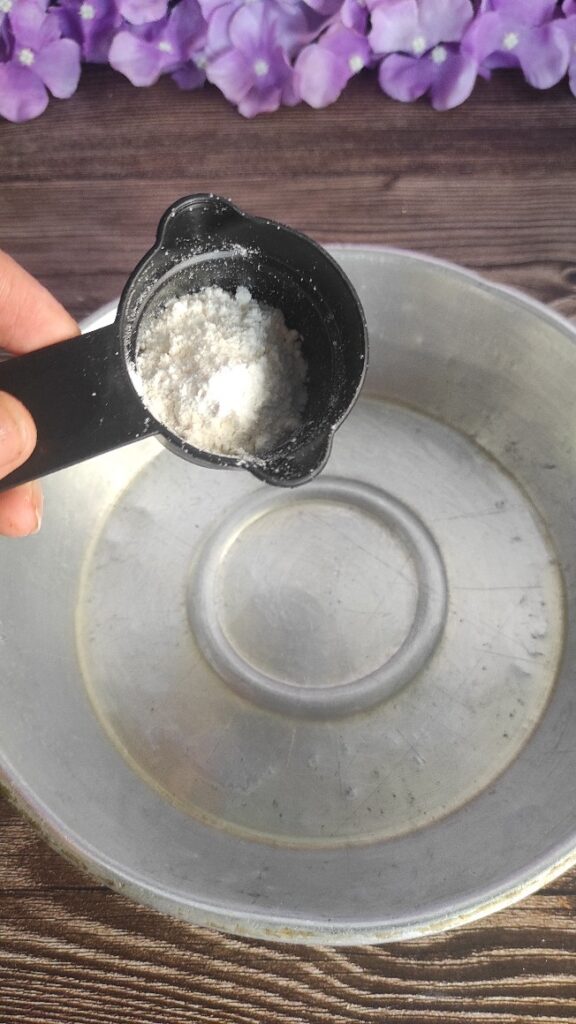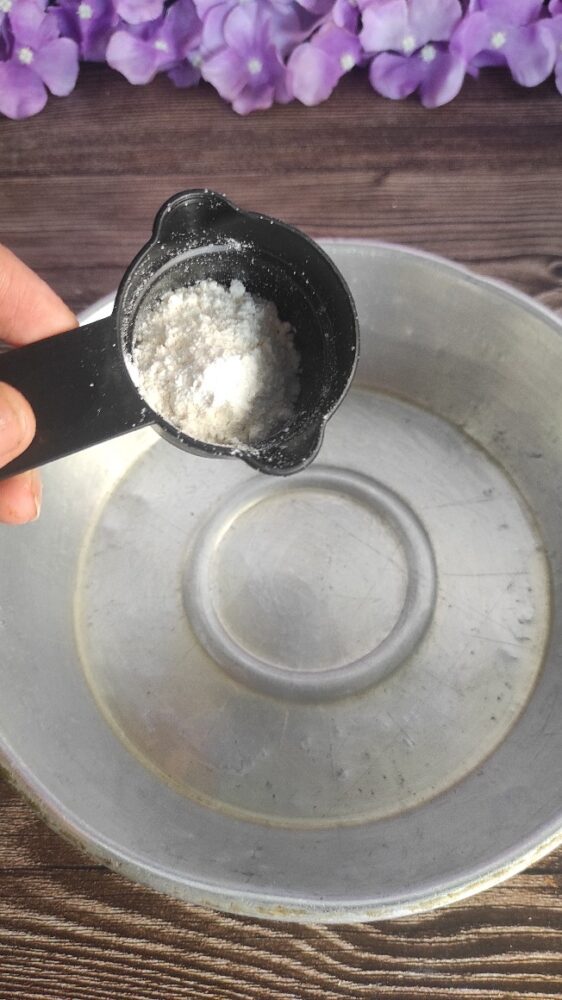 14) Dust it well using refined flour.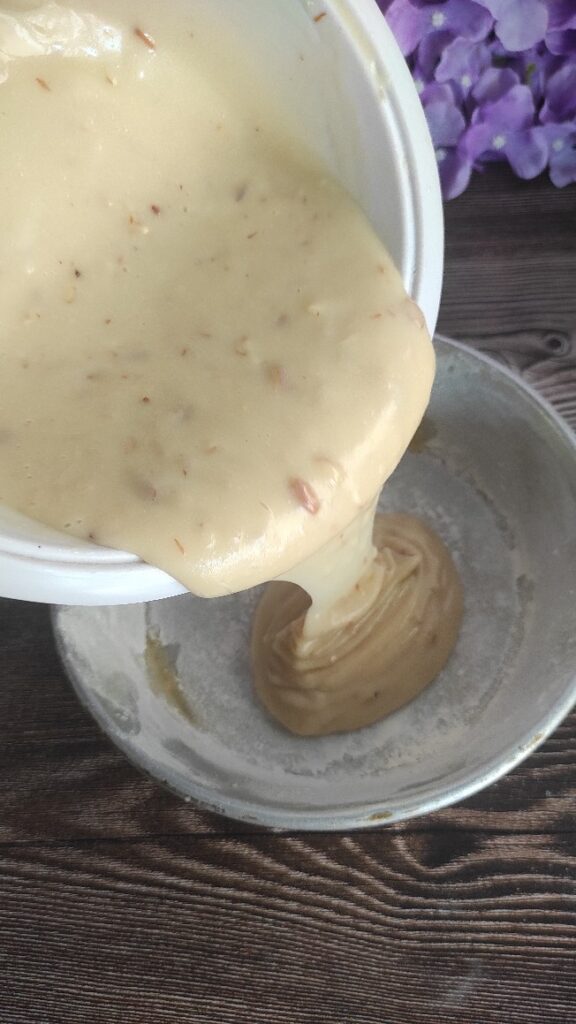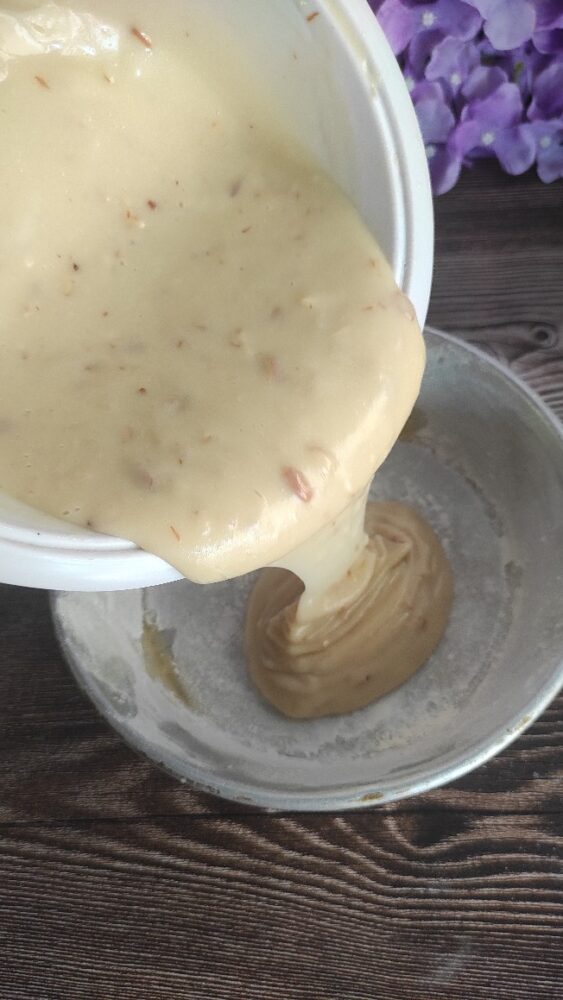 15) Now slowly pour the batter in the baking dish.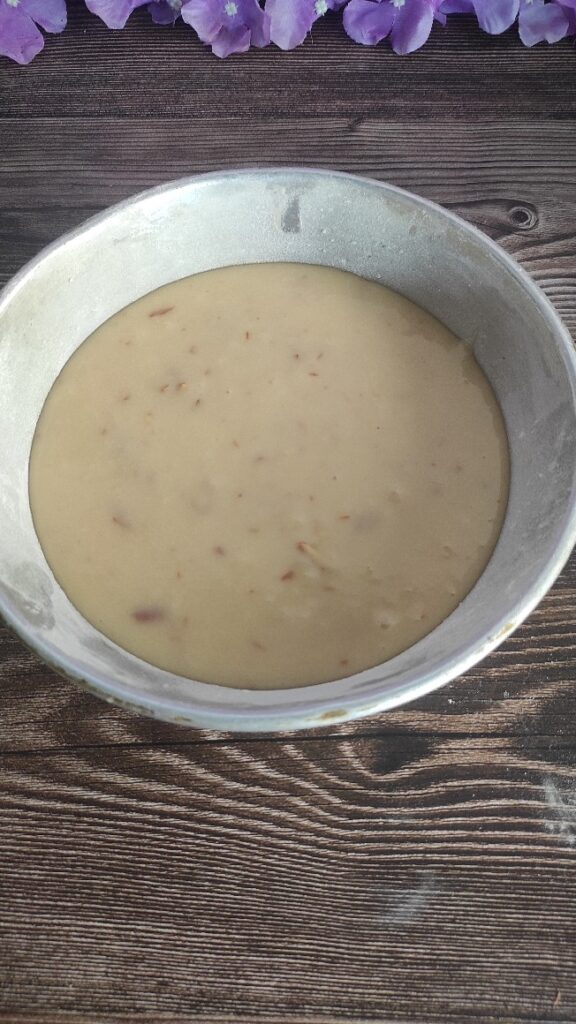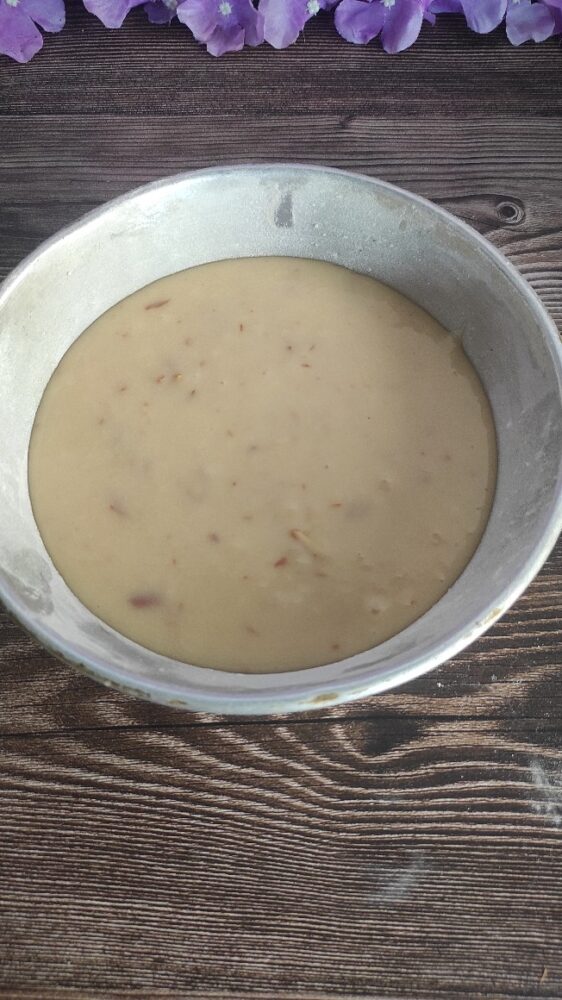 16) Pat well to make sure there are no air bubbles in it.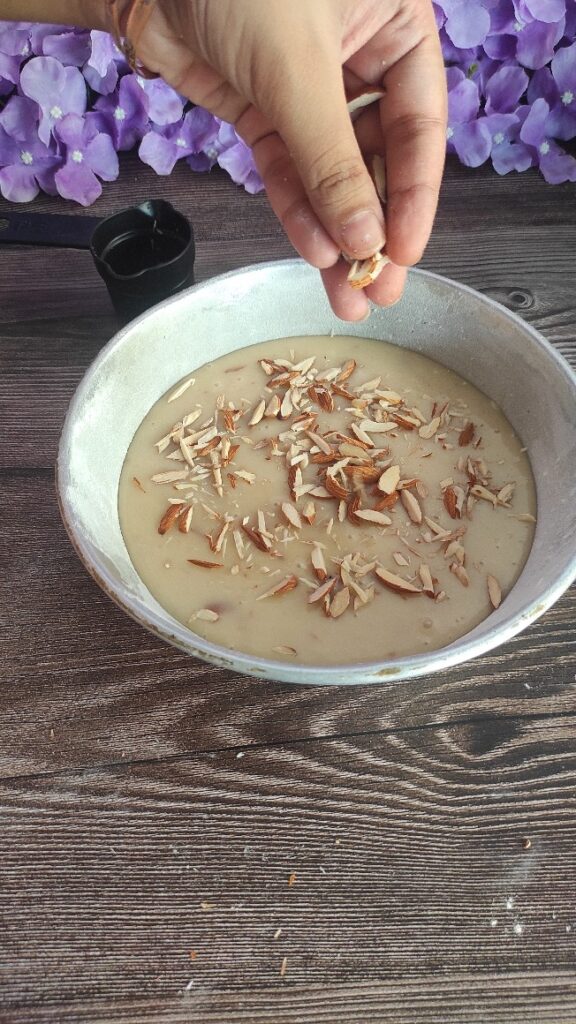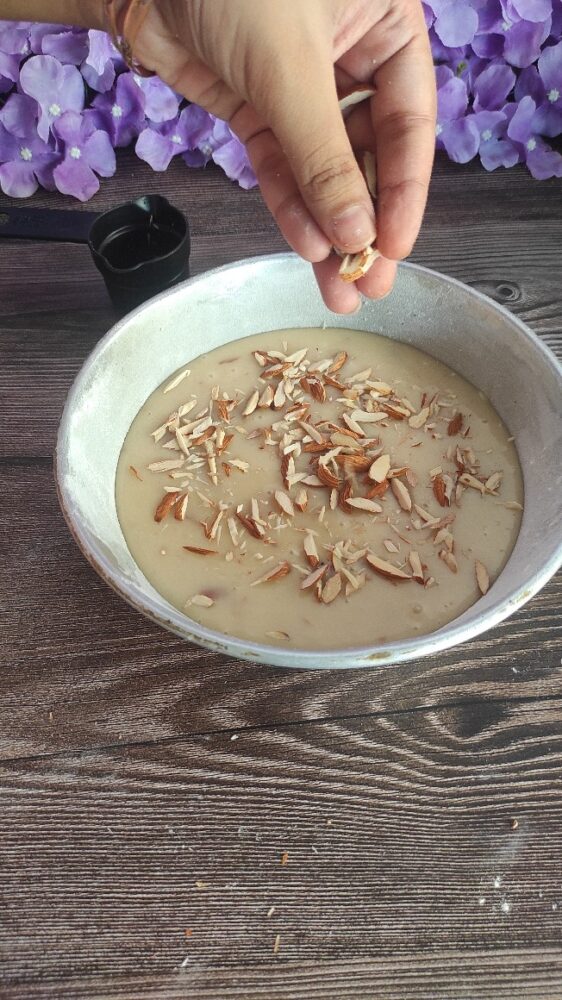 17) finally top it with some chopped almonds.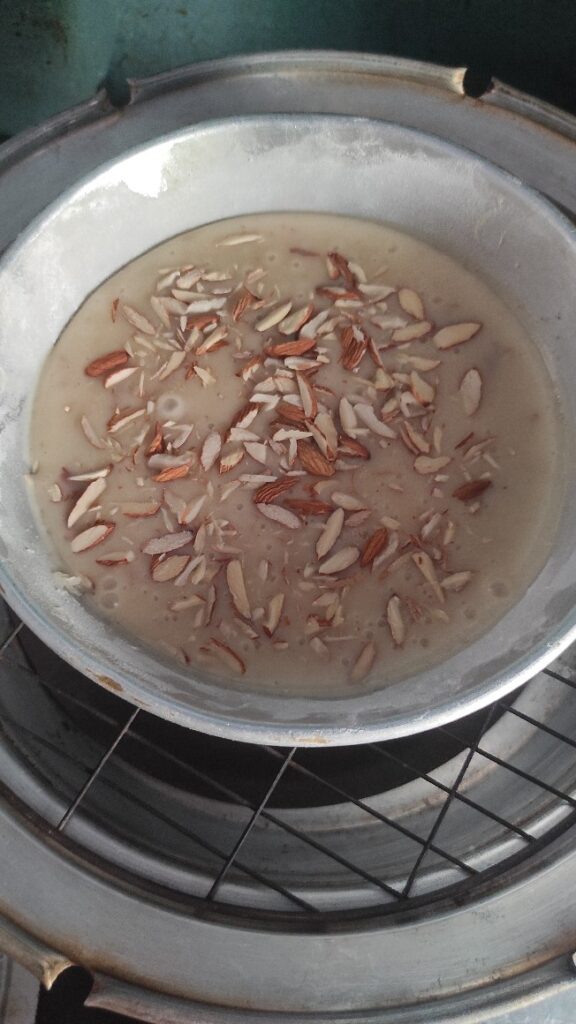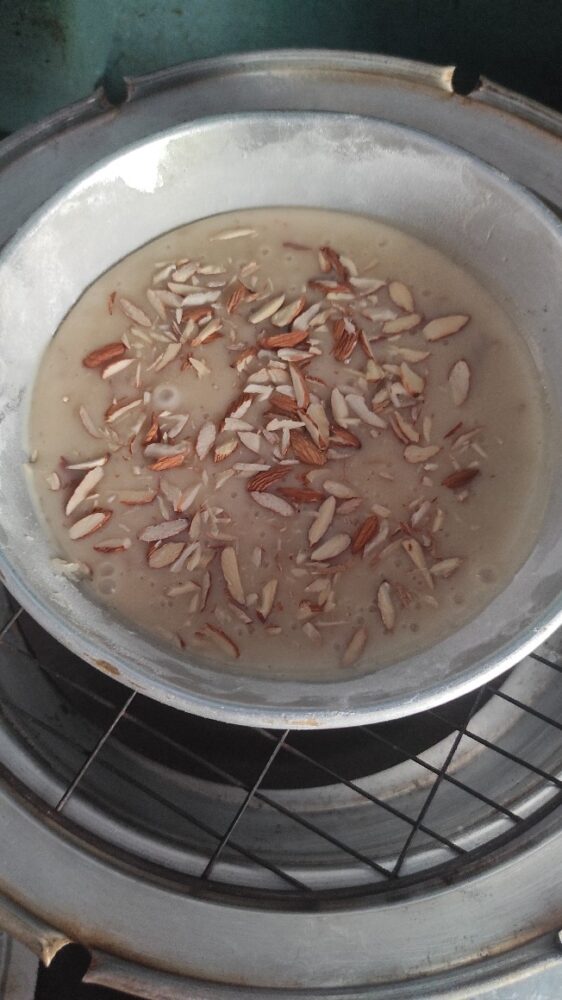 18) Place it on the gas oven.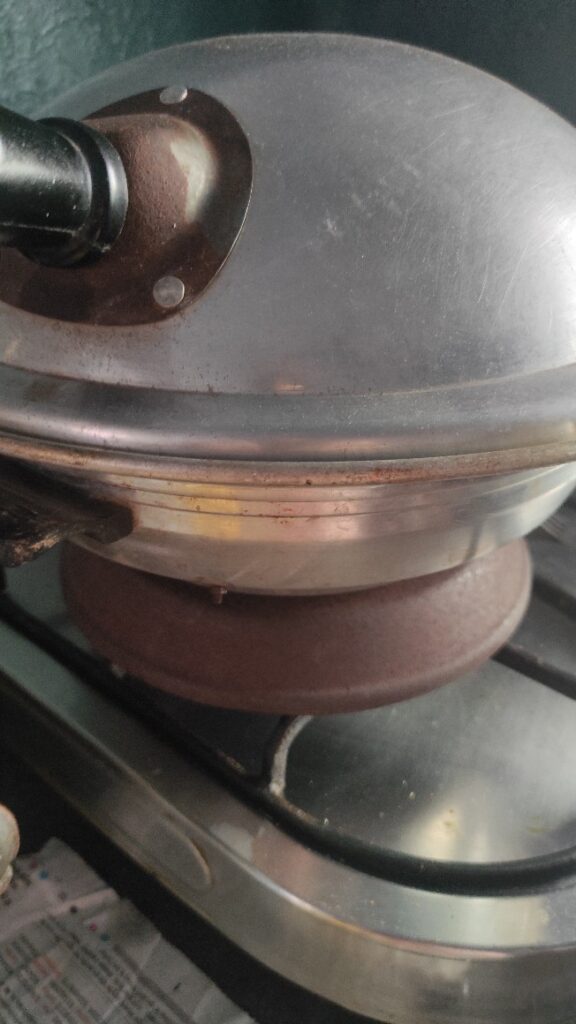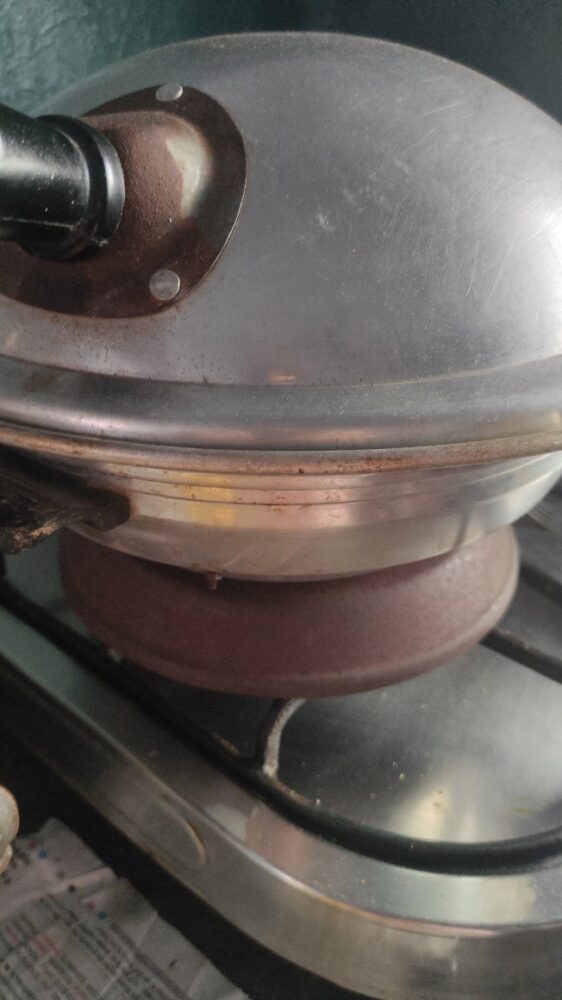 19) Cover and bake it on low flame for 40 minutes. You can also bake it in the oven at 180 degree celsius for 30 minutes.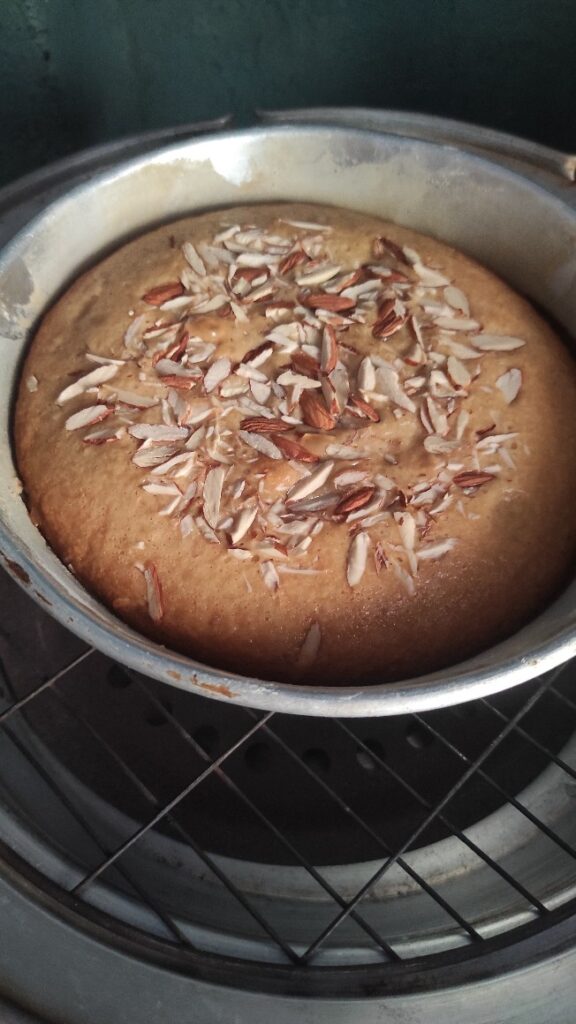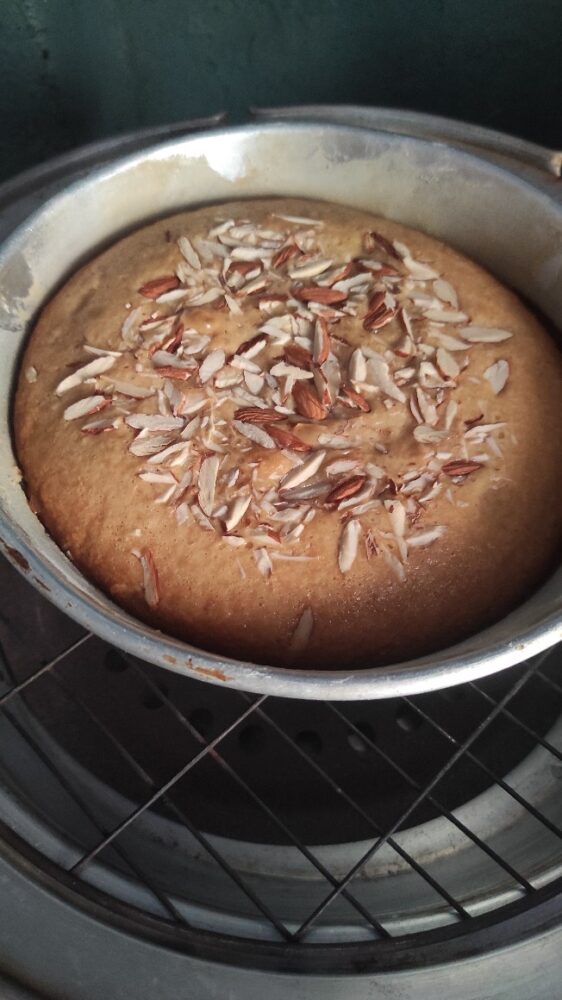 20) Once done remove the lid.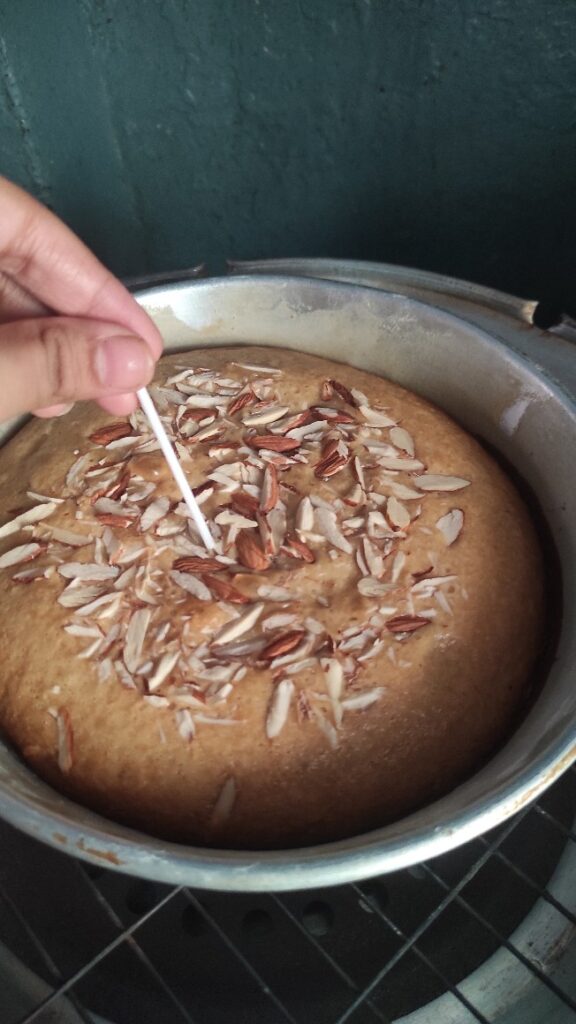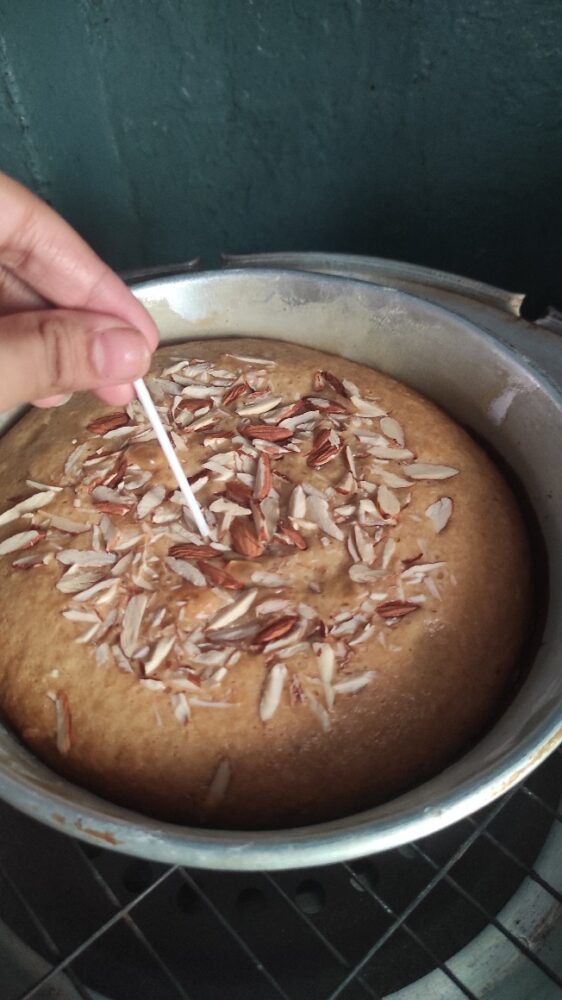 21) Poke it with a toothpick to see whether it is perfectly cooked or not.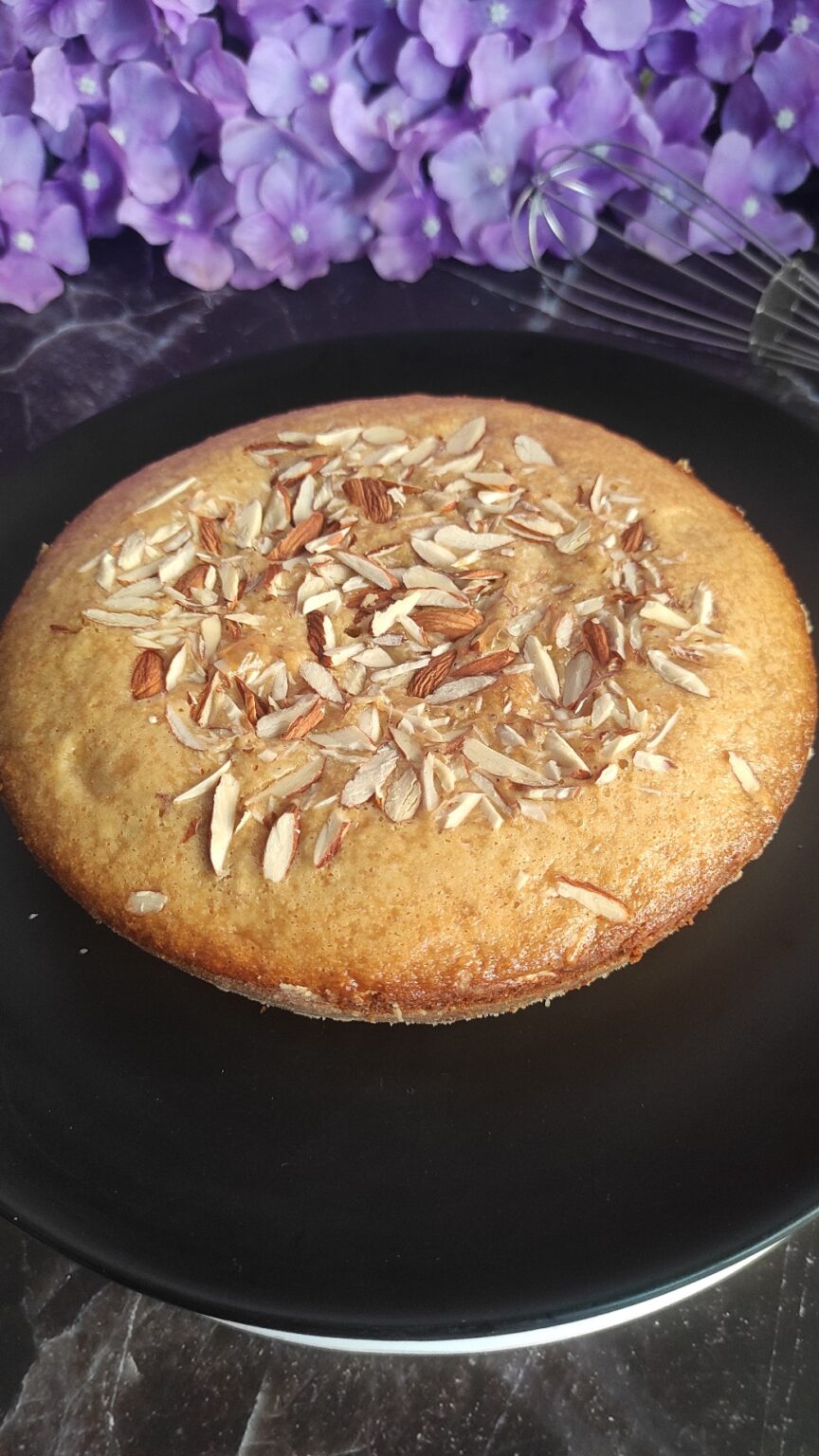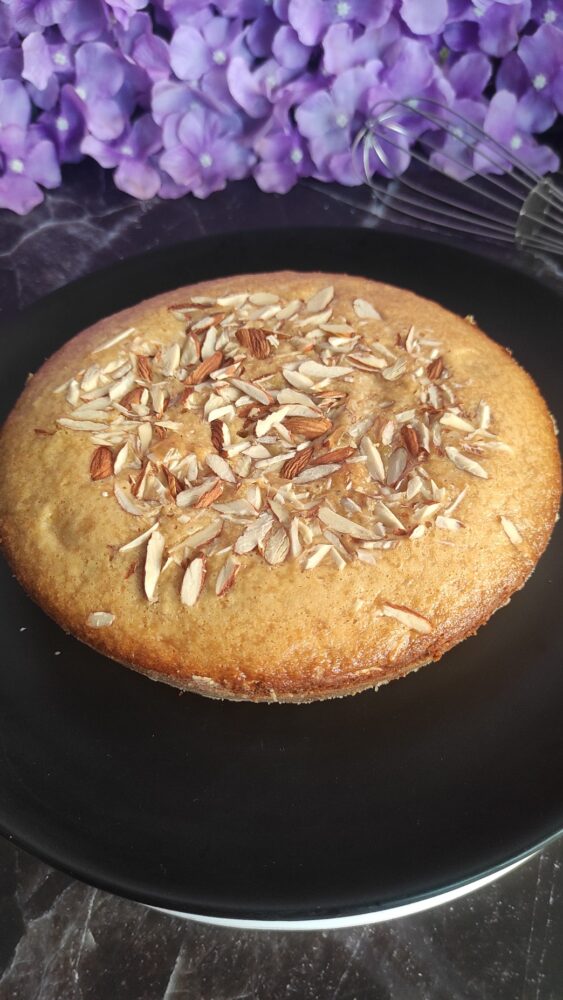 22) Once done gently remove it from the baking dish.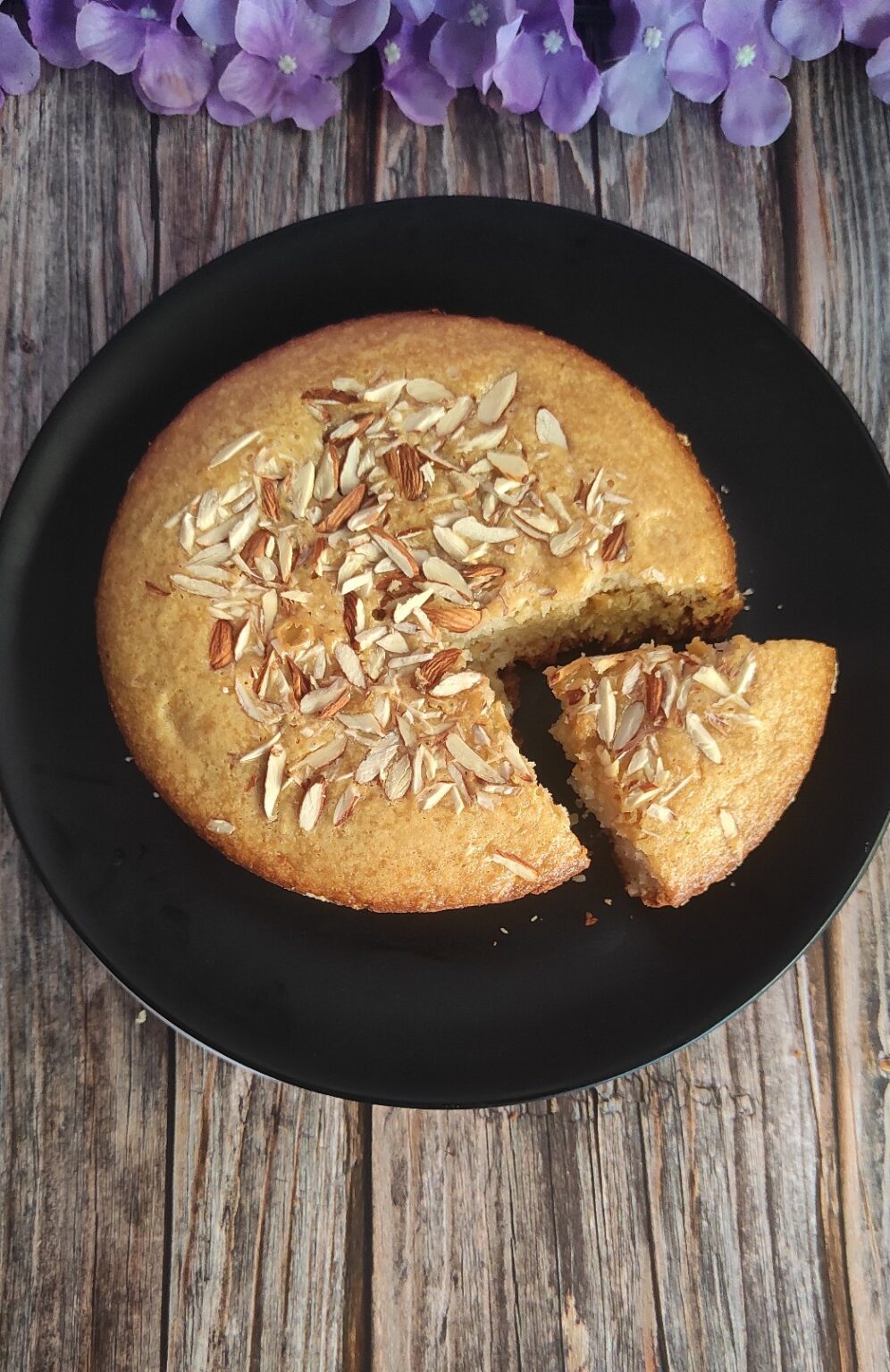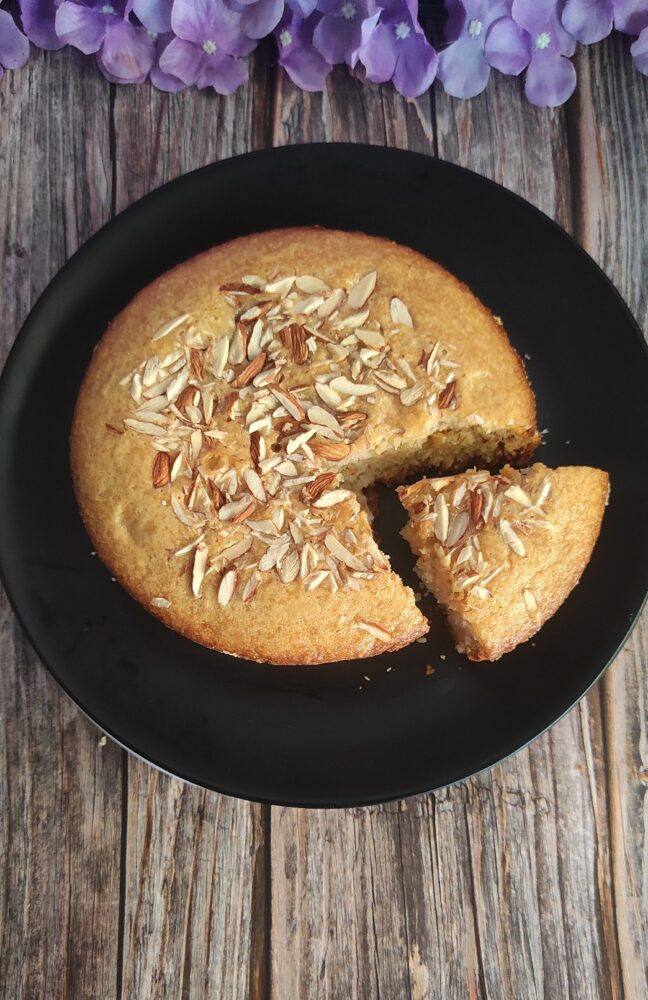 23)Your yummy almond cake is ready to be served. Slice and enjoy.
Tips and Tricks

1) Don't alter the quantities or else the taste and texture will vary.
2) Beat well until sugar dissolves, only then add the dry ingredients.
3) Seive the dry ingredients well.
3) If you are using baking soda instead of baking powder simply reduce the quantity to 1 teaspoon.
4) Mix the batter well. Avoid lumps.
5) Grease the baking dish well or you can simply use parchment paper.
6) Bake for 40 minutes on low flame.
7) Poke with a toothpick to see if done or not. If not, cover and cook for another 10 minutes.
8) remove it from the baking dish very gently.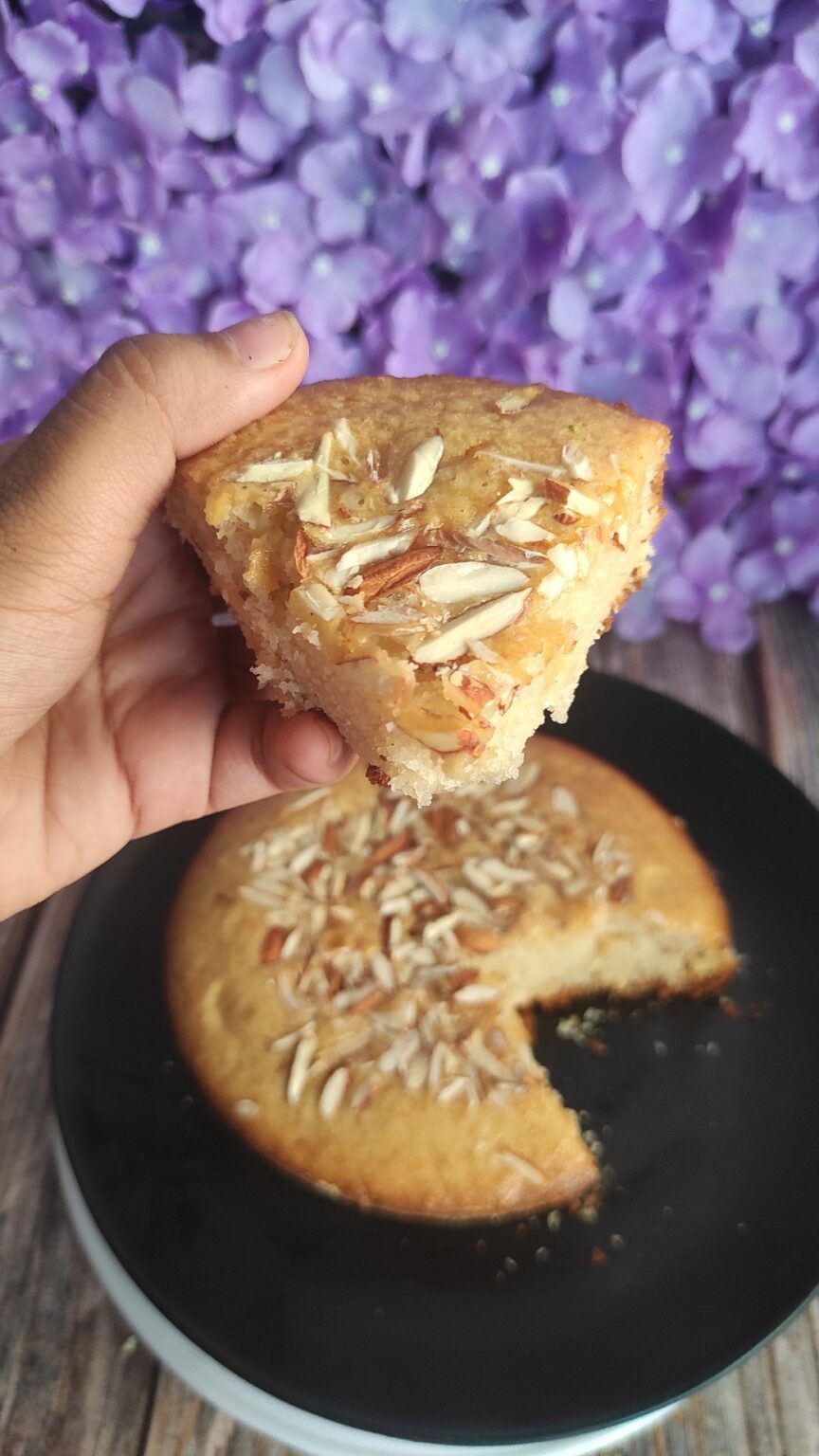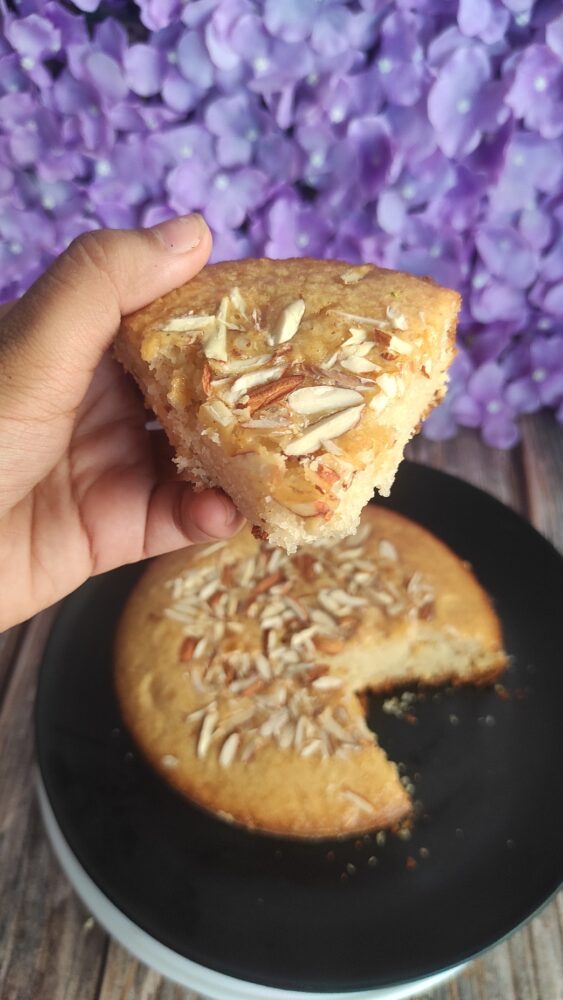 Healthier version

1) You can use wheat flour instead of refined flour. Taste may alter a bit.
2) You can use desi ghee instead of refined oil and butter.
3) You can use stevia instead of white sugar.
4) Organic brown sugar can also be opted for.