Introduction
One of the most famous snacks recipe samosa is an all time favourite snacking option amongst all of us. The crispy crust filled with spicy potato stuffing gives is a perfect blend of flavours and crispness. It is one of the most popular deep fried pastry originated from middle East and Asian countries, and later on it became the most loved snacking option amongst the Indians. A crispy , spicy and flaky samosa along with a hot cup of tea can easily lighten up your evening.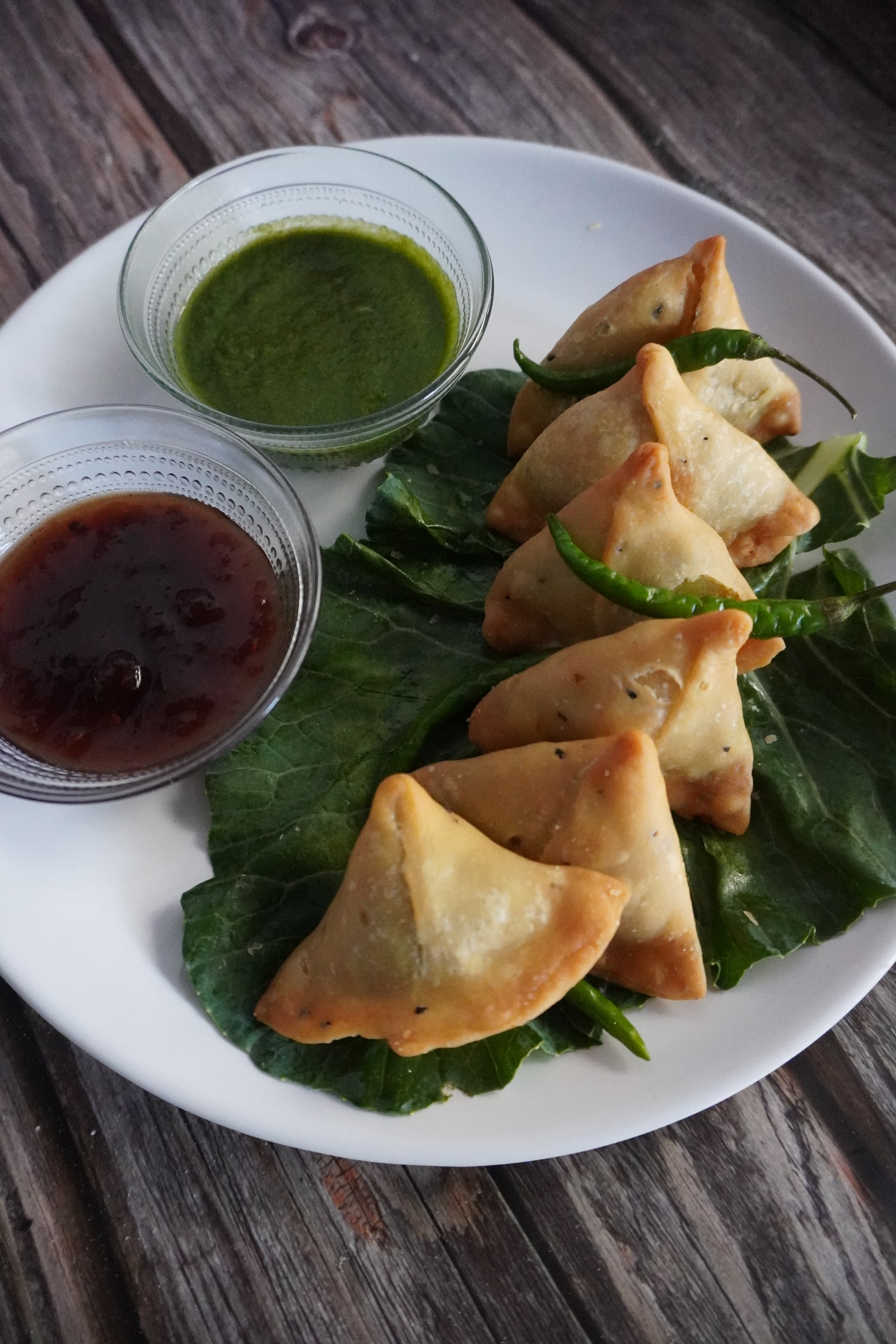 This yummy samosa is made by firstly preparing a potato mixture which is boiled and seasoned with peanuts,onion,chillies and Indian spices. Later they are stuffed in a dough made from refined flour. They are further shaped amd deep fried until golden brown and crisp. They taste best with sweet tamarind chutney and dhaniya chutney.This recipe will surely bring a smile on your loved ones faces .So go ahead and give this a try and don't forget to share your review regarding the recipe in the comments section below.
Ingredients
For stuffing:
1)Potatoes- 8-10 (medium size)
2)Onion- 1 (finely chopped)
3)Peanuts- 1/4 cup
4)Green chillies- 3 to 4 Or as per taste
5)Saunf(fennel seeds) -1/2 tablespoon
6)Jeera(cumin seeds) – 1/2 tablespoon
7)Turmeric powder(haldi) – 1/4 tablespoon
8)Dhaniya powder(coriander powder)- 1/2 tablespoon
9)Jeera powder(cumin powder) – 1/4 tablespoon
10)Salt- as per taste
11)Coriander leaves-1 tablespoon (finely chopped)
12)Olive oil- 3 to 4 tablespoon
For dough:
1)Refined flour(maida) – 2 cups
2)Refined Or olive oil- 1/4 cup
3)Kala jeera (nigella seeds)- 1/2 tablespoon
4)Salt- 1/2 tablespoon Or as per taste
5)Water to knead the dough
6)Refined Or olive oil for frying.
Step by step recipe with images
Stuffing: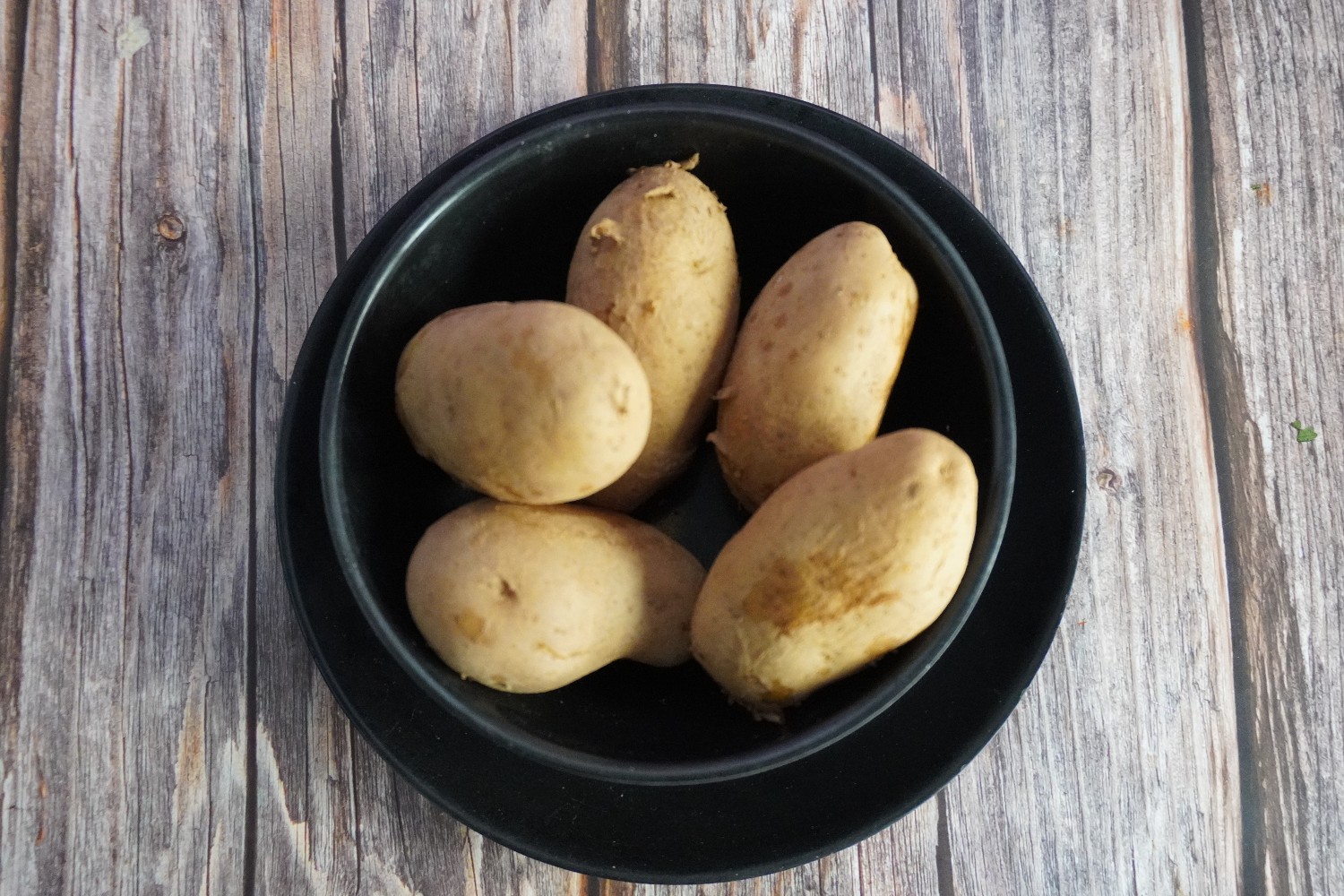 1) Firstly, boil 8-10 medium sized potatoes until done. 3 to 4 whistles over high flame is enough to boil them.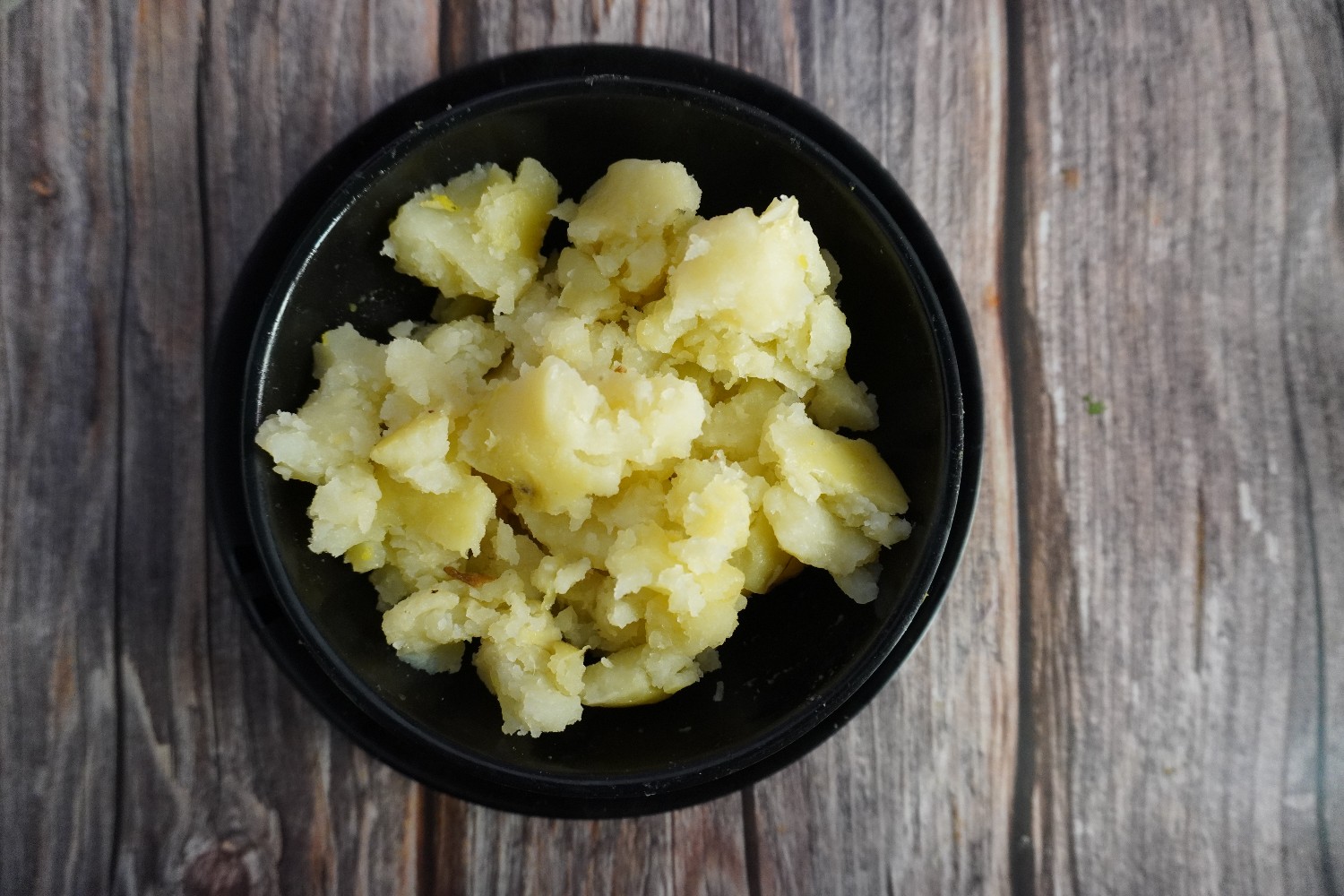 2) Peel the potatoes and mash them well.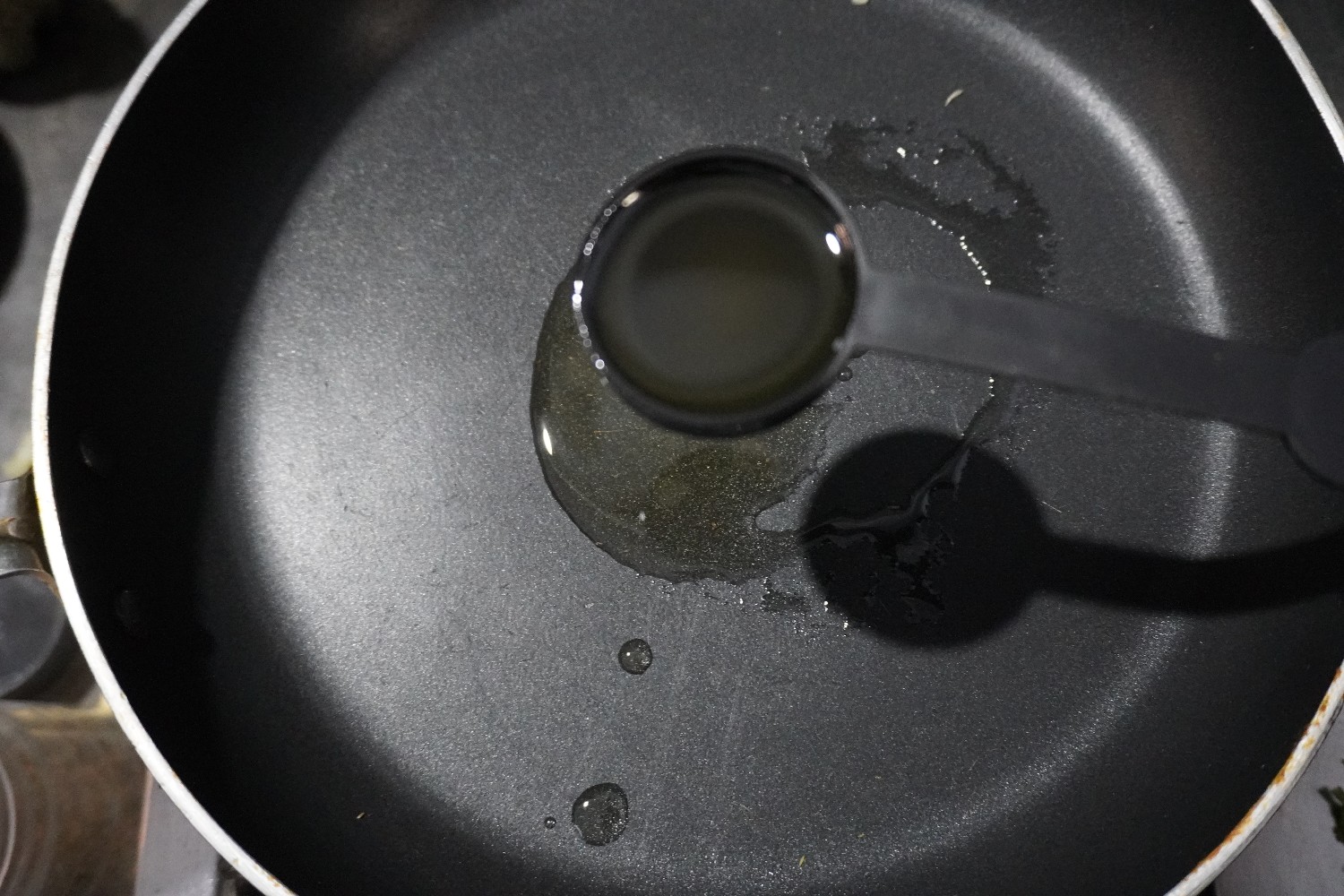 3) Now heat a pan with 3 to 4 tablespoon of olive oil.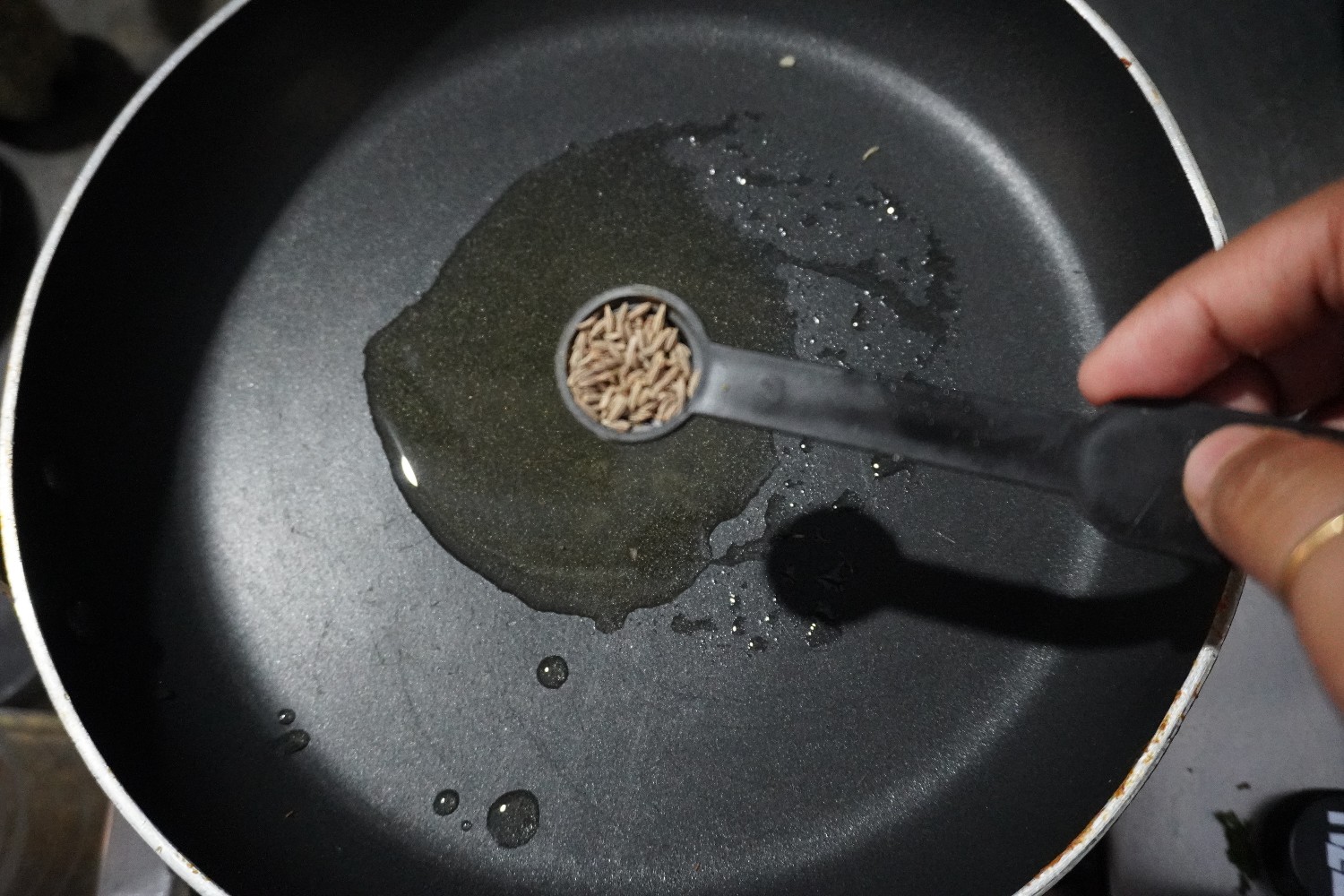 4) Now add 1/2 tablespoon cumin seeds (Jeera) and saute until it.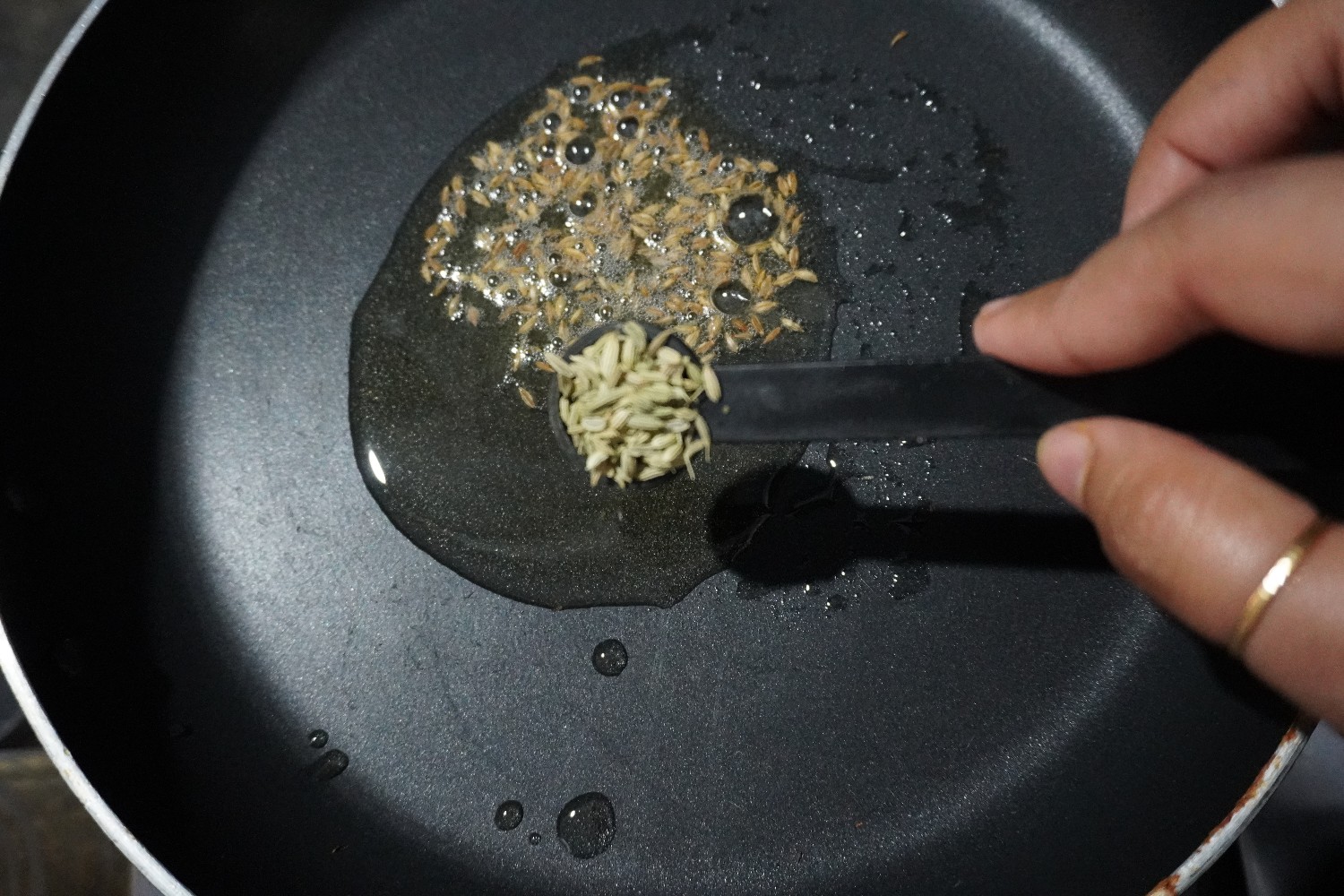 5) Add 1/2 tablespoon fennel seeds (saunf) in it.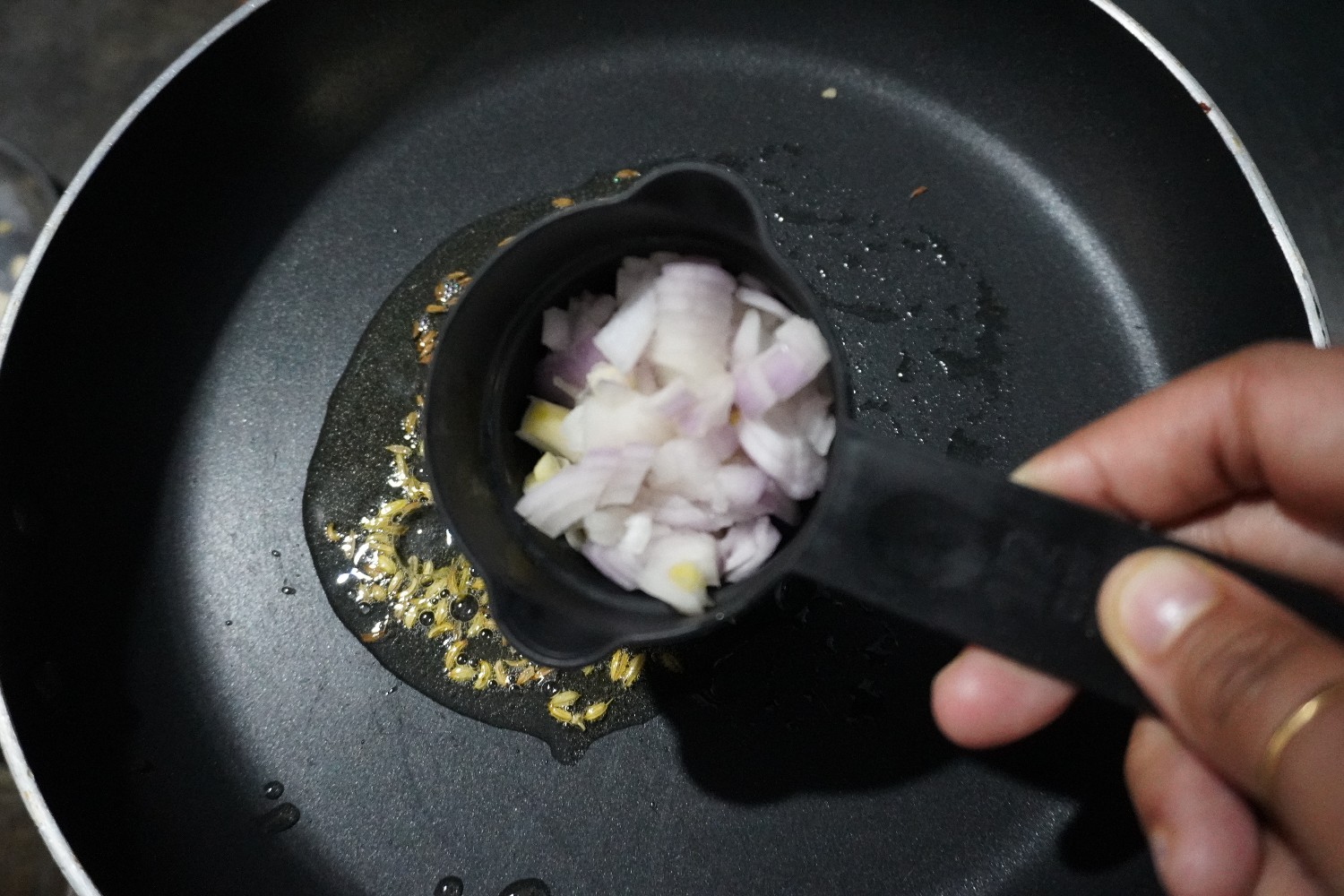 6) Now add the finely chopped onion to it and saute well on medium flame.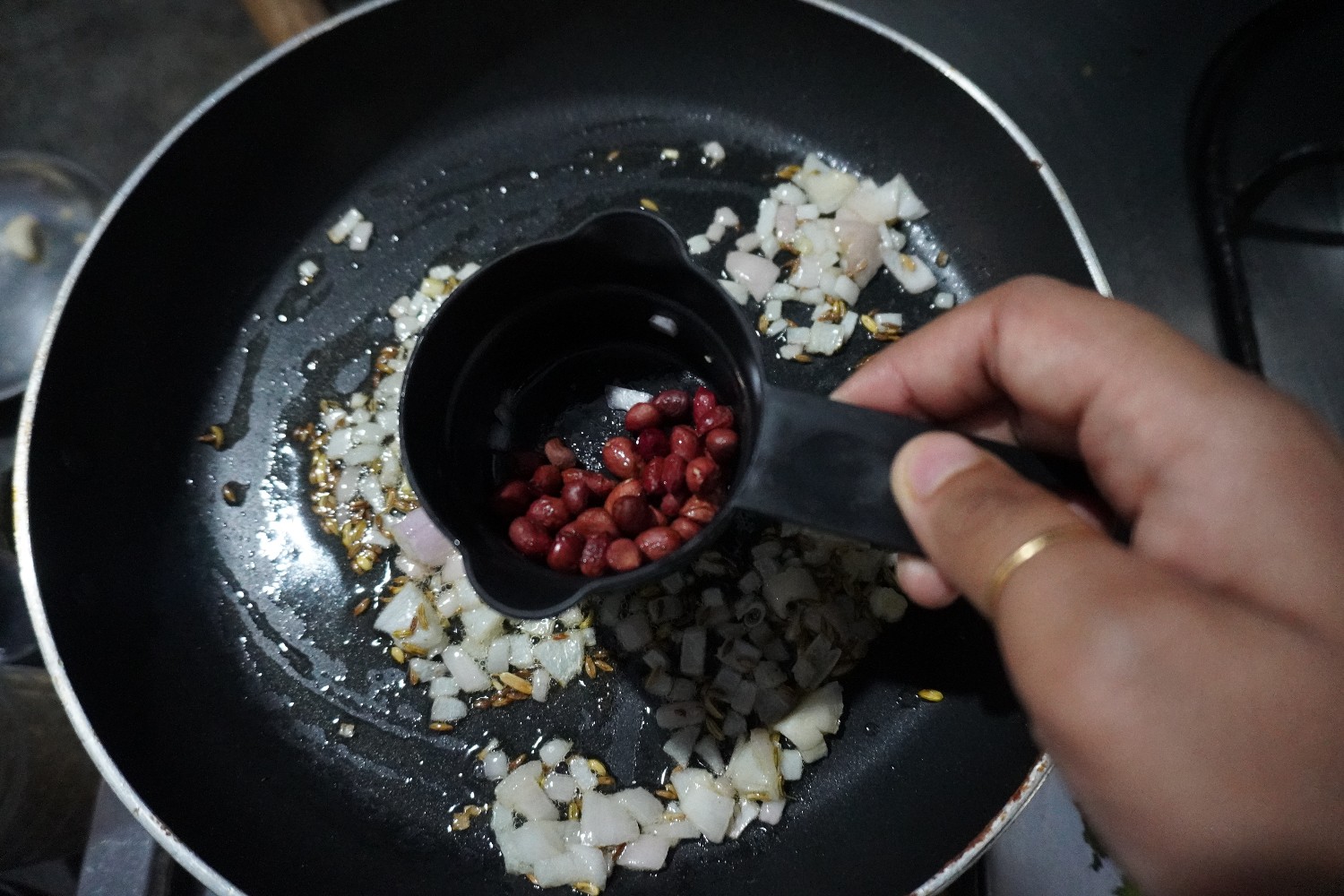 7) Add 1/4 cup of peanuts and mix well.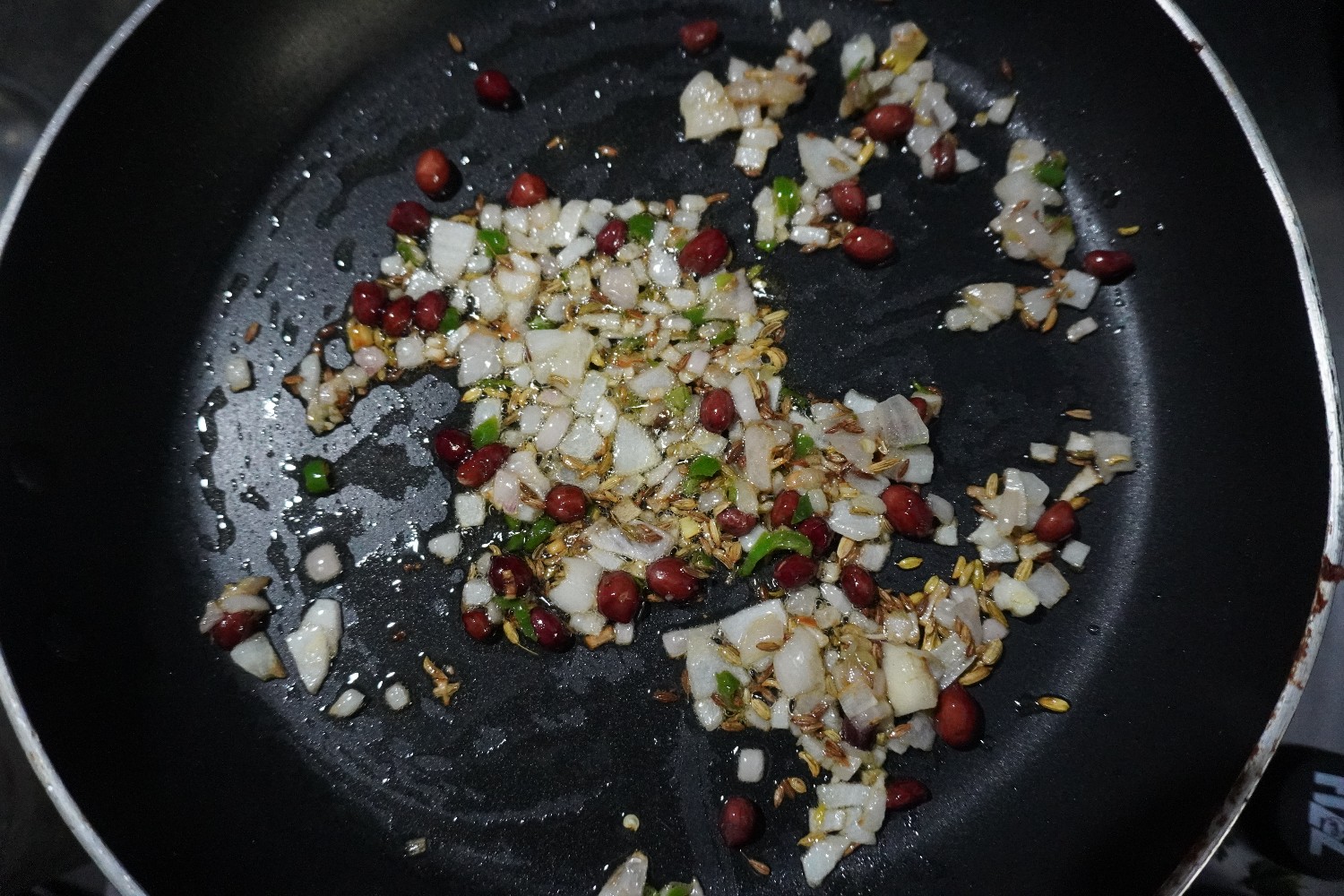 8) Cook for 4 to 5 minutes till the onions become pink and soggy and the peanuts turn out to be more crunchy.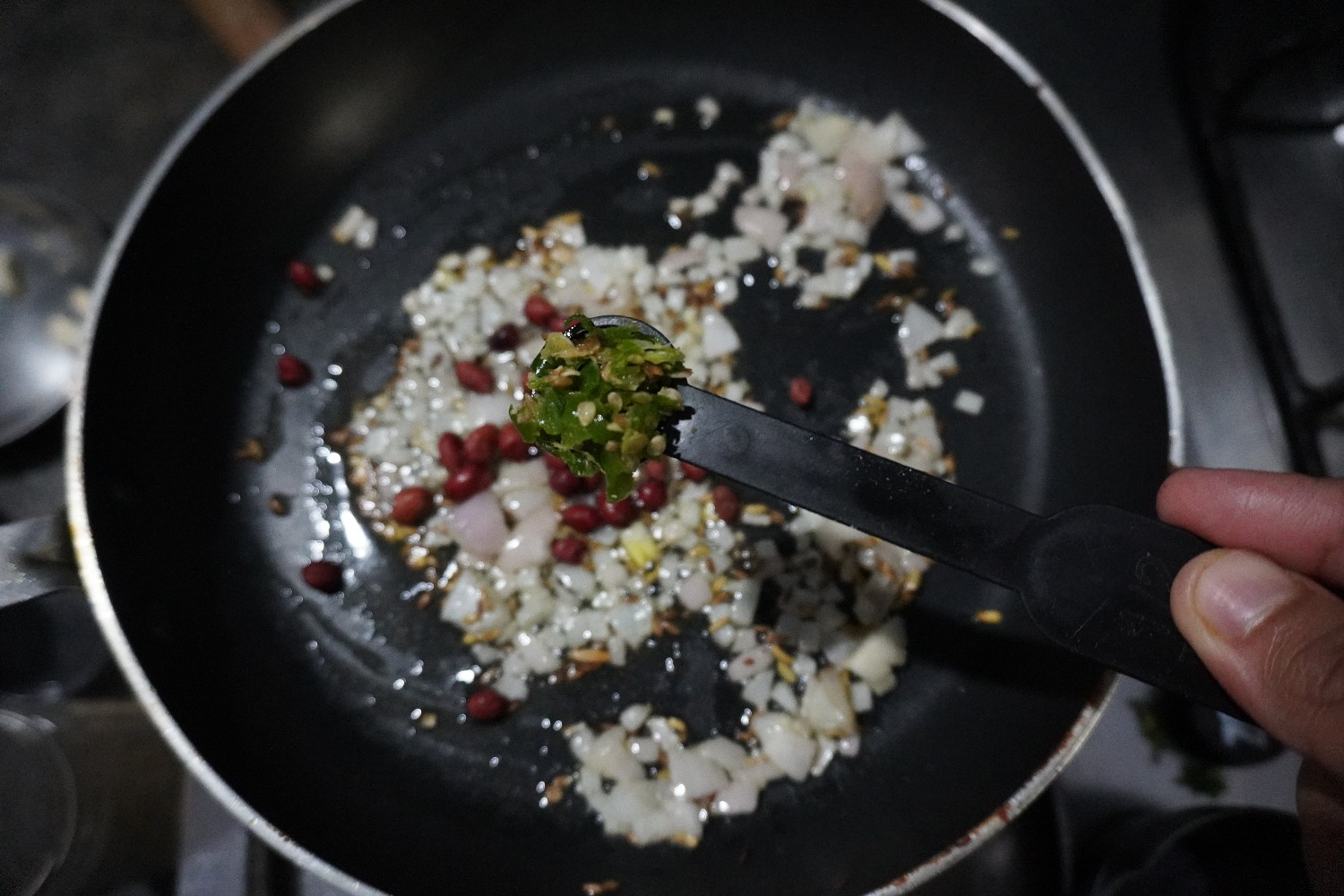 9) Now add 4 to 5 finely chopped chillies to it.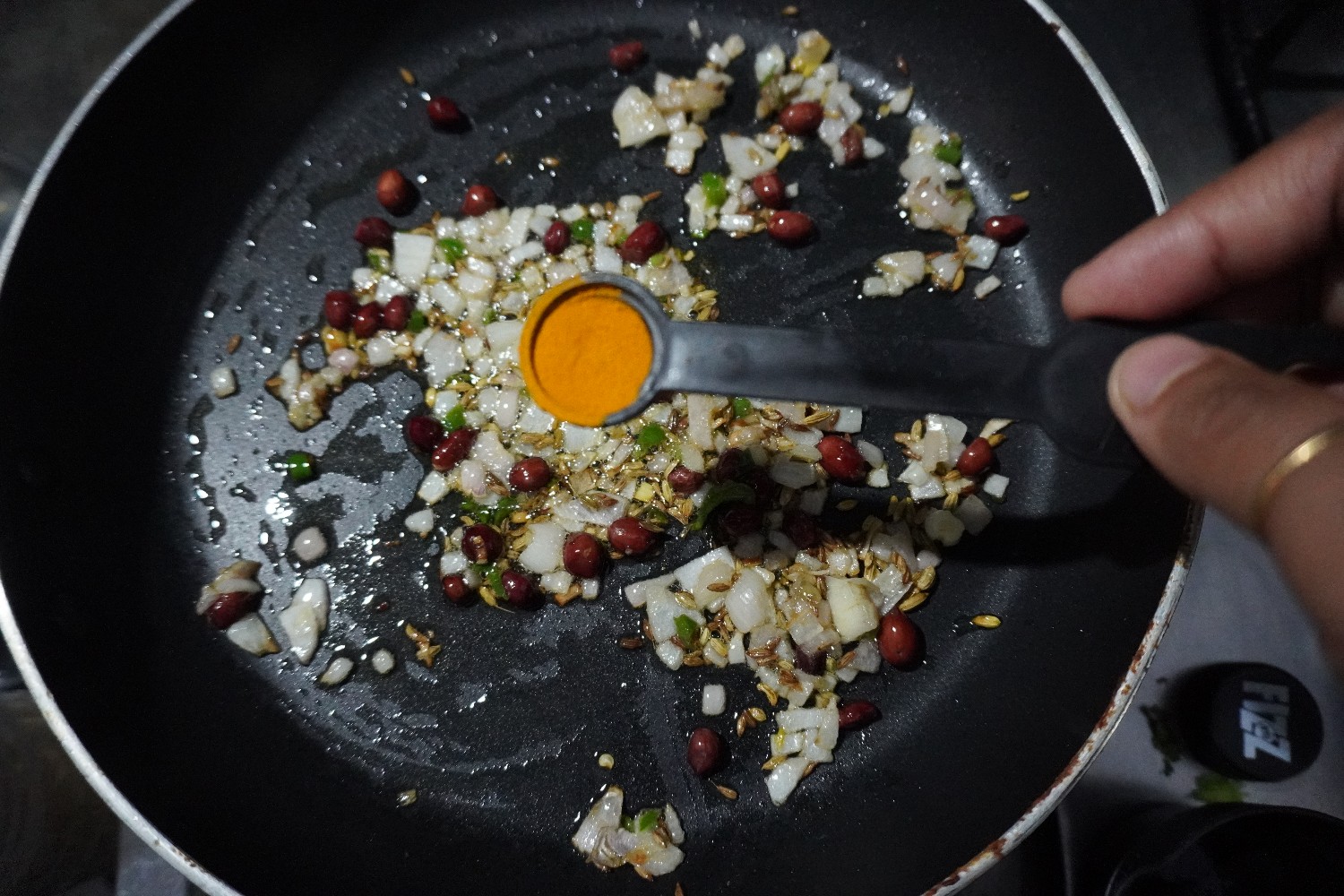 10)Now it's time for the spices. Add 1/4 tablespoon of haldi (turmeric powder) to the mixture and saute well.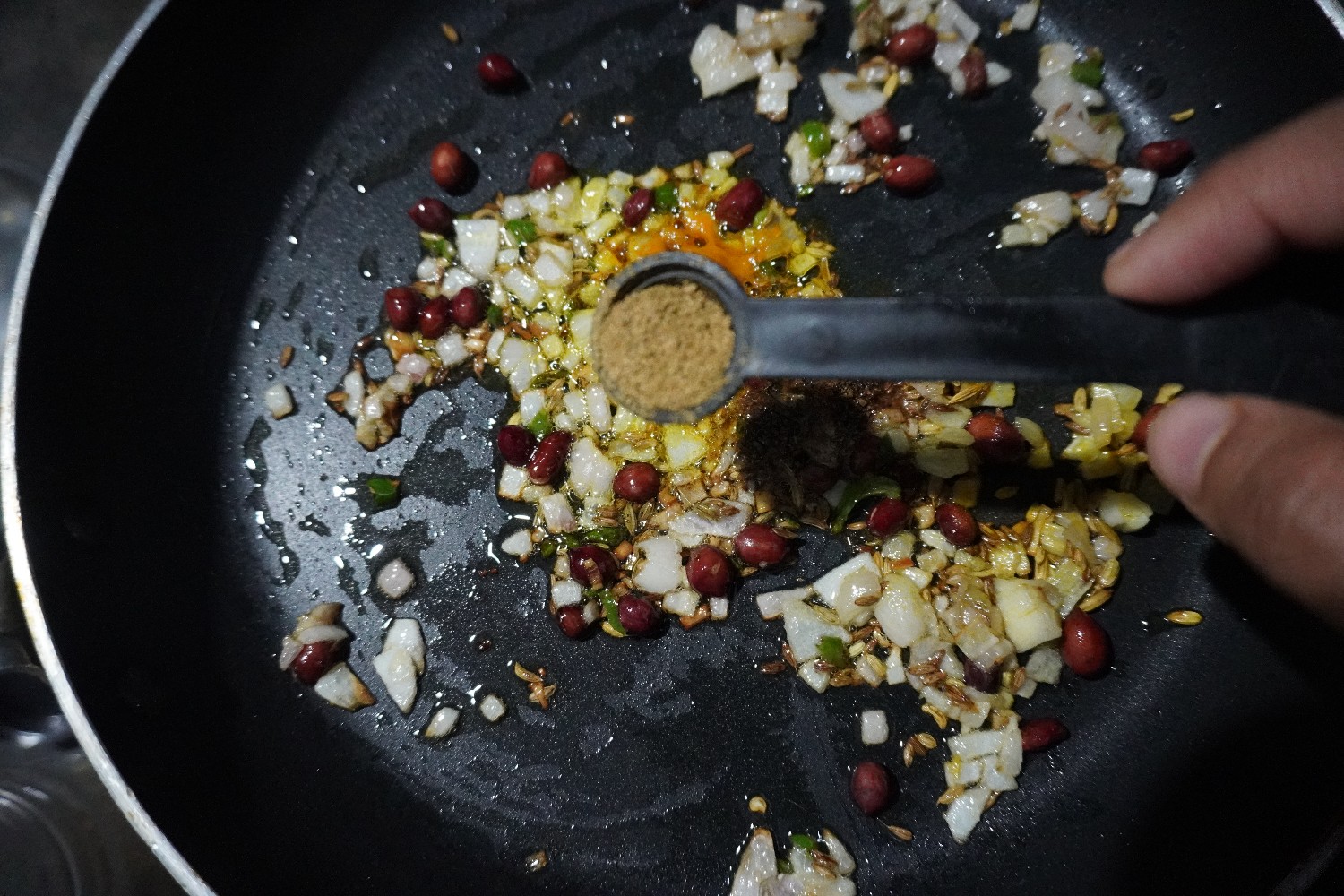 11) Bring the flame to low. Add 1/2 tablespoon of coriander seed powder (dhaniya powder) to it.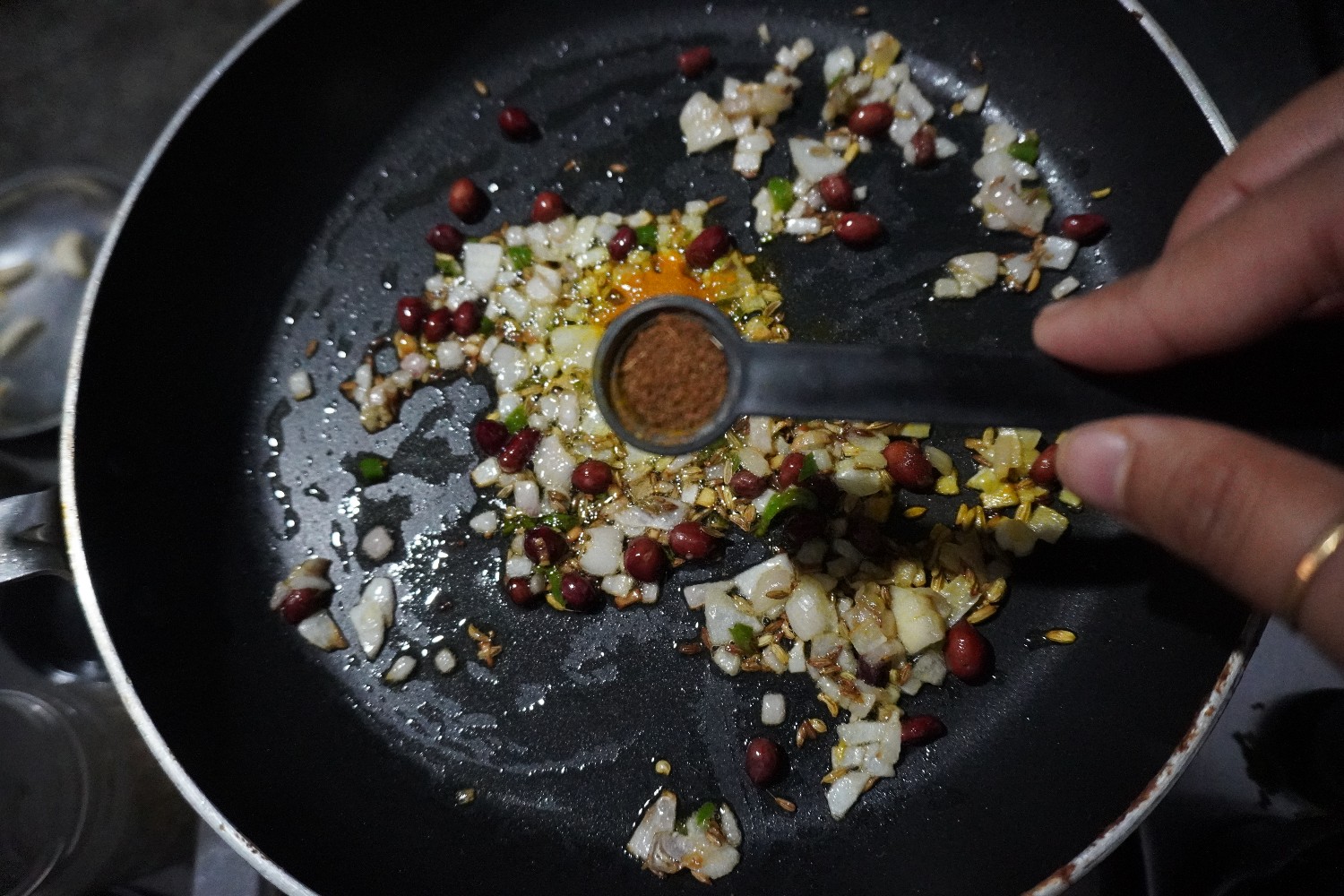 12) Add 1/2 tablespoon of cumin powder to it.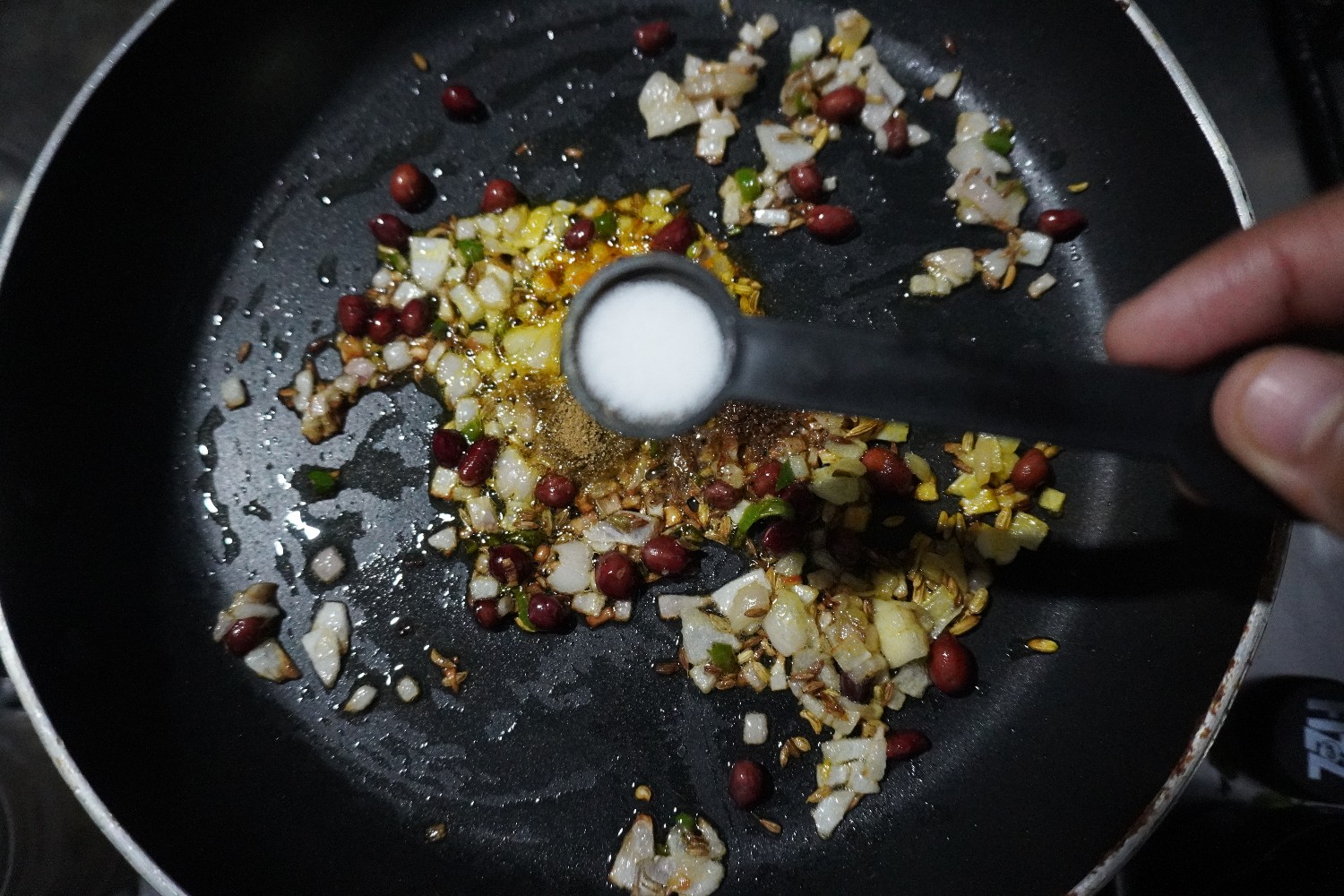 13) Add salt as per taste.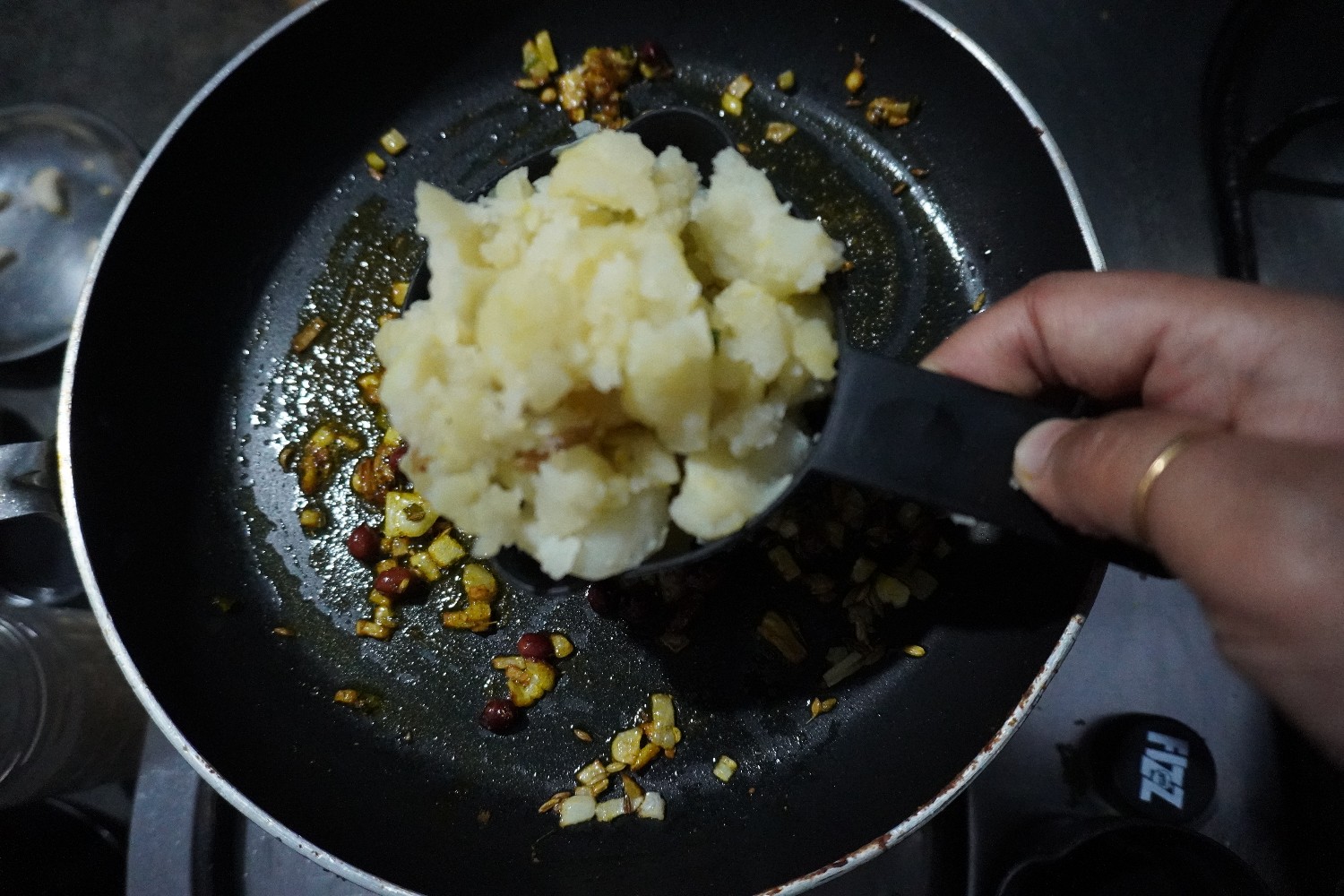 14)Finally add the boiled potatoes to the mixture.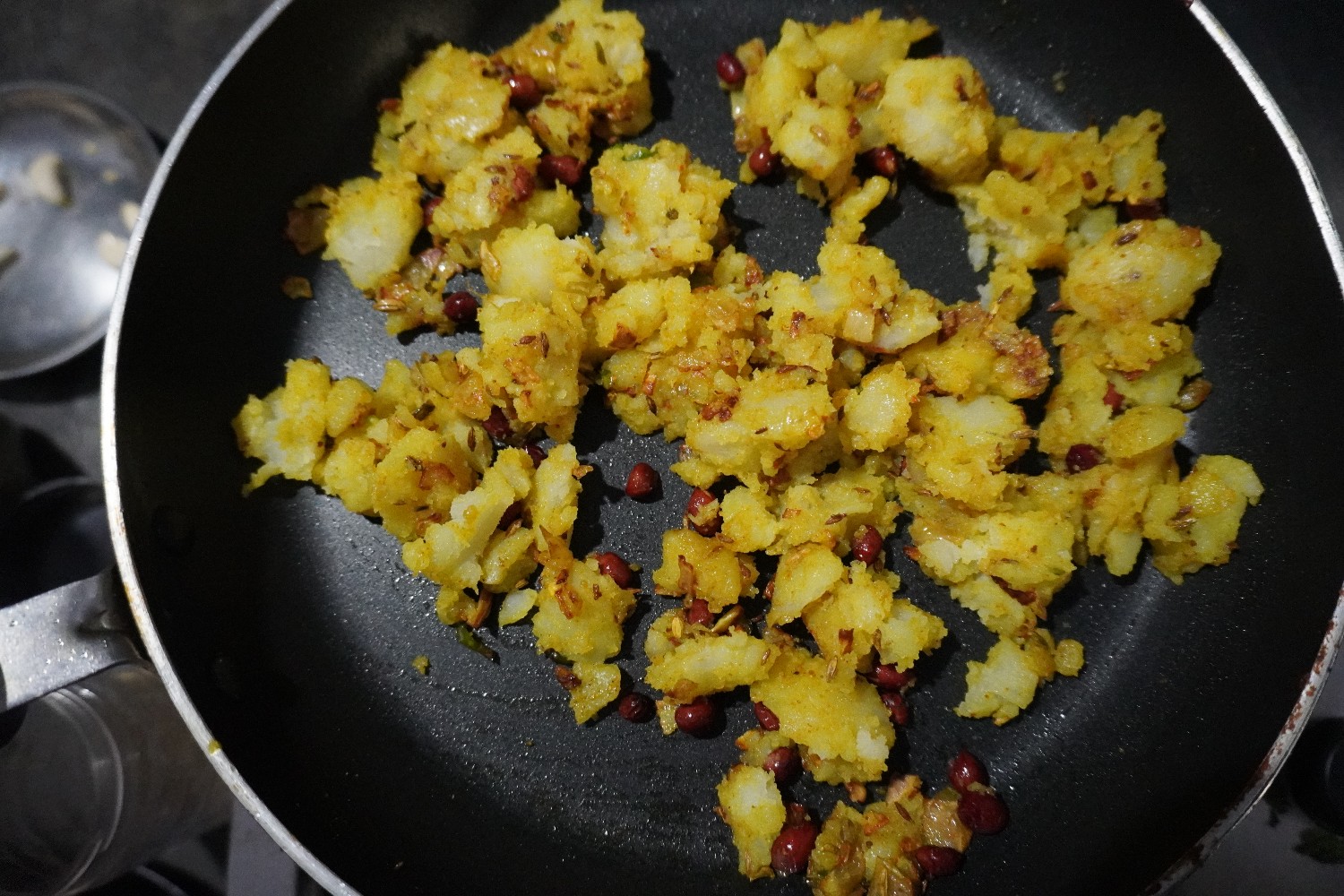 15)Stir continuously until everything get mixed and it seperates from the pan.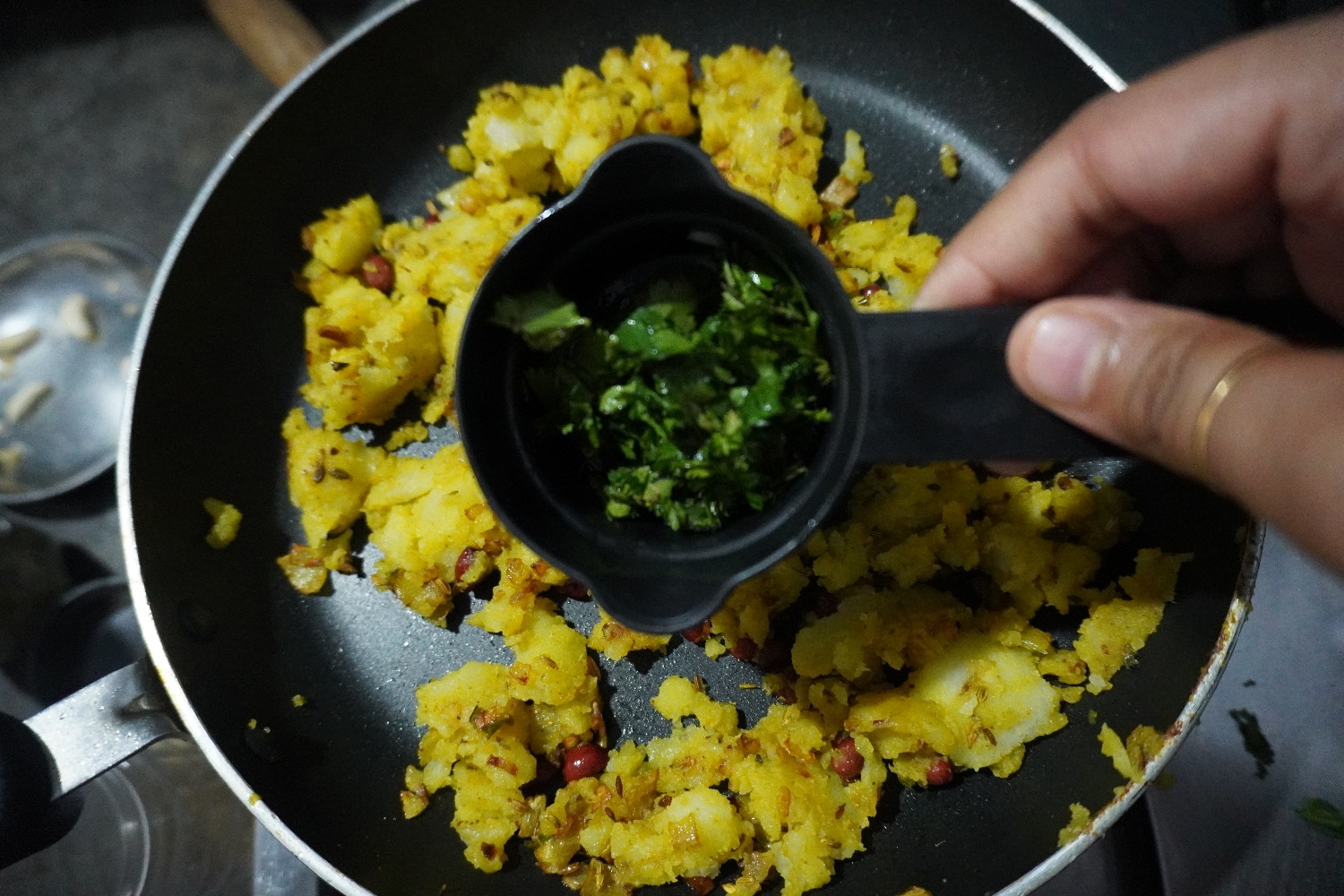 15) Add freshly chopped coriander leaves and mix well .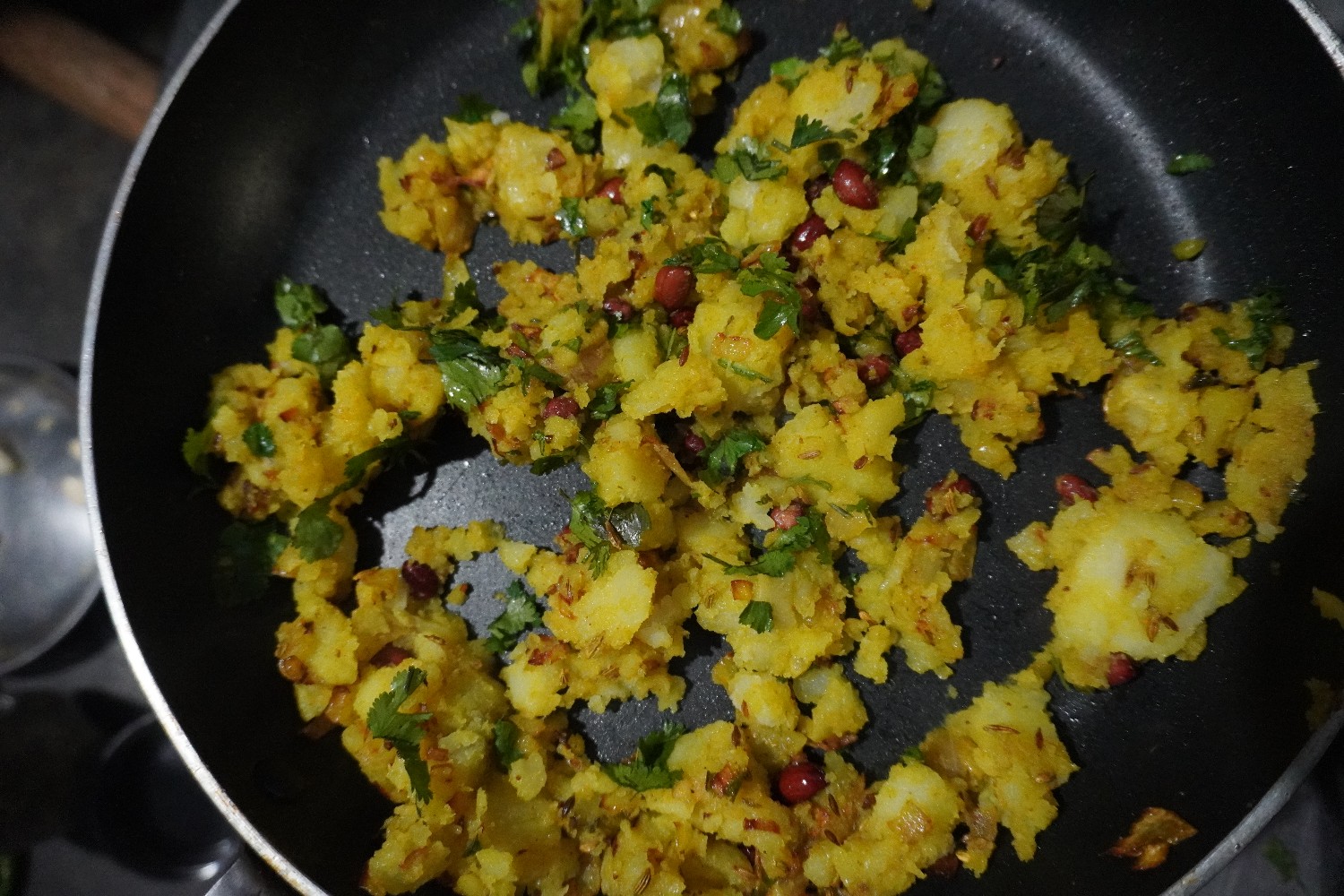 16)Your mixture is ready, keep it aside for later.
Dough: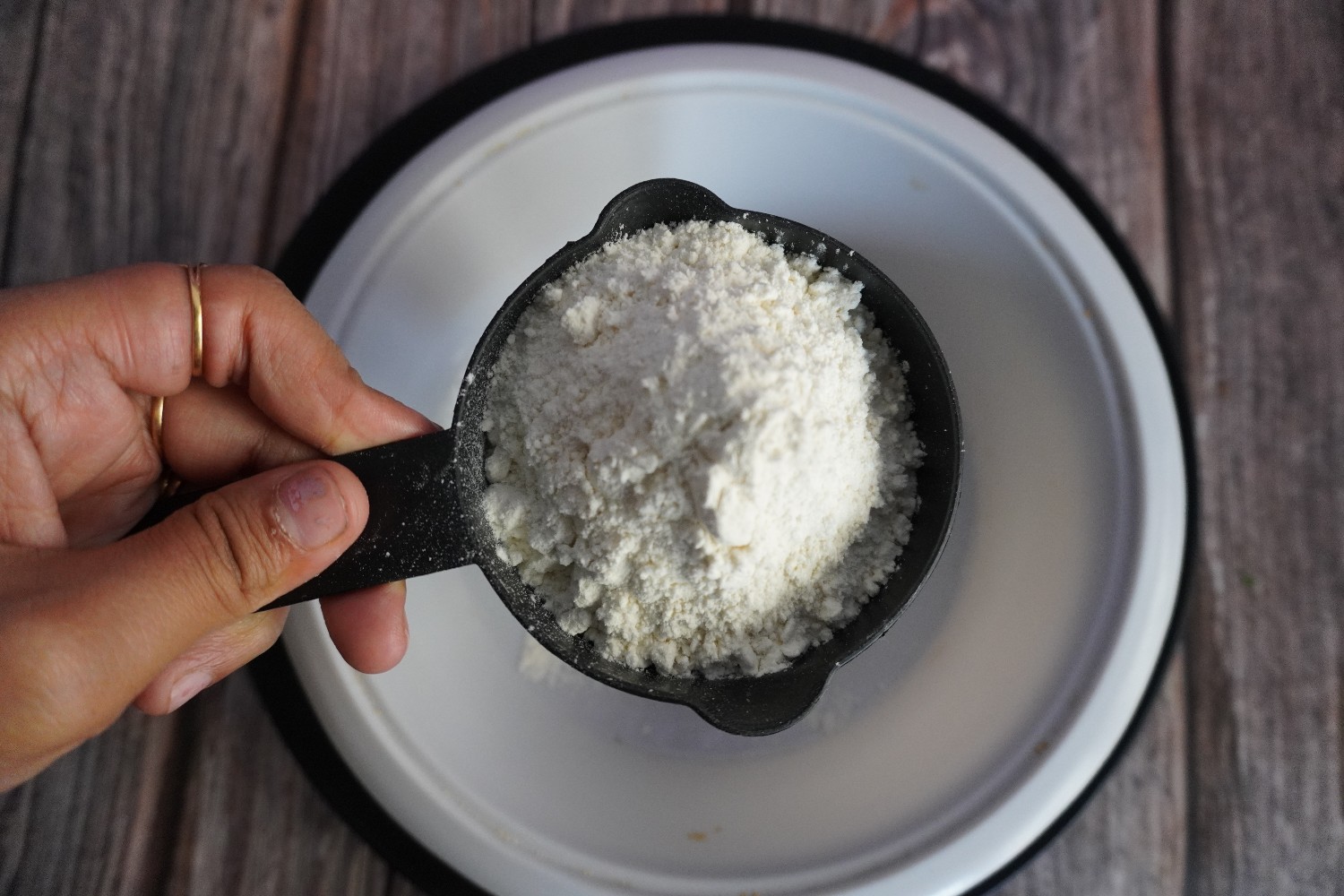 1) Add 2 cups of refined flour in a mixing bowl.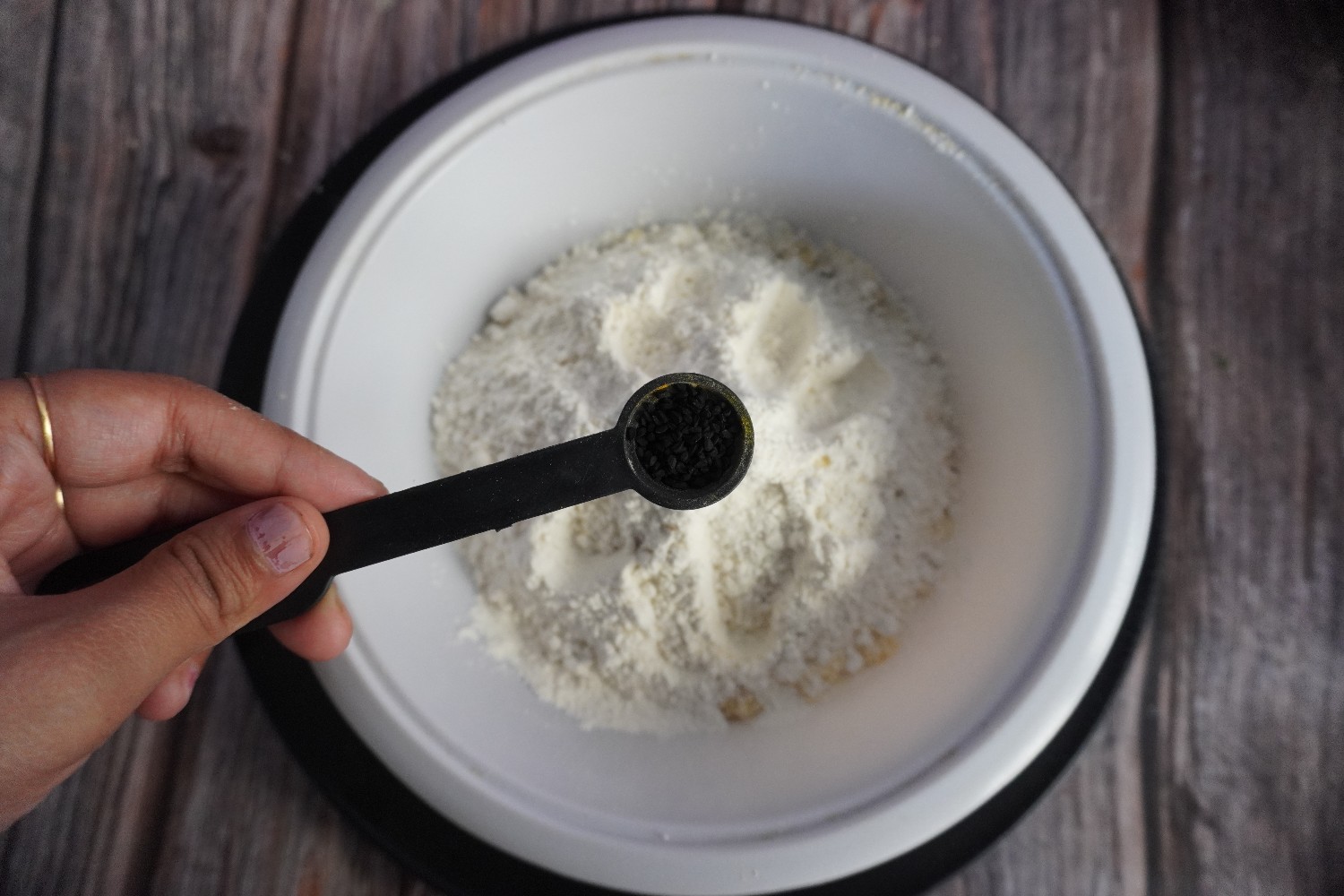 2) Now add 1/2 tablespoon of black cumin in the flour.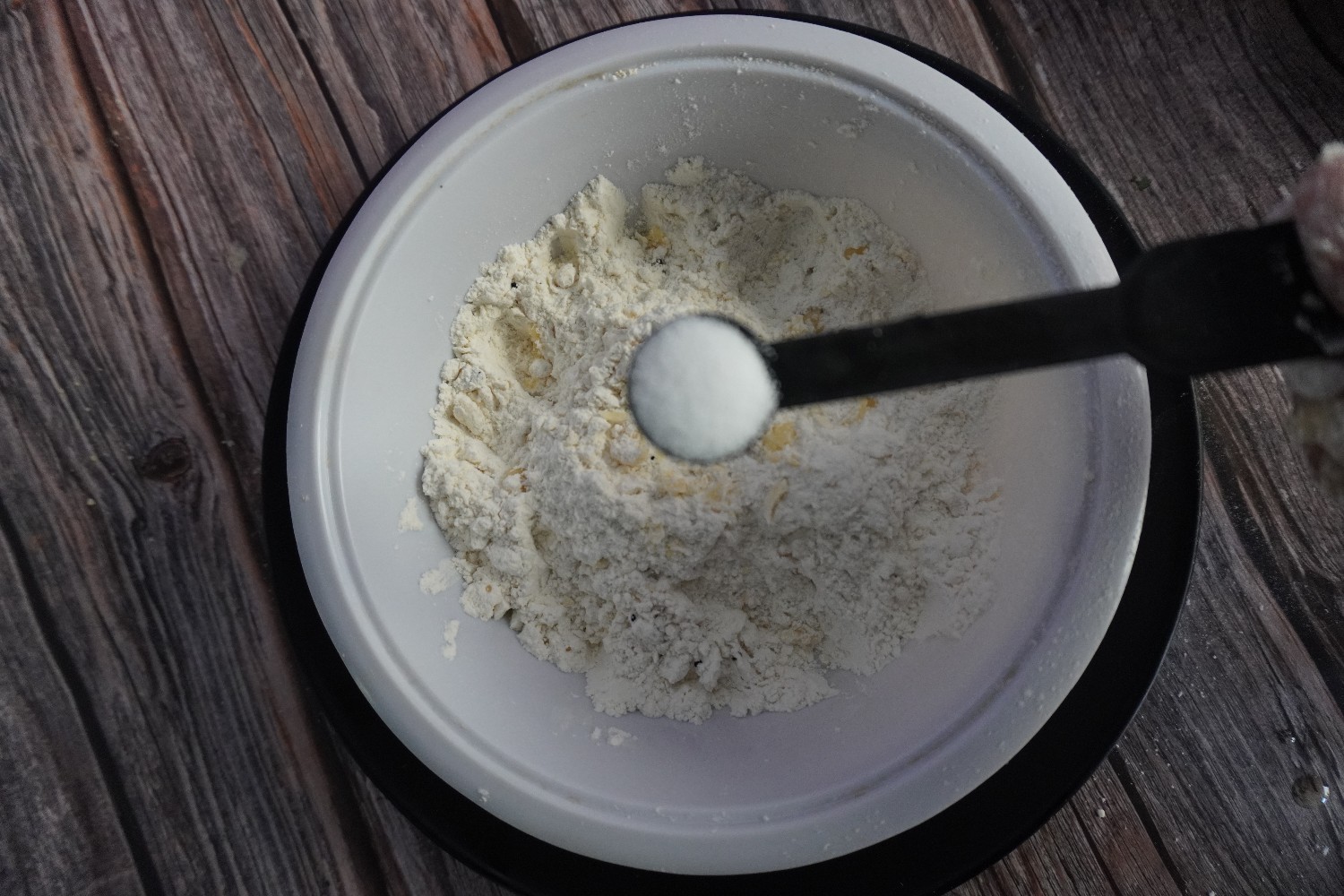 3) Add salt as per taste.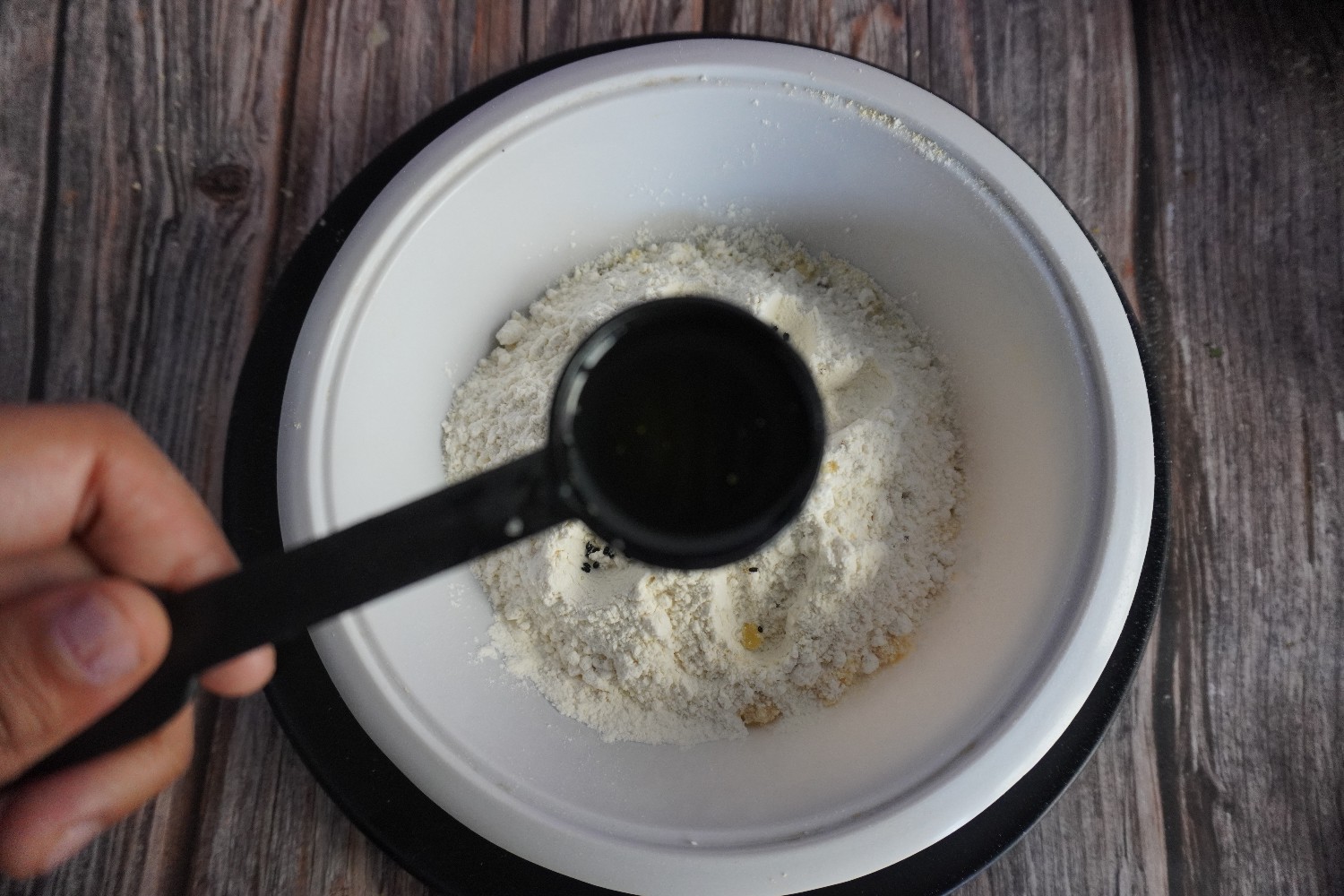 4) Finally add 1/4 cup of refined oil and mix well for 3 to 4 minutes.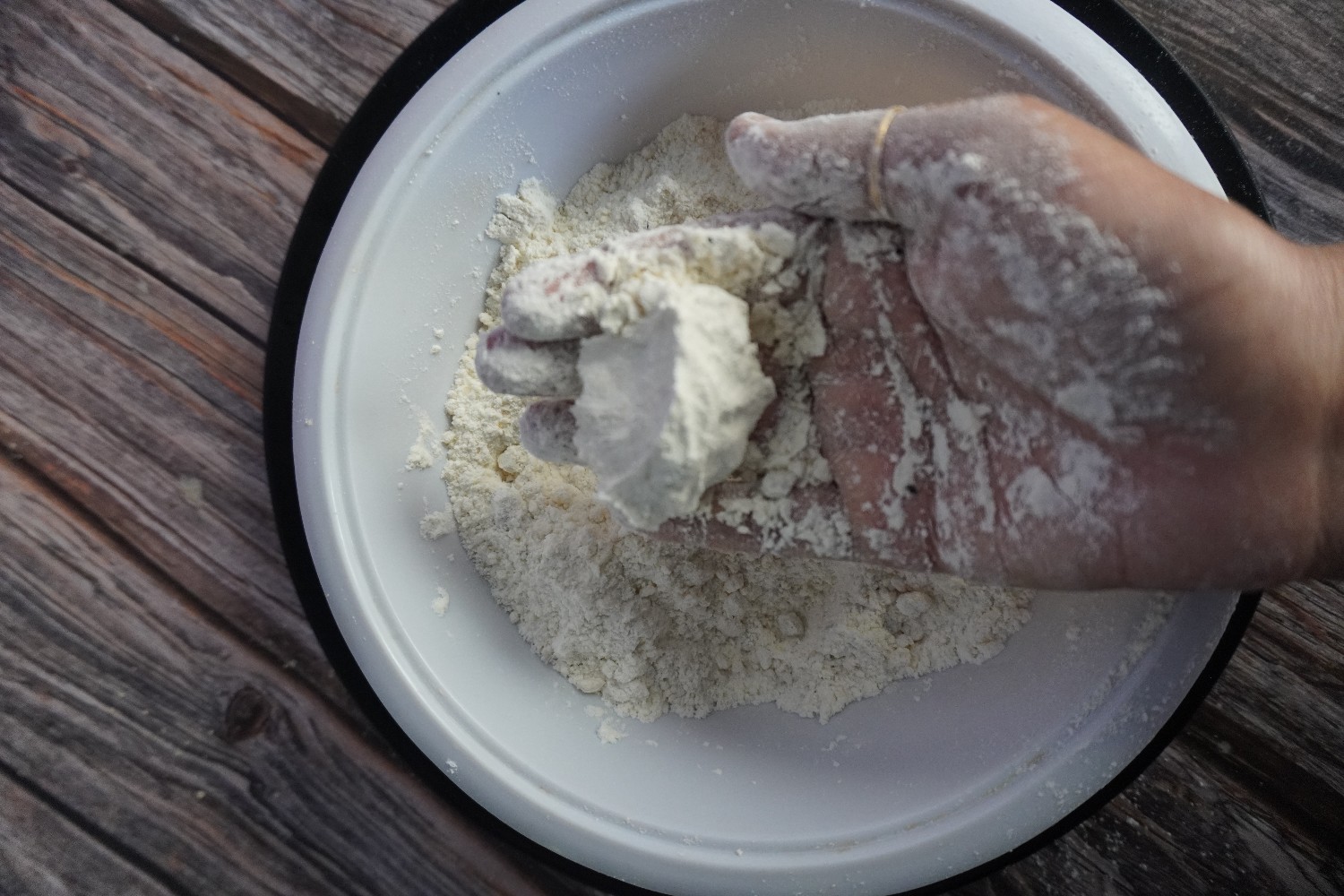 5)Try holding handful of flour in your palms and press it, if it holds shape your dough is perfect or else add some more refined oil to it until it holds the shape and does not crumble.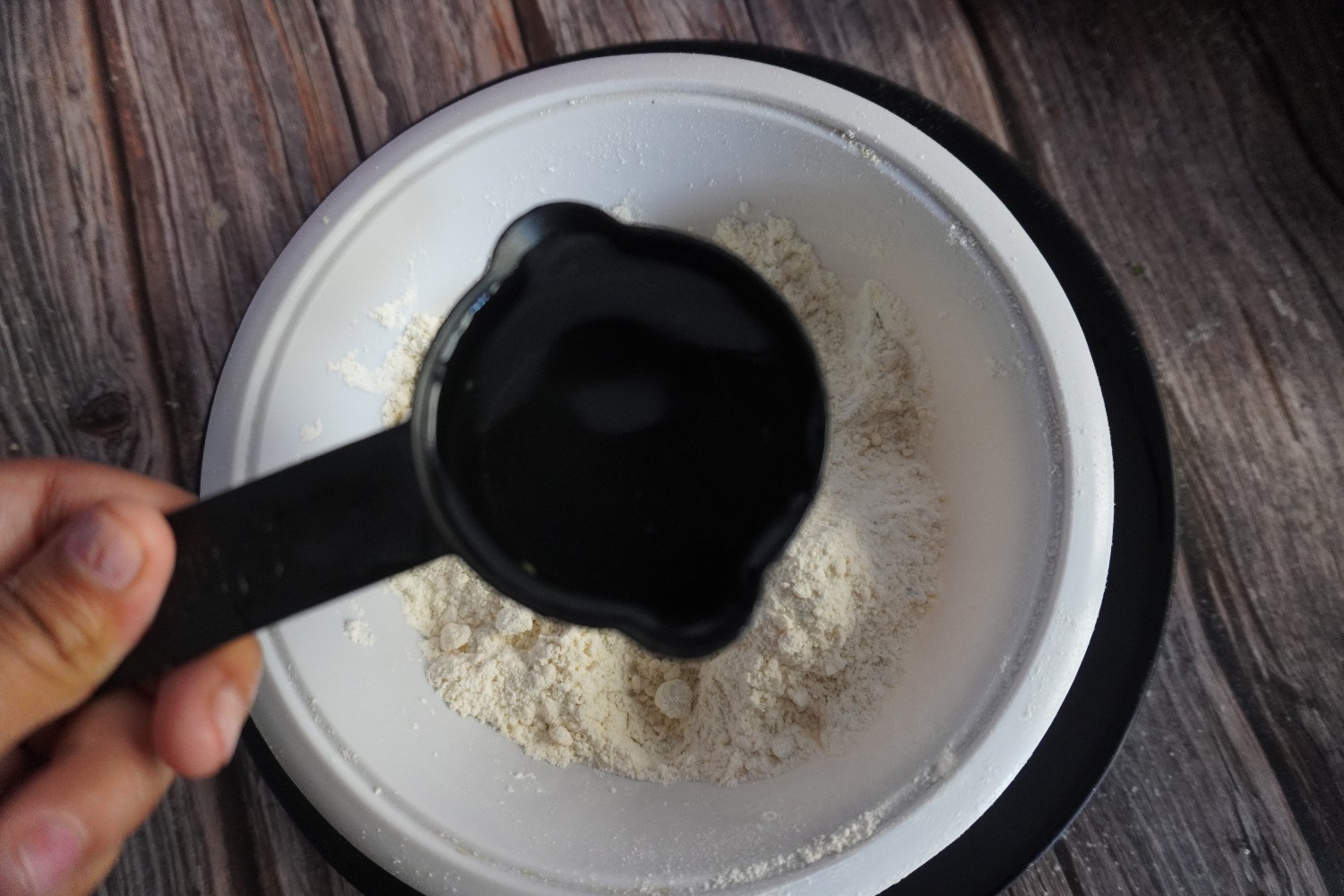 6)Add required amount of water (just enough to hold the shape ) in it.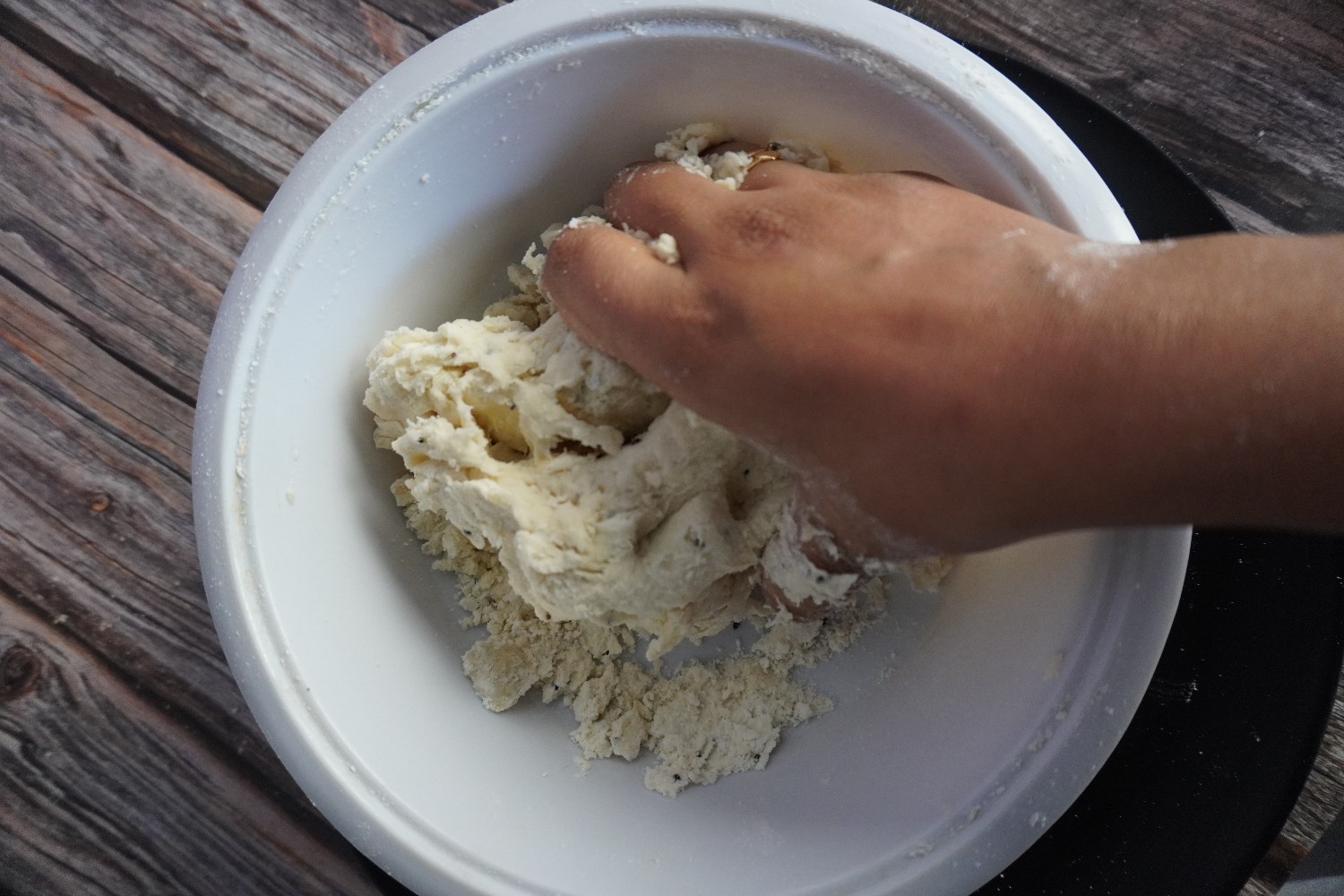 7)knead a firm and stiff dough.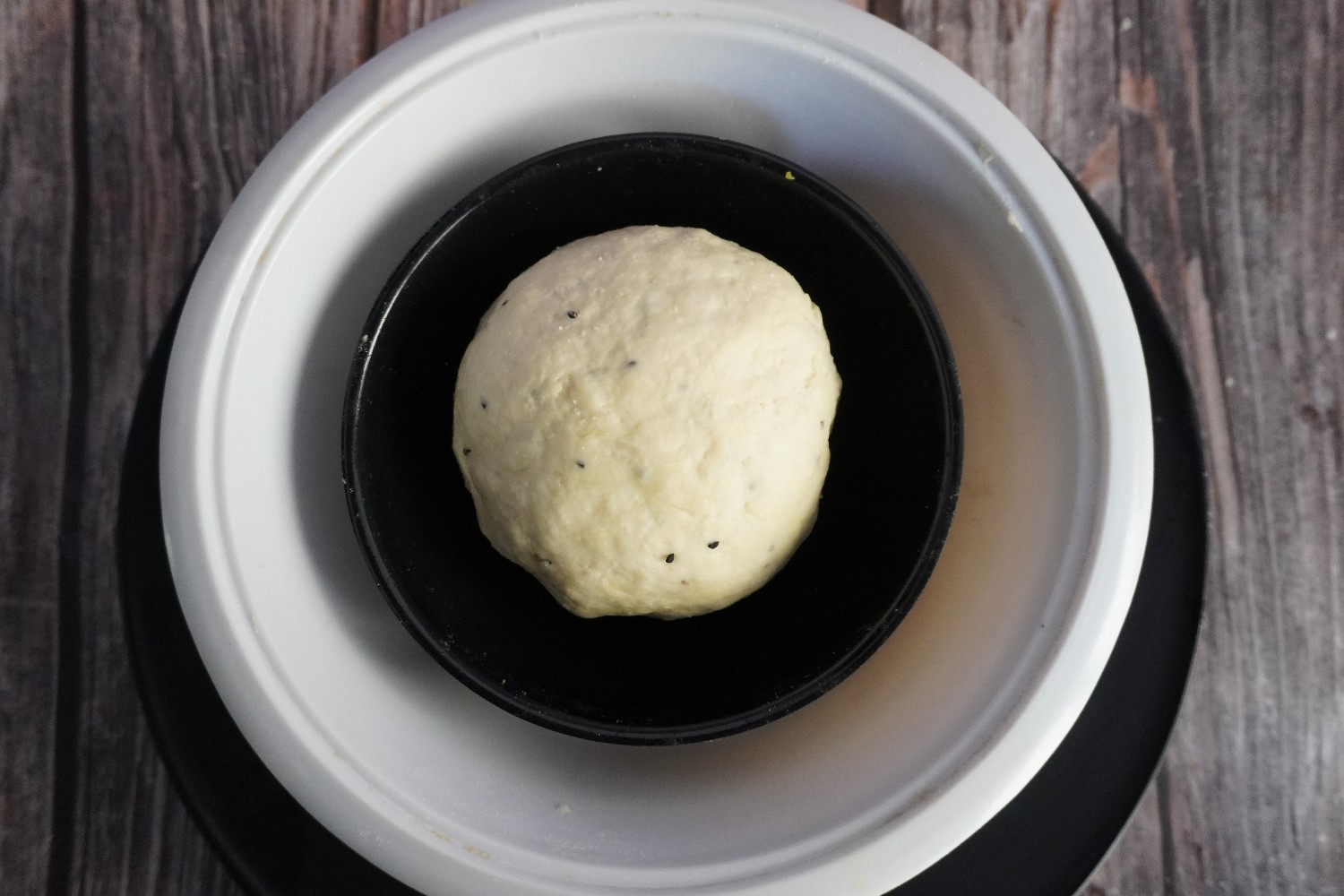 8)Keep aside and rest for 20 minutes.
Shaping and stuffing: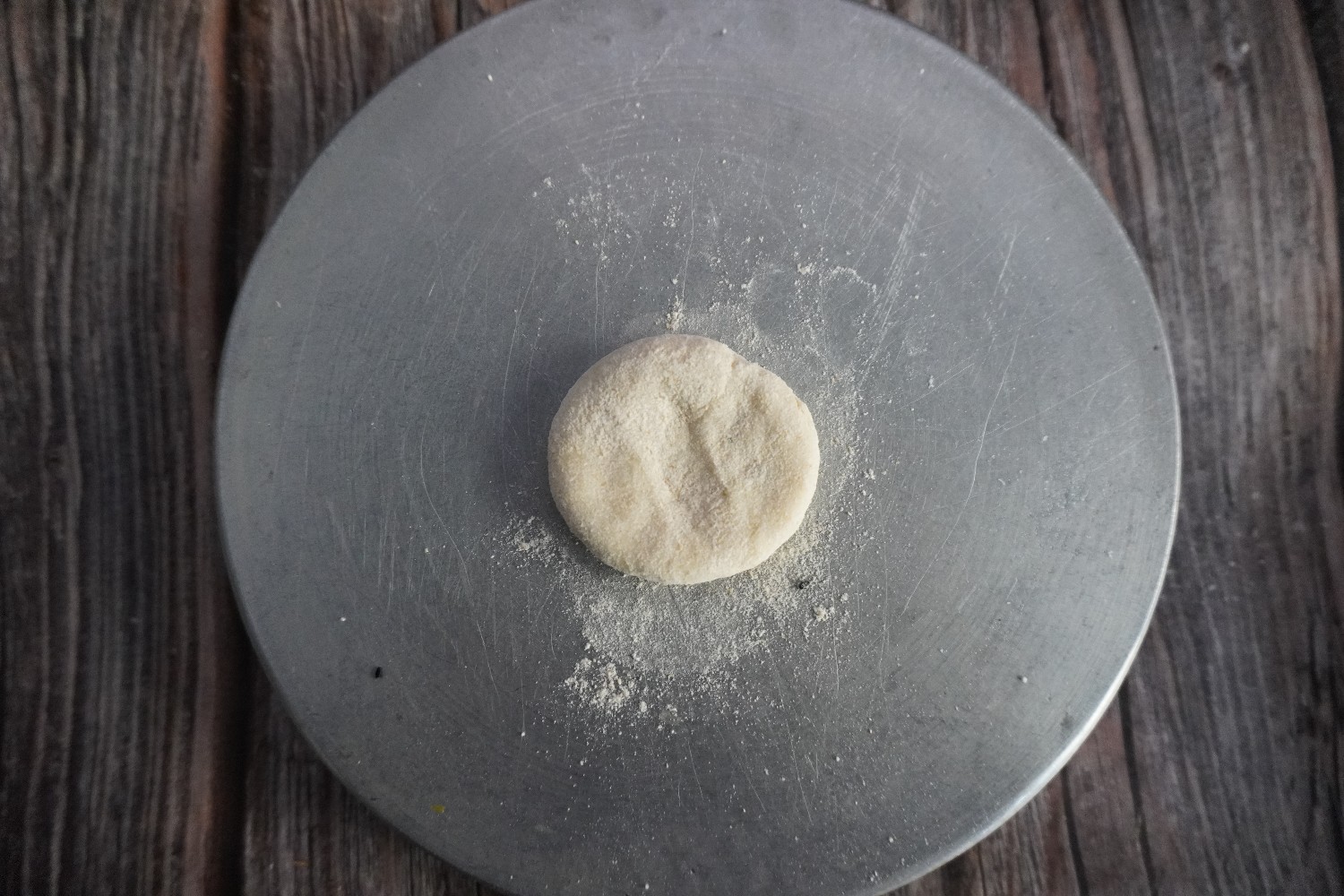 1) After resting the dough for 20 to 25 minutes, knead it well for another 2 to 3 minutes. Then divide the dough into small balls. Oil the rolling board and place the ball on the rolling board.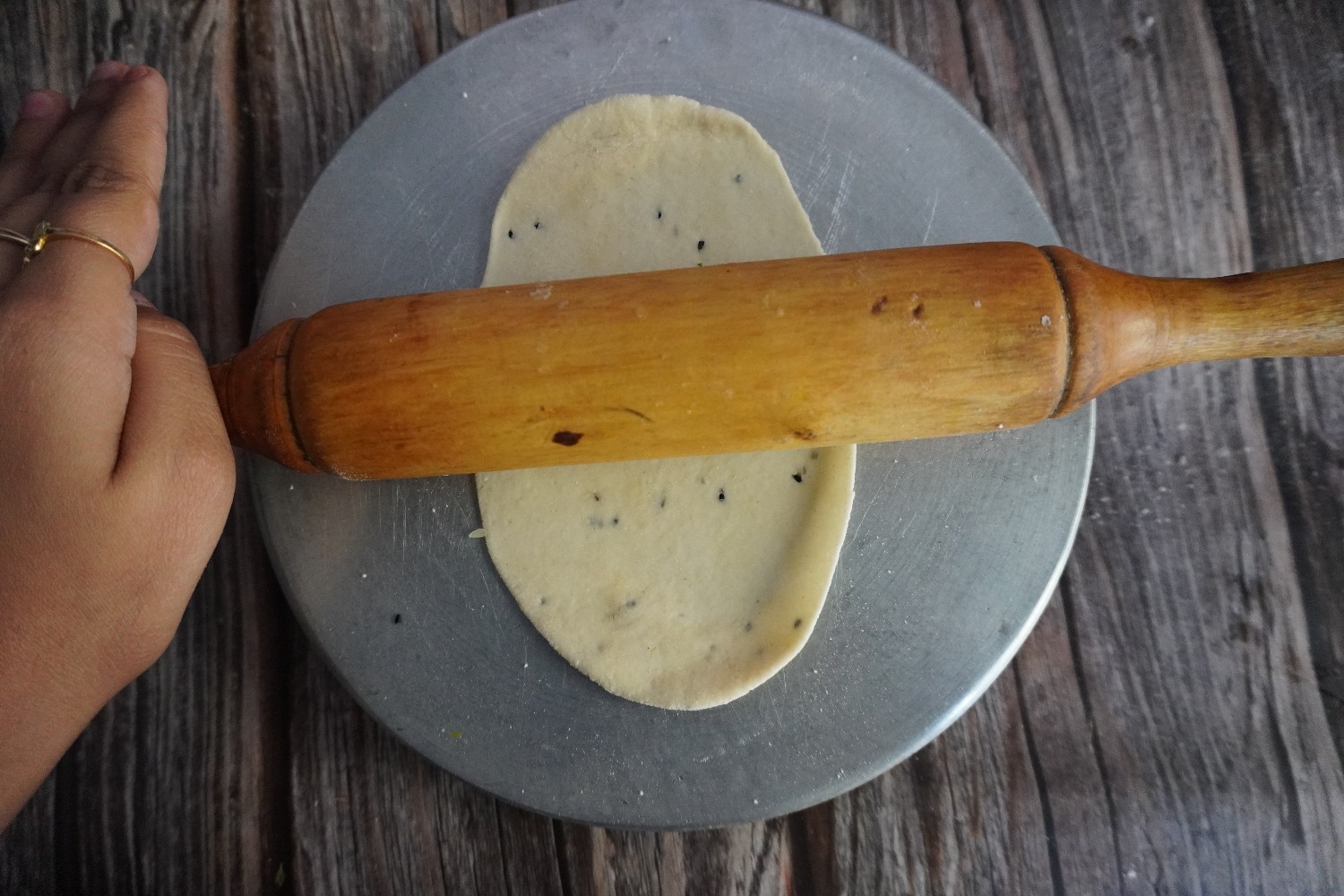 2)Roll it into an oval shape and try keeping it even. It should neither be too thick nor too thin.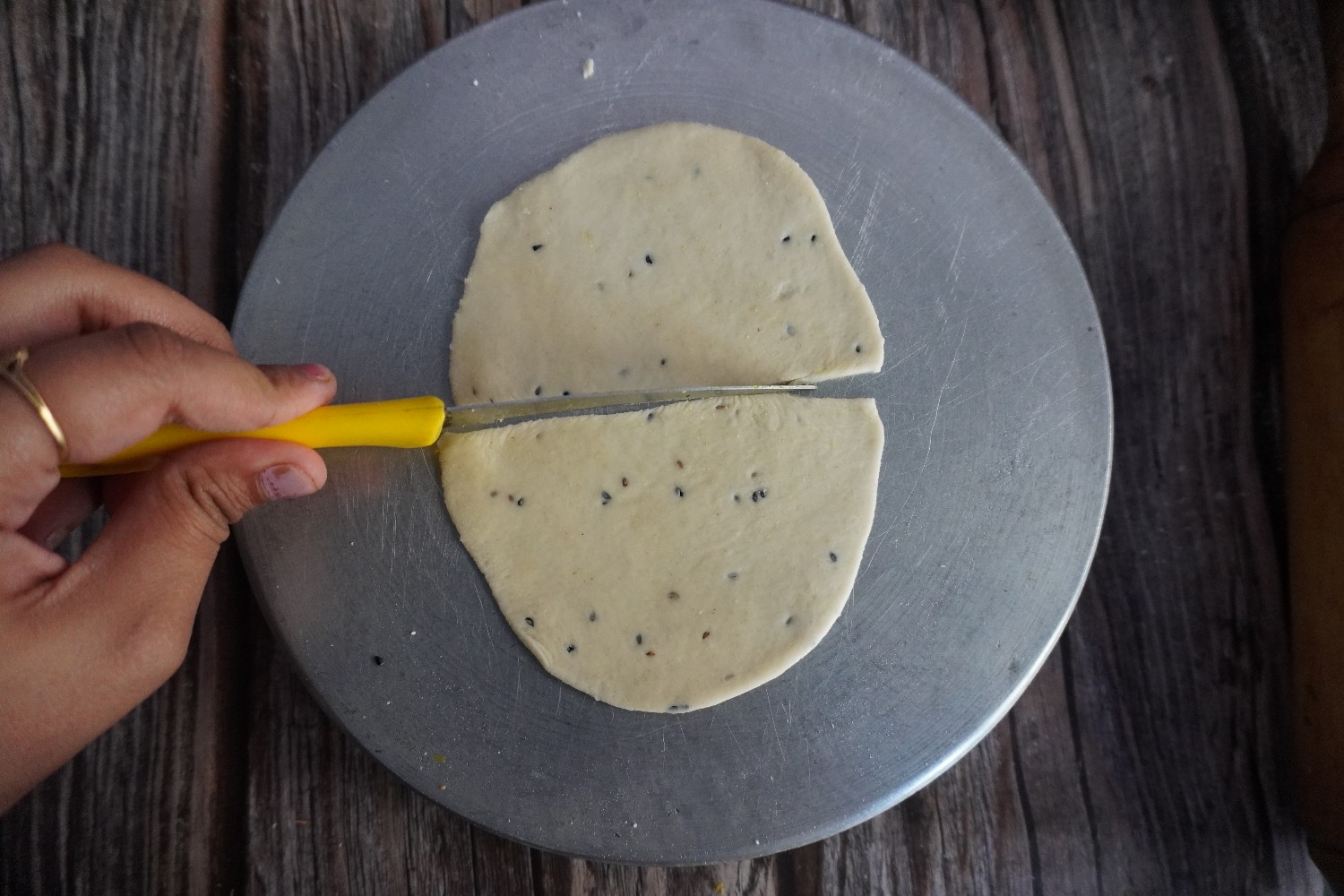 3) Cut it all through the centre into 2 parts using a knife or pizza cutter, Giving it a semi-circular shape.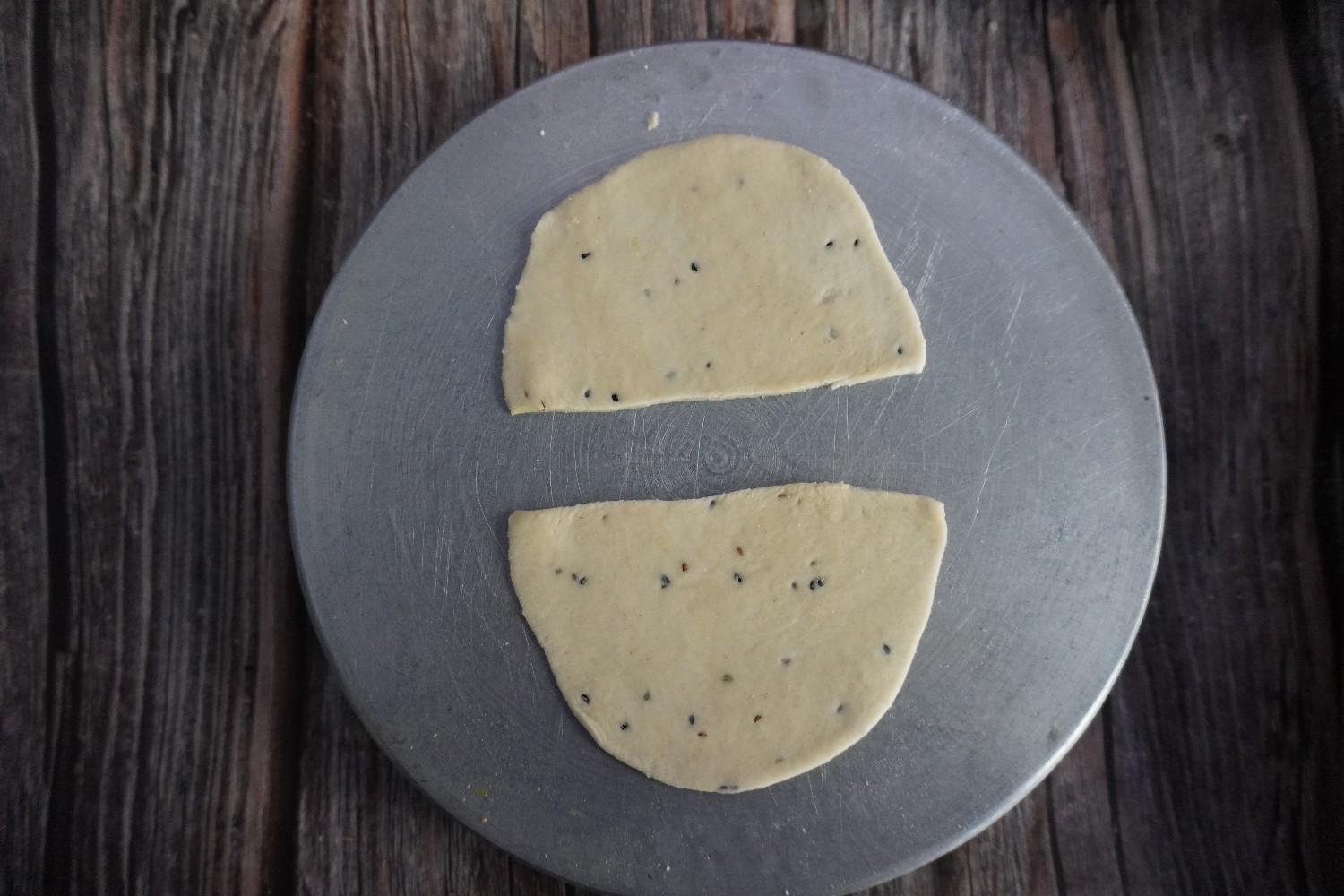 4) Apply water over the straight edge with your finger or oil brush.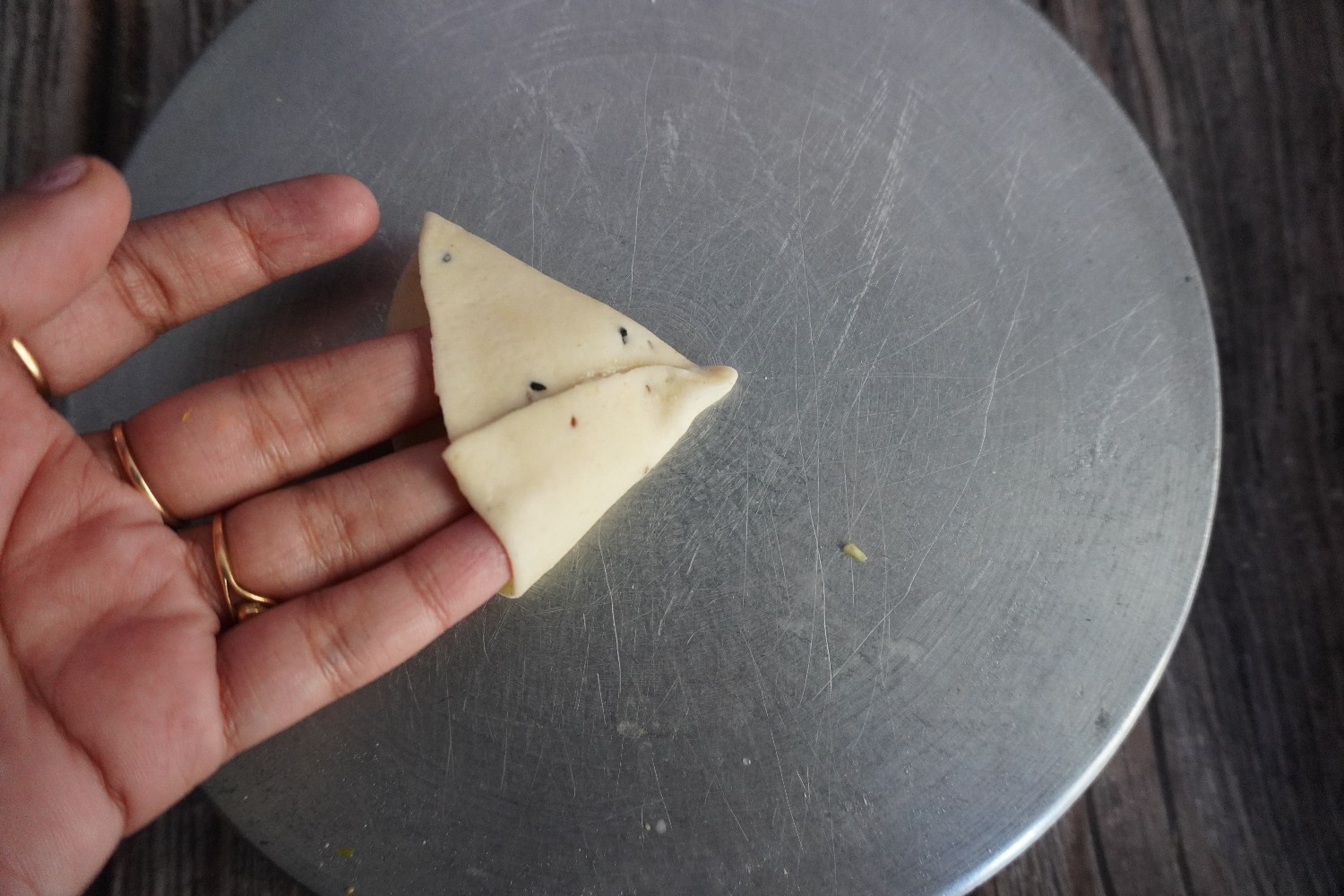 5) Join the straight edges to give it a cone shape. Seal the edges from inside as well outside.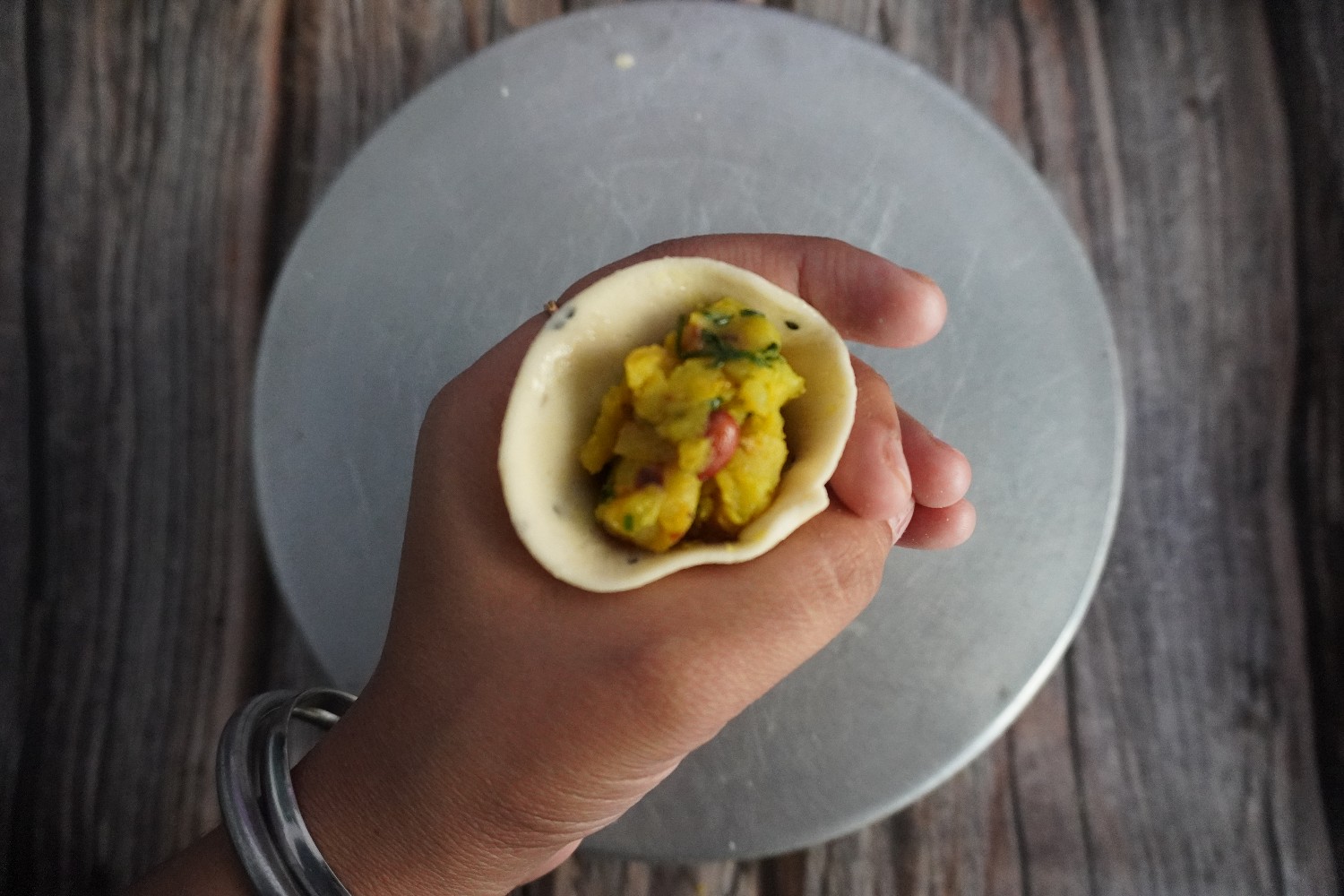 6) Now fill the cone with the potato filling (masala) and press it inside with the help of your fingers or a spoon.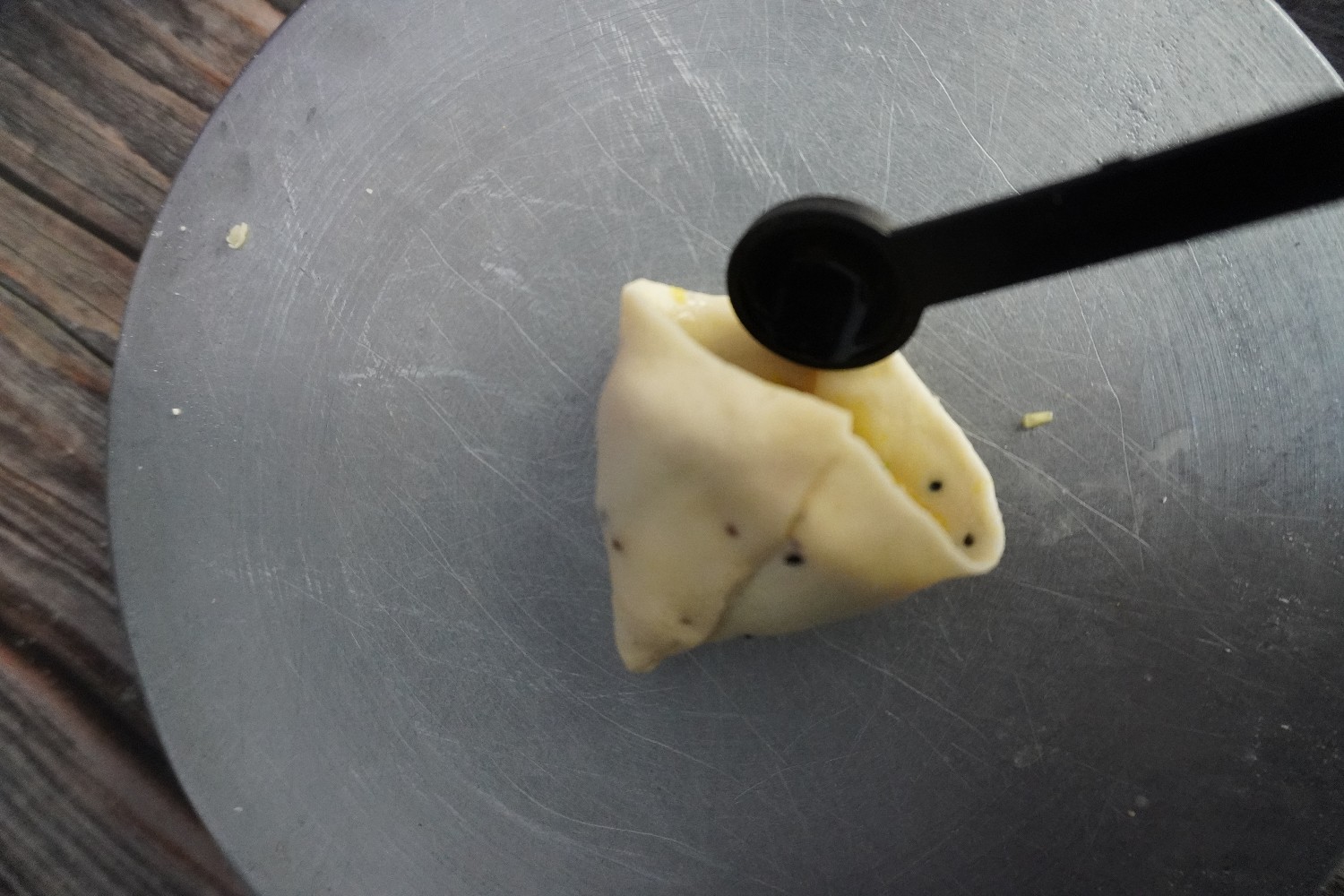 7) Apply water on the edges and seal them with your fingers.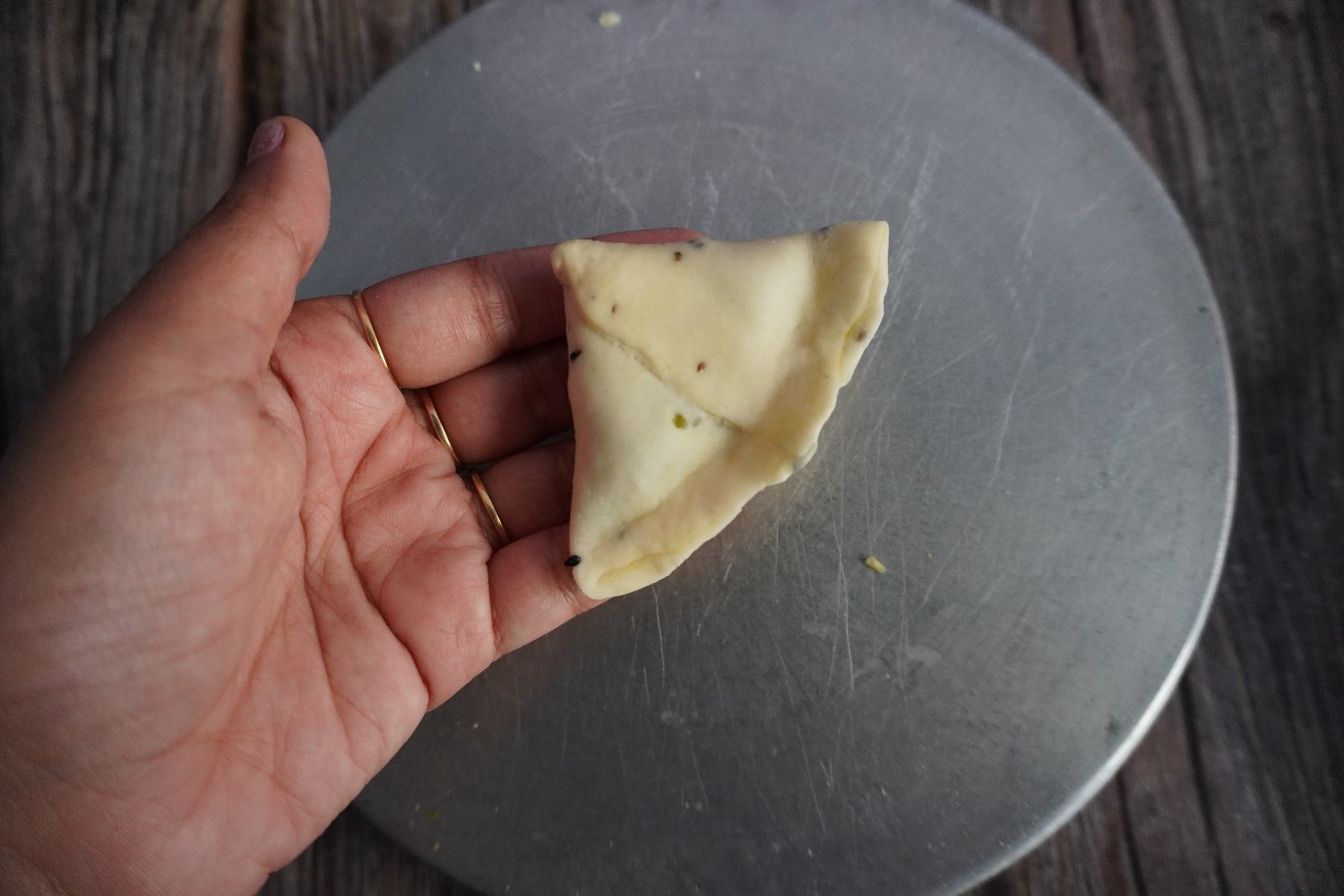 8) Make sure your samosa is sealed well and there are no unsealed places left in it.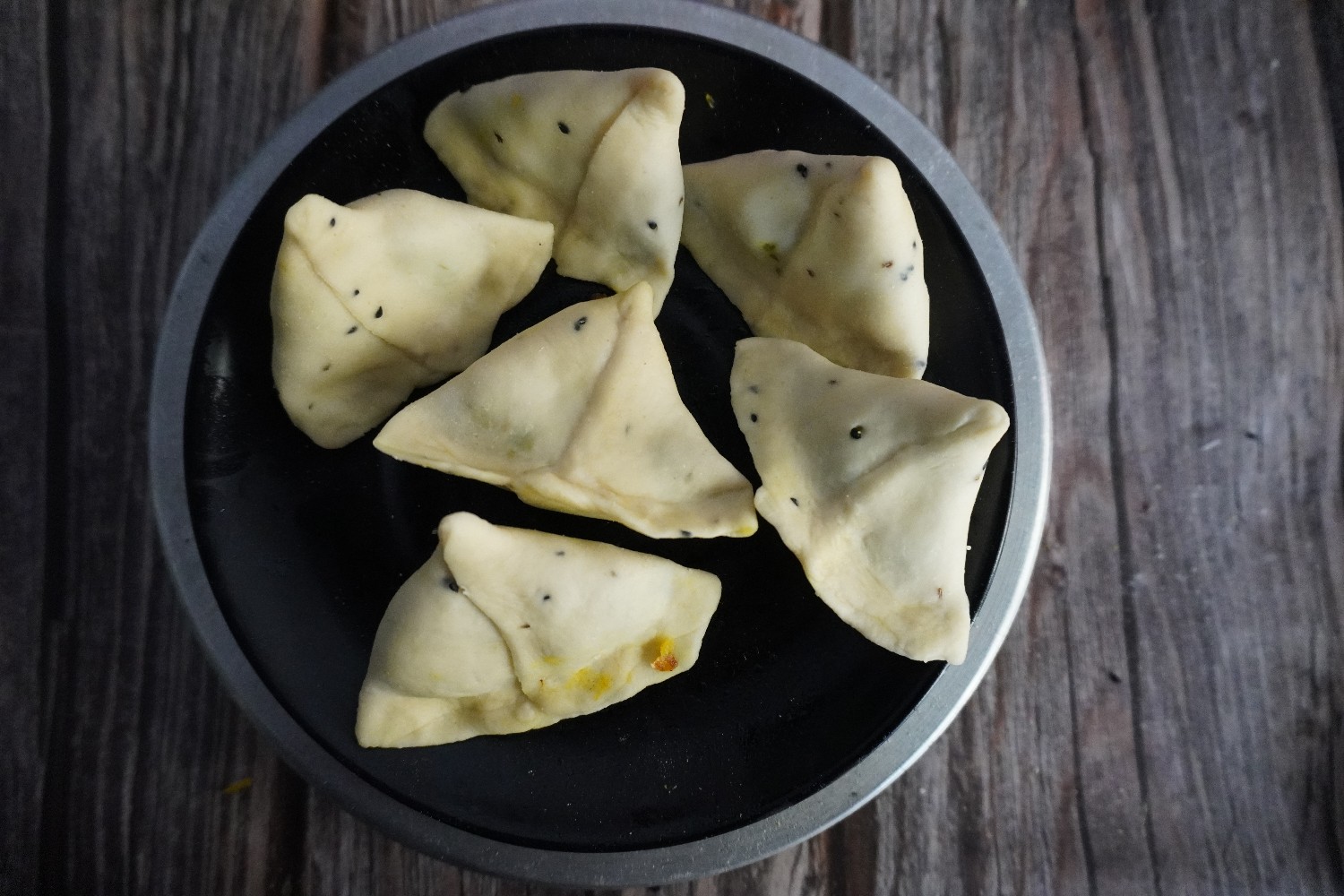 9) Repeat the same with all the samosa.
Frying: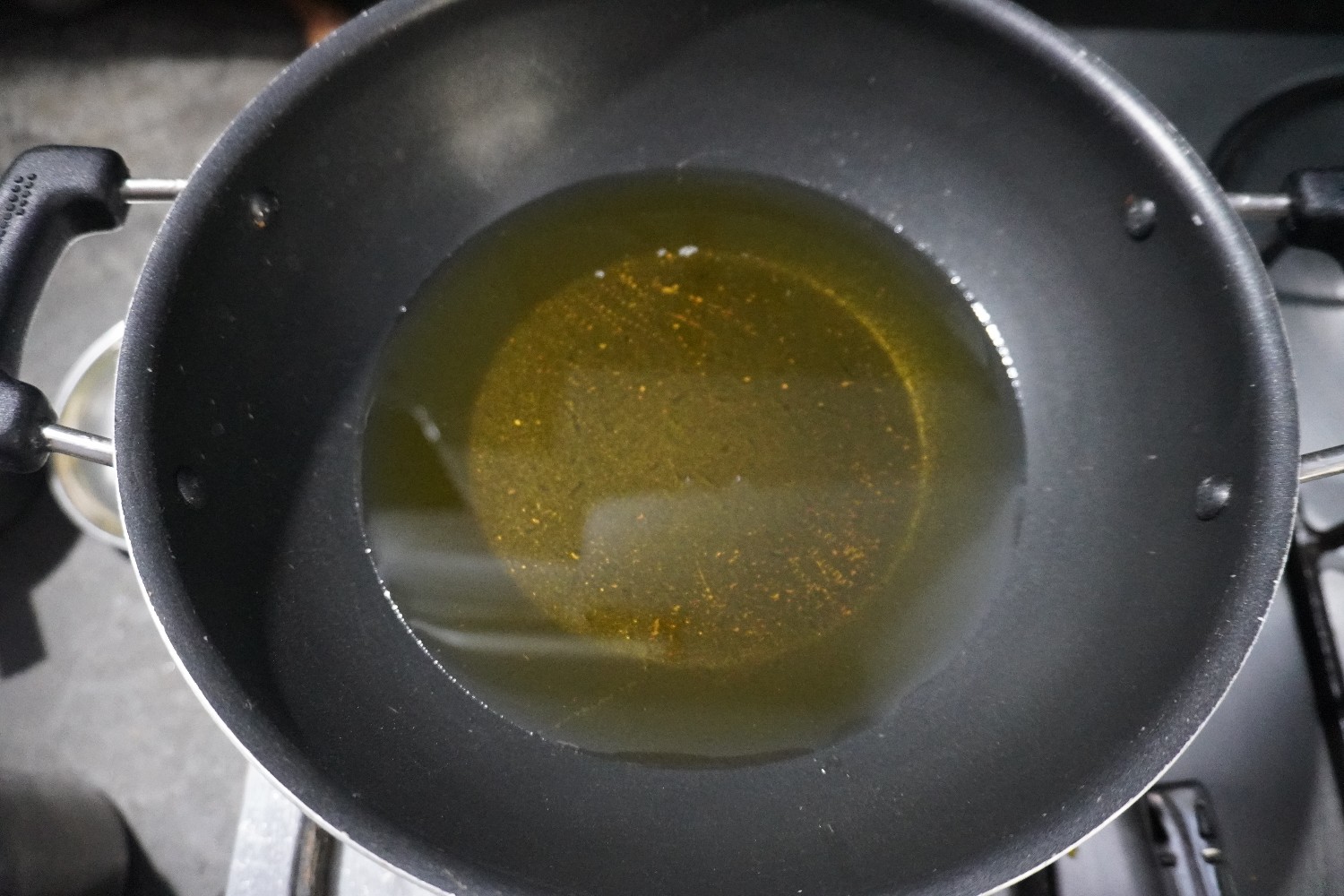 1) Heat a pan with oil for deep frying the samosa. Make sure the oil is not too hot . The oil must be moderately hot. You are well advised to keep the flame at medium to low.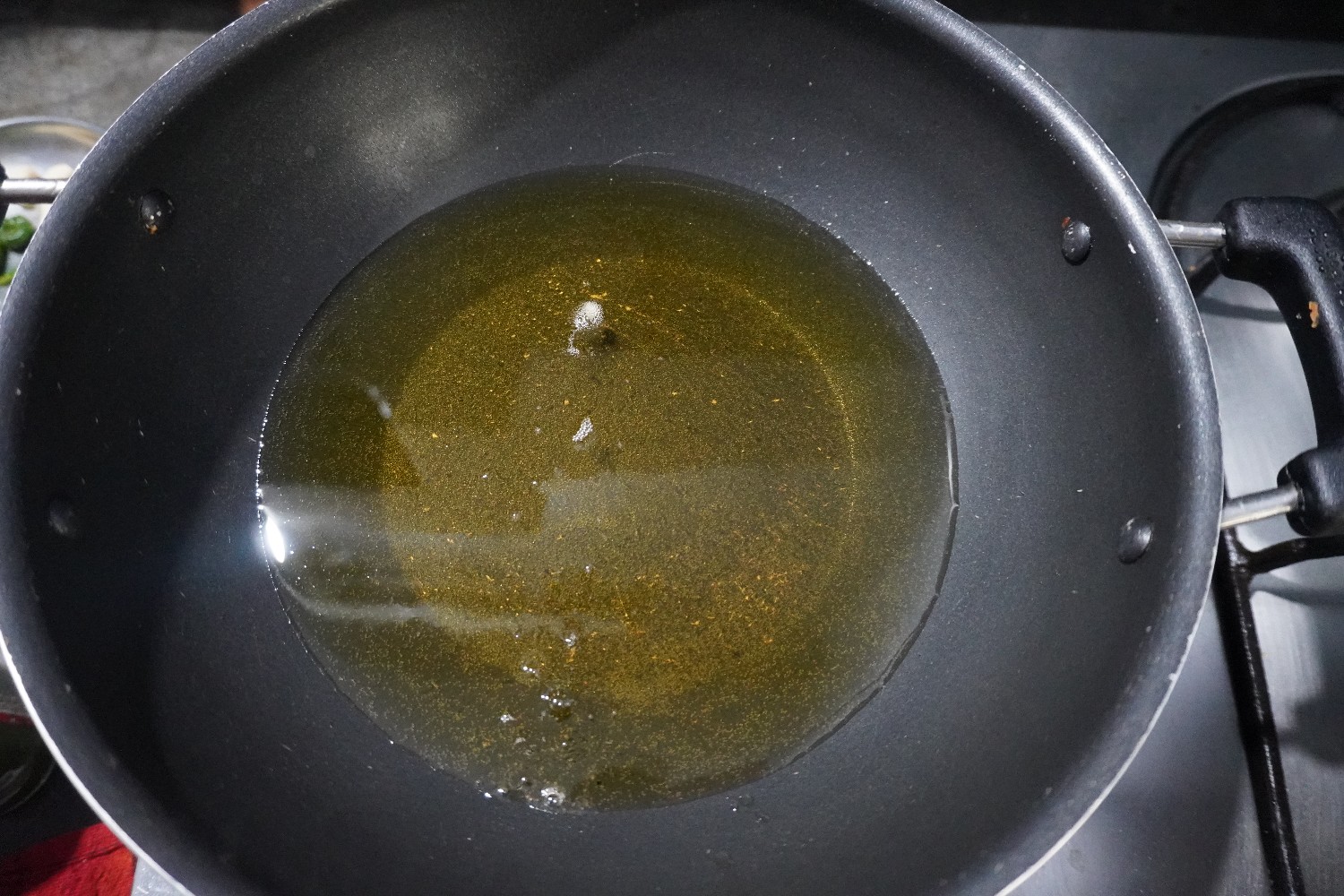 2) Check the oil by adding a tiny amount of dough. If it comes up, your oil is ready for frying.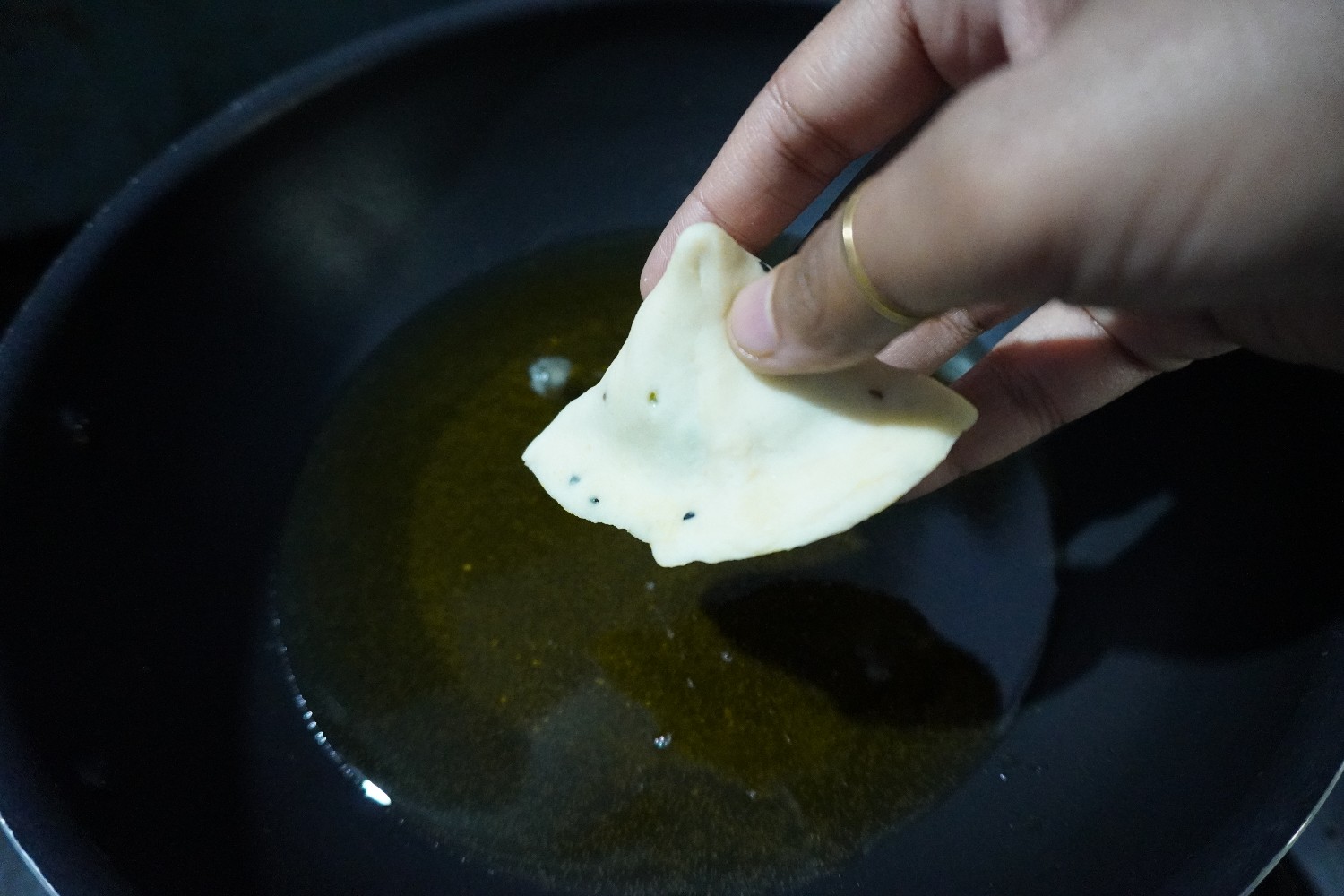 3)Bring the flame to low and gently add 5 to 6 samosa in it one by one.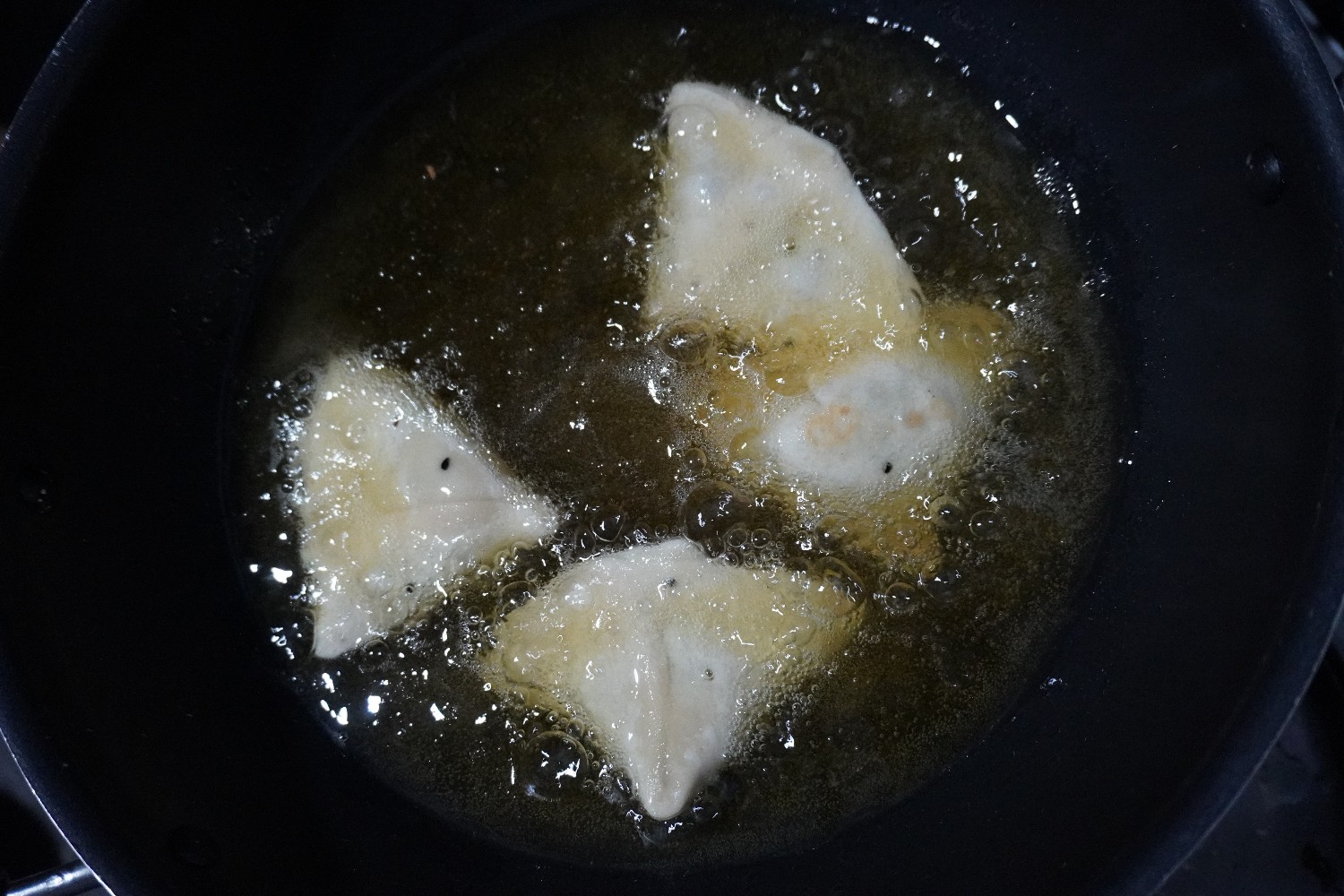 4) Cook them on medium high flame for a minute until it turns stiff.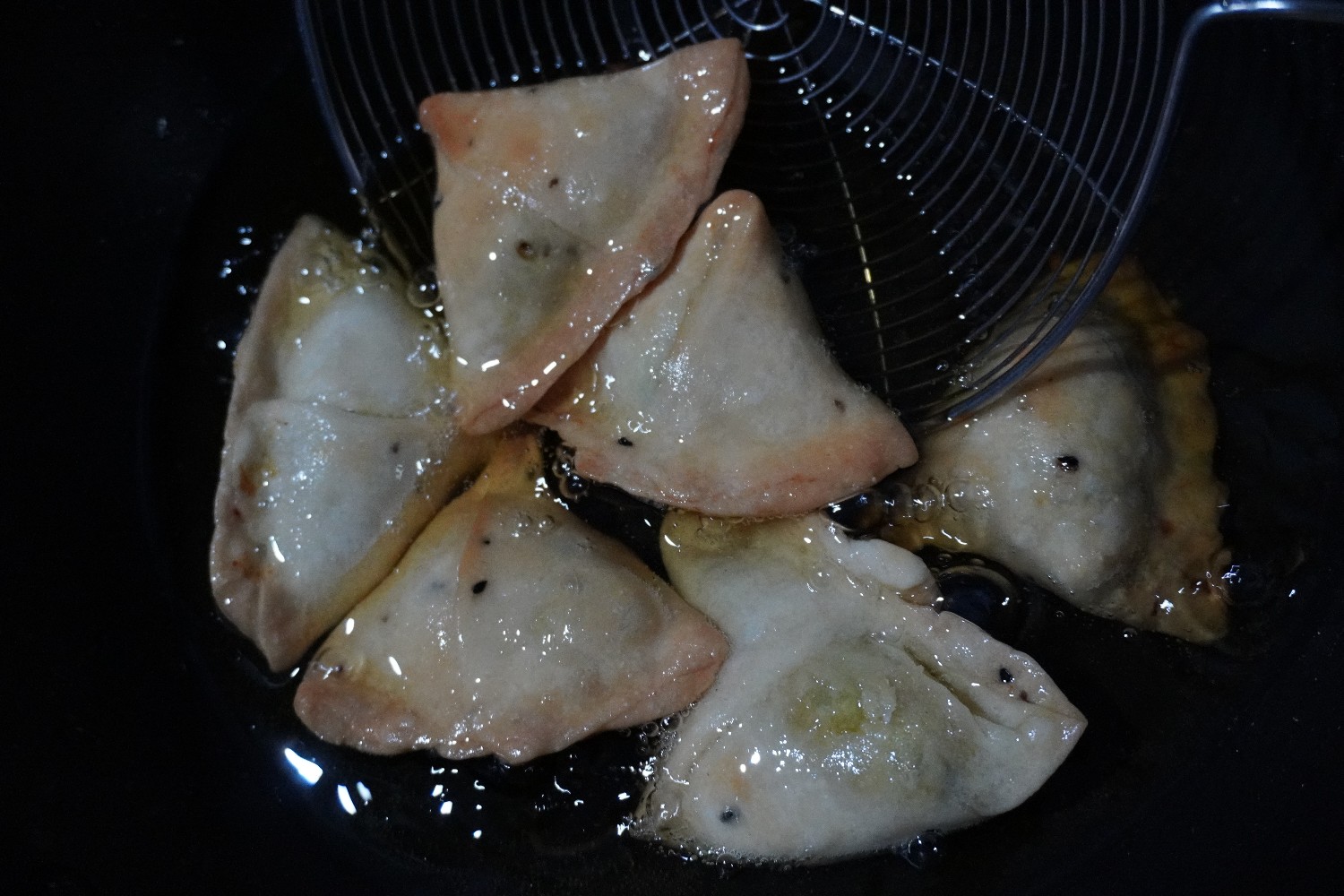 5) Turn the flame to low and cook them for 4 to 5 minutes until golden brown and crisp.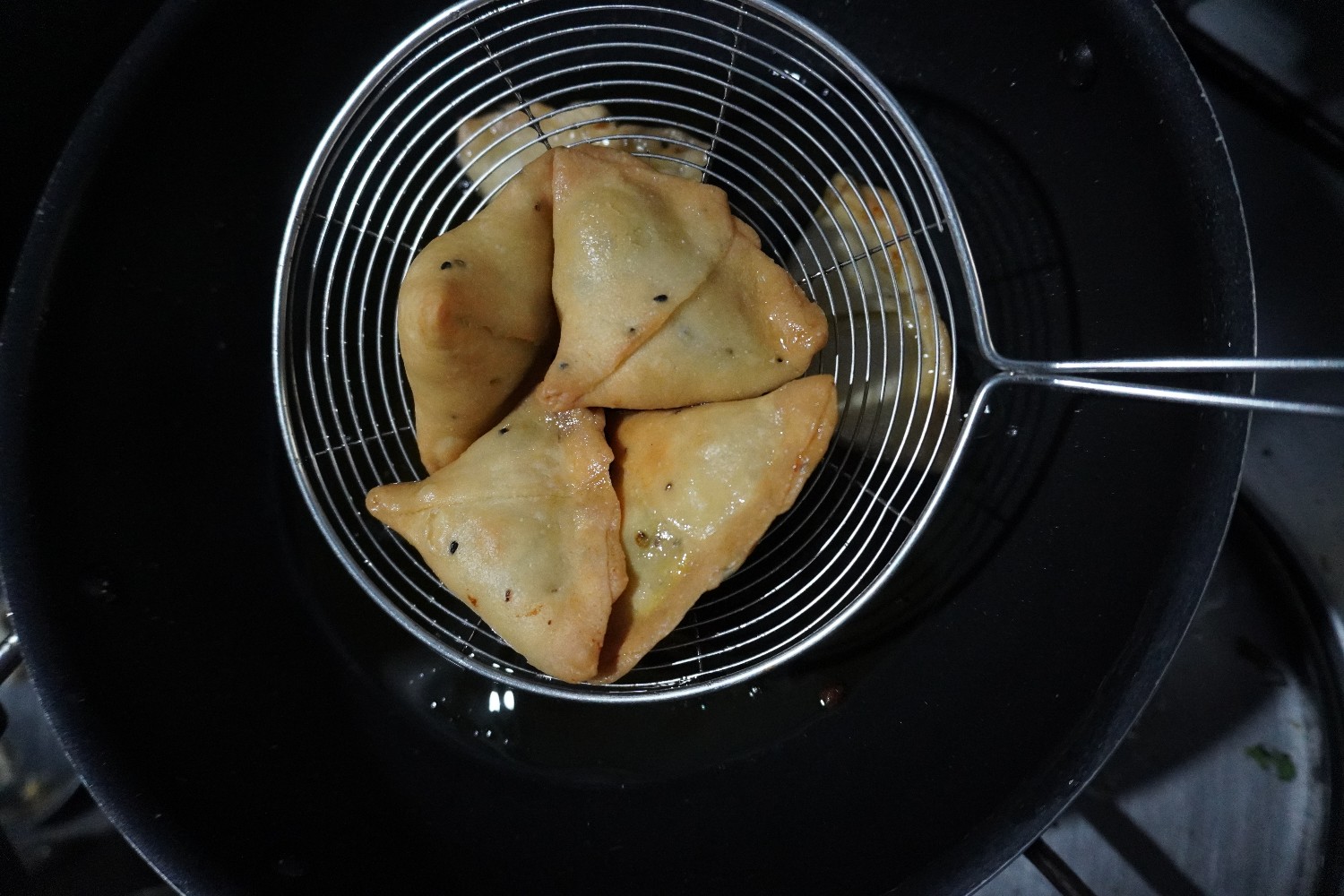 6) Drain them well and repeat the same with the remaining batches.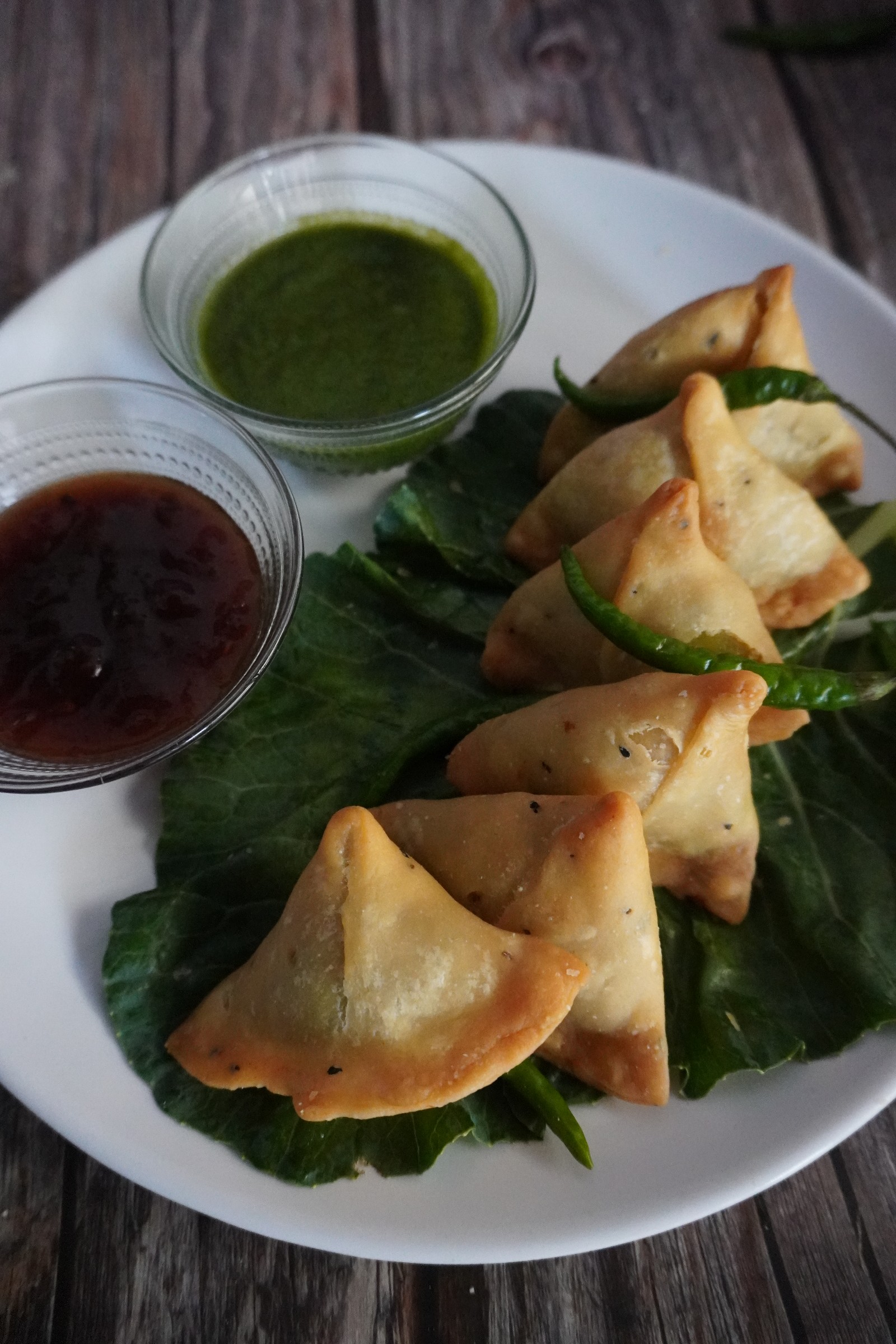 7) Your samosa are ready to be served. Make sure you turn down the flame to low 2 minutes before you put the second batch of samosa to the oil. Serve hot with yummy chutney and ketchup.
Tips and Tricks
1) A perfect dough is a must for a crispy samosa. Make sure you add enough oil to it as adding less oil will make it turn hard. On the other hand don't add excess oil as it will break the crust.
2) Properly knead the dough after adding oil so that it properly absorbs the oil and have a texture of breadcrumbs.
3) Don't make a soft dough like roti. Add limited water as per requirement to knead a stiff dough.
4) kneading plays a major role in making a flaky samosa, so knead well for 5 to 6 minutes.
5) Resting the dough for at least 15 minutes is a must.
6) While rolling the dough, make sure it is neither too thick nor too thin.
7) Seal the samosa properly as make sure there are no unsealed spaces in it.
8) Fry the samosa at medium to low flame. Keep patience while frying.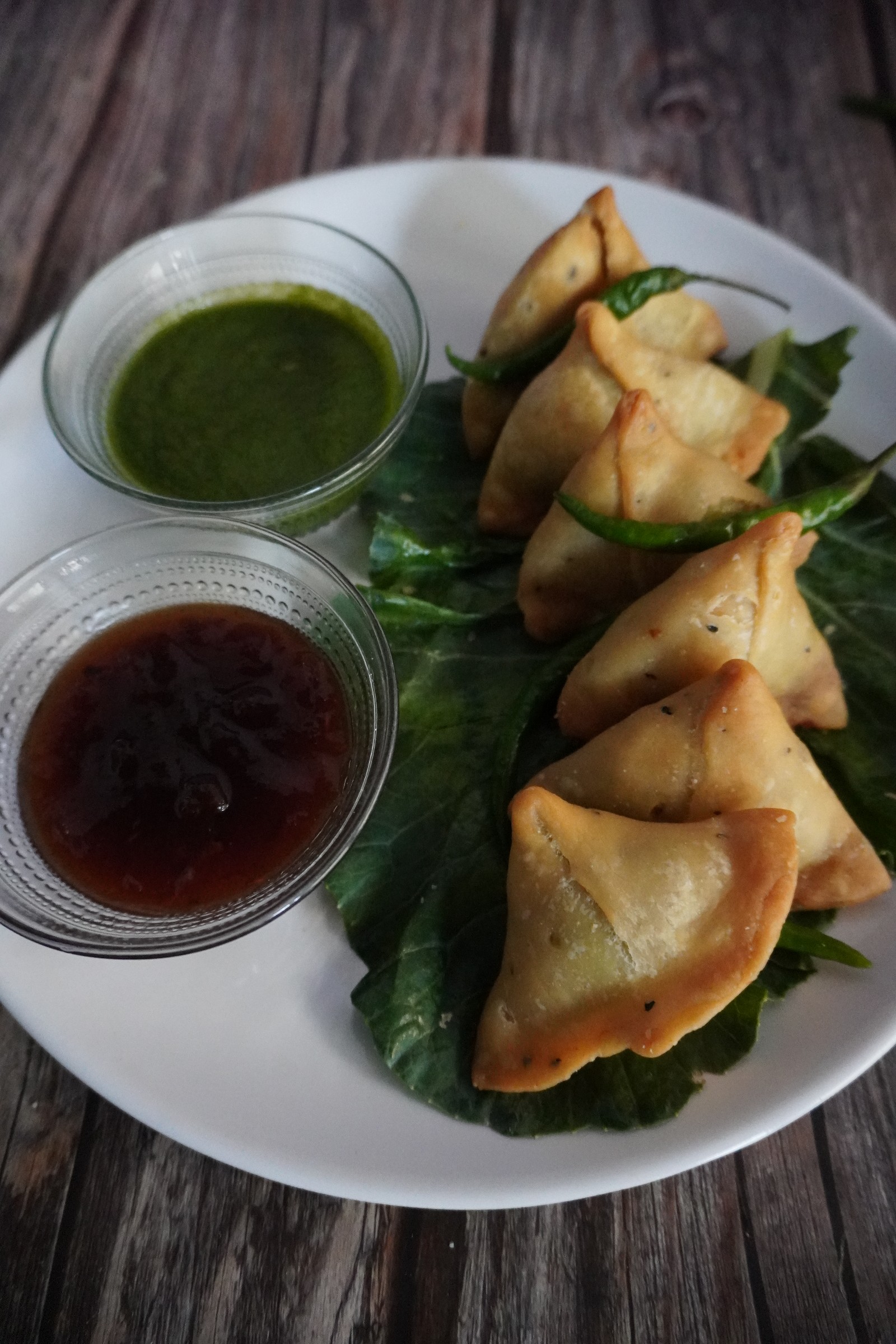 Healthier Version
1) You can airfry the samosa instead of deep frying them.
2) You can skip using chillies if you are allergic to it.